Will a New Quarterback Boost Chase Claypool in Fantasy Football?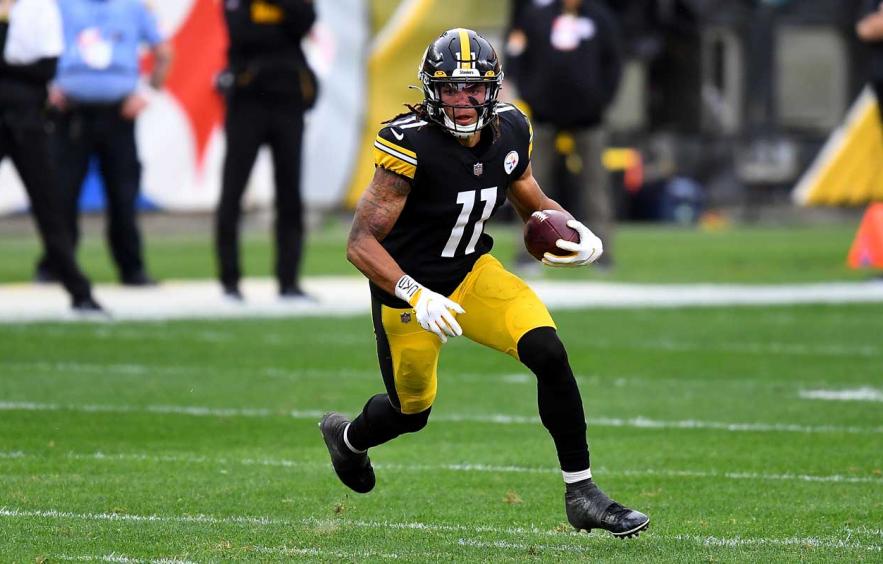 Joe Sargent/Getty Images
After a very promising rookie season, Chase Claypool has failed to deliver on the expectations many fantasy managers bestowed upon him. Claypool now enters a pivotal third season, at least as far as his Pittsburgh residence is concerned.
While the former Notre Dame standout failed to improve upon a promising rookie season, fantasy managers may be surprised to find out that his sophomore season really wasn't all that different than his rookie one.
It's no mystery that Ben Roethlisberger at the twilight of his career wasn't the right quarterback for Claypool's game. He struggled mightily to push the ball downfield and lacked the arm strength to take advantage of Claypool's strength. Is Mitchell Trubisky or Kenny Pickett better equipped to do that?
---
Click here for more 2022 Player Profiles!
---
Chase Claypool

's NFL Profile

If you were to ask just about any fantasy manager, they'd probably tell you that Claypool's 2021 season was worse than his rookie season. Maybe they'll say his game just stayed stagnant. Maybe they'll say it actually took a step backward. What's true?
| Year | Targets Per Game | Target Share | Air Yards | Air Yards Share | aDot | RZ Targets | Receptions | Yards | YPR |
| --- | --- | --- | --- | --- | --- | --- | --- | --- | --- |
| Year X | 6.8 | 16.7% | 1,448 | 30.3% | 13.3 | 13 | 62 | 873 | 14.1 |
| Year Y | 7.0 | 18.7% | 1,203 | 32.3% | 11.5 | 13 | 59 | 860 | 14.6 |
Looking at the table above, are you able to determine which year is his rookie season and which one is from last year? Claypool's first two seasons are almost identical in every sense except one: touchdowns.
Year X was his rookie season and Claypool managed to score 11 total touchdowns compared to just two last year. In his first year, he scored on 8.3% of his targets and that fell to 1.9% in his sophomore campaign. However, as the chart indicates above, his red zone utilization didn't decrease. He had 13 red zone targets in both seasons.
As a rookie, the former Fighting Irishman also punched in two additional scores on the ground. However, he finished with just 10 carries for 16 yards. He was much more effective in this limited rushing in his second year, producing 96 yards on 14 carries, but again, no touchdowns.
The fact that JuJu Smith-Schuster missed the majority of the 2021 season and Claypool was unable to take a bigger step forward was concerning and disappointing. Now, public perception of him is affecting his value—things such as a first down celebration late in a game and a comment indicating he believes himself to be a top-three receiver, neither of which has any barring on his fantasy football prospects.
Fantasy managers certainly have taken notice that the Steelers drafted George Pickens in the second round, who on the surface, is a very similar receiver to Claypool. They're both physically imposing players with plus size and speed. If nothing else, Pickens will put pressure on Claypool in 2022.
One of the big differences in Claypool's first two years comes down to utilization down the field. As a rookie, he compiled 245 more air yards than in his second year. His 13.3 average depth of target indicates he was used down the field more as a rookie, which is one of his strengths. In 2021, he received 21 deep targets (passes with 20 or more air yards), but in 2020 that number was 31. He also had 907 unrealized air yards as a rookie compared to just 613 in his sophomore season.
This was a Big Ben problem. He ranked 32nd out of 33 qualifying passers with 6.7 intended air yards per attempt. His 6.2 yard per attempt average ranked 29th, tied with Sam Darnold.
Claypool is highly unlikely to turn into the kind of target hog that Diontae Johnson is, but a more willing and able deep-ball passer could help elevate Claypool's game.
Chase Claypool

's Fantasy Value in 2022

The two things Claypool has going for him are a depressed ADP of WR49 on Underdog and playing in an offense that has been extremely pass-heavy the past few seasons. Of course, how pass-heavy Pittsburgh will be with Kenny Pickett or Mitchell Trubisky under center is still to be determined.

Fantasy managers know that either Trubisky or Pickett will be the starting quarterback. Diontae Johnson is the undisputed No. 1 receiver for Pittsburgh. What fantasy managers may not be aware of is just how poorly rookie quarterbacks have fared supporting fantasy-relevant receivers. Per Kyle Borgognoni, only five rookie quarterbacks since 2004 have supported a top-12 receiver. Among quarterbacks who played at least 10 or more games during their rookie season, only 16% were able to support a WR1. Of the 53 rookie quarterbacks sampled, only 22.6% of rookie quarterbacks were able to support a top-24 receiver. Only one quarterback was able to support two.

This paints a somewhat gloomy outlook for Diontae Johnson, but at the very least, he's locked into a high target share role. The same cannot be said for Claypool. However, Pickett could provide other positive attributes to Claypool's game, such as the willingness to throw the ball downfield more.
Intended Air Yards Per Attempt, Rookie QBs 2018–2021

| Player | Intended Air Yards Per Attempt |
| --- | --- |
| Mac Jones, 2021 | 8.0 |
| Justin Fields, 2021 | 9.9 |
| Trevor Lawrence, 2021 | 7.9 |
| Zach Wilson, 2021 | 7.6 |
| Davis Mills, 2021 | 7.2 |
| Justin Herbert, 2020 | 7.4 |
| Joe Burrow, 2020 | 8.5 |
| Tua Tagovailoa, 2020 | 7.5 |
| Kyler Murray, 2019 | 7.4 |
| Daniel Jones, 2019 | 8.0 |
| Drew Lock, 2019 | 6.8 |
| Dwayne Haskins, 2019 | 8.6 |
| Baker Mayfield, 2018 | 9.3 |
| Sam Darnold, 2018 | 9.3 |
| Lamar Jackson, 2018 | 8.7 |
| Josh Allen, 2018 | 11.0 |
| Josh Rosen, 2018 | 8.3 |
The graph above shows quarterbacks in their rookie seasons dating back to 2018 and their intended air yards per attempt. You'll notice every, single quarterback had a higher average than Big Ben's 6.7 last season. The average among these 17 rookies was 8.32, which is 1.62 higher than what Big Ben was able to accomplish last season. Using that difference with the league median 516 attempts from last year, the Steelers would add 836 air yards. For someone whose yard per reception average was 14.6, that's a really good thing.
Trubisky presents his own share of challenges to overcome for Claypool, as he too has struggled to support fantasy-relevant pass-catchers. While he did help propel Allen Robinson to back-to-back top-12 seasons, the No. 2 receiver for the Bears during Trubisky's starting stint has been mostly irrelevant.
Mitchell Trubisky No. 2 WRs, 2017–2020

| Year | No. 2 WR | Games Started by Trubisky | Total Team Pass Attempts | Targets | Receptions | Yards | TDs | EOS WR Rank |
| --- | --- | --- | --- | --- | --- | --- | --- | --- |
| 2017 | Josh Bellamy | 12 | 473 | 46 | 24 | 376 | 1 | WR88 |
| 2018 | Taylor Gabriel | 14 | 434 | 93 | 67 | 688 | 2 | WR44 |
| 2019 | Anthony Miller | 15 | 516 | 85 | 52 | 656 | 2 | WR58 |
| 2020 | Darnell Mooney | 10 | 614 | 98 | 61 | 631 | 4 | WR51 |
While Claypool is certainly more talented than the first three No. 2 receivers on this list, it still paints a worrisome picture if Trubisky is under center. He's never had a No. 2 receiver with more than 700 yards or 5 touchdowns. An increase in passing volume would certainly help, however.
| Player | Completion Percentage | Yards Per Attempt | QB Rating | Intended Air Yards Per Attempt | TD Rate |
| --- | --- | --- | --- | --- | --- |
| Mitchell Trubisky, Career | 64.1% | 6.7 | 87.0 | 8.2 | 4.0% |
| Ben Roethlisberger, 2021 | 64.5% | 6.2 | 86.8 | 6.7 | 3.6% |
Trubisky's career mostly matches up with what Roethlisberger offered in 2021 except for intended air yards per attempt. Trubisky has a career average that is 1.5 yards higher than Roethlisberger's average last season. From 2020 to 2021, Claypool saw 10 fewer deep targets, and his average depth of target dropped by 1.8 yards. Trubisky has been more willing to attack defenses down the field than Roethlisberger was willing to do last season and that's a positive for Claypool.
So what does all of this mean? It means Claypool got a quarterback upgrade in some form or fashion. Just how much of an upgrade is unknown, but what he needs for a better fantasy season in 2022 is a quarterback willing to push the ball.
His ADP of WR49 on Underdog leaves some room for him to outplay his cost. He still finished as the half-PPR WR43 in PPG last year. Here at 4for4 that's exactly where he's ranked this season. While Claypool certainly has room to outplay his current ADP, fantasy managers should be concerned with just how much upside there is given his current situation. While he has WR3 upside with better touchdown luck, as long as Diontae Johnson is healthy, it's highly unlikely Claypool can provide fantasy managers with a WR2 season. There are other players around him that likely have more upside and that's something fantasy managers will need to consider in their drafts.

The Bottom Line
Claypool didn't take a step back in his second year, but he failed to improve. His statistics from his first two seasons are extremely similar besides a sharp decline in touchdown rate.
Kenny Pickett and Mitchell Trubisky will likely be a positive boon to Claypool's fantasy prospects. Their willingness to attack defenses downfield will give Claypool more opportunities to make big plays, which is a large part of his game.
Due to Diontae Johnson and his ability to earn targets at an elite rate, Claypool will have to be incredibly efficient with the targets he does earn in order to be fantasy relevant.
The increased target competition from George Pickens and Pat Freiermuth could make things difficult for Claypool to earn a high target share.
Fantasy managers should treat Claypool like a WR4 with WR3 upside—short of a Diontae Johnson injury, that's most likely the best-case scenario.