Underdog ADP Risers & Fallers: July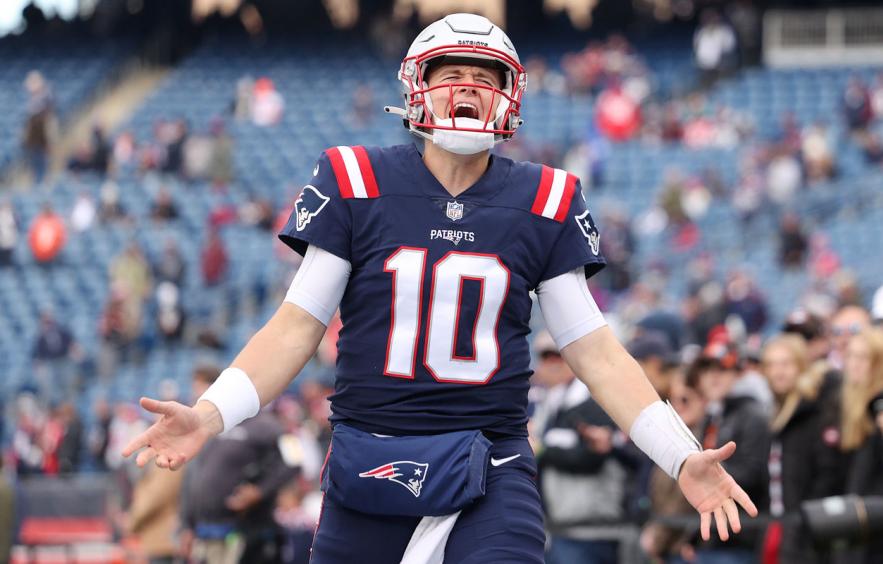 Maddie Meyer/Getty Images
Underdog best ball drafts are filling at a steadier pace as folks are starting to return to fantasy football in order to take advantage of pre-training camp ADP. Or the fact that both the NBA and NHL have shut it down for the 2022 season could also have degenerates wanting to draft. ADP changes at this point are usually courtesy of the OTA hype, trades, or injury.
---
Additional Underdog Resources: Rankings | ADP | Tools | Draft Strategy | Free 4for4 Subscription
---
Let's take a look at the biggest risers and fallers at each position over the last four weeks in Underdog drafts, by comparing players' ADP from June 8th - July 8th. I'll go position by position to tease out any relevant players' spikes or slides over the past month.
*All ADP is courtesy of 4for4's Underdog ADP Tool.
Quarterbacks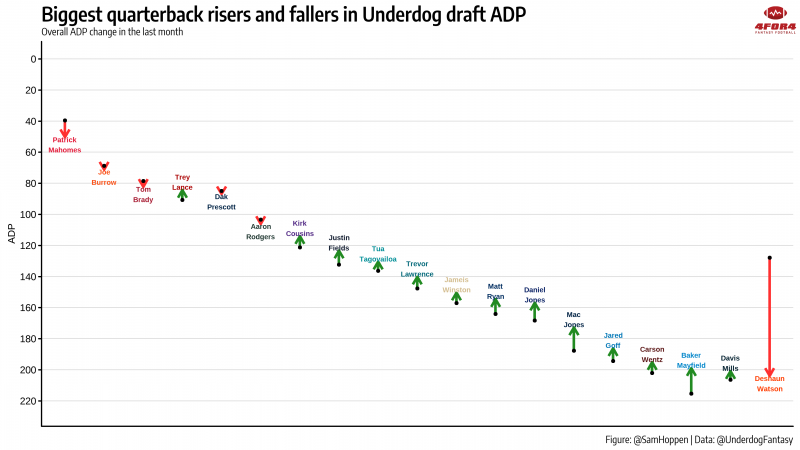 QB Risers
Baker Mayfield

,

Panthers

(ADP: 198.9, +16.4)

Unless you were off the grid for an extended holiday, this rise is very obvious, warranted, and predictable given the circumstances. Baker Mayfield was traded to Carolina for a conditional 2024 fifth-round pick, making him the best QB option for the Panthers in 2022. He's a 17th-rounder today, but Mayfield's ADP should continue to rise considering it's only been a few days since the former Brown was dealt.

Look for a subsequent spike in draft capital for D.J. Moore, Robbie Anderson, Terrace Marshall, and other members of the Panthers' offense as drafters gain more confidence with Mayfield now on the roster. The 27-year-old is 4for4's QB22 in his new role in Carolina, and for now, is leaving draft boards as QB27.
Mac Jones

,

Patriots

(ADP: 172.7, +15)

It's amazing that an Instagram photo can elevate the ADP of a player by nearly a round and a half but it is early July and training camps aren't in full swing yet to start moving the needle.
We have no actual data to support that it was indeed this photo that caused drafters to click the button earlier for Jones, but nothing else happened on the Patriots front and this wouldn't be the first time a body part photo has caused a rise in ADP ahead of the season.
QB Fallers
DeShaun Watson,
Browns

(ADP: 203.9, -76)

This six-round tailspin needs no explanation, but I figured I had to at least include DeShaun Watson since he is the QB with the largest drop in ADP. Surprisingly, Jacoby Brissett only moved up a half of a spot over the last month, indicating drafters aren't too confident in him as a fantasy QB.
Patrick Mahomes

,

Chiefs

(ADP: 50.3, -10.7)

This could be Patrick Mahomes' maiden voyage on any kind of fallers list, but the KC QB has quietly slipped nearly a round in ADP over the last four weeks. Drafters went from selecting the top-five QB in fantasy points per game for the past four years in the early fourth round to waiting until the late fifth. Perhaps people are wary of his receiving corps without Tyreek Hill, or they are just deciding to wait on QB, but either way, he's becoming more affordable and easier to pair with Travis Kelce. I can get on board with that.
Running Backs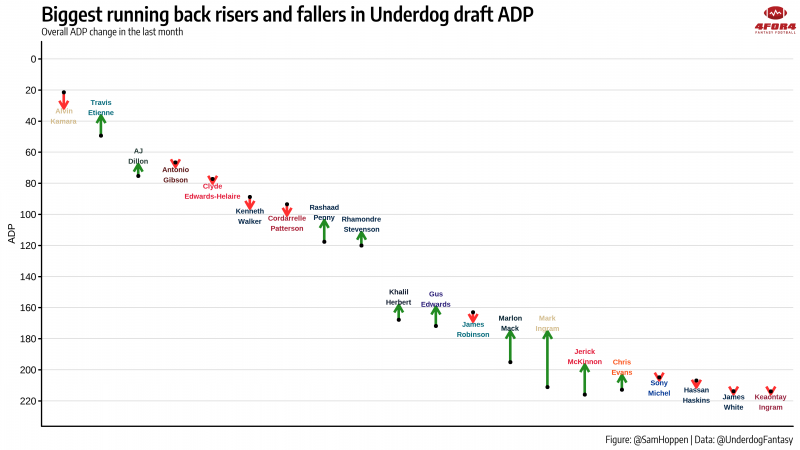 RB Risers
Mark Ingram

,

Saints

(ADP: 175.1, +36)

Rumors of a six-game suspension for Alvin Kamara from Mike Florio of Pro Football Talk began to swirl on June 23rd. Despite the source, drafters started scooping up the dirt-cheap Mark Ingram, rendering him a 15th-rounder currently. There may not be too much left in the tank for the 12th-year RB, but if he does boast lead-back duties for the first third of the 2022 season and produces, Ingram could be a difference-maker as a 15th-round back.
Marlon Mack

,

Texans

(ADP: 175, +20)

After the 2022 NFL Draft, rookie Damien Pierce went from an 18th-round stab to an early-11th-round pick as RB38, while Marlon Mack was being selected as RB55 in the 16th. Since then, Pierce has remained relatively the same, while the Mack support has grown, most likely based on the concept that new HC Lovie Smith could lean on the veteran to lead the backfield, at least to start the season. This backfield is pretty gross so putting too much stock into it doesn't feel great, but at cost even with this spike, sprinkling some Mack into your best ball portfolio isn't the worst idea. Pierce could be a bench stash in redraft leagues in the hopes he takes over and produces at some point.
Rashaad Penny

,

Seahawks

(ADP: 103.7, +13.9)

Chris Carson was not cleared to participate in minicamp in early June, and the Rashaad Penny hype train fired up for another route around fantasy town. ESPN's Brady Henderson also stated that the Seattle RB was "in the driver's seat" to be the lead guy in the Seahawks' RB room on June 21st, which could have added to the spike of over one round. Penny still has that long injury history with rookie Ken Walker waiting to get his shot, but both guys are still decently priced as eighth (Walker) and ninth (Penny) rounders. In a perenially run-first and often offense with a massive question mark at QB, Penny has legit potential to best his current RB34 draft spot.
RB Fallers
Alvin Kamara

,

Saints

(ADP: 31.8, -10.4)

Drafters were ignoring the off-field issue featuring a potential suspension at the start of the summer but as more evidence comes out including video in the battery case, people are letting others draft Alvin Kamara and he's slid down just over 10 spots to a mid-third round pick over the last month. The 26-year-old's trial has been moved to August and the NFL tends to wait until criminal cases play out to impose any discipline, so Kamara could play the whole season, or just a fraction of it, we won't know until we know.

Obviously, the Saints RB is a steal if he's on the field for all 17 games in 2022 as a third-round pick, but that offense is not what it once was and we have to assume there is some sort of missed time.
Cordarrelle Patterson

,

Falcons

(ADP: 100.7, -7.2)

Last season's RB13 in half-PPR points per game did not practice for the Falcons in their minicamp but is expected to be ready to go this season after a typical veteran summer. It's difficult to envision the 31-year-old repeating his incredible breakout performance from last season, but Cordarrelle Patterson is still slotted as the team's lead back as the summer rolls along.

After a touchdown slide in ADP down to the ninth round, Patterson is now the 32nd back off Underdog draft boards but is 4for4's RB24 in half-PPR points. Even if his rushing load takes a hit, the Falcons' pass-catching talent is less than desirable after TE Kyle Pitts, so you'd think Atlanta will line him up more at WR. I'm buying the dip and hope it continues through August.
Wide Receivers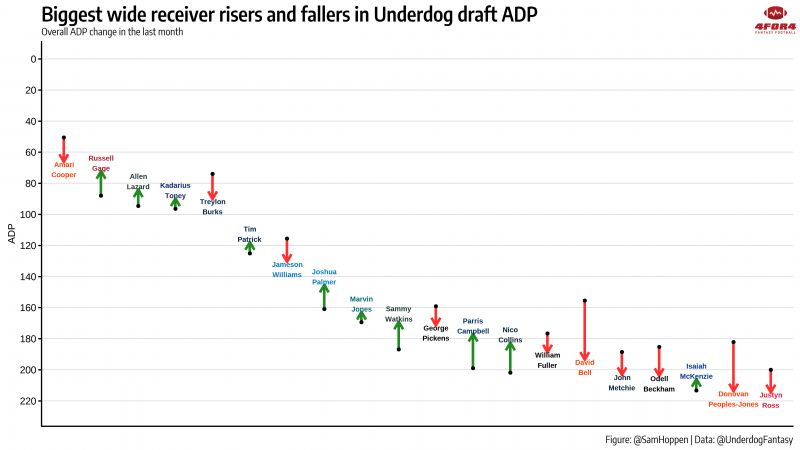 WR Risers
Parris Campbell

,

Colts

(ADP: 176.8, +22.1)

Campbell ran with the first-team offense during Colts' OTAs and is in line for WR2 duties behind Michael Pittman Jr. unless of course, Indy seeks out a veteran pass-catcher before the start of the season. The 24-year-old has been injured for most of his three-year professional career but has a solid opportunity in this Matt Ryan-led offense. As a 15th-rounder, Campbell is still worth his cost, for now, even with a near two-round spike.
Russell Gage

,

Buccaneers

(ADP: 72.1, +15.8)

Things just keep coming up Russell Gage this offseason, as not only is Chris Godwin not expected to be full-strength to start the season, but Rob Gronkowski retired at the end of June, opening up more possible volume for the former Falcon. Gage is now a late-sixth-round pick which is entering the too-pricey zone, but as long as Tom Brady doesn't turn back into a real boy, he should return value there.
Allen Lazard

,

Packers

(ADP: 83.9, +10.7)

Given the WR1 endorsement by QB Aaron Rodgers on July 1st via The Athletic, Lazard has risen almost 16 draft spots up to the late-seventh round. The reigning NFL MVP stated he's "excited about Allen Lazard. He's been our dirty-work guy for most of his career here, now he's getting an opportunity to be a No. 1 receiver, so I'm not worried about him at all stepping into that role."

As the 41st WR off draft boards, Lazard is still reasonably priced considering who's slinging the ball in an offense not packed with WR talent. There's a reasonable floor for the 26-year-old based on the potential for heavy involvement, let's just hope more people don't catch on, raising his price any higher.
WR Fallers
David Bell

,

Browns

(ADP: 193.5, -38)



Donovan Peoples-Jones

,

Browns

(ADP: 213.8, -31.7)

Both of these guys have taken a dive due to the QB situation in Cleveland and are the two WRs with the biggest falls over the last four weeks. There's not much else to say here except that it's tough to see Jacoby Brissett supporting anyone beyond Amari Cooper and possibly David Njoku for fantasy purposes in 2022.
Odell Beckham

, FA (ADP: 204, -18.7)

As each week passes without a home, OBJ's stock takes a hit. He's now being drafted at the end of the 17th round, which is a great time to scoop him up. He will sign somewhere whether it's after a big training camp injury or sometime during the season, but Beckham showed last year that he's still capable of high-level play in the NFL. He's not someone to invest in for redraft purposes unless he inks a deal before Week 1, but OBJ should be in consideration as a best ball flier.
Treylon Burks

,

Titans

(ADP: 90.1, -16.2)

Drafters were excited for Treylon Burks in Tennesee, wanting him to be a direct replacement for A.J. Brown. His ADP jumped up to the sixth round following the NFL Draft but has fallen to the mid-eighth over the last month. Reports of a battle with asthma limiting him in both OTAs and minicamp most likely provided the ADP drop, along with praise for Robert Woods and his chemistry with QB Ryan Tannehill also coming from the Titans' beat.

I prefer Woods a full round later, and let someone else gamble on Burks in his first season.
Tight Ends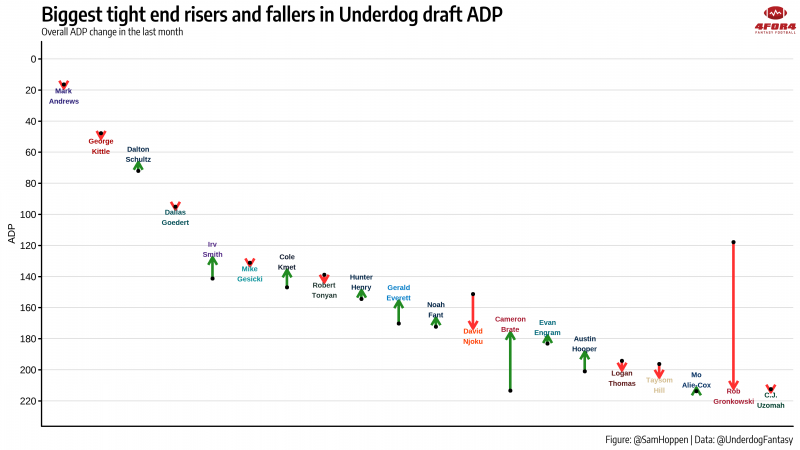 TE Risers
Cameron Brate

,

Buccaneers

(ADP: 175.7, +37.7)

The announcement of Rob Gronkowski's retirement had drafters rushing to grab his intended replacement Cameron Brate, elevating his ADP over three rounds. Word has come out since via Bucs.com that rookie Cade Otton could be their best option at TE. Brate averaged under four targets and 70% of snaps in three starts last year without Gronk and hasn't really been fantasy relevant when given the chance.

Both guys are still very price friendly so if you want a piece of the Tampa Bay offense then go for it, otherwise seek a TE elsewhere.
Gerald Everett

,

Chargers

(ADP: 155.4, +14.8)

I'm not sure why Everett's ADP jumped but it doesn't make me very happy considering I've been drafting him all spring and summer. He's in a high-scoring LA offense and should be used in a variety of ways in 2022. Everett makes for a solid TE2 if you've paid up for a TE1 or as part of a group if you decide to punt the position.
TE Fallers
Rob Gronkowski

, FA (ADP: 212, -94.1)

Gronk has decided to hang up his cleats and his ADP plunged just over 94 spots over the month. There is a chance that he does return for a playoff run, but it's not worth a draft spot.
David Njoku

,

Browns

(ADP: 173.4, -22.2)

Sense a theme here among all positions? The QB mayhem in Cleveland is sending ADP into free fall for Browns players and Njoku is no different. His draft slot has slid almost two full rounds over the course of four weeks and he's now a 15th-round pick as TE21. We have him ranked as TE18 so there is some value to be had if you are bargain shopping at the TE position.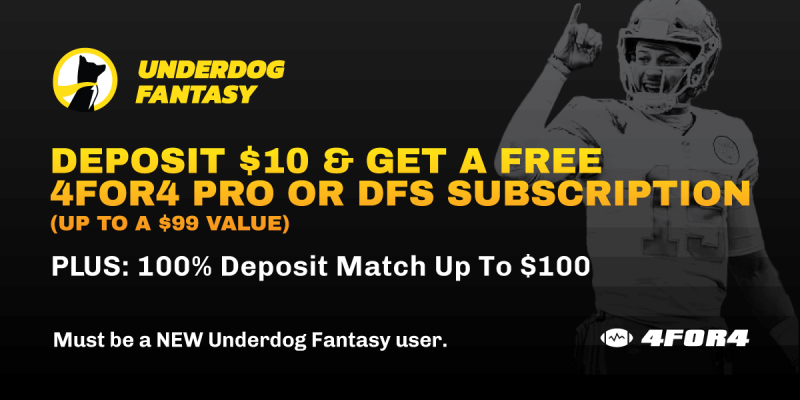 More Underdog Resources