Streaming Fantasy Football Defenses Works—Here's How to Do It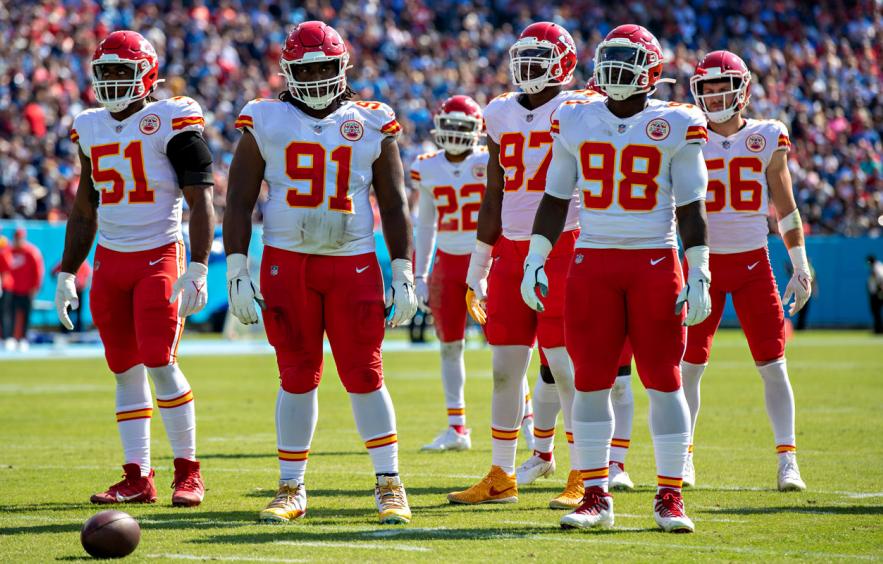 Wesley Hitt/Getty Images
Every time a fantasy football manager drafts a player or defense/special teams (D/ST), that pick comes at the cost of leaving other options on the board. This occurrence is called "opportunity cost". The manner with which drafters can come out on top against opportunity costs is by maximizing the potential starting roster points gained with each pick and minimizing the points left undrafted. The D/ST position offers drafters a unique opportunity to cycle through weekly, or monthly, waiver wire/free agency additions without losing the opportunity cost battle in the draft. This process is referred to as "streaming" a D/ST.
---
Other Positional Draft Strategies: When to Draft a Running Back in Your Fantasy Football League | When to Draft a Tight End in Your Fantasy Football League | 8 Quarterback SOS Beneficiaries | Wide Receiver Sleepers, Values & Breakouts
---
Value Over Replacement Player and Roster Size
In order to win the opportunity cost game, we must first understand what it is we stand to lose. Fantasy football leagues are typically comprised of 10 or12 teams, with starting lineups that include one quarterback, three wide receivers, two running backs, one tight end, one-to-two flex spots, one kicker, and one defense/special teams. Necessarily, the position groupings must then be considered in increments of 10 or 12, given the number of league members. With that in mind, we can examine the range of points scored between the top and bottom starters at each position for a 12-team league. The point differential owned by the top-end starter and the bottom-end starter is referred to as their Value Over Replacement Player (VORP).
As shown above, there is a three-figure difference between the top and bottom starters at quarterback, wide receiver, and running back. Players who have elite finishes in their range of outcomes are extremely valuable and the handful of players with this potential should not be passed over in favor of a D/ST as the gulf between D/ST1 and D/ST12 is far closer than those three positions.
It is also important to keep in mind that even in the worst-case scenario where 11 of the 12 league members choose to roster two D/ST units, there would still be 10 remaining options for the 12th player to choose from, and at least nine options should be available via the waiver wire and free agency.
Defense/Special Teams and Average Draft Position
The number of D/ST units drafted top five at the position that end up returning value are few and far between. From 2019-2021, just three of 15 such D/STs finished top five. Of the 36 D/STs drafted in the top 12, exactly half of them finished as top-12 scorers. Factoring in a three-way tie for 2020's D/ST12 spot, 18 of the 38 top 12 scorers were either drafted after the D/ST12 or went undrafted entirely. In fact, 22 of the D/ST1-12 finishes were drafted in Round 13 or later. The 16 remaining D/ST units were drafted between Rounds 9-12, which was far too high a price to pay as it came at the cost of losing impact players at other positions.
In 2019, drafting a defense/special teams in Rounds 9-12 would have cost managers a shot at players like Terry McLaurin, Marvin Jones Jr., Courtland Sutton, Kareem Hunt, and Lamar Jackson. In 2020, one would have lost out on Julian Edelman, James White, Will Fuller, and Chase Claypool. Last year, it would have been Leonard Fournette, Jaylen Waddle, Elijah Mitchell, Jalen Hurts, Amon-Ra St. Brown, Deebo Samuel, and Joe Burrow. All of these players offer league-winning upside that simply cannot be replicated even by an elite defense. Making matters worse, the data clearly shows that one's odds of securing an elite defense with a Rounds 9-12 draft pick is far from a guarantee.

How to Stream Defense/Special Teams
The best way to maximize one's weekly point scoring potential is to continue drafting quarterbacks, wide receivers, and running backs through Round 12, before looking for a high-upside D/ST option for the first two-to-three weeks of the season. D/STs can accrue points through various avenues. Good secondaries can pick off young quarterbacks, high-scoring shootouts can lead to high sack totals, and stacked defenses can sometimes impose their will regardless of their opponent.
Fortunately, 4for4's Hot Spot tool takes all of these factors into account and offers a composite score, ranging from 1-11, that communicates all D/ST matchup odds for the full 17-game season. As things currently stand, there are nine D/STs, with a post-Round 12 ADP on both ESPN and Yahoo!, that boast two or more Hot Spot matchup scores of 8.0 or better through 2022's first three weeks. There are just six such teams being drafted ahead of Round 13 that can say the same. Of the 10 teams that have a Hot Spot score of just 5.9 or less in Week 3, there are seven teams with at least one matchup score of 8.0 or better in Weeks 5 or 6. Streaming options should be readily available, entering Week 4, as some managers are likely to drop their high-scoring D/STs because of poor Week 3 matchups.
Streaming D/STs takes courage and smarts, which can be a daunting enterprise for many managers, which means that there is an edge to be gained in this arena. As mentioned above, 4for4's Hot Spot tool can help you navigate the D/ST minefield and give you an edge over your less committed opponents. 4for4 will also be publishing a weekly streaming D/ST series that will highlight weekly waiver wire targets to improve your odds of finding your next high-scoring D/ST unit.