2022 NFL Mock Draft Version 1.0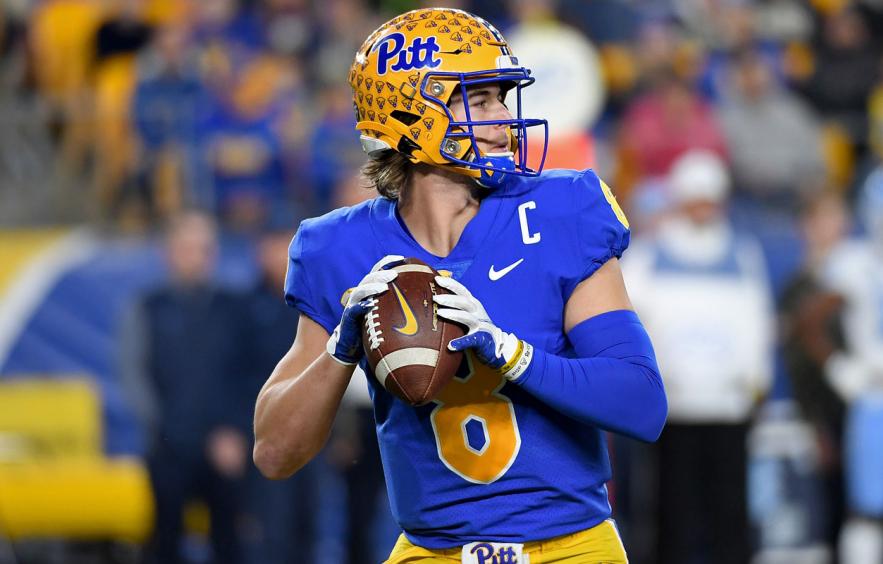 Justin Berl/Getty Images
Ladies and Gentlemen, the NFL Draft SZN is finally here. I have been out here grinding the film and researching team needs to slot the best guys in the best spots. This draft reminds me of 2013 when there wasn't a clear QB1, and a group of tackles and edge players clustered closely at the top. While there will likely be more than one quarterback drafted in the first round this year and plenty of receivers to come off the board in the first two rounds, this draft features more depth and less top-end talent. Without further ado, let's find out what your team is liable to do come Draft Day.
---
Click here for Version 2.0 - posted March 10, 2022
---
2021 NFL Mock Draft
Last Updated: February 24, 2022
Pick 1: Jacksonville
Jaguars

: Evan Neal, OT, Alabama

While creating a defensive identity by drafting one of the elite edge rushers in this class is enticing, the focus must be getting talent around last year's number one pick Trevor Lawrence. Lawrence faced pressure far too often last season and with Cam Robinson slated for free agency, tackle becomes a very large need that can be filled by the very large Neal. Neal stands at 6-foot-7 and 350 pounds, and can absolutely move people in the run game and routinely box jumps 48". He has played at least 13 games at three different positions but can play left tackle on an island in the passing game. Neal has also moved to the betting co-favorite as of late to be the number one overall selection.
Pick 2: Detroit
Lions

: Aidan Hutchinson, Edge, Michigan

Aidan Hutchinson is an old-school edge rusher with a 6-foot-6 frame, long arms and a solid build at over 265 pounds. He was on Bruce Feldman's Freaks list and according to sources Hutchinson has a 4.6-second 40 time, a mid-30-inch vertical, and a three-cone time in the mid-6-second range which would post a Relative Athletic Score (RAS) nearing a perfect 10. While Hutchinson has aligned in a number of spots throughout his career, his ability to defend the run and the pass will help the Lions create a defensive identity up front.
Pick 3: Houston
Texans

: Ikem Ekwonu, OT, NC State

Ikem Ekwonu can play multiple spots along an offensive line but had a standout 2021 season at left tackle, and with his elite athletic ability should be able to stick at the spot in the NFL. At 6-foot-4 320 pounds, Ekwonu can road grade and help build a strong run game for a Texans team that hasn't had a consistent one since Arian Foster's tenure. Ekwonu has been a starter at left tackle since his freshman year but still struggles with technique from time to time. The Texans are the biggest wild card of the draft with Deshaun Watson looming, not to mention a rumored Leremy Tunsil deal meaning an influx of picks could be on their way.
Pick 4: New York
Jets

: Kayvon Thibodeaux, Edge, Oregon

Kayvon Thibodeaux generated 48 pressures in 11 games last season and is one of the most explosive edge rushers in recent memory. Thibodeaux is a quick-twitch athlete who can bend around the corner and scream around the edge at opposing quarterbacks. Robert Saleh's defense in San Francisco was dominant when the pass rush was at their best, and Thibodeaux is one of those plug-and-play edge defenders that are so sought after in today's NFL. The Jets do have holes at other spots, but with an edge presence like Kayvon still on the board, the fit is just too perfect.
Pick 5: New York
Giants

: Kyle Hamilton, S, Notre Dame

Kyle Hamilton has a chance to become the highest-drafted safety since Eric Berry went fifth overall to the Chiefs in 2010. Hamilton would follow in a line of some great No. 5 overall picks that played the safety position in Sean Taylor and Eric Berry and become an instant impact player for a Giants defense that lacks star power. New GM Joe Schoen and Head Coach Brian Daboll come from Buffalo where their defense has benefited from some of the league's best safety play, and Hamilton can immediately become a centerpiece of the defense. At 6-foot-4 and 220 pounds, Hamilton has linebacker size but can move sideline to sideline with the league's best. Hamilton can be a tight end eraser in man coverage and a catch-all when asked to play zone, perfect for today's wide-open NFL game.
Pick 6: Carolina
Panthers

: Charles Cross, OT, Mississippi State

Charles Cross is arguably the top tackle in this draft, but there are three very strong candidates. No matter who is under center for the Panthers this season, they cannot have as much pressure in their faces as they did last season. The Panthers allowed the fifth-most sacks last season and seem to only have one established starter across the full offensive line. Cross was a standout against the tough competition of the SEC and can be a day one contributor on the left side for the Panthers.
Pick 7: New York
Giants

: Derek Stingley Jr., CB, LSU

While hoping for one of the top three offensive tackles to fall to their second first-round pick, it just doesn't happen in this scenario. Instead, the Giants follow the Bills model and build from the back to the front and add Stingley who had one of the most impressive freshman seasons in recent memory. Stingley could immediately step in and provide depth if the Giants choose to keep James Bradberry and if they choose to deal him, Stingley has the kind of pedigree both on the field and athletically that could make him one of the league's best corners.
Pick 8: Atlanta
Falcons

: George Karlaftis, EDGE, Purdue

The Atlanta Falcons had the lowest pressure percentage in the league and generated just 18 sacks last season, 11 fewer than any other team. Karlaftis isn't your explosive off-the-edge rusher but can win with power and his refinement should lead to early sack numbers for a team that just cut their leading pass rusher in Dante Fowler who finished the season with just 4.5 sacks. Karlaftis is strong at the point of attack and can knock back defenders into ball carriers and is another Feldman Freaks List member, reportedly posting a 10-foot-1 broad jump, 37.5-inch vertical and 4.69-second 40-yard dash last offseason.
Pick 9: Denver
Broncos

:

Kenny Pickett

, QB, Pittsburgh

The Denver Broncos are one of the tougher teams to draft for unless you are selecting a quarterback. They have an exciting and young mix of offensive skill position players fit for any quarterback and their offensive line has seen plenty of top-100 picks poured into it over the last five years. On defense, the back end is strong and anchored by second-year corner Pat Surtain with depth at the corner position many are envious of. While Bradley Chubb and the edge rush could use some reinforcements, there just isn't any value left on the board that can change the offense the way a quarterback can. Pickett is an experienced passer who has good size and functional athleticism and wowed teams with his leadership presence at the Senior Bowl.
Pick 10: New York
Jets

:

Drake London

, WR, USC

After the Jets selected arguably the top prospect in the draft with their first pick, they can't ignore getting talent for their top selection last season and do so by drafting one of the top receivers in this class. London is a towering 6-foot-5 210 pounds and has excellent body control to attack the ball in the air. London is an exceptional run blocker and is a better route runner than many give him credit for. While Drake will likely never lead the league in YAC, he can surprise after the catch much like former Trojan Michael Pittman. London's big play strength and ability to attack the ball in the air make him the perfect complement to Elijah Moore.
Pick 11: Washington
Commanders

:

Malik Willis

, QB, Liberty

After the Broncos select Kenny Pickett, the artists formerly known as the Football Team are left to decide what direction they want to go at signal caller, while many have them selecting Ole Miss quarterback Matt Corral, the Commanders swing for the proverbial fences with Willis and his athletic ability. Willis would give the offense the quarterback rushing threat with similar passing efficiency as current starter Taylor Heinicke. Willis possesses a stronger arm than Heinicke and his wheels cannot be compared to the former Old Dominion signal caller.
Pick 12: Minnesota
Vikings

: Sauce Gardner, CB, Cincinnati

With a new regime in place in Minnesota for the first time in a while, questions about their draft strategy will be a major question. Kwesi Adofo-Mensah is a noted analytical hero so his first first-round pick will likely be spent on a premium position. New head coach Kevin O'Connell has spent the last two seasons in Los Angeles and knows the value of the passing game as well as being able to defend it. Sauce Gardner is a lanky 6-foot-2 190-pound corner who has been a starter since his freshman season. Sauce is the type of corner that can create turnovers and play in a variety of coverages, something new defensive coordinator (and former DB coach) Ed Donatell will love.

Pick 13: Cleveland
Browns

:

Garrett Wilson

, WR, Ohio State

Cleveland is entering a make-or-break season with Baker Mayfield under center and after the Odell Beckham Jr. saga ended in dramatic fashion, the Browns need to get Baker weapons in the passing game. Wilson is a dynamo after the catch but can create space at the top of his route with elite-level quickness. Wilson can also be used in jet action and in the RPO game. The former Buckeye also possesses refined route running prowess and has shown a knack for getting open against both man and zone coverage which is desperately needed in Cleveland.
Pick 14: Baltimore
Ravens

: David Ojabo, Edge, Michigan

The Ravens defense took a major step back this year due to a litany of injuries across the back end. One of the ways to combat that is by getting more pressure on opposing passers while their defensive backs hopefully recover from major injuries. Ojabo is an athletic specimen with a sub 11 second 100-meter dash time in his high school profile. Ojabo's first step is among the best in this class and he could immediately step in as a pass rusher for a needy team like the Ravens.
Pick 15: Philadelphia
Eagles

: Devin Lloyd, LB, Utah

The Eagles have avoided drafting linebackers in high-leverage rounds for the past few years, but the need is just too large not to fill with the best linebacker in this class. Lloyd has elite-level athleticism and can play all three downs for an Eagles defense that desperately needs it. Lloyd can cover as well as excel as a blitzer when called upon. Lloyd would be an impact linebacker for the Eagles from day one and could put up big tackle numbers for a team with a strong need at the position.
Pick 16: Philadelphia
Eagles

:

Jameson Williams

, WR, Alabama

With the second of their three first-round picks, the Eagles take the injury discount on a former Crimson Tide wide receiver who was on track to be the top receiver in the class before being derailed by a torn ACL during the College Football Playoff. Williams possesses similar route-running savvy and quickness to former tide receiver Jerry Jeudy but has a second gear Jeudy has yet to display at the NFL level. Williams would be a run after the catch maven for an offense that lacked that threat last season and when asked to win vertically can also do that. Williams could play inside or outside in the Eagles attack and his deep ball tracking would be a welcome upgrade over Jalen Reagor.
Pick 17: Los Angeles
Chargers

: Jordan Davis, DT, Georgia

Last season the Chargers allowed 2,361 rushing yards and 22 rushing touchdowns and had a massive hole on the interior. Enter Jordan Davis who was the anchor for the Georgia Bulldogs defensive line. Davis has one technique and three-technique flexibility and is a mountain of a man at 6-foot-6 340 pounds. Davis has shown improvement as a pass rusher and can push offensive linemen back into the opposing quarterbacks' laps when he plays with good leverage. Jordan Davis may not make the biggest impact in the stat sheet but his addition to the defense would be a boost to all those around him.
Pick 18: New Orleans
Saints

:

Matt Corral

, QB, Ole Miss

With the Drew Brees era now officially in the rearview and the Taysom Hill/Jameis Winston experience returning less than stellar results, the Saints start a new era of football without Sean Payton. With Pete Carmichael likely to keep the offense the same, Matt Corral brings back some of the quick passing game elements from Brees and also mixes in the RPO and QB run threat of Taysom Hill while also having the ability to throw interceptions like Jameis Winston. The question with Corral is can he operate in a more traditional NFL offense or will he be pegged into a heavy RPO scheme like the one designed for Tua Tagovailoa. Corral isn't a physical specimen and his overall arm strength doesn't fly off the field, but he can manipulate the pocket and make throws from a variety of angles.
Pick 19: Philadelphia
Eagles

: Andrew Booth, CB, Clemson

After making one pure-need pick and one that some may view as a luxury, the Eagles dip back into the corner market selecting Andrew Booth. Booth has the blend of size 6-foot-0 200 pounds and athleticism, that is typical of a five-star recruit. Booth plays corner like the ball is his and that confidence cannot be overlooked. With the depth behind Darius Slay a major question, Booth can instantly come in and play for an Eagles defense that varied their defensive coverages more than anyone in the NFL, but his presence will allow the Eagles to run more man coverage.
Pick 20: Pittsburgh
Steelers

:

Sam Howell

, QB, North Carolina

With Ben Roethlisberger officially announcing his retirement, the Steelers must make quarterback plans for the future. While the Steelers still have Mason Rudolph under contract, all the indications from Mike Tomlin and Kevin Colbert are that they are also looking for a quarterback that can add a dimension to the offense with his legs. Howell was regarded as a potential number one overall pick this offseason and despite losing nearly all of his passing game weapons, was still able to put up numbers in the passing game. Howell also showed off his wheels more last season and even found the endzone with his legs in the Senior Bowl game. Howell would step into an offensive situation with good depth at the skill positions and a suspect offensive line, but his movement in the pocket could hopefully make the line look better than they have.
Pick 21: New England
Patriots

:

Treylon Burks

, WR, Arkansas

After an impressive rookie showing from Mac Jones, the Patriots need to get some weapons around them. While the Patriots look deep at running back and tight end, they lack game-breaking ability on offense. Enter Treylon Burks who is a much different athlete than any of the receivers Bill Belicheck has missed on in the past. Burks is a three-year starter and scored nine touchdowns as a freshman in the SEC. Burks is a specimen at 6-foot-3 225-pounds, and is a receiver who can really run. The former Razorback has proven he can be the centerpiece of an offense and excel in nearly every facet of the game, whether it be 50/50 balls, catch and run, or beating a defense over the top.
Pick 22: Las Vegas
Raiders

:

Chris Olave

, WR, Ohio State

The Raiders' offense leaned far too much on Hunter Renfrow down the stretch as Darren Waller battled through injuries. Olave would give Carr another option in the passing game and his former track prowess would help replace some of the field stretching ability lost last season. Olave is a crispy route runner who has track speed which would fit perfectly with Derek Carr in a timing-based passing offense McDaniels will likely deploy. Olave could be the centerpiece of the play-action shot plays that Derek Carr has excelled at in the past and provide year one impact for a team that has to decide on the future of Derek Carr.
Pick 23: Arizona
Cardinals

: Trevor Penning, OT, Northern Iowa

Arizona seems to have to make moves to keep Kyler Murray happy, and with the current skill position room around him there likely isn't much room for improvement when they are all healthy. Murray could use some assistance on his offensive line that has allowed too much heat on Murray in the past. The offensive line doesn't appear to have one elite player, and Penning could potentially be that for the Cardinals offense. Penning is massive at 6-foot-7 320-pounds and has shown flashes in both the run game and pass game.
Pick 24: Dallas
Cowboys

: Trent McDuffie, CB, Washington

Outside of depth at the wide receiver position, the Cowboys don't have many holes, but adding good young corners is never a bad idea. McDuffie is smaller and quicker than the other corners on the roster and could play immediately in the nickel. McDuffie is great in short and medium coverage but can lose track of receivers deep down the field. The Washington product hasn't shown much in terms of turnover potential, but his sticky coverage ability more than make up for it.
Pick 25: Buffalo
Bills

: Kenyon Green, IOL, Texas A&M

The Bills are one of few playoff teams without significant assets on the offensive line. Enter Kenyon Green who can play any position along the offensive line. Green has a massive recruiting pedigree to match his massive 6-foot-4 325-pound frame. Green has started 35 games for the Aggies and his ability to move people in the run game would be a big addition to the Bills who despite seeming to get the run game going down the stretch struggled for a significant portion of the season. While Green profiles as a guard at the NFL level he could also play right tackle in a pinch with great feet to mirror opposing rushers.
Pick 26: Tennessee
Titans

: Tyler Linderbaum, IOL, Iowa

While Linderbaum is a better prospect than the previous pick Kenyon Green, Green's positional versatility gave him the boost for Buffalo. Tennessee however can immediately put Linderbaum in the middle of their offensive line and reap the benefits. Linderbaum is a technician who has more strength to his game than originally meets the eye due to his 6-foot-3 290-pound frame. Linderbaum can also move and does a great job at the second level cutting off defenders springing his backs for big gains. In the passing game, Linderbaum plays with great leverage and his athleticism allows him to make recoveries when needed.
Pick 27: Tampa Bay
Buccaneers

:

Desmond Ridder

, QB, Cincinnati

While the Buccaneers are apparently not that enamored with this group of quarterbacks, they have to make some move at the position with Kyle Trask an unknown commodity, and Blaine Gabbert a very known (bad) commodity. Ridder has extensive starting experience with four years under his belt and steady improvement season after season. Ridder has good size at 6-foot-4 220 pounds and can generate impressive throw power whether his feet are underneath him or not. Ridder is also an exceptional athlete who can break tackles and set defenders up with his shiftiness in the open field. Ridder's greatest weakness is accuracy and overall execution on pass timed routes, but his ability to make all the throws and work off schedule makes him a solid developmental pick, but one with massive upside. His ability to stretch the field vertically would work perfectly in Bruce Arian and Brian Leftwich's offense.
Pick 28: Green Bay
Packers

: Jermaine Johnson, EDGE, Florida State

While the Green Bay Packers would have liked to add a receiver for Aaron Rodgers, the run on the position happened earlier in the round. While edge isn't the biggest need on paper, it could quickly become one depending on how the Packers handle the "Smith Brothers" as releasing them both could create nearly 30 million in cap space. Jermaine Johnson just had a massive performance at the Senior Bowl and cemented himself as a first-round pick. Johnson was the best player on the field for Florida State and showed a variety of pass rush moves at the Senior Bowl.
Pick 29: Miami
Dolphins

: Travon Walker, EDGE, Georgia

Travon Walker is a flat-out dog and showed why for the Georgia Bulldogs all season long. Walker has exceptional size and can play a variety of positions across the defensive line. Walker would be able to move across the formation for the Dolphins and new defensive coordinator Josh Boyer. Walker shows a mix of power and speed from a variety of rushing spots and can dominate in the run game, especially when lining up as an edge. Walker would add versatility to a Dolphins defense with a chance to be more elite than his draft spot indicates.
Pick 30: Kansas City
Chiefs

: Roger McCreary, CB, Auburn

After coming up short against the Bengals, the Chiefs need to keep adding pieces on the defensive side of the ball. With a major portion of their secondary slated to be free agents once the new league year starts, the Chiefs need to add some youth and athleticism to their back end. McCreary is a speedy corner who can close on the ball and tackles well in the open field limiting big plays when receivers do make the catch. McCreary can shut down receivers playing bump and run but is also well versed in zone coverage.
Pick 31: Cincinnati
Bengals

: Zion Johnson, IOL, Boston College

After narrowly losing the Superbowl to the Los Angeles Rams, the Bengals' lone focus this offseason is to get more protection for Joe Burrow after he was sacked 70 times this season. Zion has three seasons' worth of starts under his belt, primarily playing on the left side with some experience at tackle, Johnson profiles as a guard at the NFL level. The BC product possesses good technique and always seems to be consistent which is something that could benefit the up and down unit of the Bengals.
Pick 32: Detroit
Lions

: Nakobe Dean, LB, Georgia

The 2021 Butkus Award winner could step into the middle of the Lions' defense and provide an impact from day one. Adding Hutchinson and Dean would drastically increase the competitiveness of the defense from day one. Dean is a three-down linebacker who can affect the run game as well as the passing game and can create negative plays in the backfield. Dean can move at 6-foot 225 pounds and provides value by covering running backs and tight ends in space.