Underdog Battle Royale Picks: Week 4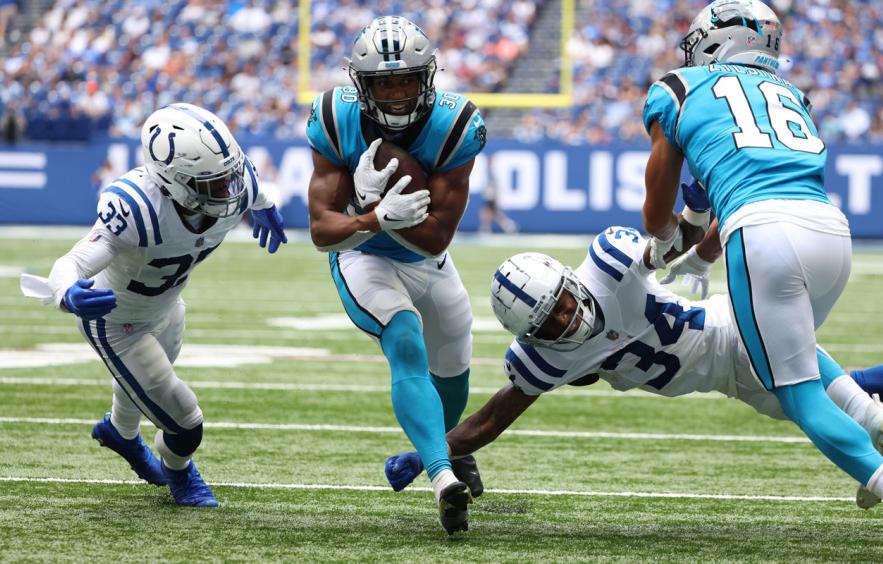 Justin Casterline/Getty Images
Last week's winner of the Underdog Fantasy Battle Royale tournament got by on a more diverse range of plays than what we've seen from previous winners.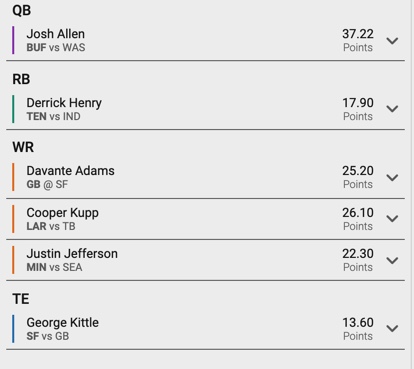 This team, which posted 142.32 points, had only two players from the three highest-projected games on the week. And quarterback Josh Allen, whose game was the lowest of the eight projected totals we looked at, ended up being the overall QB1 on the week with a 37.22 point performance in Buffalo's win over the football team.
Last week also had the fewest two-running-back builds we've seen among the top-10 teams in the tournament. Only five teams in the top-10 rostered two running backs in Week 3, while nine teams had two RBs in Week 1, and seven teams had two RBs in Week 2.
Overall, 21-of-30 top-10 teams have still sported a two RB build, so it's interesting that only five teams had such a build in this case.
Even more interesting is that the teams that went with one running back all had a different running back on their roster. Derrick Henry, Aaron Jones, Najee Harris, Austin Ekeler and Alvin Kamara were all on the single running back rosters in the top-10. Of these running backs, the highest scoring one was Harris, who was the overall RB5 on the week with 21.2 fantasy points. Jones was the lowest scoring running back with 16.6 points (RB14).
The team that finished second, which missed first placed by just .28 points, had three players from the Chiefs vs. Chargers and Rams vs. Buccaneers game. They then stacked the 49ers vs. Packers game with Aaron Jones, Davante Adams and George Kittle.
We know stacking can be a great way to gain an edge over the field if the game you choose to stack hits. It's a strategy we should probably consider more heavily going forward, especially in these six-player builds, where one bad play could bust your lineup. One bad game stack could also bust your lineup, but a good game stack could send you soaring.
Week 4 Spread and Over/Under
Los Angeles Rams (-6) vs. Arizona - O/U 55
Philadelphia (+5.5) vs. Kansas City - O/U 54.5
Los Angeles Chargers (-3) vs. Las Vegas - O/U 52.5
San Francisco (-2.5) vs. Seattle - O/U 52
Minnesota (+1) vs. Cleveland - O/U 51.5
Dallas (-4.5) vs. Carolina - O/U 50.5
New England (+5.5) vs. Tampa Bay - O/U 49
Buffalo (-17.5) vs. Houston - O/U 48
Atlanta (-1) vs. Washington - O/U 48
Quarterback
Matthew Stafford

, Los Angeles Rams

For the second week in a row, the Rams find themselves with the highest projected game total (55) in Week 4 against the Cardinals. Quarterback Matthew Stafford is averaging 23.69 points per game, and is fifth in the league with 942 passing yards and second in passing touchdowns with nine.

Opposing him is quarterback Kyler Murray, who is third in the league with 1,005 passing yards and seven touchdowns. Murray also has 70 rushing yards to his name and one rushing touchdown.

This game will be a fun one if the high-scoring affair goes as expected. Our rankings have Murray projected for 21.2 fantasy points and Stafford projected for 21.0. While we also suggest that Stafford has the more difficult schedule-adjusted matchup, the projected totals for these two feel close enough to take Stafford over Murray for draft capital reasons alone.

Stafford is likely to come off the board after Murray in these drafts, but it's not improbable for him to match, if not outperform Murray in fantasy points this weekend.
Kirk Cousins

, Minnesota Vikings

It's very easy to fade Kirk Cousins, for whatever reason.

While I'm not quite sure what that reason is, his play shouldn't be one. I mentioned him in last week's article, and can't help but bring him back for Week 4 against the Browns. Cousins has been a highly effective fantasy producer this season, averaging 24.14 (QB4) fantasy points while throwing for 918 yards and eight touchdowns to no interceptions.

The Vikings are also seventh in the league in pass attempts per game (40.0), and are just 12th in rush attempts per game (27.7). Some of these numbers are probably inflated thanks to a defense that is allowing 26 points per game and is also fifth-worst in yards allowed per game (409.7).

Our rankings project cousins as the QB12 on the week and as having the 11th-easiest matchup on the slate.
BONUS:
Tom Brady

, Tampa Bay Buccaneers

Without trying to take too long of a walk down narrative street, Tom Brady makes his return to New England in Week 4, along with Rob Gronkowski, and is also coming off a 34-24 loss to the Rams in Week 3. He is also averaging 28.5 points per game (QB1).

Best fantasy QB in the game so far. Coming off a loss. In a return against his former team that he once led to six Super Bowls. It's not the most analytical approach, but it's not hard to imagine Brady going off in this game. And the projected game total is still the seventh-highest one on the slate at 49.
Running Back
Chuba Hubbard

, Carolina Panthers

Last week in the Battle Royale, the ninth-place team rostered Austin Ekeler and Vikings running back Alexander Mattison.

Mattison went on to go off for 20.10 fantasy points, and rushed 26 times for 112 yards while also catching six passes for 59 yards. It isn't often we get a chance to get a player like this in these tournament drafts, but jumping when you see a chance to do so could help your team in a tremendous way.

We saw this last season with Mike Davis after Christian McCaffrey went down. Davis provided fantasy gamers with some big weeks in McCaffrey's absence, as he managed to post six top-12 weeks in 2020. Now we have a chance to reprise Davis' 2020 (at least for a few weeks) in the form of rookie running back Chuba Hubbard.

When McCaffrey left last week's game against the Texans, Hubbard came on in relief and rushed 11 times for 52 yards while catching 3-of-5 targets for 27 yards.

It's impossible to fully replace somebody as talented as McCaffrey, but a CMC lite can still be very good for fantasy, and Hubbard has a chance to be that. Our rankings project him as the RB18 on the week with 13.2 PPR, and he looks to have the 10th most difficult matchup on the week.

But Hubbard has the pass-catching upside and should see a heavy dose of volume as a 4.5 point underdog in a game that's projected for 50.5 points.
Austin Ekeler

, Los Angeles Chargers

It's funny to think that after a Week 1 performance in which Austin Ekeler saw zero targets, that the world was sent on tilt as if it would become the new norm.

Since Week 1, Ekeler has seen 15 targets over the last two weeks and has posted a receiving line of 15/113/1 in the process. He has also rushed 35 times for 166 yards and one touchdown on the season, and is the overall RB6 in points per game (16.5).

Our rankings project Ekeler as the overall RB2 on the week with 18.6 points against the Raiders. Ekeler's matchup looks to be the sixth easiest on the slate.
Wide Receiver
Mike Williams

, Los Angeles Chargers

Sticking with our teams on the west coast, Chargers receiver Mike Williams is having a ball to start the season. Williams is the overall WR2 in fantasy points per game (22.2) drastically outperforming fellow wide receiver Keenan Allen, who is averaging just 14.1 points per game (WR15).

Through three games, Williams is averaging 10.3 targets/gm and has found the end zone in every game of the season. He's averaging 7.33 receptions for 98.33 yards and 1.33 touchdowns per game. He has not had fewer than seven receptions in any game this season.

Williams is the WR9 in our rankings, behind Allen, and is projected for 14.6 points.

Both receivers are great options against the Raiders this weekend, but Williams earns the spotlight with his recent performances.
Calvin Ridley

, Atlanta Falcons

The Atlanta Falcons and everyone affiliated with them not named Cordarrelle Patterson, have been a massive disappointment this season. Wide receiver Calvin Ridley, who drafters were taking in the late first/early second round of drafts this offseason, is averaging just 11.2 points per game (WR34) and has a receiving line of 20/175/1 through the first three weeks.

Ridley is the WR12 in targets/gm (9.7), which would lead you to believe that a breakout game could be on the horizon. And Week 4 against the Football Team just might be it.

Washington's defense has been a major disappointment this season after entering 2021 with high expectations. The Football Team is allowing 30.7 points per game and is second in yards allowed per game with 432.0.

If there were ever a get-right game for Ridley and the Falcons, this weekend could be it.

Ridley could be solid leverage against a tournament field that may fade him after a slow start, but our rankings project him as the overall WR12 with 14.2 fantasy points, and has the third-easiest matchup on the weekend.

Tight End
Travis Kelce

, Kansas City Chiefs

The answer seems so obvious, but Travis Kelce has stood alone among the elite tight ends through the first three weeks of the season after Darren Waller and George Kittle have struggled out of the gate.

Waller, to his credit, did have a great Week 1 against the Ravens when he went for 10/105/1 on 19 targets and finished with 21.5 fantasy points. But Kittle has yet to find the end zone, and Waller has not finished with more than 9.0 fantasy points in either of the last two weeks.

Kelce, however, continues to dominate and looks like a borderline must draft player if you can get your hands on him this weekend.

Our rankings project him for having the 11th easiest matchup on the slate, and as the overall TE1 (of course) with 16.4 points. Waller is projected as the TE2 with 11.7 points, and with the fifth most difficult matchup.
Logan Thomas

, Washington Football Team

Washington tight end Logan Thomas has gotten off to a decent start this season with 12 receptions for 117 yards and two touchdowns. He's averaging 9.2 fantasy points on the season (TE7) and has two double-digit fantasy performances through the first three weeks.

Thomas is projected for 9.8 fantasy points in Week 4 against the Falcons, as our rankings have him projected for the 12th easiest matchup.