The Training Room: Week 12 Injury Updates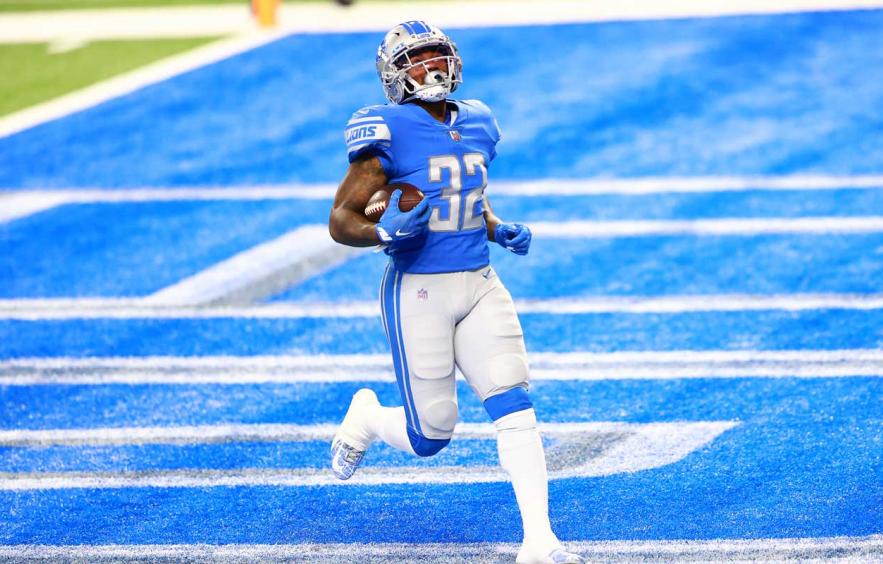 Rey Del Rio/Getty Images
During a holiday that is supposed to be focused on giving thanks and celebration, we had to deal with the onslaught of injuries. Brutal. But in all seriousness, I had a great Thanksgiving and I hope you all did as well. I was able to spend some much-needed time with family and recharge my batteries. This time of year always serves as a reminder of how important family and friends are.
However, you are not here for turkey talk. You want to hear about the injuries from this past week of games because once again, this week there were plenty of them. This time of year is usually tough as we limp, sometimes literally, to the finish line. If you are still in the playoff hunt, give thanks, dust yourself off and regroup. Here are the injuries from Week 12 of the NFL season.
D'Andre Swift, RB Detroit
Lions
Injury: right shoulder injury (possible AC Joint sprain)
Timetable for recovery: 2-3 weeks
Potential Replacement(s):
Jamaal Williams
Initial Thoughts:
Nothing ruins Thanksgiving like an injury to a top-10 fantasy running back. Unfortunately, that is what happened in the early game on Thursday. D'Andre Swift landed hard on his right shoulder in the Lions' game against the Chicago Bears and did not return. There is no official word but his mechanism of injury fits an AC Joint sprain (common injury for NFL RBs). It sounds like Detroit is planning on Swift to be out the next few weeks, which would align with the timeline for this injury: three weeks. Because Swift has essentially an extra week to recover after a Thursday game there is a chance he could play Week 15, but the following week at Atlanta might be more realistic.
Darren Waller

, TE Las Vegas

Raiders
Injury: left knee injury
Timetable for recovery: likely to return in Week 13
Potential Replacement(s):
Foster Moreau
Initial Thoughts:
Another potential big Thanksgiving injury was Darren Waller's left knee injury. Waller exited in the first half and did not return after halftime. By video, there was concern of an MCL sprain, but on Friday we were informed that Waller had an IT band strain. To be honest this is an odd diagnosis because you cannot sprain/strain your IT band. It's more likely that Waller has a contusion of some sort on the outside of his left knee. A return in Week 13 is probable at this time.
A.J. Brown

, WR Tennessee

Titans
Injury: rib contusion – placed on IR
Timetable for recovery: 4 weeks (3 weeks on IR plus bye week)
Potential Replacement(s):
Chester Rogers

,

Nick Westbrook-Ikhine
Initial Thoughts:
This one is a bit puzzling. After we got reports that A.J. Brown did not have a rib fracture, I was optimistic about his chances to play in Week 12, yet here we are. On Saturday the Titans placed Brown on IR. AJB has been battling a plethora of injuries this season (hand and knee), so I cannot help but wonder if Tennessee thought it would be best to shut down their star wideout for a few weeks and help him recover because it's unusual to see someone put on IR for a rib contusion. I am hopeful that Brown can suit up when he is eligible in Week 16.
Justin Fields

, QB Chicago

Bears
Injury: rib fracture
Timetable for recovery: 2-3 weeks
Potential Replacement(s):
Andy Dalton
Initial Thoughts:
Speaking of ribs, when I wrote about Justin Fields' rib injury last week, I indicated there could be some concern of a fracture. On Thursday Ian Rapoport confirmed my worry. There are some reports that Fields will be ready for Week 13 but for a QB who throws nearly every possession, a rib fracture is a painful injury. I would not be surprised if Fields missed another week or two.
Ezekiel Elliott

, RB Dallas

Cowboys
Injury: knee bone bruise
Timetable for recovery: 3 weeks
Potential Replacement(s):
Tony Pollard
Initial Thoughts:
Ezekiel Elliot has been nursing a knee injury all year and there is word now that Dallas is considering giving Elliot some time to rest and recover from this injury. Elliot's ankle injury last week surely did not help with his knee issue and the combination of both likely factored into his limited playing time. Tony Pollard tied his season-high snap share on Thursday. Bone bruises require rest to fully heal. It would not be shocking to see Elliot sit out a few weeks. Based on what we already know Pollard is flex worthy each and every week. Should Elliot miss time, Pollard would flirt with the RB1 tier.
Christian McCaffrey

, RB Carolina

Panthers
Injury: left ankle inversion sprain
Timetable for recovery: IR - season ending
Potential Replacement(s):
Chuba Hubbard

,

Ameer Abdullah
Initial Thoughts:
I am really tired of writing about Christian McCaffrey, but here we are again. In the second quarter of Sunday's contest, McCaffrey had his left ankle rolled up on by a Miami defender, a classic mechanism for an inversion ankle sprain. The Panthers put McCaffrey on IR Monday, meaning his season is over. It's been tough sledding the last two seasons for McCaffrey, hopefully he is able to return to form in 2022.
Miles Sanders

, RB Philadelphia

Eagles
Injury: right ankle sprain (inversion sprain)
Timetable for recovery: 0-3 weeks
Potential Replacement(s):
Boston Scott

,

Kenneth Gainwell
Initial Thoughts:
Unfortunately, after spending the past three weeks on IR with a right ankle sprain, Miles Sanders re-injured his right ankle. The good news is that Sanders was able to return to action, but Philadelphia used a committee of RBs with Boston Scott out touching Sanders two to 13 in the second half. Expected limited practices for Sanders this week with a chance that he misses another game or two.
Jalen Hurts

, QB Philadelphia

Eagles
Injury: left foot/ankle injury
Timetable for recovery: 0 weeks
Potential Replacement(s):
Gardner Minshew
Initial Thoughts:
After the game, we got word that Jalen Hurts was hobbled by a left ankle injury. Reviewing the tape it would seem that Boston Scott stepped on Hurts left foot causing the injury. Expect Hurts to be questionable this week but considering he was able to finish the game, his chances of playing in Week 13 are good. Hurts' mobility could be affected by this injury which might be an issue for fantasy managers considering that over 44% of his fantasy points have come from his rushing production.
Dan Arnold

, TE Jacksonville

Jaguars
Injury: right knee injury (unspecific)
Timetable for recovery: unknown
Potential Replacement(s):
James O'Shaughnessy
Initial Thoughts:
Dan Arnold injured his right knee Sunday and did not return to the game. It's difficult to see from the video but based on how he was tackled I am worried about an MCL sprain which could result in 3-4 weeks missed.
Randall Cobb

, WR Green Bay

Packers
Injury: groin strain
Timetable for recovery: 2-4 weeks
Potential Replacement(s):
Marquez Valdes-Scantling

,

Allen Lazard
Initial Thoughts:
In the middle of a huge fantasy performance, Randall Cobb injured his groin and was immediately ruled out of Sunday's game against the Los Angeles Rams. The quick removal is never a good sign. Typically, WRs miss three games with a groin strain.
Melvin Gordon

, RB Denver

Broncos
Injury: left hip
Timetable for recovery: 0-2 weeks
Potential Replacement(s):
Javonte Williams
Initial Thoughts:
Melvin Gordon injured his left hip on the first carry of the game Sunday but missed minimal time before returning to action. After that injury, Gordon and Javonte Williams' touch distribution was an even split at 17 apiece. Follow practice reports this week for Gordon but I do not expect him to miss any time.
Dalvin Cook

, RB Minnesota

Vikings
Injury: left shoulder dislocation
Timetable for recovery: 3 weeks - potentially season ending
Potential Replacement(s):
Alexander Mattison
Initial Thoughts:
Dalvin Cook had to be carted off the field after what was later confirmed to be a left shoulder dislocation. This can be a difficult injury for a running back. Cook has a history of right shoulder injuries more recently, but his left shoulder issues stem back to his high school days. With a shoulder dislocation, a labral tear is likely but not always the case. If Cook does have a torn labrum it would require surgery to repair. It's possible that Minnesota waits till the offseason, but at 5-6 the Vikings' playoff chances look bleak and it's possible they shut him down. If the plan is to have Cook return then he could do so in 2-3 weeks (more likely the latter).
Deebo Samuel

, WR San Francisco

49ers
Injury: groin injury
Timetable for recovery: 2-4 weeks
Potential Replacement(s):
Jauan Jennings

,

Trent Sherfield
Initial Thoughts:
Wide receiver Deebo Samuel, or should I say running back Deebo..wait no wide receiver (checks boxscore) running back? You get the gist. Samuel also sustained a groin injury Sunday evening. Deebo appears visibly upset after the fact but that does not always indicate the severity of the injury. During the post-game presser, Deebo told reporters he would get getting an MRI but that he was "not overly concerned." As I mentioned above, these injuries can take three weeks on average to recover from but are volatile and vary (think Curtis Samuel this season). Hopefully, Deebo is able to return after a short absence and return fantasy value. On average, groin strains result in an 18% decline in fantasy production when the player returns which would still have Samuel in the low-end WR1 range...I mean low-end RB1 range.
Past Injuries Discussed: