Superflex Draft Strategy: Modified Zero QB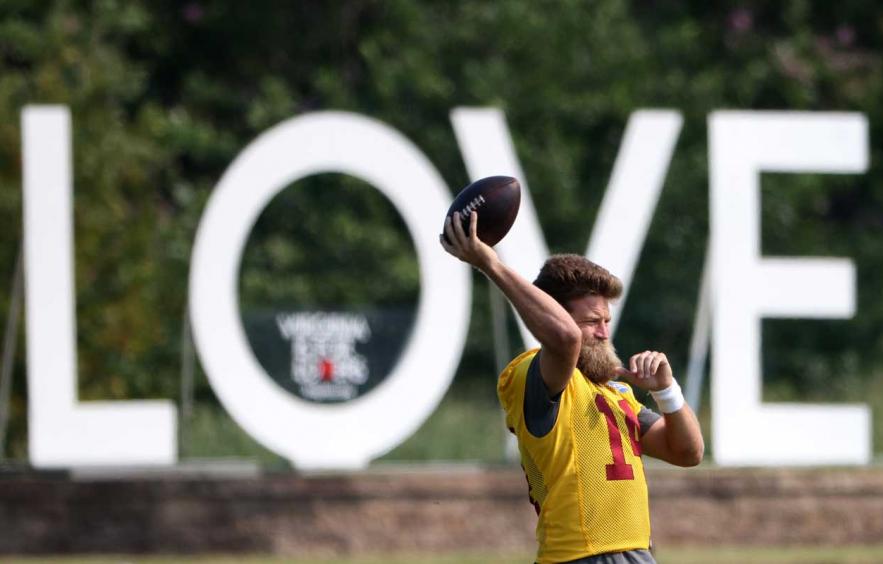 Kevin Dietsch/Getty Images
What's in a name? Everything, if you ask #FantasyTwitter. There's been plenty of debates over the validity behind the philosophy of Zero RB, for example, but this offseason's debate club has zeroed in on how much they loathe the term Modified Zero RB. I first heard the term Modified Zero RB ushered back in 2016 by @RumfordJohnny on Twitter, using it as a way to describe an offshoot of the Zero RB draft strategy—which is to take a running back early and then forget about the position for a while as you stockpile assets in the mid rounds. Or something like that. The term Anchor RB or Hero RB has become en vogue recently as a replacement for Modified Zero RB. Honestly, all these terms and the philosophies behind them can be exhausting to keep up with, however, that doesn't mean they're not worth employing in fantasy drafts.
---
More QB/Superflex Resources: An Intro to Superflex Leagues | QB Hot Spots (SOS) | Top 200 Superflex Rankings | QB Studs & Duds | QB SOS Beneficiaies + Late-Round Pairings | QB Breakouts | QB Rankings Breakdown
---
A brief primer on how I view Zero RB & Modified Zero RB:
Zero RB: Not using early-round draft capital on running backs in order to attack other positions such as wide receiver and tight end (especially important in leagues that award points for receptions). Note, this does not literally mean drafting zero running back for the entirety of your draft. Although, if that's how you want to roll, you be you, pal.
Modified Zero RB: An offshoot of Zero RB where you use early-round draft capital, say a first- or second-round pick, on running back, but then bypass the position for a little while, returning to your true Zero RB roots. It's called Modified Zero RB because it's modifying Zero RB.
Fair warning, this is how I interpret both strategies. They mean different things to different people, but I can't control everybody's #narrative. Justin Edwards has you covered for a detailed explanation on all running back strategies. What matters most is your philosophy to drafting fantasy teams, but I just wanted to put you in the right frame of mind as I discuss a potential draft strategy for Superflex leagues: Modified Zero QB (or, if you prefer Anchor QB or Hero QB).
What's Modified Zero QB?
Simply put, it's dedicating one of your first two picks to quarterback in a Superflex league and then ignoring the position until the mid-to-late rounds of your draft (or whenever you feel is the best time to attack the QB2 tier of signal-callers). Ignore might be too strong of a word, honestly. Think of it more as stockpiling valuable assets at the other skill positions. I once wrote about a similar strategy for TwoQBs back in the day I dubbed Studs & Streaming: You draft a fantasy QB1 early (your stud) and pair him with a streaming duo later in your draft. What's old is new again! Modified Zero QB can be this generation's Studs & Streaming.

Is Modified Zero QB Easy to Pull Off?
The short answer is no. Superflex drafts are the wild west of fantasy these days. It seems every drafter wants to grab two elite quarterbacks early and dominate the Superflex spot. Which, fair. It is a Superflex league, after all, and the reason they've become increasingly popular over the years is because they have brought prestige to the most important position in football. However, that doesn't mean we can't still find value in the mid-to-later rounds, especially if you're willing to play a game of QB2 chicken.
2QB ADP from 2018 vs. Superflex ADP in 2021

| | 2018 | 2021 |
| --- | --- | --- |
| QB Rank | ADP | ADP |
| QB1 | 17.6 | 1.4 |
| QB2 | 33 | 3.1 |
| QB3 | 34.2 | 6.6 |
| QB4 | 36.4 | 6.9 |
| QB5 | 46.6 | 9.4 |
| QB6 | 47.8 | 16.9 |
| QB7 | 52.4 | 17.9 |
| QB8 | 61.4 | 19.6 |
| QB9 | 64.2 | 29.1 |
| QB10 | 66.8 | 35.4 |
| QB11 | 69.8 | 37.7 |
| QB12 | 71.6 | 43.1 |
| QB13 | 74 | 46.4 |
| QB14 | 76.8 | 45.1 |
| QB15 | 83.4 | 53.9 |
| QB16 | 86.6 | 67.7 |
| QB17 | 88.8 | 71.1 |
| QB18 | 94.8 | 73.7 |
| QB19 | 95.8 | 76.3 |
| QB20 | 98 | 86.9 |
| QB21 | 99.6 | 92.9 |
| QB22 | 115.6 | 87.7 |
| QB23 | 120 | 90.3 |
| QB24 | 126.2 | 98 |
| QB25 | 133.6 | 95.7 |
| QB26 | 135 | 95 |
| QB27 | 137.2 | 100.3 |
| QB28 | 143.4 | 103.6 |
| QB29 | 152 | 115.4 |
| QB30 | 155.6 | 125.1 |
| QB31 | 157.6 | 126 |
| QB32 | 159.8 | 133.3 |
What the above data tells us is that fantasy managers are selecting their quarterbacks much earlier than they used to, which means waiting on quarterbacks is more difficult. How does that impact those who want to utilize a Modified Zero QB strategy? First, you have to find an area of the draft where you feel comfortable using two picks on the position. Second, you have to find a pair of quarterbacks you can pair for streaming purposes, whose strength of schedules mesh and whose bye weeks don't interfere.
The first part is simple, as only you can decide how long you are willing to wait on bypassing your Superflex slot. Looking at this year's ADP, the QB16 to QB23 range looks like an ideal and cost-sensitive area to target if you want to draft as many running backs, wide receivers and tight ends as possible before your second and third quarterbacks. Now, let's reveal who those quarterbacks are.
Right off the bat, we can remove Carson Wentz and Deshaun Watson, leaving us with six quarterbacks to target between rounds six and eight. Below is their strength of schedule grids for the 2021 18-week season, according to our schedule-adjusted fantasy points allowed (aFPA) metric.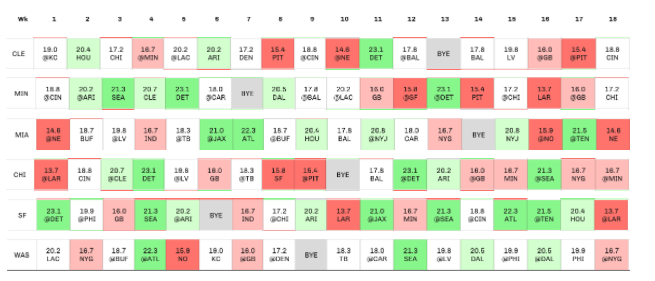 How can we implement Modified Zero QB with these six quarterbacks after you've selected your early-round QB1? First, we look to eliminate any potential matchups due to a pair of signal-callers having the same bye week. Somehow we've avoided the bye week blues with this sextet of quarterbacks. That's a good sign, maybe. Next, we want to build a quarterback dynamo with as many "easy" weekly matchups as possible. According to aFPA, light green indicates a moderately weak opponent, while green indicates a very weak opponent. White is in the middle. What we want is to avoid as many pink and red matchups as possible and to accumulate as many white, light green and green matchups between our streaming signal-caller pairing. And the winner is...
Baker Mayfield

and

Ryan Fitzpatrick

= The Super Superflex Couple of 2021
Okay, Mayfield and Fitzpatrick are not the perfect streaming duo, per se, as their schedules don't line up to create an all-green SOS grid. However, when you align their schedules, you do not encounter a single difficult matchup the entire season (pink or red). Every week of the season you can start one or the other in a neutral to very good matchup, according to aFPA, including when one or the other is on bye. It's honestly kind of remarkable. Now, if we go back to their Superflex ADP (courtesy of @TwoQBs), it would cost you a mid-sixth-round pick (Mayfield, 67.7 ADP) and a mid-eighth-round pick (Fitzpatrick, 90.3 ADP) to come away from your draft with these gunslingers. In order to ensure your best shot of nabbing both you'd probably want to use back-to-back picks on each, so you're looking at the sixth and seventh rounds of your Superflex draft to come away with your quarterback pair. The advantage of implementing a Modified Zero QB approach is that you're not using a ton of early-round draft capital on a position that yields a high amount of weekly fantasy performers. There were 22 quarterbacks who averaged 15+ fantasy points per game in 2020 (min. 10 games played) and that number gets bumped up to 23 if we include Dak Prescott (26.9 fantasy points/game in five games). With Mayfield and Fitzpatrick you're also getting a duo that combined for 10 QB1 performances (Top-12 fantasy QB in a given week) in 2020, providing a bit of QB1 upside with them.
Another cost-effective pairing that works fairly well is Baker Mayfield and Zach Wilson:

Wilson isn't that much cheaper than Ryan Fitzpatrick, as he's going only 10 picks later, but Wilson does provide another avenue to wait on the position.
Now that we know which quarterbacks to target and roughly at what point in the draft, let's take a look at how we can implement this in a draft setting and what the final results may look like.
In this Superflex mock draft I participated in with other real humans (not AI computer picks), I drew the 1.01 pick. This is a great spot to implement Modified Zero QB because in the middle rounds you can go back-to-back on quarterback to complete your quarterback room after taking one early. As you can see, I wasn't able to draft Mayfield and Fitzpatrick, as Mayfield went at the end of round five, but I did settle for the QB2 consolation prize of Fitzpatrick and Zach Wilson. This duo does not align as perfectly as Mayfield and Fitzpatrick, but between the two of them, you're only looking at three weeks of your QB2 having a difficult matchup (Weeks 2, 7 and 9):

By not taking a second (or even third) quarterback early I was able to load up on pass-catchers and running backs who should be heavily involved in their offenses' passing games (something you want to emphasize in PPR leagues). This is what I would trot out every week in my starting lineup:
Bottom Line
Waiting to draft your second quarterback in Superflex allows you the ability to build a strong roster overall. Instead of drafting your QB2 in the early rounds, you can allocate that draft capital on a running back or receiver (or tight end) and stockpile starting assets at the rest of the skilled positions, while still drafting a viable QB2 or two signal-callers you can stream on a weekly basis at a much reasonable draft cost. For more Superflex strategy analysis you can check out the 2021 Superflex Draft Guide from TwoQBs.