DeVonta Smith: The Solution to Philadelphia's WR Problems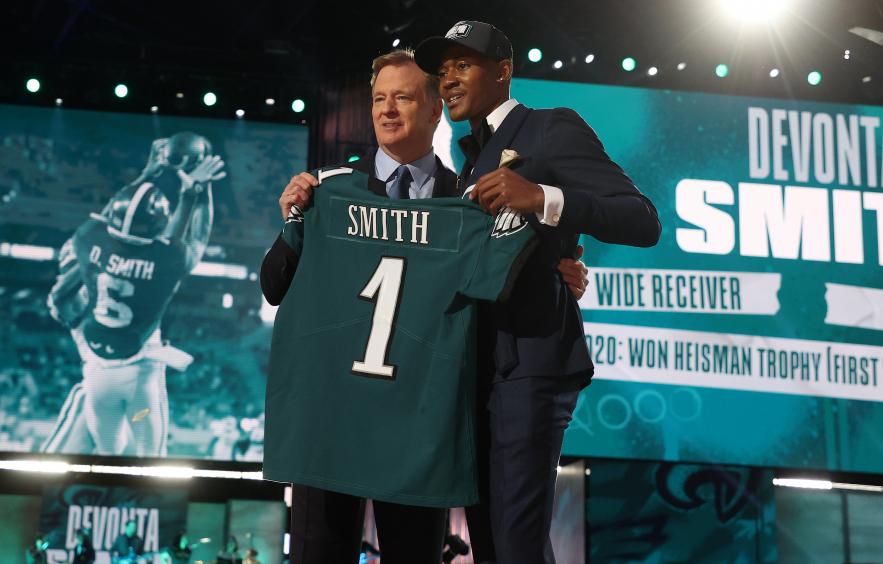 Gregory Shamus/Getty Images
Trading up to the 10th overall pick, the Philadelphia Eagles selected Alabama's DeVonta Smith in the first round of the NFL Draft. One of the most productive receivers in college history, Smith leaves Alabama as the team's leading receiver after winning the Biletnikoff Award for the nation's top receiver in 2020. However, Smith comes with questions surrounding his slight build at 6-foot-0, 170-pounds. Durability concerns aside, Smith enters an interesting wide receiver room with targets up for grabs. A team very much rebuilding, Smith's year one expectations remain a pivotal point in fantasy leagues this fall.
This piece will first examine Smith's collegiate production and what to expect at the NFL level. From there, we will dive into Smith's potential fit with the Philadelphia Eagles and decipher how this could influence the offense as a whole.
DeVonta Smith

Outlier Extraordinaire

A four-year player at Alabama, Smith's accomplishments shine even brighter when considering he played alongside three additional first-round picks in Jerry Jeudy, Henry Ruggs, and Jaylen Waddle. While Smith did not contribute much as a freshman, he notched 42 receptions, 693 yards, and six scores as a sophomore in 2018. More interesting yet, Smith missed a handful of games to a hamstring injury that season. Prior to his absence, Smith actually ranked second on the team in receptions and receiving yards.

As a true junior in 2019, Smith continued to play alongside Jeudy, Ruggs, and Waddle, but this time he led the team in receiving with 68 receptions, 1,256 yards and 14 scores. Interestingly, Smith made the decision to return to school following his breakout season. As a senior in 2020, Smith erupted for 117 catches, 1,856 yards, and 23 touchdowns on Alabama's National Championship winning team. This equated to a 47.3% College Dominator after initially breaking out at age 20.9. College Dominator refers to the total percentage of receiving yardage and touchdown production a player accounted for in their final season, while Breakout Age refers to the age of a player during their first season accounting for 20% of receiving yards and touchdowns in their offense.
DeVonta Smith

2020 Game Logs

| Opponent | Targets | Receptions | Yards | TDs |
| --- | --- | --- | --- | --- |
| Missouri | 12 | 8 | 89 | 0 |
| Texas A&M | 7 | 6 | 63 | 1 |
| Ole Miss | 14 | 13 | 164 | 1 |
| Georgia | 14 | 11 | 167 | 2 |
| Tennessee | 10 | 7 | 73 | 0 |
| Mississippi State | 15 | 11 | 203 | 4 |
| Kentucky | 13 | 9 | 144 | 2 |
| Auburn | 7 | 7 | 171 | 2 |
| LSU | 10 | 8 | 231 | 3 |
| Arkansas | 4 | 3 | 22 | 0 |
| Florida | 17 | 15 | 184 | 2 |
| Notre Dame | 7 | 7 | 130 | 3 |
| Ohio State | 15 | 12 | 215 | 3 |
From an efficiency perspective, Smith also excelled in a variety of categories. Playing 35% of his snaps in the slot, Smith created both downfield and after the catch. Smith led the country with 589 yards on catches occurring beyond 20 yards, while also averaging 8.2 yards after the catch per reception. This mark ranked 20th in the entire country and all occurred with Smith dropping just three of 145 targets in 2020.

Offensive Fit with Philadelphia
Looking at Smith's fit with the Eagles, Philadelphia possesses one of the more unsettled offenses in football. With Jalen Hurts replacing Carson Wentz as the starting quarterback, Philadelphia also changed its coaching staff this offseason. Former Indianapolis Colts offensive coordinator Nick Sirianni will now guide the Eagles and function as the team's play-caller.
Curiously, Sirianni has a history of wide receiver rotations. Last year, not a single Colts receiver eclipsed a 20% target share or 80% snap share when healthy under Sirianni. In 2019, Hilton managed to best a 20% target share, but again only Marcus Johnson played 80% of the snaps when healthy. With Philadelphia's lack of proven commodities at the position, this timeshare could again pop up in the Eagles wide receiver room.
As for personnel, Philadelphia has now spent two consecutive first-round picks on receivers. Last year, Jalen Reagor struggled with health, registering just 396 yards and one score on 31 receptions in 11 games. With only one year under his belt, it remains unlikely the Eagles will give up on the former TCU star this quickly. They also return former AAF stud, Greg Ward, in the slot. Behind the starting trio, former UDFA Travis Fulgham provides depth after producing four good games last year. Quez Watkins and John Hightower provide situational deep threats, while J.J. Arcega-Whiteside should be considered a longshot to make the roster after repeated horrific performances.
A big domino yet to fall among Eagles' pass catchers is the status of Zach Ertz. Rumored to be a trade or cut candidate, Ertz technically still holds a roster spot with the team. While Goedert sits atop the depth chart, Ertz's potential departure leaves Caleb Wilson and Jason Croom to potentially fill the void. Wilson and Croom played 14 and 13 snaps respectively last year. Philadelphia ranked second in 12-personnel rate last year (35%), making this an interesting dilemma for Sirianni. Indianapolis also ran 12-personnel 21% of the time last year and 26% of the time in 2019. While both were above average, Philadelphia may be forced into more 11-personnel based on personnel alone.
Moving to 2021, Ertz potentially vacates 72 targets and team-leading 18.9% target share. DeSean Jackson and Alshon Jeffery also both departed after injury-riddled 2020 seasons. With unproven commodities across the formation, Smith could theoretically upgrade any receiver on the roster. With vacated targets also potentially up for grabs, Smith could quietly walk into a strong target share.
The other factor to consider here is Hurts's influence on the offense as a whole. Philadelphia's pass rate dropped from 64% with Wentz to 56% under Hurts in his four starts. From an efficiency perspective, it is hard to imagine Hurts playing worse than 2020 Wentz. Wentz ranked 34th with his 57.4% completion percentage and 6.0 yards per attempt. Hurts completed only 52% of his passes, but he averaged a much more efficient 7.2 yards per attempt. There's always room for improvement in Hurts's first full offseason as the starter with an improved offensive line. Isaac Seumalo, Brandon Brooks, and Lane Johnson all return from season-ending injuries, with Landon Dickerson entering the fold from the 2021 NFL Draft.
From a redraft perspective, this Eagles offense looks like one of the more volatile assets in fantasy football. Smith comes off the board first among Philadelphia pass catchers, but all come off the board in Round 6 or later. With so many unsettled pieces in Philadelphia, taking a shot on these prices makes sense. A player like Reagor looks like an even more interesting price-adjusted play, going outside the top 100 picks.
From a dynasty perspective, the Eagles hold slightly more uncertainty than other teams. The old coaching regime drafted Hurts, making quarterback a potential future problem. However, the current coaching staff did trade up for Smith. 4for4's dynasty expert George Kritikos currently ranks Smith as his WR3 and fifth overall player in rookie drafts. Similarly, Kritikos pegs Smith as the WR24 and 46th overall player in startup dynasty drafts.
Bottom Line
Despite the Eagles trading up for Smith with the 10th overall pick, the former Alabama wide receiver comes with concerns. On top of poor size, Smith lands in an evolving Eagles offense. With new play-caller Sirianna in place and a dual-threat quarterback in Hurts, the offense has yet to reveal itself. However, Smith's draft capital and weak depth chart suggest a large role in year one. On Underdog Fantasy, Smith currently comes off the board at pick 80.3. At this point in drafts, other receivers include Deebo Samuel, Tyler Boyd, and Jerry Jeudy. All proven assets, waiting on a cheaper piece of the Philadelphia offense could prove profitable. Reagor comes off the board at pick 127.1, providing a much more palatable access point to the Eagles offense.