Monkey Knife Fight Plays: Week 6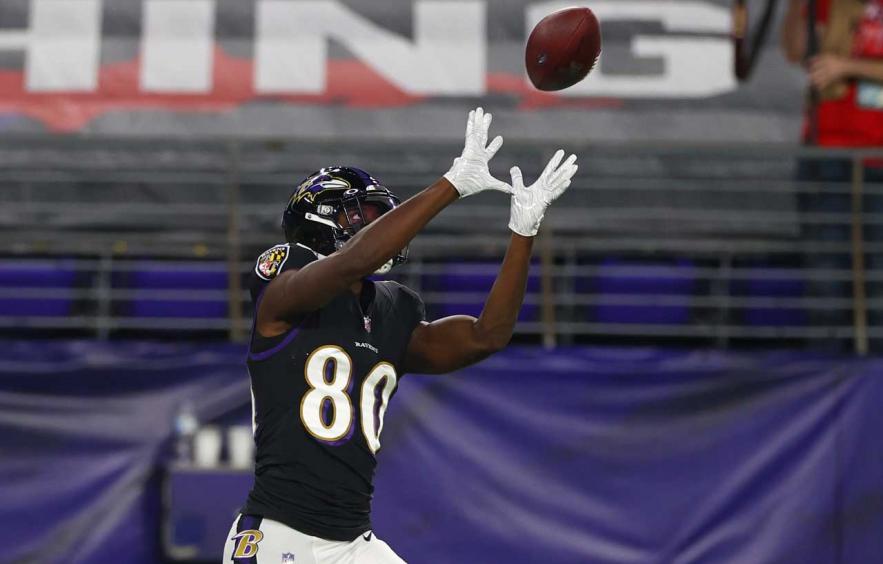 Todd Olszewski/Getty Images
Week 5 Recap: We went 5-5 last week due to multiple bad beats. We lost the Baker Mayfield play by half a yard as he finished with 247 passing yards (the line was 246.5). DK Metcalf saw a season-high 11 targets as the Seahawks played catch-up—the final reception to hit over 5.5 receptions was on the last play to win the game for his team. D.J. Chark played a season-low 67% of the snaps and is looking unlikely to suit up in Week 6 for health reasons. Now that I've gotten some of the bad beats off my chest, it's time to focus on Week 6.
For those reading this column for the first time, we scrape Monkey Knife Fight's contests against our projections. I'll go through 10 plays we feel confident in exceeding (More Than) or failing to reach (Less Than) MKF's projections by the percent likelihood we give the outcome. The percentage you see in parentheses next to each player's name is the chance we believe the More Than or Less Than hits, according to our projections.
Most of our recommendations will be to side with the Less Than on MKF, as they know the majority of fantasy players like to root for more of everything—more points, more yards, more receptions, etc.—and set their numbers higher than a normal median projection. Be sure to check out our Discord server and the #mkf channel where I'll post the full list of how our projections stack up against those of Monkey Knife Fight.
Editor's Note: Open a new MKF account and deposit at least $10 to get a free 4for4 subscription of your choice.
---
Before we dive in, a quick More or Less refresher:
More or Less - You will be drafting your team by choosing More or Less for a group of player statistics presented. You will be squaring off with your own predictions. Choose the coinciding number of tiers correctly to win the prize shown prior to entry.
Top Week 6 MKF More or Less Plays
Miles Boykin

, WR –

Ravens

(90.3%)
MKF Line: 4.5 receptions
4for4 Projection: 2.4 receptions
This line almost feels like a mistake. Miles Boykin has zero games with more than four receptions and only one game with 5+ targets. He has 10 total receptions through five games—an average of two receptions per game. I will try and hit this line as much as possible.
Darius Slayton

, WR –

Giants

(78.8%)
MKF Line: 5.5 receptions
4for4 Projection: 4.1 receptions
Darius Slayton has gone under 5.5 receptions in three of his five games this season and has caught just 23-of-40 passes (57.5%) thrown his way. Even with Sterling Shepard slated to miss another week, I still like the Less Than in this scenario.
Aaron Jones

, RB –

Packers

(75.7%)
MKF Line: 68.5 rushing yards
4for4 Projection: 51.8 rushing yards
This doesn't feel too high, but Tampa Bay has been lockdown against the run and Jones has been coming in right around this number in much softer matchups. Opposing running backs against the Bucs this season:
There's a chance our projections at 51.8 rushing yards might be too optimistic.
Lamar Jackson

, QB –

Ravens

(75.5%)
MKF Line: 54.5 rushing yards
4for4 Projection: 37.9 rushing yards
I think there's a good chance something is wrong with Lamar Jackson. He mysteriously missed multiple practices last week, and then rushed just two times for three yards. Maybe it was a fluke but the alarms are sounding off. Even before his dud, he has rushed for less than 54.5 yards in a game four times this season.
Deebo Samuel

, WR –

49ers

(73%)
MKF Line: 4.5 receptions
4for4 Projection: 3.5 receptions
I think Monkey Knife Fight is jumping the gun a bit here. In his two games this season, Samuel has caught a combined five passes. While he played 89% of the snaps last week, he somehow only reeled in two of his eight targets. I like the Less Than until he proves to be fully healthy.
Aaron Rodgers

, QB –

Packers

(68.7%)
MKF Line: 302.5 passing yards
4for4 Projection: 281.4 passing yards
Aaron Rodgers has passed for more than 302 yards in half of Green Bay's four games so far, but the key is Tampa Bay's defense. They have allowed just one 300-yard passing outing this season and it was to Teddy Bridgewater. There's a good bit of wiggle room between our projections and the line, so I lean towards the Less Than here.
Odell Beckham

Jr., WR –

Browns

(68.3%)
MKF Line: 5.5 receptions
4for4 Projection: 4.8 receptions
Another weird line from MKF here. Beckham has yet to catch six receptions in a game this season. His reception game totals: 3, 4, 4, 5, and 5. He has only reeled in 21-of-39 targets (53.8%) so far this season—a trend likely to continue against Pittsburgh's top-tier defense.
Evan Engram

, TE –

Giants

(68.3%)
MKF Line: 4.5 receptions
4for4 Projection: 3.8 receptions
Evan Engram's reception totals have been all over the place this season: 2, 6, 3, 6, and 1. He's averaging just 3.8 receptions on the season—he has a good chance of posting four or fewer receptions in this game.
Aaron Jones

, RB –

Packers

(67.6%)
MKF Line: 4.5 receptions
4for4 Projection: 3.9 receptions
With Davante Adams back, it's likely we see less of Aaron Jones in the passing game. Last season with Adams in the lineup, Jones averaged only 2.5 receptions per game. This season playing with Adams, he caught four in both contests, which is still under the 4.5 reception line MKF is offering.
Marquise Brown

, WR –

Ravens

(63.5%)
MKF Line: 58.5 receiving yards
4for4 Projection: 81.0 receiving yards
Marquise Brown has 6+ targets in every game this season and has gone for more than 58 yards in three-of-five games so far. He has started seeing even more targets the past two weeks, with 8 and 10. This has coincided with boosted receiving totals (86 and 77 yards). If he starts consistently seeing 8-10 targets he is going to absolutely explode down the stretch.
Thanks for reading and If you have any questions feel free to reach out to me on Twitter @ConnorAllenNFL or on Discord.
---
Editor's Note: The More or Less plays and projections were available at the time of this article being published. Please refer to MKF for the most up-to-date offerings.