Monkey Knife Fight Plays: Week 5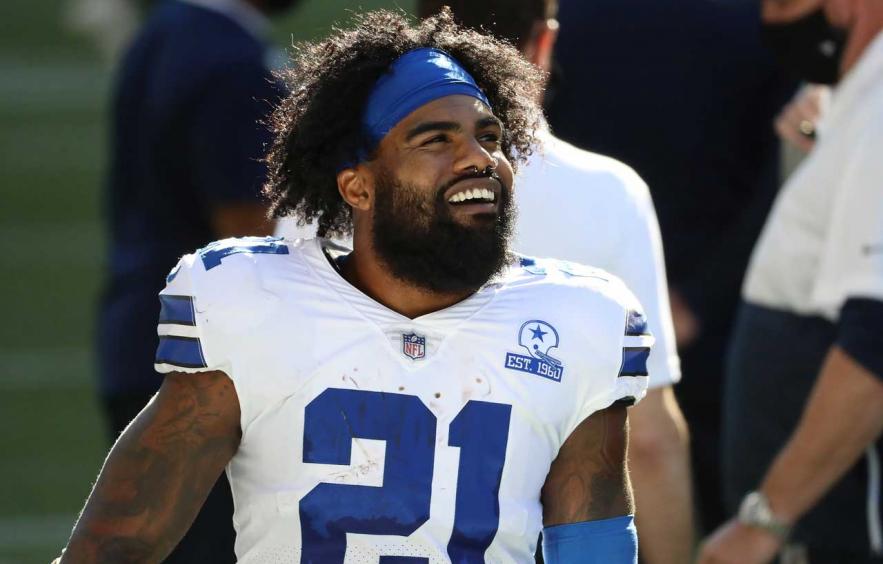 Abbie Parr/Getty Images
Week 4 Recap: We were spot on in last week's column in most areas but only wound up hitting on six out of our 10 recommended plays. Austin Ekeler's injury was a quick loss, while Darrell Henderson Jr. played behind career journeyman Malcolm Brown, despite clearly outperforming him leading up to last week's game. Who is more washed-up: A.J. Green or Zach Ertz? It's seemingly a valid question after Ertz turned four receptions into a whopping nine yards, despite having literally zero target competition.
For those reading this column for the first time, we scrape Monkey Knife Fight's contests against our projections. I'll go through 10 plays we feel confident in exceeding (More Than) or failing to reach (Less Than) MKF's projections by the percent likelihood we give the outcome. The percentage you see in parentheses next to each player's name is the chance we believe the More Than or Less Than hits, according to our projections.
Most of our recommendations will be to side with the Less Than on MKF, as they know the majority of fantasy players like to root for more of everything—more points, more yards, more receptions, etc.—and set their numbers higher than a normal median projection. Be sure to check out our Discord server and the #mkf channel where I'll post the full list of how our projections stack up against those of Monkey Knife Fight.
---
Editor's Note: Open a new MKF account and deposit at least $10 to get a free 4for4 subscription of your choice.
---
Before we dive in, a quick More or Less refresher:
More or Less - You will be drafting your team by choosing More or Less for a group of player statistics presented. You will be squaring off with your own predictions. Choose the coinciding number of tiers correctly to win the prize shown prior to entry.
Top Week 5 MKF More or Less Plays
Isaiah Ford

, WR –

Dolphins

(81.5%)
MKF Line: 4.5 receptions
4for4 Projection: 3 receptions
This was our No. 1 play last week, and Ford again finished with four receptions for 48 yards, hitting the Less Than. According to our projections, it's once again the top play on the board and I'd play it as frequently as possible.
Ezekiel Elliott

, RB –

Cowboys

(75.5%)
MKF Line: 91.5 rushing yards
4for4 Projection: 72.9 rushing yards
We aren't necessarily projecting Elliott to have a bad game, but 91.5 projected rushing yards is just too high of a number. He has rushed for 96, 89, 34, and 54 yards to start the season, falling short of that 91.5 line in three out of the past four weeks. The matchup against the Giants looks easy on paper based on total rushing yards allowed, but they have actually been solid at defending the run. They rank fourth in rushing success rate allowed and 12th in both explosive run rate allowed and adjusted line yards.
Amari Cooper

, WR –

Cowboys

(65.5%)
MKF Line: 5.5 receptions
4for4 Projection: 7.6 receptions
Cooper has 9+ targets and 6+ receptions in every game so far this season. A line of 5.5 receptions is a bit silly based on his usage so far. Some of this has been fueled by Dallas playing in comeback mode, but Cooper is clearly their No. 1 receiver.
Ben Roethlisberger

, QB –

Steelers

(67.1%)
MKF Line: 278.5 passing yards
4for4 Projection: 258.3 passing yards
The Steelers have only played three games this season due to the Titans' negligence, but Roethlisberger has gone under this 278.5 passing yards twice in three games. The Eagles' pass defense has been nearly league average but does a good job of bringing pressure, ranking fourth in adjusted sack rate and eighth in pressure rate.
Baker Mayfield

, QB –

Browns

(64.4%)
MKF Line: 246.5 passing yards
4for4 Projection: 228.2 passing yards
Baker has cleared 200 passing yards once this season—219 against the Bengals in Week 2. A line of 246.5 yards is absurd given what we know about the Browns' desired run-heavy approach and the matchup against the Colts, who are ranked first in yards per drive allowed and who have the second-best passing defense, according to DVOA.
Tyreek Hill

, WR –

Chiefs

(63.8%)
MKF Line: 5.5 receptions
4for4 Projection: 5.1 receptions
Hill has recorded five receptions in three of his first four games and caught four passes in the other contest. He now draws the Raiders. While the matchup is good, the spread doesn't suggest this will be a game for very long with the Chiefs near two-score favorites and superior in almost every metric. With a game that could be out of hand early and an above-average projection from MKF, siding with the Less Than is the move here.
D.J. Chark

, WR –

Jaguars

(59.3%)
MKF Line: 63.5 receiving yards
4for4 Projection: 83.1 receiving yards
We have Chark projected nearly 20 yards higher in a cake matchup against a Texans secondary ranked 28th in passing success rate allowed and 21st in explosive pass rate. Returning from injury last week, Chark racked up 95 yards on eight receptions. In a game that's expected to be back and forth, Chark should easily exceed 64 yards.
Ty Hilton, WR –
Colts

(64.5%)
MKF Line: 4.5 receptions
4for4 Projection: 4.0 receptions
Monkey Knife Fight's projection is about half a reception too high. After starting the season with four receptions in Week 4, Hilton has caught three passes in each of his last three games. He hasn't quite looked the same this season. Combine this with Philip Rivers's lackluster arm strength and the Colts' affinity for running the ball, and you have a formula for failure. Grab the Less Than down to four receptions.
DK Metcalf

, WR –

Seahawks

(75.8%)
MKF Line: 5.5 receptions
4for4 Projection: 4.3 receptions
I'm not sure how, but Metcalf has the 4-for-4 special with four receptions in four straight games. He is an absolute monster but that doesn't necessarily translate to a lot of receptions, especially playing out wide. As our projections suggest, I think more often than not, he ends up with four-to-five receptions rather than six.
Calvin Ridley

, WR –

Falcons

(77.9%)
MKF Line: 6.5 receptions
4for4 Projection: 5.1 receptions
Even if Ridley was at 100%, seven receptions is a lot. He had five receptions two weeks ago and turned in a goose egg at the hands of Jaire Alexander last week. Even with Julio Jones banged-up, I would lean towards the Less Than here.
Thanks for reading and If you have any questions feel free to reach out to me on twitter @ConnorAllenNFL or on Discord.
---
Editor's Note: The More or Less plays and projections were available at the time of this article being published. Please refer to MKF for the most up-to-date offerings.