TJ's #Taek: Week 12 NFL DFS Recap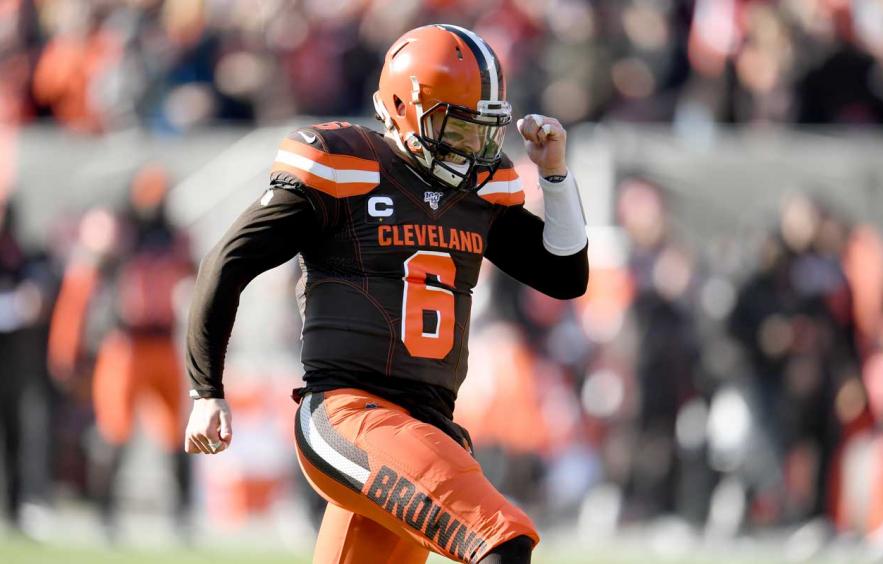 Jason Miller/Getty Images
Week 12's winning lineups from the biggest contests on FanDuel and DraftKings can be used to tease out lineup-building strategies and offer clues on how you could have landed on a similar team. Reviewing your hits and misses each week is imperative if you want to be a profitable DFS player but examining winning lineups is also a useful exercise in cultivating a winning approach.
DraftKings Week 12 Millionaire Winning Lineup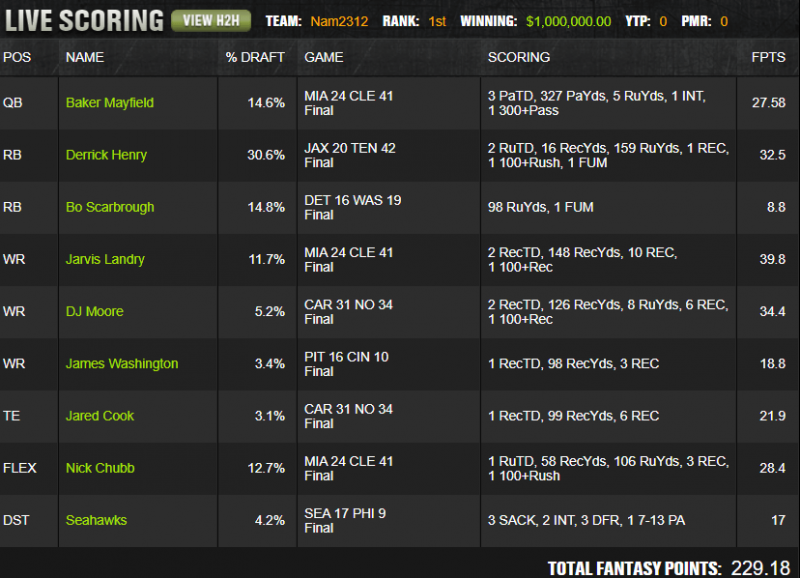 Week 12 was a perfect example of why seeking out correlated plays within a lineup is often more profitable than trying to cover all of your bases. Nam2312 zeroed in on a popular Browns offense and added more correlation with pass-catchers from the Saints/Panthers game—that correlation allowed this lineup to top the field while also fading some of the more popular offenses that underperformed, such as the Falcons. Owners who try to pick top plays from multiple popular offenses in fear of missing out often do so to less-than-stellar results.
What Were the Indicators for the Low-Owned Plays?
The Saints came into Week 12 with two of the highest individual ownership projections of the week, with Alvin Kamara and Michael Thomas. In an offense with one of the highest projected point totals of the week, it made sense to look for leverage off of Kamara and Thomas—targeting Jared Cook took advantage of the fact that some of the best tight ends in the league weren't on the main slate. With so little talent at the position, it likely wasn't going to take a huge week to separate from the field at the position. D.J. Moore has been one of the most targeted wide receivers in the league in recent weeks and this was a game where we were expecting the Panthers to have to throw more than usual.
Speaking of a bad tight end week, injuries to the Steelers offense pushed a cheap Vance McDonald up the ownership projections late in the week. Sure he had seen seven targets in three straight games, but he had done virtually nothing with those targets. James Washington, Pittsburgh's best deep threat, was the perfect leverage play off of a popular player at a volatile, low-volume position.
FanDuel Week 12 Sunday Million Winning Lineup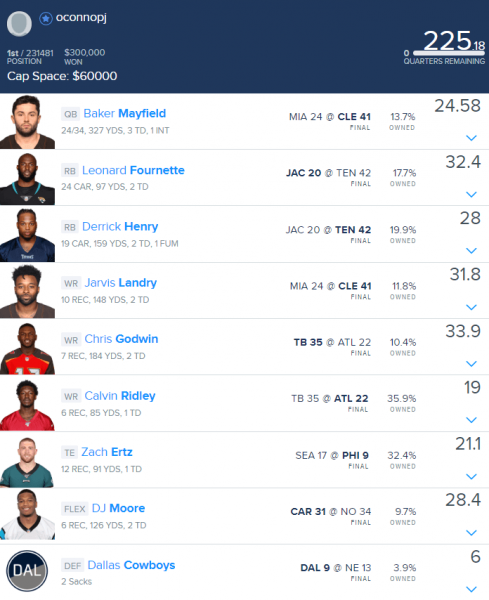 There wasn't much finesse in this lineup in terms of contrarian plays—only one position player was owned in fewer than 10% of lineups and the 17.3% average ownership was the second-highest for a winning Sunday Million lineup that we have seen this year. There are two interesting characteristics of this lineup that helped make it unique despite the high ownership. Having two running backs from the same game is a negative correlation play that often caps the ceiling of a lineup, but is also a play many owners might avoid. Used sparingly, it could be a decent contrarian tactic. This lineup also marked the fourth time this season that a winning lineup used a wide receiver in the flex—last year, only two lineups won the Sunday Million without a running back in the flex.
TJ's Final #Taek
Last week, I looked at wide receiver volume in hopes of uncovering some players who may be flying under the radar in fantasy. For tournament purposes, volume is not the end-all, be-all—deep targets are extremely valuable for upside and can make a relatively low-volume player a target in GPPs. Deep targets are similar to targets near the goal line in that just a couple per game can overcome low volume or a tough matchup. As has been the case with most of my recent data digs, I want to look at the most relevant data which is usually the most recent. Here is a list of the players with the most deep targets (15+ yards downfield) over the last six weeks.