2017 Early Rankings: Quarterbacks Below you'll find my second stab at 2017 rankings for the quarterback position. I don't generally like to publish rankings prior to free agency and the draft, but I know that early mocks/drafts have already started up, MFL10s are underway, and 4for4 subscribers may be wondering where I stand on certain players heading into the offseason.
The rankings are based on PPR scoring systems. I've included 2016 points per game, two-year points per game (where applicable) and two-year Coefficient of Variation (CV) which measures how consistent a player is on a week-to-week basis. (The lower the CV, the more consistent the player.) I've also included the difference (DIFF) between my rank and the player's current rank at My Fantasy League (using MFL10/MFL25 data). A positive number means that I'm relatively high on the player while a negative number means -- you guessed it -- that I'm relatively low on the player.
Below the rankings you'll find some discussion about a few players that jump out as particularly good or bad values heading into the spring.
The QB position continues to be loaded with productive players, so my approach – to wait on a quarterback – heading into 2017 fantasy drafts won't change much. Matt Ryan, Kirk Cousins, Dak Prescott, Matthew Stafford, Tyrod Taylor and Marcus Mariota were all drafted outside the top 12 and ended up finishing inside the top 12 by season's end.
Until Sammy Watkins' foot injury, my primary target in 2016 drafts was Tyrod Taylor and he still produced top 8 numbers with Watkins in and out of the lineup. He was a top 10 quarterback on a per game basis in 2015, so he has now produced starter-caliber numbers in two straight seasons. Below you'll find that his numbers are pretty comparable to Russell Wilson's, and Wilson is considered to be one of the best quarterbacks in the league: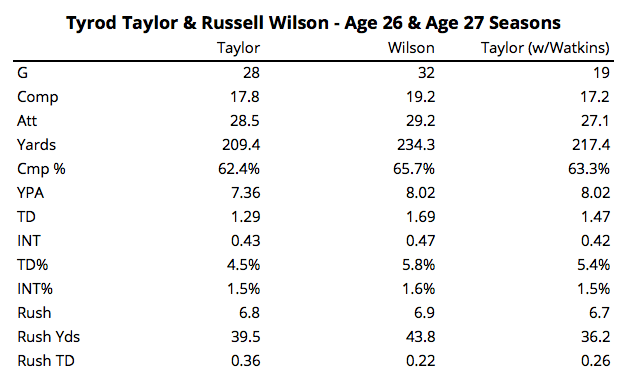 The Bills decided to retain Taylor, so his value remains about the same. The team let Robert Woods walk, so the cupboard is pretty bare after Watkins. Hopefully, the Bills will address the position in the draft.
A Few Random Thoughts
Kirk Cousins has averaged 284 yards and 1.7 passing touchdowns in his last 32 starts. He has the #9 PPG over the last two seasons. He's going to play at least one more year in Washington, but lost both DeSean Jackson and Pierre Garcon. Washington signed Terrelle Pryor and Brian Quick as replacements.
Carson Wentz got a bump with the addition of Alshon Jeffery and Torrey Smith. His receiving corps is now one of the best in the league.
Jameis Winston also saw an upgrade in his receiver group after the Bucs signed DeSean Jackson.
Mike Glennon enters the rankings at #28 while Brian Hoyer (the probable starter in San Francisco) gets a #29 ranking.
Last year's consensus #1 QB, Cam Newton, is going #10 after finishing #17 in 2016. He had finished in the top 4 in four of the previous five seasons. He will undergo surgery for a torn rotator cuff.
Last season, Russell Wilson posted less than half of his 2015 rushing yardage. Had he maintained those rushing yards, he would have finished #6 instead of #10 even though he only threw 21 touchdowns. (He had 34 passing TDs in 2015.) Injuries early in the season played a factor. He started to run the ball more in Week 11, and averaged 28.4 rushing yards per game over his last seven starts, not including the playoffs. I expect 80-90 rushing attempts next year, assuming he stays healthy. This should lead to a bounce back season, though the offensive line remains a concern.
Matt Ryan had an MVP-caliber season, but he has finished #14 or lower in two of the last four seasons, and I wonder how he'll do with a Super Bowl hangover and Kyle Shanahan out of the picture.
Philip Rivers should be more consistent assuming he can get a healthy season out of Keenan Allen. He has finished in the top 12 in eight of the last nine seasons, and Allen, Tyrell Williams and Travis Benjamin are all under contract. (Dontrelle Inman is a restricted free agent.)
Blake Bortles' fantasy output continues to outperform his real-world play. He finished #9 in 2016 after a #4 finish in 2015. His hold on the starting job seems tenuous, which is why he's ranked lower than his fantasy finishes over the past two seasons.
If Tony Romo lands in Houston or some other positive situation, he'll rise in these rankings. He's certainly developed a reputation for being fragile, but he also finished #11 or higher in four straight seasons from 2011 to 2014.