Dynasty Rookie Mock: TE Premium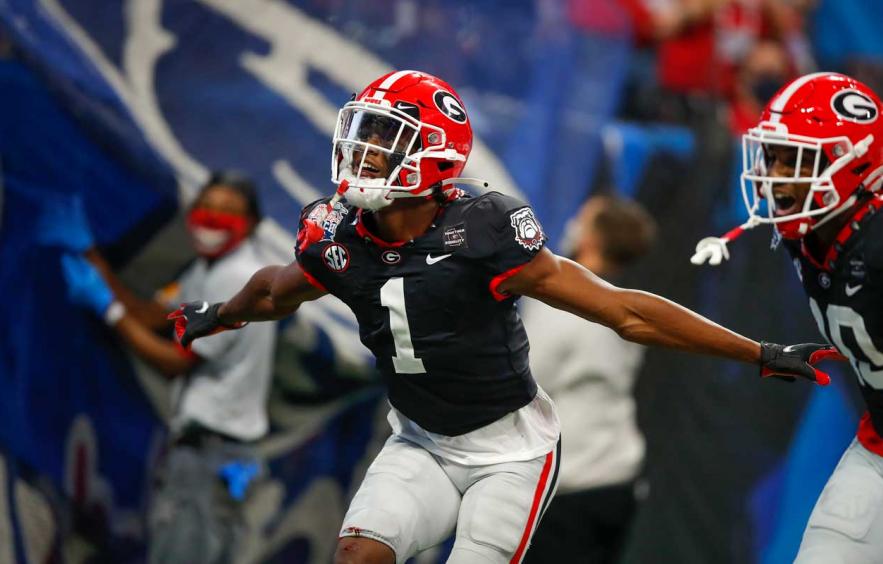 Todd Kirkland/Getty Images
I previously ran a rookie mock for 4for4 using DLF's new mock draft simulator tool. That draft was a 12-team superflex draft out of the fourth-draft slot. After also conducting a start-up mock for 4for4, I'm going back to the rookie well again. In this draft, I'll be sticking with the 12-team league as that seems to be the most common league size, but this draft will be five-rounds, so we'll see how depleted the talent pool gets with an additional 12 selections. This draft will also differ in that it will not be superflex, but it will be tight end premium (TEP). I'm also drafting out of the 11 spot this time, so the board should look slightly different to me compared to last time. With those parameters in place, let's look at how the draft played out.
Round 1
Unlike in years past, if I'm not blessed with the 1.01, I prefer to draft towards the back of the first round this year. Luckily that's where I have found myself in most real-life rookie drafts this year, and that's where I was in this mock. My top target in this range all year has been the Steelers' George Pickens, and I'm not rocking the boat even in a mock. I have Pickens as the WR2 in this year's class, so nabbing him here feels like thievery.
Woulda, Shoulda, Coulda, Part 1
The only players I would take ahead of Pickens among this year's rookie class would be Breece Hall and Treylon Burks. That's it. So, in both real and mock drafts, I've hoped to get Pickens in this range, and he's more often than not fallen to me here, and I've been thrilled each time.

Round 2
One of the most complex parts of playing in dynasty leagues is the constant struggle of evaluating players and determining if they'll help you now or later. In this case, I drafted someone who I think will be an asset down the road and maybe not necessarily a significant fantasy contributor in 2022. Therefore, I went with the Raiders' Zamir White, who I suspect is going to be buried behind Josh Jacobs all season. However, after the Raiders failed to pick up Jacobs' fifth-year option for next season, he will probably be wearing a different uniform in 2023, leaving the door wide open for another Georgia running back to produce fantasy goodness.
Woulda, Shoulda, Coulda, Part 2
I would have liked Alec Pierce falling to me, but his ADP has been creeping up lately. I was surprised to see Kenny Pickett taken at 2.04 in a single quarterback league, as that is about seven or eight picks earlier than I've been accustomed to in 1QB drafts this season. Trey McBride, as the first tight end off the board, is no surprise at 2.07, and he would have been in play if he was still there when I was on the clock. Overall, this has gone relatively chalky through two rounds.

Round 3
Things got gross quick, didn't they? As much as I said I liked drafting at the end of round one, I equally dislike being at the end of round three. There are quite a few intriguing players in the early-to-mid-third, and none of them fell to me. So, looking at who was available when I was on the clock, I selected the player who I believed to have the least competition ahead of him on his depth chart: The Bears' Velus Jones. Jones is arguably the Bears WR2 before the team even plays a game this season, and there isn't anyone else remaining in the draft who can boast of being in as good of a situation. I don't love the pick, but I made the most out of what I could with pick 35.
Woulda, Shoulda, Coulda, Part 3
I would've gladly thrown a dart on Tyrion Davis-Price, Tyler Allgeier, and Hassan Haskins had they made it to me. I love Justyn Ross' upside in general and, more specifically, as a part of the Chiefs' offense. Given the tight end premium scoring, I was a little surprised that only McBride and Jelami Woods had been selected up to this point, and I considered Cade Otton with this pick, but since tight ends were falling, I thought I could kick the can down the road for one more round.

Round 4
Isn't it great when things go according to plan? I had considered Otton in round three, and he made it back to me in round four. Otton was one of this year's top tight end prospects, and once Rob Gronkowski announced his retirement, it's hard to argue that Otton isn't in the best position among rookies at his position. I'm very pleased with this pick.
Woulda, Shoulda, Coulda, Part 4
We saw five tight ends go in this round, and even though I got the fifth one, I think I got the best one. None of the wide receivers in this range are of any interest to me. There is some upside to running backs like Keaontay Ingram, Jerome Ford, and Snoop Conner. I can spin a narrative for each of them that make them all a steal this late in drafts, but I have no regrets here as I got a player I seriously considered a full round earlier.

Round 5
Now we're getting into the deep stuff. Given the TEP scoring, there seemed to be more value at that position this late into the draft compared to other positions. As a result, I went with The Cowboys' Jake Ferguson. I didn't love him during the pre-draft process but considering all of the ongoing contract drama with Dalton Schultz, Ferguson might be the man in Big D a year from now. These late-round flier picks are all reward, no risk. If Ferguson hits, it is a massive win for my team. If Ferguson flops, oh well, most of the players in this range will be waiver wire fodder by the time the bye weeks start anyway.
Woulda, Shoulda, Coulda, Part 5
I might have been interested in Desmond Ridder had he fallen to me. Isaiah Pacheco seems like a lock to make the Chiefs' opening day roster, and getting the potential upside of an Andy Reid running back this late would be a nice stash-and-pray move to close out a draft. Aside from that, once you start getting into these later rounds, the pickings get really slim.
Who's Left?
I was surprised to see Sam Howell go undrafted, especially after seeing Brock Purdy getting drafted at 5.09. The Titans' Kyle Phillips seems to be gaining steam in camp and is someone to keep your eyes and ears open on. I like Kennedy Brooks in a Jordan Howard-esque role with the Eagles, but that probably makes him more of a best ball option if he even makes the team. Chig Okonkwo has a chance to become one of the better fantasy tight ends from this entire class, and in hindsight, I probably should've taken him over Ferguson in Round 5. If he goes undrafted in your leagues, he should be a priority FAAB addition following the draft.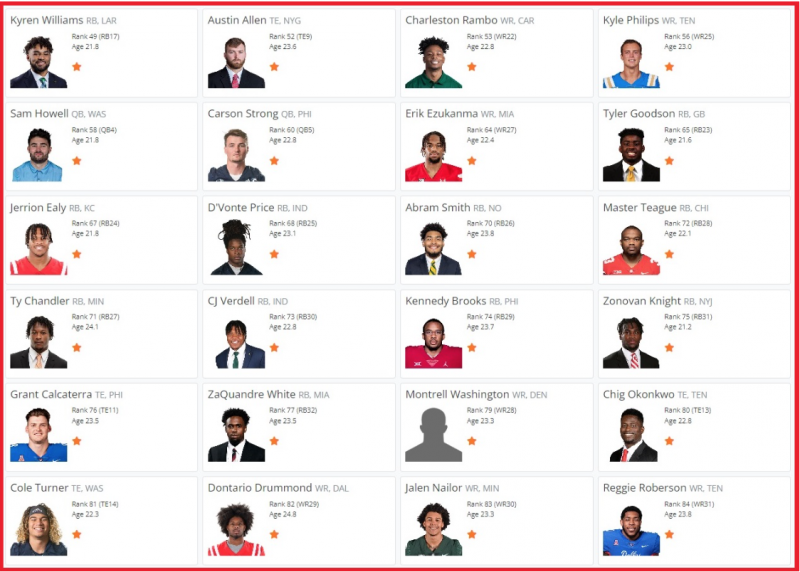 Hopefully, you enjoyed this second go-around with DLF's mock draft simulator. Be sure to check it out yourself and see if things play out differently for you. It's a great tool to prepare for rookie drafts and as a way to gauge rookie values before you start trading and tweaking your fantasy rosters. Overall, I was much happier with the results of this draft than my first draft for 4for4. That is one of the most important parts of conducting your own mock drafts, you can see which draft slots work best for you, given the players you like and the strategies you prefer to employ, and that can give you an edge when the time comes for your real-life drafts. Good luck this season!