Depth Chart Battle: Kansas City Chiefs Wide Receivers (Fantasy Football)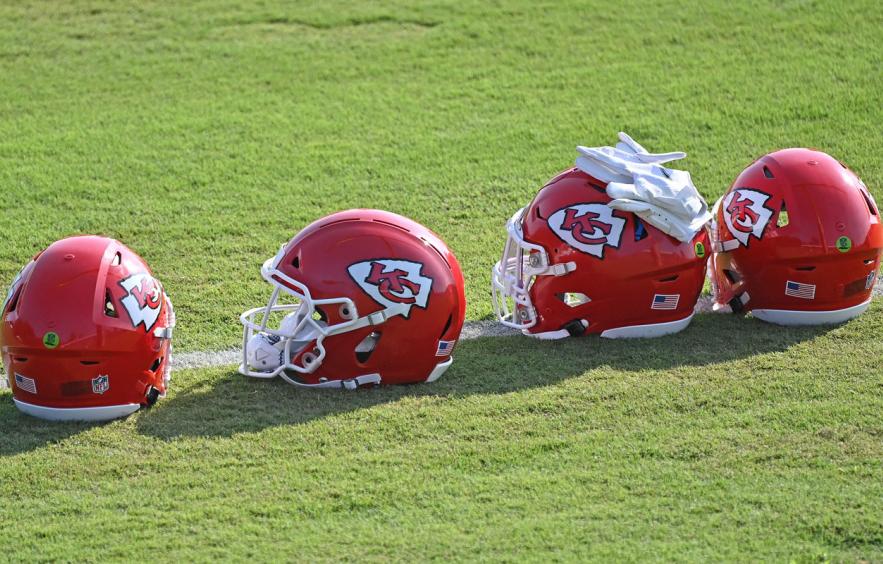 Peter G. Aiken/Getty Images
The 2022 group of receivers for the Chiefs will look a lot different than it has in recent seasons. That's because this offseason the team traded star receiver, Tyreek Hill to the Miami Dolphins. To help replace him, they drafted Western Michigan standout, Skyy Moore in the second round of the 2022 NFL Draft and signed free agents JuJu Smith-Schuster and Marquez Valdes-Scantling. Fantasy managers know Travis Kelce is going to be Patrick Mahomes' favorite target, but who, out of this receiver group, will end up as the second leading receiver? Based on their current ADPs, most fantasy managers are expecting that to be Smith-Schuster, but who is the best value and which receiver should you be targeting in your fantasy football draft?
---
Other Profiles & Debates: Player Profiles | Chargers WRs | Broncos WRs | Giants WRs | Eagles WRs
---
JuJu Smith-Schuster

(Underdog ADP: 49.9, WR24)

JuJu Smith-Schuster is one of the more debated fantasy football players of the summer and there's good reason for that. When he was drafted in 2017, he wasted no time making a name for himself and by his second season, he was a blossoming star who many expected to be a top-12 receiver for years to come. Unfortunately, that's not exactly how things ended up playing out but was it really as bad as what the fantasy community has made it out to be?

Anytime we look at a player it's important that we allow ourselves to be open to the context around their given situation. Smith-Schuster's career has been perceived to be in a tailspin ever since his epic sophomore campaign, but looking a bit closer at the past three seasons might just paint him in a slightly different light.

His 2019 season is now characterized as the beginning of the end for Smith-Schuster. He missed four games and played under 32% of the total snaps in a fifth contest. Eliminating that game, he finished with 68 targets, 40 receptions, and 531 receiving yards in 11 games. This was a far shot from his 16- target, 111-reception, and 1,426-yard 2018 season, so what in the world happened to make the wheels fall off that hard?
Steelers

Passing Stats, 2017–2020

| Year | Completion Percentage | Attempts | Yards | Touchdowns | Yards Per Attempt | Air Yards Per Attempt |
| --- | --- | --- | --- | --- | --- | --- |
| 2017 | 65.1% | 590 | 4,354 | 29 | 7.7 | 7.5 |
| 2018 | 66.6% | 675 | 5,174 | 35 | 7.5 | 7.4 |
| 2019 | 61.8% | 510 | 3,214 | 18 | 6.3 | 5.3 |
| 2020 | 65.2% | 656 | 4,129 | 35 | 6.3 | 6.6 |
In short, quarterback play matters. A lot. In 2019, Ben Roethlisberger suffered a torn ligament in his throwing elbow which forced Mason Rudolph and Devlin Hodges under center, and from the table above you can see just how much the passing offense fell off. The completion percentage, yards, touchdowns, and yards per attempt all plummeted.
Even when Big Ben came back in 2020, he wasn't the same passer he once was. His yards per attempt was 1.2 yards less than in 2018 and 1.4 yards less than in 2017. Despite throwing 66 more passes in 2020 than in 2017, the team threw for 405 fewer yards and despite attempting just 19 fewer passes in 2020 than in 2018, the team threw for 1,045 fewer yards. With that kind of quarterback play, it should be no surprise to see Smith-Schuster struggle the past three years.
However, even though JuJu was working with a past his prime quarterback in 2020, he still managed to finish with 97 receptions, 831 yards, and 9 touchdowns. In terms of half-PPR PPG, he was the WR27 with an 11.6 PPG average. Many will be quick to point out his pathetically low 8.6 yards per reception average and in a vacuum, this number looks awful. However, when you consider that number with the context of the team's yards per attempt and air yards per attempt average, it paints that low number in a different light.
The reality is that Smith-Schuster has been dealing with either a broken or a terrible quarterback for the past three years. The last time we saw Smith-Schuster with competent quarterback play in 2017 and 2018, he finished as the WR16 (2017) and WR9 (2018) with a total of 245 targets, 169 receptions, 2,343 yards, and 14 touchdowns across those two seasons.
This brings us back to the present, with Smith-Schuster in Kansas City. We can see now just how impactful quarterback play can be on a receiver and the upgrade from 2019 Mason Rudolph or 2020 Ben Roethlisberger to Patrick Mahomes is difficult to put into words. In Mahomes' worst season as a starter, he averaged 7.4 yards per attempt and 7.6 air yards per attempt. These numbers are in-line with the best numbers Roethlisberger put in 2017 and 2018 when Smith-Schuster was an excellent fantasy option.
Chiefs

vs

Steelers

Passing Stats, 2018–2021
Yards
Touchdowns
Yards Per Attempt
Air Yards Per Attempt
Chiefs
Steelers
Chiefs
Steelers
Chiefs
Steelers
Chiefs
Steelers
2018
5,126
5,174
50
35
8.8
7.5
9.6
7.4
2019
4,690
3,214
30
18
7.2
6.3
8.1
5.3
2020
5,005
4,129
40
35
7.9
6.3
8.7
6.6
2021
4,937
4,017
37
23
7.3
6.0
7.5
6.0
Smith-Schuster has target shares of 16.6% (2017), 24.5% (2018), 18.3% (2019), and 19.6% (2020) across his four seasons where he's played in at least half of the games. He'll have an excellent chance to earn a 20% target share in 2022 with a fairly wide-open receiver room in Kansas City. Training camp reports have stated he's solidly outplayed the other receivers and looks poised to be the Chiefs' No. 1 receiver entering this season. Fantasy managers should expect Smith-Schuster to be used further down the field with the improved quarterback play. His current WR24 is a reasonable one. There is room for him to outplay his current draft slot.
Skyy Moore

(Underdog ADP: 91.5, WR45)

With the 54th pick in this year's NFL Draft, the Kansas City Chiefs selected Skyy Moore out of Western Michigan. On the pass-happy Chiefs, with Mahomes under center, Moore has a lot of potential entering his rookie season and it's certainly possible he becomes a fantasy starter. However, it may not be as easy as it initially looks. With Travis Kelce entrenched as Mahomes' No. 1 target and Smith-Schuster making a strong case to be his No. 2, Moore may not be anything more than No. 3 on the target hierarchy. While fantasy managers are very aware of Marquez Valdes-Scantling's fantasy shortcomings, his skillset as an above-average blocker and someone defenses need to respect down the field, will keep him on the field. All of this is to say that Moore's pathway to regular playing time and a fantasy-relevant target share may not be as easy as it initially appears.

However, we'd be remiss not to talk about the kind of prospect Moore is. According to Sports Info Solutions, he ranked fifth in the country in yards per route run with a 3.6-yard average. That wasn't the only area where he displayed his excellence. He averaged 7.9 receptions per game (6th), 107.7 receiving yards per game (6th), and commanded a 37% target share (2nd). His scoring report over at Sports Info Solutions had this to say about him,
"Skyy Moore plays receiver in Western Michigan's RPO-heavy offense. He lines up both in the slot, as well as outside. Moore is a super-sudden athlete with very good balance and body control. While he lacks height, he has good length for his size, has a thick build from the waist down, and plays with ideal toughness and physicality."
Matt Harmon's Reception Perception is also very high on Moore and his potential as evidenced below.
New Chiefs (!!) WR Skyy Moore in #ReceptionPerception:



- Ranked 2nd among charted prospects in success rate vs. man (75%) and press coverage (75.7%)

- Led all prospects in success rate vs. zone coverage (88.1%)

- He can play inside and outsidehttps://t.co/HbifB61JlJ pic.twitter.com/HYsV8rlAzF

— Matt Harmon (@MattHarmon_BYB) April 30, 2022
Moore has been busy during training camp with reports of him being used in the backfield and all over the field. His route running has flashed and looks like an exciting, young prospect. At this stage of their careers, MVS and Mecole Harman are who they are, but Moore offers untapped potential. His college pedigree offers a lot of upside with a 44.8% college dominator rating (91st percentile) and a 20.0 breakout age (62nd percentile). He checks off a lot of the boxes fantasy managers look for in rookies poised to make a Year 1 impact. He has an excellent college dominator rating, an extremely high target share in college, he was an early declare, and has good draft capital. Don't be surprised if he gets better as the season goes along and becomes fantasy managers are getting into their starting lineups.
Marquez Valdes-Scantling

(Underdog ADP: 94.9, WR46)

This should be one of the easiest passes for fantasy managers. Marquez Valdes-Scantling has never averaged more than five targets per game or 45 yards per game. If we take his best per game averages across four seasons we'd end up with five targets per game (2021), 2.38 receptions (2018), and 43.1 yards (2020). Using those career highs in those three categories he'd finish with 85 targets, 40 catches, and 733 yards across 17-games.

While some may be thinking his current situation in Kansas City is better than the one he's coming from, I wouldn't be so sure. In Green Bay, no player other than Davante Adams recorded 90 targets in any of his four seasons in Green Bay. The leading target earner from 2018-2021, second to Adams, was Jimmy Graham in 2018. From 2019-2021 there wasn't a single player who broke 70 targets. Needless to say, the door was absolutely wide open for MVS to become the undisputed No. 2 receiver and he never did. Now, in Kansas City, he's going to have to fight for targets with Travis Kelce, JuJu Smith-Schuster, and Skyy Moore. Not only that, but Mecole Hardman earned 83 targets in 2021, which is more than MVS has ever had in any of his four seasons.

Fantasy managers can't argue the quarterback play will be better since Aaron Rodgers has been the MVP in back-to-back seasons. The one thing going for MVS is the increase in team passing volume, but will that be enough to make him fantasy relevant? It's highly unlikely and fantasy managers shouldn't be betting on it, even at his WR46 price tag.

He's finished as the WR77 (2018) in half-PPR PPG, the WR92 (2019), WR63 (2020), and WR68 (2021). Unless you're in a best ball league, MVS should be completely off your radar. While he may be a very good blocker and someone defenses need to pay attention to down the field, his game is not at all conducive to fantasy scoring.
Mecole Hardman

(Underdog ADP: 122.6, WR56)

If there was any hope that Mecole Hardman might yet be a thing following the Tyreek Hill trade, the team's subsequent moves should have shattered any hope of that. They not only signed Smith-Schuster and MVS, but they drafted Moore, as well. They didn't just double-down on the position, they brought in three new faces, which should tell fantasy managers pretty much everything they need to know about how Andy Reid and the Chiefs feel about Hardman.

One of the interesting things to note with Hardman is the discrepancy between his target share and his target rate. As a rookie, he earned a 7.3% target share compared to his 16.5% target rate. In 2020, the difference was 10.2% (target share) vs 19.1% (target rate). You saw a similar trend last season when he earned just a 13.1% target share but had a 21.0% target rate. What does that tell us?

It appears Reid has a very specific role for Hardman. Reid will generate certain plays for him, which is why his target rate has been almost double what his target share has been his entire career. He's never earned his targets through three seasons and there's very little reason to expect that change now with the increased competition. However, Reid may continue to scheme touches for him as he can be an exciting player in space. That said, 3-4 generated touches per game are not going to make him fantasy relevant and it should keep him far off of your fantasy radar. At Hardman's ADP, there are much more exciting players who have more upside, such as Kenny Golladay, DeVante Parker, Jakobi Meyers, Christian Watson, Jahan Dotson, Jarvis Landry, George Pickens, and Romeo Doubs. The list really does go on and on.

Who Should You Draft?
Fantasy managers should be focused on drafting JuJu Smith-Schuster or Skyy Moore. Valdes-Scantling and Hardman are two guys they should absolutely be ignoring this year. At this stage of their careers, they are who they are and the increased target competition won't allow them to pay off at their given price tag. If that wasn't enough, it's hard to imagine either playing offering fantasy managers any sort of upside.
Smith-Schuster is appropriately priced, although with his recent training camp performance his ADP has been steadily rising and that's something to pay attention to. He has top 20 upside in Kansas City, but has his ADP climbs, his draft cost and his reasonable ceiling are starting to get fairly close together. Moore definitely offers the most upside at his current price tag, although it may take him a little to accumulate himself to the pro game.
MVS, because of intangibles, is going to stay on the field. Smith-Schuster also looks locked as a starter. This could leave Moore playing on only 11-personnel sets and it's possible he shares some of those slots early with Hardman, which will limit his routes run and ultimately, how many targets he earns. He'll need to fully separate himself from Hardman to earn regular playing time and a chance at a fantasy-relevant target share. However, when the Chiefs run two receiver sets, Moore will likely head to the sidelines.
Smith-Schuster and Moore are the only two receivers in Kansas City fantasy managers are prioritizing this offseason. Moore offers a cheaper price to get a piece of the Chiefs' offense, while Smith-Schuster offers more guaranteed value, but at a higher price tag.