Depth Chart Battle: Keenan Allen vs. Mike Williams (Fantasy Football)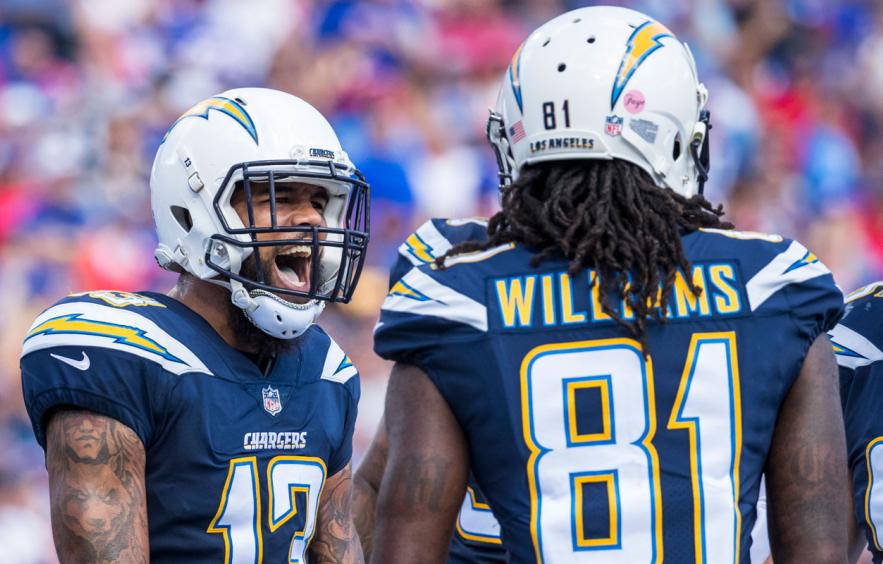 Brett Carlsen/Getty Images
If there's one thing that the fantasy football community can agree on this season, it's that the Chargers are going to be a fantastic offense in 2022. This is reflected in drafts, as the Chargers have both a running back (Austin Ekeler, RB3) and a quarterback (Justin Herbert, QB2) going in the top-3 at their position in addition to two top-15 receivers. While Ekeler and Herbert's roles in the offense are pretty much locked and loaded, the question of who will be the WR1 is an important one that needs answering. In this article, I'll take a look at both Keenan Allen and Mike Williams' candidacies for the role of top receiver, and make a verdict on who you should target in drafts.
---
Other Profiles, Debates & Battles: Player Profiles | Broncos WRs | Lions WRs
---
Keenan Allen

(Underdog ADP: 27.8, WR12)

Allen is the more proven receiver and is going a little higher in drafts than Williams as a result. While he isn't the most flashy player, Allen has actually had five straight Pro Bowl seasons dating back to 2017. In this time span, he ranks first in the entire NFL in receptions and targets, and fifth in receiving yards. He's finished as a top-15 wide receiver for fantasy in each of these seasons as well. Long story short, there is no doubting that Allen has been a phenomenal fantasy asset in years past.

Looking ahead to this season, it's hard to find reasons to show why Allen won't continue to be a reliable draft pick for fantasy. With Herbert under center, the Chargers are bound to be one of the more pass-heavy teams in the league—they were sixth in the NFL in early down pass frequency last season. This means Allen will continue to get peppered with targets and be a dependable option for your team.

The one downside with Allen, which has been prevalent for much of his career, is that he doesn't offer much week-winning, overall WR1 upside. He has not been a big red zone or splash play threat, never scoring more than eight touchdowns in a season. As a result, he might not be the most exciting player on your team and will be more of a silent producer.
Mike Williams

(Underdog ADP: 29.4, WR14)

Williams is quite literally the exact opposite of everything that Allen is as a receiver. He had a breakout year of sorts last season, racking up over 1,100 yards and nine touchdowns en route to a WR15 finish. However, his season was a true rollercoaster ride, something that his owners remember all too well.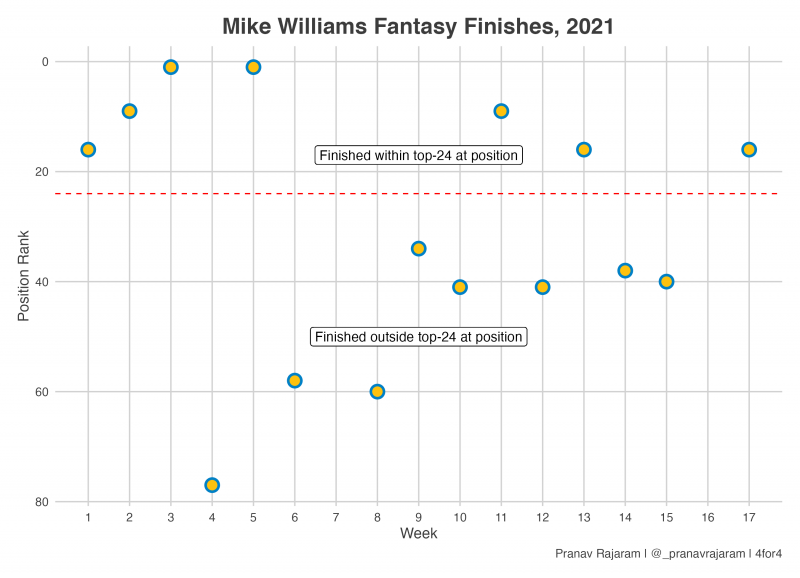 In this graph, we can see how Williams had some absolutely incredible weeks, including multiple as the WR1, but also put up some putrid performances that left fantasy managers hanging. This makes his fantasy value a lot harder to evaluate—while we love it when players have lots of upside, it is equally important that they aren't a complete zero for your team in some weeks.
One thing that Williams has going for him is money. He was given a 3-year, 60 million dollar contract extension this off-season, indicating that the Chargers are committed to him for the long run. Given that he's three years younger than Allen, it is possible that he assumes the role of #1 receiver over the course of the season and cements himself as a fantasy star week in and week out. However, due to his more volatile playstyle, there is a good chance that he is inconsistent regardless of the volume he sees.
Why Not Both?
Almost every season, there is at least one team that has two wide receivers finish within the top-12 at the position for fantasy.
This season, it is certainly possible that Allen and Williams are the ones to continue this trend. They are both attached to an elite quarterback in a top-notch offense, so scoring opportunities should be plentiful. Therefore, it is perfectly reasonable to project both of them to finish as WR1s by the end of the year, especially considering that there is very little target competition beyond the two receivers and Austin Ekeler.

Who Should You Draft?
This is a really difficult decision. Both Allen and Williams are excellent football players, and as mentioned above, could easily finish at the very top of the position together.
Gun to my head, if I had to pick one of these two to be the WR1 for my team it would be Allen. Despite his lack of world-beating upside, he figures to be the more consistent and trustworthy option. He'll likely see more targets than Williams given his prowess as a possession receiver, and if he sees some improvement in the touchdown department, could be even more elite. If you start your draft with two premier running backs and grab Allen in the back of the third, your team would be in a great position to dominate.
If I'm being honest, I really like Williams too, but there are just a few more question marks with him. He will probably be a rather frustrating player to own again, as it could be difficult to handle the ups and downs he goes through. With this being said, if Williams is able to put it all together and be consistently great, he has legitimate overall WR1 upside. I would be very comfortable with him as my WR2 (perhaps paired with a safer player like Justin Jefferson or CeeDee Lamb) taken near the 3rd-4th round turn.