Depth Chart Battle: Broncos Wide Receivers (Fantasy Football)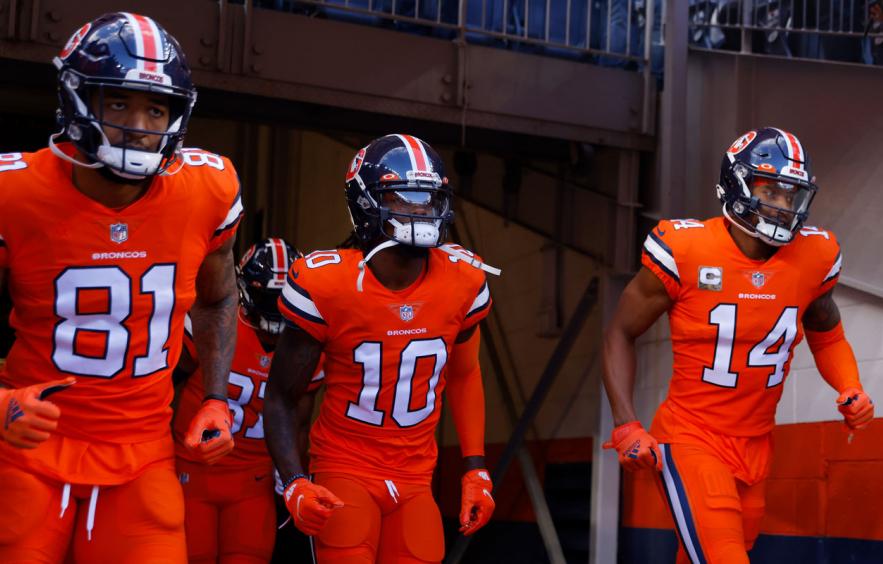 Justin Edmonds/Getty Images
The Denver wide receiver room is set to take a massive leap this season. After swapping Drew Lock out with Russell Wilson under center, it is undeniable that the Broncos' WRs should be much better than last year. However, figuring out who exactly will benefit the most from Russ' arrival is a more difficult task. Courtland Sutton, Jerry Jeudy, and even Tim Patrick have arguments to be the top receiver in the offense. In this article, I'll try and sort out this confusing situation and make a verdict on which Broncos receiver you should draft this year in fantasy.
---
Other Profiles & Debates: Player Profiles | Chargers WRs | Lions WRs
---
Courtland Sutton

(Underdog ADP: 36.9, WR16)

Sutton is being drafted the highest out of the three receivers and is the presumed WR1. Last season, he was a bit of a disappointment for fantasy, failing to record over 800 receiving yards and catching just two touchdowns despite playing in all 17 games. However, Sutton still has the most proven track record in the receiving room. In 2019, he racked up 1,112 yards with absolutely putrid quarterback play (Joe Flacco, Drew Lock, and Brandon Allen), and was billed as a potential breakout candidate in 2020 before tearing his ACL in Week 1. Two years removed from this injury, Sutton could be ready to explode.

Here is a list of how Russell Wilson's top receiver has fared for fantasy since 2015. We can see that Russ has almost always been able to support a top-15 option and pepper them with targets. Sutton, who was signed to a four-year, 61 million dollar contract extension late last season, has a real chance at continuing the trend of being Russ' elite WR1. I don't mean to speculate, but Sutton's situation—the top receiver in an offense receiving a huge quarterback upgrade being drafted in the middle rounds—reminds me almost too much of Cooper Kupp heading into 2021.

One of Sutton's best qualities is his contested-catch winning ability. Per Matt Harmon's Reception Perception, Sutton caught a whopping 76.9% of his contested targets last year and had just a 1.4% drop rate. His 6'4 frame makes him perfectly equipped to be on the receiving end of Russell Wilson's trademark moonballs, further increasing his upside for fantasy.
Jerry Jeudy

(Underdog ADP: 48.7, WR23)

After being drafted 15th overall in the 2020 NFL draft, Jeudy has not had the electric start to a career that many expected him to have. He played in just 10 games last season due to a high ankle sprain suffered early on, and averaged less than six targets per game. He displayed trouble in separating and has struggled to adjust to NFL-level route running despite being labeled as an elite route runner coming out of Alabama.

While Jeudy is certainly still a very talented receiver, I'm a bit more dubious about his fantasy outlook for 2022. Unlike Sutton, I have concerns about how Jeudy will fare with Russ at quarterback. Jeudy figures to be the slot receiver for the Broncos this year (76.4% of his snaps came from the slot last season), largely operating underneath and in the middle of the field. This could be a bad sign, as Russell Wilson has been historically hesitant to throw to the middle of the field. Last season, he attempted just two passes per game of 10 or more yards over the middle, far less than the league average. Due to his short height, Wilson is far more comfortable pushing it to the outside, something that could harm Jeudy's fantasy output.
Tim Patrick (Underdog ADP: 116.4, WR53) Sadly Patrick is out for the Season
Patrick is being drafted well after his teammates in drafts this season and has the makings of being a huge fantasy value. Believe it or not, Patrick was the best Broncos receiver for fantasy in 2021, finishing above both Sutton and Jeudy at year's end. He was rewarded with a three-year, 34 million dollar contract extension, proving that the Broncos believe him to be a part of their future.
A look at how players fared against man vs. zone coverage in 2021.



Suffice to say the #Buccaneers will miss Chris Godwin to start the season! pic.twitter.com/K364T4SnWQ

— Sam Hoppen (@SamHoppen) July 19, 2022
This graph from our very own Sam Hoppen shows us that Patrick was one of the best receivers against man coverage last year. Standing at 6'4 as well, Patrick will likely be the Z receiver lined up across from Sutton, meaning he too should benefit from Russell Wilson's deep ball excellence and receive plenty of one-on-one looks. Patrick's presence as the Z receiver also means that when the Broncos choose to employ 2 wide receiver sets, it will be Jeudy who is forced to leave the field. This gives Patrick an increased opportunity at gaining more targets.

Who Should You Draft?
As you might have guessed, Sutton is my top target of this bunch. As the WR1 in the offense, he's locked into enough targets to give him a solid floor. If he can establish a connection with Wilson early on, his ceiling is nonexistent, and he has serious top-10 upside. Currently going in the fourth round of drafts, Sutton would be a perfect second receiver for your fantasy team.
Patrick is next up for me. For a guy that actually outperformed his two competitors, being drafted as the WR53 is ridiculous. There's a real chance that Patrick outperforms Jeudy and establishes himself as the WR2 in this offense, which would give him some very high upside. Even if he stays as the 3rd receiver, he should easily be able to outperform his draft spot simply as a result of an improved Broncos offense.
Jeudy is my least favorite of the lot, as I think he has the most question marks considering his draft position. Fantasy managers are advised to "follow the money", and that is a scary proposition for Jeudy—while Sutton and Patrick both received extensions from new Broncos GM George Paton, Jeudy was drafted by the old regime and has no connections to the current people in power. Where he's going in drafts, I'd rather take receivers like Brandin Cooks or JuJu Smith-Schuster who will likely be much more reliable than Jeudy.