Depth Chart Battle: Kadarius Toney vs. Kenny Golladay (Fantasy Football)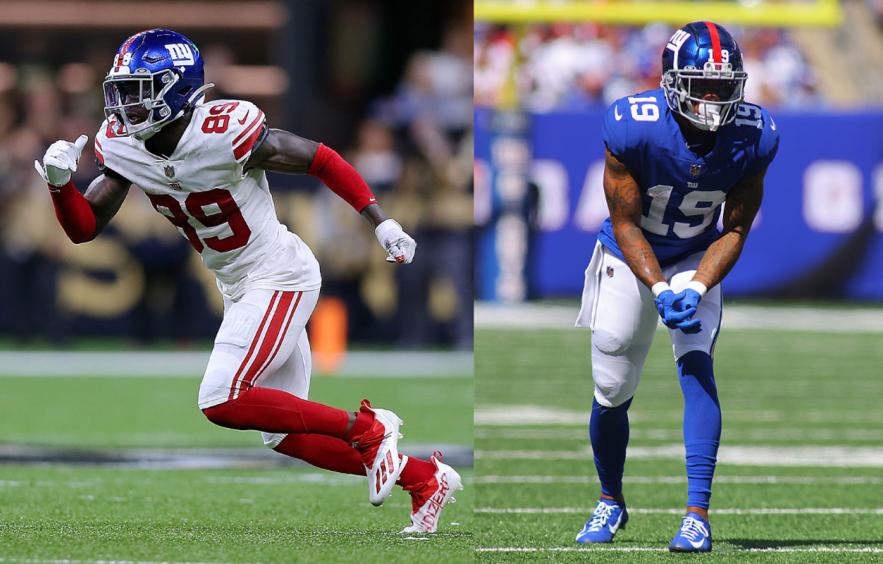 Jonathan Bachman/Mike Stobe/Getty Images
Update 8/26/22: New York Giants wide receiver Kadarius Toney has been slowed by knee and hamstring issues throughout the preseason but has looked good in training camp whenever he has been able to participate. Kenny Golladay, not slowed by injury, has just been awful. Third-year wide receiver Collin Johnson was challenging Golladay for playing time until Johnson tragically suffered an Achilles tear on August 24th. Toney is still the preferred option. His ADP has dropped a hair to 82 overall, WR41.
Most No. 1 wide receivers are being drafted in the first four rounds of Underdog drafts but New York Giants wide receivers Kadarius Toney and Kenny Golladay—currently duking it out for rights to the No. 1 wide receiver role—can be had far later. Toney is available at the back end of the eighth round (81.6 overall, WR39) while Golladay can be taken at the beginning of the 11th round (123.3, WR56) The No. 1 role in new head coach Brian Daboll's high-flying offense has helped Buffalo Bills wide receiver Stefon Diggs finish as the WR3 and WR7 over the past two years. Savvy drafters should jump at the opportunity to draft both players, given their friendly ADPs but one man stands above as a superstar in the making.
---
Other Profiles & Debates: Player Profiles | Chargers WRs | Broncos WRs
---
Kadarius Toney

(Underdog ADP: 81.6, WR39)

There are two reasons to give Toney the edge in New York's wide receiver camp battle. The first is Toney's otherworldly talent profile and the second is his schematic fit in the Daboll offense.

Parsing data from SportsInfoSolutions (SiS)down to the per-route level, one can see how Toney stacks up to the rest of the field in both yards per route run and targets per route run. The two statistics have proven to be highly predictive of future success and can help identify breakout players with moderate sample sizes. Toney's 2.2 yards per route run was tied for 11th among wide receivers who saw at least 50 targets last year, while his 29% targets per route run rate ranked fifth. There were only four wide receivers who bested Toney in both categories: Davante Adams, Cooper Kupp, A.J. Brown, and Antonio Brown. In his rookie season, slowed by injury, Toney still managed to keep elite company in both metrics.

When it comes to physical profiles, Toney is also remarkably similar to the aforementioned Diggs. Both men stand six-feet tall, are within two pounds of one another in the mid-190s, and each one posted nearly identical speed and agility numbers coming out of college. Toney's uniqueness shines through with his explosive hops and lateral burst. Nowhere were these traits more clearly on display than after the catch. Per SiS, Toney registered a broken and missed tackles per reception rate of 46.2%, which bested all NFL wide receivers (minimum 50 targets) by a margin of 14.5%. Across all positions, Toney was second only to Pittsburgh Steelers running back Najee Harris.

Before the catch, Toney also wins against defensive backs via Daboll's preferred method, by gaining separation. Back in Buffalo, and at the University of Alabama before that, Daboll worked with highly talented, mobile quarterbacks and saw firsthand the positive impact that talented separators can give to passers who thrive while throwing on the run. In Buffalo, he had Diggs, Cole Beasley, Emmanuel Sanders, and Gabriel Davis creating space for Josh Allen. At Alabama, it was Calvin Ridley, DeVonta Smith, and Henry Ruggs who were getting open for Jalen Hurts and Tua Tagovailoa. Toney paced the 2021 New York wide receiver room in average yards of separation at the catch point, per NextGenStats, with an average distance of 3.4 yards between him and the closest defender. Toney is the embodiment of a Daboll No. 1 wide receiver.
Kenny Golladay

(Underdog ADP: 123.3 WR56)

Nicknamed "Babytron" after Calvin "Megatron" Johnson, Golladay closed the 2019 season looking like he would live up to the lofty moniker. The then-third-year receiver caught 65 of 116 targets for 1,190 receiving yards, sixth most in the NFL, and a league-leading 11 receiving touchdowns, establishing himself as one of the NFL's premier jump-ball and end zone targets. Per PFF, Golladay's 63.4% contested catch rate ranked sixth in the NFL, which accounted for a whopping 40% of his 65 catches. Golladay also managed to catch five of his third-ranked, 15 end zone targets.

Golladay managed a four-game healthy stretch in 2020, in which he was the WR20 on a half-PPR, per-game basis. It is important to keep in mind that Golladay's 2020 target total of 29 is a very small sample size but even so, both his yards per route run (2.6) and targets per route run (24%) are worth mentioning. Both rates are outstanding and point towards an exceptional season that could have been.

New York quickly inked Golladay to a four-year, $72 million deal in the 2021 offseason but the ensuing year proved to be his most-injured season yet, as the veteran wide receiver recorded hamstring, knee, hip, and chest injuries. He somehow managed to play in 14 games, despite the wounds, but his 37.2 yards per game were easily the worst of his career and his 1.7 average yards of separation at the catch point were the lowest figure in the NextGenStats 2021 database. Even more concerning, in his dominant 2019 season, Golladay's average yards of separation topped out at 1.9. The manner with which Golladay wins is different from what Daboll looks for in a receiver—especially with a scattershot passer at quarterback, like Daniel Jones.

Which One Should You Draft?
Kadarius Toney already profiles as an elite NFL wide receiver and his inherent ability to gain separation against defensive backs makes him a perfect fit for Brian Daboll's storied No. 1 wide receiver role. Kenny Golladay is a talented jump-ball specialist in his own right but his style of play is inconsistent with what Daboll asks of his top target. Both men make for excellent values, given their current ADP but Toney might just be the No. 1 mid-to-late round must-draft player on Underdog Fantasy right now. Draft him aggressively at his current 81.6, WR39 ADP.