Skyy Moore Has Day 1 Starter Upside with Chiefs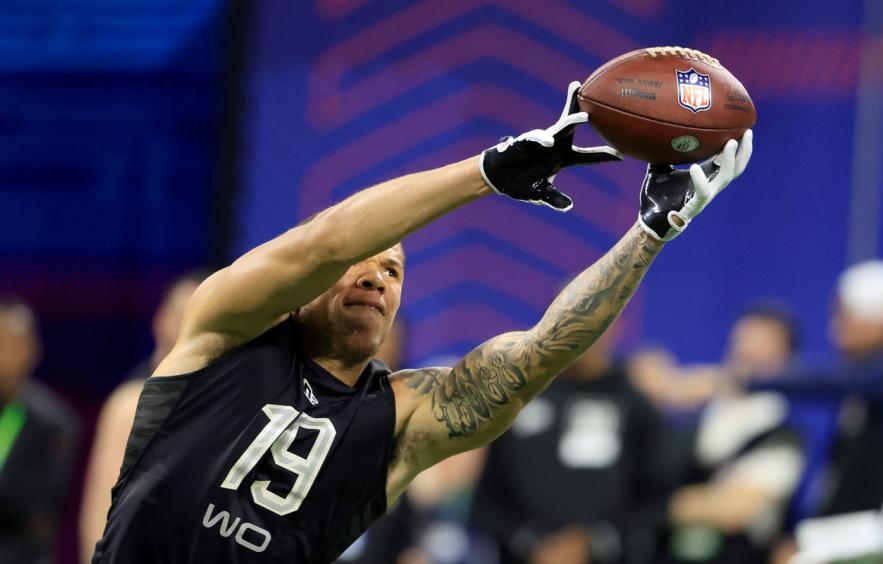 Justin Casterline/Getty Images
Sometimes the fantasy gods smile upon us and allow joy to creep into our lives. Wide receiver Skyy Moore was selected by the Kansas City Chiefs in the second round, 54th overall, and joins a receiving group in flux. Aside from adding Moore, the Chiefs have signed JuJu Smith-Schuster and Marquez Valdes-Scantling via free agency to pair with Mecole Hardman. This after trading Tyreek Hill to Miami and seeing Byron Pringle and Demarcus Robinson leave during the offseason.
With 265 wideout targets and 56.6% of pass-catcher air yards available from 2021, Moore has a chance to make an immediate impact in all forms of fantasy football as long as he leaps a few important hurdles.
---
Click here for more 2022 Player Profiles!
---
Skyy Moore

The Prospect

Moore was a three-year starter at Western Michigan. He was a two-time first-team All-MAC selection, including his freshman season. Moore dealt with ankle injuries that hung over him during the draft process, but nothing serious up to this point. Despite profiling as a slot receiver, Moore played 65% of his 2021 snaps outside.

One of the biggest questions with Moore is his ability to play against stiffer competition. He was held to two catches for 22 yards against Michigan this past season and faced little target competition from his teammates; Moore had 95 receptions in 2021 compared to 138 combined receptions from the rest of the team.

Fierce Competition for Snaps and Targets in KC
It is okay to be excited about a fast, dominant, and exciting college player joining future Hall-of-Famer Patrick Mahomes in Kansas City. Count me among them. The issue is trying to get established in an efficient offense that was ultra-concentrated in recent years. Hill and Travis Kelce dominated targets from Mahomes and that is essentially being forced to change beyond Kelce. JJSS, MVS, and Hardman have more time in the league with Hardman being the most tenured wideout in K.C.
For Moore to be fantasy-relevant on day one he has to not only be better than 75% of the receiver room, but he also has to replace a player that is nearly a mirror-image of himself.
No, it's not Tyreek Hill.
The draft positions and measurables of Skyy Moore and Mecole Hardman are uncanny.
Skyy Moore

vs.

Mecole Hardman

| Measurable | Skyy Moore | Mecole Hardman |
| --- | --- | --- |
| Draft Pick | 54th | 56th |
| Height | 5'10" | 5'10" |
| Weight | 195 | 187 |
| 40-yard Dash Time | 4.41 sec | 4.33 sec |
| Vertical Jump | 34.5 | 36.5 |
| Broad Jump | 125 | 119 |
*Numbers courtesy of Stathead
The similarities go even further. Below are routes run by Mecole Hardman (2020) and Skyy Moore this past season.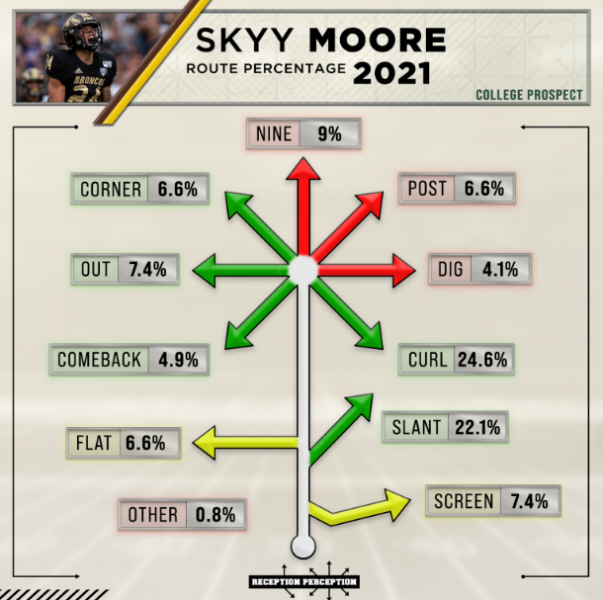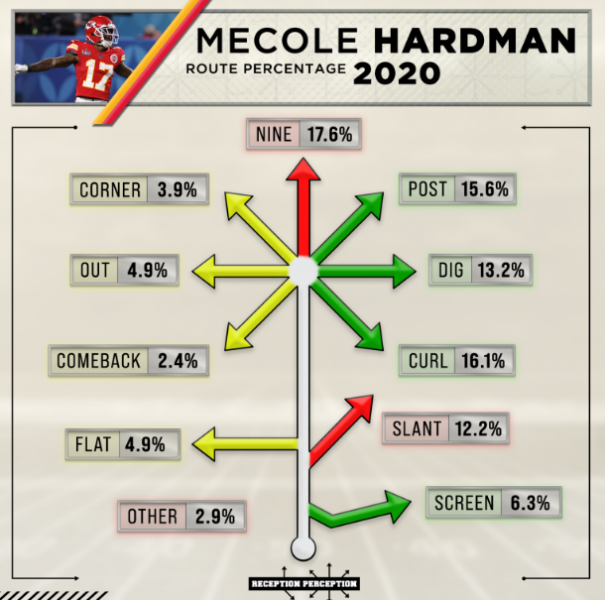 Images courtesy of Reception Perception
Hardman's role has moved closer to the line of scrimmage because he has found success in space. He deserves credit for that and how it has led to success as a returner as well.
Beyond the blips of talent, Hardman has been a disappointment. I do not think that the selection of Moore was just a best-player-available pick for the Chiefs, but a way to challenge Hardman. Moore was a consistent talent in college and was only slowed by the aforementioned ankle issues. Hardman had a more difficult route to production in college but showed improvement from year-to-year. Only one of these two will play as the third wideout in '11 personnel' sets, something the Chiefs did 69% of the time and on 77% of the 698 pass attempts in 2021.
Skyy Moore

Won't Have to Just Usurp Hardman

Moore would also have to play outside in three-wide sets unless he beats Smith-Schuster for the majority of the slot receiver snaps. JJSS is an established inside target and was brought in to be the first choice as the replacement for Tyreek Hill in the target tree. Moore would be best suited alongside the field-stretching Valdes-Scantling as a short-yardage, boundary-routed receiver. He just may not have that choice to do what was more than likely the most comfortable role for him.

If the focus is just trying to be Hardman's replacement, Moore will have to just not be better than Hardman but have a better grasp of the offensive playbook despite three fewer seasons working in it.

There is also zero to work with in terms of knowing how Mahomes will distribute the football to three new receivers, needy running backs, and his trusted tight end. The targets and air yards are there but again the Chiefs utilize tight ends at one of the highest rates in the league. 57% of the Chiefs' target share went to wide receivers in 2021, tied for sixth-lowest in the NFL.
Moore's Fantasy Outlook for 2022
Skyy Moore has a similar profile to Mecole Hardman and will most likely see most of his snaps in Hardman's role. JuJu Smith-Schuster has been a productive veteran slot receiver and will be inside when on the field in '11 personnel' majority of snaps. Moore will need to outplay and absorb the Chiefs' offense quickly to be on the field.
If Moore can be the third wideout, he will have to establish himself as a target in an offense that features the tight end position at a high rate. That said, there are plenty of targets available with little known about how the Chiefs' additions will factor in.
If Moore proves he can play against a higher quality of talent at the NFL level, then the Skyy is the limit.
Moore is going to be a popular pick in all fantasy formats. As we have learned with the Chiefs' offense, it is important to temper expectations with secondary offensive weapons. Moore has top-40 receiver upside but will be overdrafted because of his landing spot.
Moore's Underdog ADP is currently WR52, 115th overall. That's a fair place to draft the rookie considering players such as Marquez Valdes-Scantling, Mecole Hardman, Corey Davis, and D.J. Chark have similar ADPs with just as many questions about their roles and upside for 2022.