Running Back Market Shares: Week 9 Report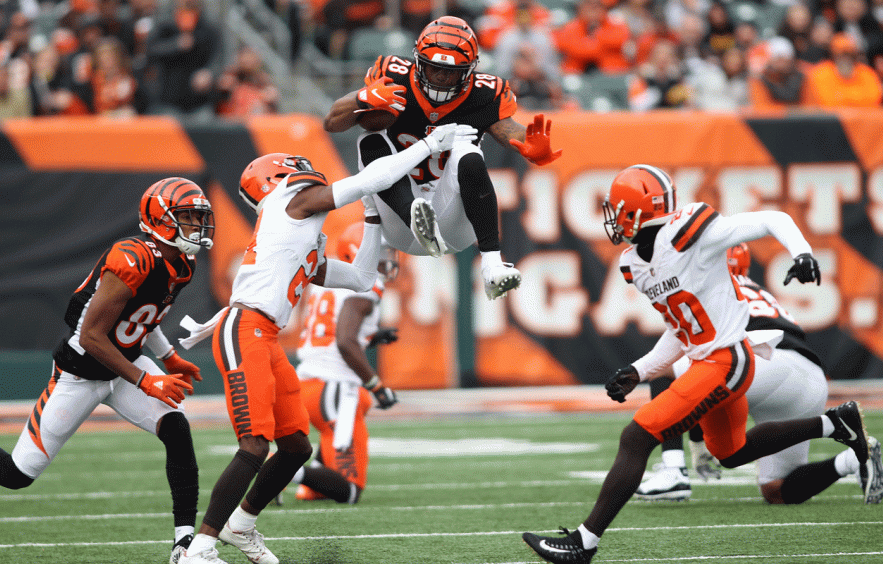 John Grieshop/Getty Images
In the modern NFL, the running back is no longer the focal point of an offense. Gone are the days where a 400-touch rusher is the norm, and now is the age of the running back-by-committee. With carries and targets being diluted between backs more than ever, it's important for fantasy managers to know which backs are seeing usage and how they're being utilized.
This column will explore the landscape of running back rushing and receiving through team market shares – the percent of a team's running back rushes or the team's passing targets. By looking at these rates of usage rather than raw totals, we help to strip away some of the noise of game script and pare our data down to the truer representation of how each offense thinks about its backfield.
Without any further ado, let's ring the bell and open the markets: which running backs had a significant change in usage in Week 8?
Carries
Nick Chubb

, Cleveland

Browns

, +80.0% running back rushing share

It should be no surprise to see Nick Chubb topping any charts, but the Cleveland Browns' young backfield star is worth discussing here because he soaked up a whopping 80% of the running back rushes in Week 8. This is your reminder that, when "1B" runner Kareem Hunt is out of the lineup, Chubb is on-par with guys like Derrick Henry in terms of backfield workload share. D'Ernest Johnson (Chubb's fill-in for the past few weeks) still saw 20% of the Browns' running back rushes and – more importantly – still soaked up two-thirds of Cleveland's goal-line work here. This may have been more due to game flow in Week 8 than anything else, but there's a chance Chubb will be locked out of certain roles in the offense, due to Hunt's receiving prowess and Johnson earning a larger role in short-yardage situations.
Derrick Gore

, Kansas City, +45.8%

It was hard to see this one coming since Darrel Williams had monopolized the Kansas City running back touches without Clyde Edwards-Helaire in the mix. ULM alum Derrick Gore Jr. came in and ripped things up in Week 8, though, nearly matching Williams carry for carry after having previously played just five snaps this year. Williams still saw seven targets to zero for Gore, but the early-down role appears to be split in half (maybe trending Gore's way) and Gore got four opportunities inside the opponents' 10-yard line for a 66.7% goal-line share. It's hard to assume this was a one-game fluke given the results, which further complicates the Kansas City backfield projection. Gore is a compelling sleeper, however, after this performance.
Scottie Phillips

, Houston

Texans

, +35.7%

Despite the large share increase for second-year pro Scottie Phillips, he saw just five rushes and picked up only 11 yards on them in Week 8. It appears that the tanking Houston Texans, who traded away veteran power back Mark Ingram II earlier this week, essentially putting Mississippi product, Phillips, on audition alongside veteran Rex Burkhead. Phillips didn't acquit himself at all on his eight opportunities, however, adding two receptions for nine yards in a dismal effort. 31-year-old Burkhead, however, carried the ball four times for 21 yards and a touchdown, and caught three-of-four targets for 27 yards. Burkhead will likely be the one to earn Ingram's vacated workload in this dismal rotation.
Samaje Perine

, Cincinnati

Bengals

, -47.8%

In a game script that looked perfectly aligned for Samaje Perine to soak up a ton of second-half, garbage time, clock-killing work, the Cincinnati Bengals instead screwed things up and allowed the Jets to keep things close – then win. That meant star running back Joe Mixon instead saw 100% of the Bengals' rushing attempts, out-earning Perine five-to-two in the target department as well. Mixon also out-produced Perine in receiving efficiency, showing that he has the potential to be a top-tier fantasy star when given the work. With every passing week, Perine and Chris Evans give little rationale to keep Mixon off the field, so we will see if Cincinnati commits to boosting their star's snap count.

Others of Note: Rex Burkhead, HOU (+28.6%); Rhamondre Stevenson, NE (+22.9%); Godwin Igwebuike, DET (+17.6%); Chuba Hubbard, CAR (-16.8%); Alex Collins, IND (-24.1%); J.J. Taylor, NE (-36.0%).
Targets
Mike Davis

, Atlanta

Falcons

, +19.2% team target share

Without top receiving threat Calvin Ridley in the lineup, the Atlanta Falcons had to get (less?) creative and move offensive weapon Cordarrelle Patterson to more of a traditional wide receiver role in Week 8. That meant Mike Davis got another chance to see the field, and he responded by drawing almost a fifth of the Falcons' passing game targets. He accrued just 22 receiving yards on his looks, which tied for the team lead, so let's not get ahead of ourselves that he's about to break out again. Still, the top-three receiving options in Atlanta besides Davis are tight end Kyle Pitts, Patterson, and Tajae Sharpe; Davis has a pretty secure workload coming his way as long as Ridley needs to address his personal well-being and mental health.
Jermar Jefferson

, Detroit

Lions

, +12.9%

Rookie running back Jermar Jefferson has received a fair amount of buzz this offseason, but looked locked into a bad short-term spot behind three-down threat D'Andre Swift and versatile power back Jamaal Williams with the Detroit Lions. With Williams out for Week 8 injured, however, Jefferson and Godwin Igwebuike picked up a total team target share of more than 20%. Perhaps it was simply blowout game script that led the Lions to slash Swift's target share in half from Week 7, but the Detroit backfield looks much more complex than it should be. Jefferson and Igwebuike did well enough and deserve longer looks in deep dynasty leagues because of this.
Chuba Hubbard

, Carolina

Panthers

, -8.8%

The Carolina Panthers' rookie fourth-rounder, Chuba Hubbard, has done very well in relief of the injured Christian McCaffrey so far, and he spearheaded an extremely run-heavy game plan in Week 8 for Carolina. Hubbard only lost running back rush share because of the increase of rush volume this week and the introduction of Ameer Abdullah into a role as well as usual suspect Royce Freeman. McCaffrey should return in Week 9 anyway, but it's worth noting that – should he get injured again – Hubbard has handled 65-95% of the team's running back rushes and 5-20% of the team's target share in any given week; he's the clearest high-value handcuff in fantasy football.
Alvin Kamara

, New Orleans

Saints

, -24.9%

Maybe it's absurd to expect Saints running back Alvin Kamara to have maintained his 36.7% team target share from Week 7, but there is a reasonable concern that quarterback Jameis Winston's injury could lead to less air work for Kamara. Whether that's as a result of running quarterback Taysom Hill taking over and stealing work again from the star rusher or Trevor Siemian's tendencies, not to mention that New Orleans may need to throw deep more often to make up for Hill and Siemian's lack of deep-ball quality, Kamara's status as a top fantasy star is in limbo for the second season in a row.

Others of Note: Rex Burkhead, HOU (+8.6%); Cordarrelle Patterson, ATL (+8.4%); Jeremy McNichols, TEN (+5.4%); Jerick McKinnon, KC (-6.8%); JaMycal Hasty, SF (-12.3%); Brandon Bolden, NE (-18.4%).
Goal-Line Work
Joe Mixon

, Cincinnati

Bengals

, +100.0% running back goal-line share

As mentioned before, Joe Mixon is back to a full-time, three-down role for the Cincinnati Bengals, and perhaps they're finally realizing he needs to get more work in order for their run game to go as efficiently as possible. That did result in three opportunities inside the opposing 10 in Week 8 for Mixon, one of which he converted for a score. Mixon's upside is back, but the question is how often Cincinnati will help him achieve that upside.
Jordan Howard

, Philadelphia

Eagles

, +60.0%

With Miles Sanders injured and out for a while, it seemed that Boston Scott would handle most of the groundwork for the Philadelphia Eagles while Kenneth Gainwell was the airman out of the backfield. Instead, a third cog was added to the machine: Jordan Howard. Promoted off the practice squad, Howard was mostly left alone outside of the scoring area, where he received three carries, converting them into eight yards and two scores. "The Vulture" has roosted once again in the Eagles' aerie, and – even with extremely positive game script – he has earned himself that spot for the foreseeable future.

Others of Note: Elijah Mitchell, SF (+100.0%); Derrick Gore, KC (+66.7%); Michael Carter, NYJ (+50.0%).