Underdog Battle Royale Picks: Week 8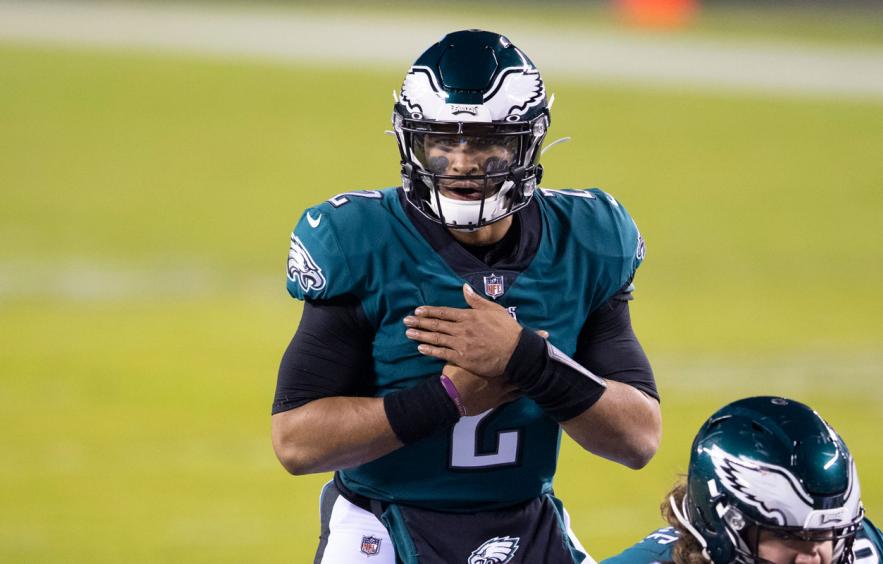 Mitchell Leff/Getty Images
Where can I get my, "I survived Week 7 of the 2021 fantasy football season," badge/t-shirt? Please drop me a link in my Twitter DMs (@ZK_FFB) if you know the place. Congrats to anybody who walked out of Week 7 with both their victory and their sanity, as last week was truly one of the more difficult weeks to navigate in recent memory.
Mercifully, we have only two teams on bye for this Week 8 slate of games (Baltimore and Las Vegas), but we're also down Green Bay, Arizona, Kansas City, and the New York Giants for this weekend's Underdog Fantasy Battle Royale Slate as the Packers and Cardinals square off on Thursday night while the Chiefs and Giants meet on Monday.
It's an interesting slate that opens the door for several different plays on the weekend given the elite talent we will be without at several positions.
Taking a look at the available players, and our 4for4 rankings, here are some players I am honing in on for this weekend's slate of games.
Week 8 Spread and Over/Under
Indianapolis (+1) vs. Tennessee - O/U 50.5
New Orleans (+5) vs. Tampa Bay - O/U 50.5
Buffalo (-13.5) vs. Miami - O/U 49.5
Los Angeles Chargers (-6) vs. New England - O/U 48.5
Houston (+14.5) vs. Los Angeles Rams - O/U 48
Detroit (+3) vs. Philadelphia - O/U 47.5
Atlanta (-2.5) vs. Carolina - O/U 46
Seattle (-3) vs. Jacksonville - O/U 43
Denver (-3.5) vs. Washington - O/U 43
Quarterback
Joe Burrow

, Cincinnati

Bengals

The Bengals and Joe Burrow have been off to a dominant start to their 2021 campaign. Fresh off a 41-17 smackdown of the Ravens, Burrow and the Bengals now get a road matchup with the New York Jets, who are rolling with Mike White after the recent injury to rookie quarterback Zach Wilson.

As it stands right now, Cincinnati ranks seventh in points per game (27.0) and fourth in touchdown passes per game (2.57).

After getting off to a slow start, Burrow currently ranks as the overall QB14 in points per game (19.5), but has averaged 22.6 points per game (QB6) over the last three weeks. He posted a season-high 26.6 fantasy points last week against the Ravens, throwing 38 times for 416 yards and three touchdowns on the afternoon. Burrow has thrown two or more touchdowns in every game this season, and in three instances he threw for three scores.

Our rankings project Burrow as the overall QB9 on the week with 19.4 points, while Underdog fantasy projects him for 20.4 points on the weekend (QB6). Per our rankings, Burrow also has the ninth easiest matchup this week.
Jalen Hurts

, Philadelphia

Eagles

In a game that features two of the worst teams the NFC has to offer, the Lions (0-7) play host to the Eagles (2-5) in what could be a battle for top-3 picks in the 2022 NFL Draft.

One of few redeeming fantasy players in this matchup is Eagles quarterback Jalen Hurts, who currently ranks as the overall QB3 in fantasy points per game (24.4).

As John Daigle of NBC Sports Edge pointed out earlier in the week, Hurts has been an absolute stud in the fourth quarter of games in terms of fantasy production, which could be reflective of the garbage time production he is getting on a weekly basis.
Jalen Hurts' fantasy points by quarter:



1: 33.8

2: 26.3

3: 38.6

4: 75.9

— John Daigle (@notJDaigle) October 25, 2021
Hurts may find himself on an easier path to production in Week 8 against the Lions. Detroit is surrendering the eighth-most yards per game to opposing offenses (383.0) and the fourth most touchdown passes per game (2.14).
Even if he isn't able to produce through the air, Hurts has been getting by on his Konami Code quarterback production. Over the last three weeks, Hurts has averaged 12.5 points per game on the ground alone, which includes four rushing touchdowns over that span.
This game could have the potential of being a shootout, as Detroit fights for its first win of the season while Philadelphia makes it a point to not be embarrassed by the lowly Lions. Detriot has not scored more than 19 points in any game this season, but the Eagles are giving up 26.4 points per game.
Our rankings projected Hurts as the overall QB4 on the week at 23.3 fantasy points.

Running Backs
D'Andre Swift

, Detroit

Lions

Sticking with this Lions vs. Eagles game for a moment, running back a Jalen Hurts pick with Detroit's D'Andre Swift looks like an excellent in-game correlation.

Swift has been one of the best pass catchers in the league at the running back position, ranking ninth in the league amongst all pass-catchers, and first amongst running backs with 42 receptions.

On the year, Swift is averaging six receptions per game for 55.86 yards and 0.29 receiving touchdowns. He is also averaging 11.14 rush attempts per game for 37.43 yards and 0.43 rushing touchdowns per game. Swift currently sits as the overall RB9 on the season at 16.6 points per game, and had a season-high 24.4 points last week against the Rams.

The Eagles are allowing the fourth-most rushing yards per game on the season (133.0) and are bottom five in the league in fantasy points per game allowed to opposing running backs.

Our rankings project Swift as the overall RB8 on the week with 17.7 points and he has the fifth-easiest matchup on the week for running backs.
Joe Mixon

, Cincinnati

Bengals

We've already pegged Joe Burrow as a player to consider chasing in drafts this week, so why not his batterymate Joe Mixon to really get the full Tiger's stack going?

Mixon had a weird Week 7 against the Ravens. He finished the day with 11.9 fantasy points, and didn't draw a single reception in the game, much less a target. It was the only time on the season that Mixon wasn't targeted, but it marked the third game in which Mixon has seen one or fewer targets.

Despite the occasional down week in the passing game, Mixon is still averaging 19.86 opportunities/gm and 14.2 points per game (RB17). He gets the easiest matchup of any running back on the slate this week, while our rankings have Mixon ranked as the overall RB12 on the weekend at 15.6 projected points.

There should be a number of ways to build Bengals stacks this weekend, and I wouldn't be surprised if some of them landed in the top-10 of this week's finishes in the tournament.
Wide Receivers
Stefon Diggs

, Buffalo

Bills

In fairness, my 1.01 for wide receiver picks would unquestionably be the Rams Cooper Kupp. But since he looks like such an obvious smash week in and week out, this is the most I will mention him.

If I can't get Kupp, Stefon Diggs becomes my highest priority wide receiver on the weekend, which shouldn't be that surprising given that he is ranked as the WR4 this week on our rankings as we project him for 17.4 fantasy points.

Diggs has destroyed the Dolphins throughout his career, as he's averaged 5.75 receptions per game to go with 84.5 yards and 0.75 touchdowns. Earlier this season against the Dolphins, Diggs posted a receiving line of 4/60/1 on eight targets, finishing the day with 14.0 fantasy points.

The Dolphins have also been painfully bad in pass defense, allowing the third-most receiving yards per game (297.1) and the most fantasy points per game to opposing wide receivers.
Courtland Sutton

, Denver

Broncos

The Broncos are expected to get Jerry Jeudy back this week, but in Jeudy's absence, wide receiver Courtland Sutton and quarterback Teddy Bridgewater have developed nice under-the-radar chemistry. Sutton is currently the WR17 on the season in fantasy points per game (12.1), but has three games of 19.4 points per game or more.

Denver gets the Football Team in Week 8, who is averaging 300.6 passing yards per game to opposing teams, and the second-most fantasy points per game to opposing wide receivers.

Sutton is projected as the WR22 for this weekend in our rankings, projected for 12.5 points, but both he (and Jeudy) could be in line for strong fantasy days against Washington. If you're tempering expectations with Jeudy in his return, Sutton could be a solid play as he is averaging 8.29 targets per game and has three games of 11 or more targets.
Tight Ends
Dan Arnold

, Jacksonville

Jaguars

Just to make sure we are on the same page here, with the way the schedule and slate are lined up for this week, we are unable to draft Travis Kelce, Darren Waller, Mark Andrews and Robert Tonyan for our Battle Royale lineups. We are also down Dalton Schultz since the Cowboys and Vikings play on Sunday night.

This leaves Kyle Pitts, T.J. Hockenson and Noah Fant as the three-highest projected scorers of the week over on Underdog.

They're all fine options, but we could face a unique position of being left with scraping the bottom of the barrel for tight end picks if we don't take any of those options with either of our first two picks.

Should you find yourself in the position of having to make legitimate dart throws at the position this weekend, one player who I like is Jaguar's tight end, Dan Arnold. For starters, Arnold is an incredibly athletic tight end, having run a 4.68 40-yard dash during the scouting process of the 2017 NFL Draft class. He has shown strong playmaking ability downfield as well, averaging 13.5 yards per reception for his career.

Since being traded to the Jaguars ahead of Week 5, Arnold immediately became a focal point of the offense. With less than a week of practice under his belt, Arnold stepped into his Week 5 matchup against the Titans and saw eight targets, which he turned into a receiving line of 6/64/0.

The following week he saw five targets, which he took for two receptions and 27 yards, and now he and the Jaguars are coming off of a bye week before facing a Seahawks team that is allowing over five receptions per game and over 50 receiving yards per game to opposing tight ends.

He's not the most attractive of names on this weekend's slate, but there also aren't a ton of tight ends to love. Our projections place Arnold as the overall TE17 on the week with 6.9 points.
Tyler Higbee

, Los Angeles

Rams

I don't love Tyler Higbee. He's often been a player I've avoided in drafts, even as the masses shouted at me about his amazing end to the 2019 season in which he amassed over 500 receiving yards during the final five weeks of the season.

With that being said, Higbee does get a more than generous matchup against the Houston Texans this weekend, a matchup that we rank as being the second-easiest for all tight ends in Week 8.

Higbee has seen five or more targets in five of seven games this season, and is averaging 3.86 receptions for 35.43 yards per game on the year. He is currently the TE15 in fantasy points per game (7.7), and will likely need a touchdown to be worth the play this weekend, but that could come against the Texans.

Over their past five games, the Texans are allowing one touchdown per game to opposing tight ends along with 52.6 receiving yards.

The Rams have an implied team total of 31.25 points in this one, so it's not hard to imagine Higbee having a decent day here.