The Training Room: Week 5 Injury Updates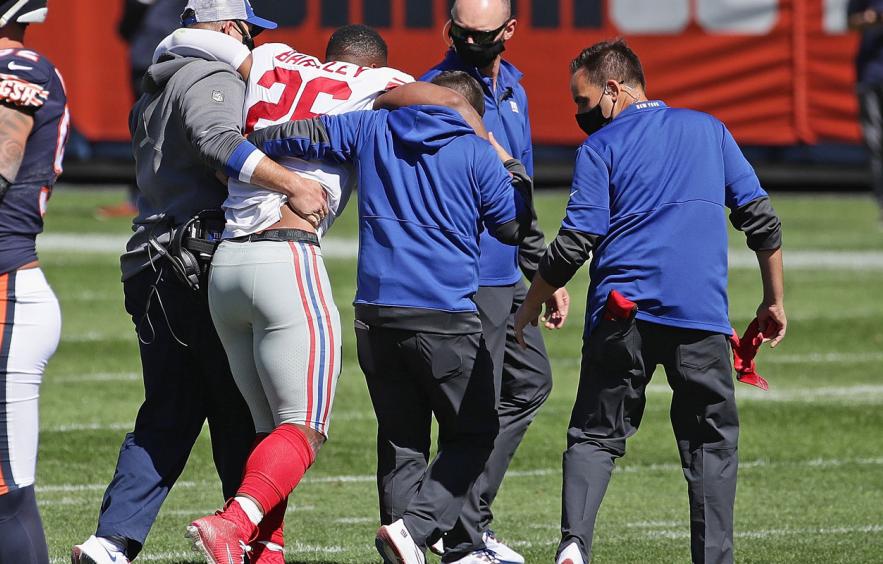 Jonathan Daniel/Getty Images
One of my favorite fantasy football leagues consists of a group of guys who if it were not for fantasy football, I am not sure any of us would be friends. When I moved to Jacksonville, FL there were few people I knew locally besides my brother, cousin and wife. So in order to make connections, I did so in a way that came naturally to me, starting a fantasy football league. I posted flyers in my apartment complex, made posts on Reddit and other websites, recruiting members to join my fantasy league. There was only one rule, you had to be local to Jacksonville. I think live drafts are more fun.
The trash talk in this league is legendary. We even have a league mate who creates a weekly newsletter for the league, which is basically one giant smack board in paragraph form. It is the most enjoyable and frustrating part of the league. When you're winning it's all fun and games. Lose and you'll hear about it three years later. Naturally, I like to take part in this league tradition and I am not going to lie, after Thursday I was feeling pretty good about myself. My opponent started Russell Wilson and Tyler Lockett while I had Darrell Henderson and DK Metcalf. I may have gotten ahead of myself and broken a cardinal rule of mine - Don't talk trash too early. Naturally, the opposing manager started Mike Williams, Mike Evans, Nick Chubb and James Robinson. So as I write this I am bitter, eating a giant bowl of crow, but am reminded that in fantasy football it ain't over till it's over. Maybe your season has not gotten off to a great start and maybe it got a little worse if you roster any of the players I am going to talk about below. But like my opponent, your team could be in store for a Mike Williams-esque turn to the season.
Saquon Barkley

, RB New York

Giants
Injury: left ankle sprain
Timetable for recovery: 2-6 weeks
Potential Replacement(s):
Devontae Booker
Initial Thoughts:
Just when things were starting to finally break right for Saquon Barkley, he injured his left ankle on a freak play. After the play was over, Barkley stepped on a Dallas Cowboy defender Jourdan Lewis's foot, and rolled his ankle. Fantasy managers were alarmed when they saw the state of Barkley's ankle and the swelling that ensued. From video it appeared Saquon Barkley suffered an inversion (low) ankle sprain. Swelling with this type of injury is common, but typically fractures are not. The Giants later confirmed that Barkley avoided an ankle fracture—good news. This means Saquon can return this season but it is still possible that the running back ends up on IR. When it comes to high ankle sprains in NFL RBs, the average time missed is two weeks. Because Barkley had so much swelling in that ankle it's possible that he had some serious microtrauma to the ligaments that are on the outside of the ankle. Return to play for grade-I inversion ankle sprains fits the NFL average for RBs of around two weeks, but for grade-II, that timeline jumps up to 4-6 weeks. We will have more word soon after an MRI, but I remain optimistic Barkley will return soon.
Russell Wilson

, QB Seattle

Seahawks
Injury: extensor tendon injury (3rd phalange) - mallet finger
Timetable for recovery: 6 weeks
Potential Replacement(s):
Geno Smith
Initial Thoughts:
Seattle quarterback Russell Wilson injured his middle finger Thursday night. Wilson sustained a significant injury to the extensor tendon, leaving him unable to straighten out his finger and thus the "mallet" finger label. Wilson required surgery to correct the injury. This type of injury can make gripping difficult especially post-procedure which is why the public was given the 6-8 week timeline. It's possible Wilson can return sooner with an altered grip, but for a QB with a career >65% completion percentage, that could be problematic. I think it is possible for Wilson to undercut the 6-8 week prognosis but he is going to need some time to recover. An IR stint is within the realm of possibility.
George Kittle

, TE San Francisco

49ers
Injury: calf strain
Timetable for recovery: 3-4 weeks
Potential Replacement(s):
Ross Dwelley
Initial Thoughts:
This weekend we learned that George Kittle would be placed on IR with a gastrocnemius (calf) strain. The minimum time he will be required to miss is three weeks based on the IR designation. Kittle tried to play through this injury last week, but the 49ers elected to shut him down for a short time to fully get healthy. It is possible he misses a little more time based on healing times for soft tissue injuries, but when he comes back, I expect Kittle to return to his old form.
DeVante Parker

, WR Miami

Dolphins
Injury: hamstring strain
Timetable for recovery: 2-4 weeks
Potential Replacement(s):
Jaylen Waddle

,

Preston Williams
Initial Thoughts:
Parker was ruled out early Sunday with a hamstring strain. I have written about hamstring injuries in wide receivers before, the average time missed is three weeks. It is certainly possible that Parker returns in Week 6 but he has struggled with hamstring injuries before - most recently in 2020, missing two games. Miami could be without Parker's services for a few games.
Curtis Samuel

, WR Washington Football Team
Injury: groin strain
Timetable for recovery: 4 weeks
Potential Replacement(s):
Adam Humphries
Initial Thoughts:
Yet again Curtis Samuel appears to have aggravated the groin injury that caused him to miss the first three games of the season. The Washington WR was not able to finish the game this past Sunday vs. the Saints. It's possible that Washington shuts Samuel down again until he can get this groin injury under control.
Damien Harris

, RB New England

Patriots
Injury: chest/rib injury
Timetable for recovery: 1-6 weeks
Potential Replacement(s): Rhamandre Steveson
Initial Thoughts:
Late in the fourth quarter, Damien Harris took a blow to his midsection that caused him to exit the game. Per reports, Harris was cleared to return to the game with a chest injury but he did not get another touch. By video, it's possible that Harris actually might have a rib injury. A rib contusion would come down to pain management (similar to Rams' Darrell Henderson) and miss 0-2 weeks. If there is a fracture present then Harris could miss more time. Rhamandre Stevenson could be the RB to add this week.
JuJu Smith-Schuster

, WR Pittsburgh

Steelers
Injury: right shoulder injury
Timetable for recovery: 1 game to rest of season
Potential Replacement(s): Ray-Ray McLoud,
James Washington
Initial Thoughts:
JuJu Smith-Schuster took a shot to his right shoulder that forced him to leave the game, in visible discomfort. As I have often said, video is not diagnostic but can provide some information. The mechanism injury could be a variety of issues but the two most common would be an A/C Joint sprain, the other a possible clavicle fracture. Smith-Schuster could miss 1-3 weeks with an A/C joint sprain. However, after the game, Steelers head coach Mike Thomlin said JuJu was taken to the hospital for further testing. This is not common for an A/C joint sprain, which means that someone on the medical staff was concerned about a fracture. This is a medical emergency based on the structures that sit below the clavicle (lung, brachial plexus, etc.). Maybe by the time this article drops we have more clarification about the severity, but without those specifics, I am giving a longer timeline.
Daniel Jones

, QB New York

Giants
Injury: concussion
Timetable for recovery: 1-4 weeks
Potential Replacement(s):
Mike Glennon
Initial Thoughts:
Giant's quarterback Daniel Jones sustained a concussion while trying to scramble for a touchdown. Jones will be in the concussion protocol and have to clear testing before he is able to return. Recently we just saw Teddy Bridgewater clear concussion testing in a week and play in Week 5. However, concussions are variable and impossible to grade. It will all depend on how Jones recovers this week. Follow NYG practice reports.
Clyde Edwards-Helaire

, RB Kansas City

Chiefs
Injury: knee injury (possible MCL)
Timetable for recovery: 3-4 weeks
Potential Replacement(s):
Darrel Williams
Initial Thoughts:
After a long rain delay at halftime, Clyde Edwards-Helaire injured his left knee injury. As I am writing this Sunday night I just saw the injury which looked like an MCL sprain. If it is in fact an MCL sprain, CEH could return in 3-4 weeks after time on the IR.
Past Injuries Discussed: