Fantasy Football Debate: Russell Wilson vs Jalen Hurts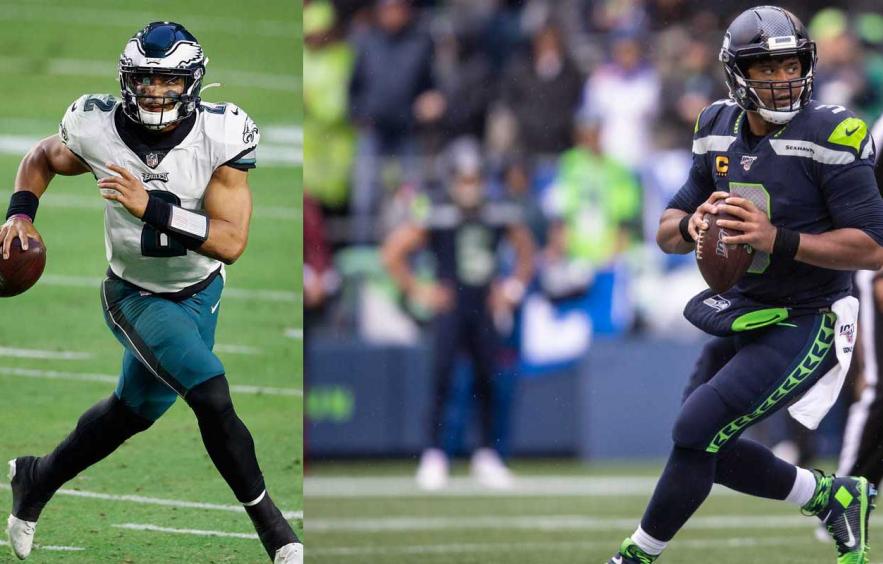 Stephen Brashear & Christian Petersen/Getty Images
Russell Wilson and Jalen Hurts are both being drafted as top-10 fantasy quarterbacks on Underdog. In this debate, 4for4's Frank Ammirante will explain why he prefers Wilson while Jack Caporuscio argues the Hurts side.
---
Other Fantasy Football Debates: Kyler Murray vs Lamar Jackson | Allen Robinson vs Terry McLaurin | D.J. Chark vs Laviska Shenault | Courtland Sutton vs Jerry Jeudy | Darren Waller vs George Kittle | Antonio Gibson vs Clyde Edwards-Helaire | Ezekiel Elliott vs. Jonathan Taylor
---
The Case for
Russell Wilson
Russell Wilson is coming off another strong season, throwing for 4,212 yards (7.5 Y.A), 40 touchdowns and 13 interceptions. He also added 513 yards and two touchdowns on the ground. Wilson finished as QB6 in fantasy points per game. He's entering his age-33 season finally freed from the shackles of offensive coordinator Brian Schottenheimer. Currently being drafted as QB6 (75.3 ADP) in Underdog Fantasy leagues, Wilson is well ahead of Jalen Hurts, who is QB10 (105.7 ADP), but this gap in ADP is justified. Let's dive in.
Model of Consistency
Wilson has been one of the most consistent quarterbacks in the NFL throughout his career. In his last four seasons, he's finished as the fantasy QB6, QB6, QB11 and QB2 in fantasy points per game. This is despite the fact he averaged 32.09 pass attempts per game. Wilson helps make up for lack of volume with strong efficiency, posting a combined 7.67 Y/A with touchdown rates of 7.2%, 6.0%, 8.2% and 6.1% during that span. He also continues to make an impact on the ground, rushing for 512, 342, 376 and 586 yards in his last four seasons.
Wilson has a good chance to maintain this high level of play going forward. Last season, he averaged a career-high with 34.88 pass attempts per game. This helped him rush for 513 yards, his highest total since 2017. You might be asking, how can more pass attempts lead to more rushing yards? The answer is simple: every time a quarterback drops back to pass, that's another opportunity for them to take off and scramble. This is especially true for Wilson, who is not a player with designed rush attempts a la Lamar Jackson in Baltimore. We can reasonably project similar or even an increase in passing volume heading into the 2021 season.
New Offensive Coordinator
The Seahawks moved on from offensive coordinator Brian Schottenheimer, replacing him with former Rams passing game coordinator Shane Waldron. It's always a good sign to see a team hire one of Sean McVay's former colleagues. News out of Seahawks training camp will leave you feeling excited for Wilson's outlook going forward.
Waldron wants to emphasize tempo and have the Seahawks play at a faster pace this season. According to RotoViz, the Seahawks ran plays at 27.5 seconds per snap in neutral game-scripts, which ranked 15th in the NFL. They also passed the ball 59% of the time (tied for 7th), so if they maintain this rate at a higher pace of play, we could see even more opportunities for production for Wilson and his pass-catchers.
Wide receiver DK Metcalf stated that defenses started to figure out what they were doing on offense later in the season. This can help explain why Wilson's production started to severely decline in the second half, where he ranked as QB15 in fantasy points per game from Weeks 10-17. Waldron wants to incorporate more short-to-intermediate routes in the offense, which was something that was lacking last season and helped contribute to this decline in production. Simply put, the offense had gotten stale under Schottenheimer, so the arrow is pointing up with Waldron at the helm.
Wilson is the Safer Choice
Wilson has an established track record with an improved team context due to the upgrade at offensive coordinator. He has an alpha wide receiver in Metcalf and one of the most underrated in Tyler Lockett. Despite being on the wrong side of 30, he still contributes in rushing yardage. This makes him a better choice than Jalen Hurts, despite the more expensive draft cost. While Hurts has a higher rushing upside, the disparity between passing ability and supporting cast makes this an easy choice. Go with the safer choice in Wilson.

The Case for
Jalen Hurts
Fantasy championships are not won by playing it safe. Jalen Hurts is the most recent example of a high-risk, high-reward fantasy option at the quarterback position, but the reward far outweighs the risk for your fantasy teams in 2021. Through four games as a rookie, Hurts threw for 1,061 passing yards, six passing touchdowns and four interceptions, while also adding 357 rushing yards and three rushing scores. To project Hurts's output in 2021, it would be irresponsible to base it solely on his small four-game sample size and expect the exact same results over 17 games. Granted, Hurts does not have a full fourth game on the record as he was benched during the Week 17 game against the Washington Football Team. For the sake of due diligence, if we take Hurts's per-game pace and apply it to the new 17-game season it would result in 4,509 passing yards, 25 passing touchdows, 17 interceptions, 1,517 rushing yards and 13 rushing TDs. The passing yardage totals are right on the money and so are the passing touchdowns, but we should not expect Hurts to break the all-time quarterback rushing record for an individual season when projecting his stats, let alone breaking that record by over 300 yards (Lamar Jackson set the record in 2020 with 1,206 rushing yards). However, even if we project a reasonable rate of regression to the mean, Hurts still comes out in stat projections as one of the few truly elite fantasy producers at the quarterback position—and that's mainly due to his truly dominant ability to obtain rushing yards.
Hurts is a Fantasy Cheat Code
It's been long known rushing quarterbacks are a fantasy cheat code. A running quarterback does not have to be a good passer, doesn't need a great supporting cast or even a great offensive coordinator to be a dominant fantasy option. Hurts has multiple factors aiding his probability of being the next breakout rushing quarterback for fantasy. The Philadelphia Eagles' offensive line was absolutely decimated due to injuries last season. The return of a healthy offensive line is step one in the Hurts fantasy breakout. Step two is the Eagles' recent investments in offensive skill positions via the NFL Draft. The Eagles selected Alabama wide receiver DeVonta Smith with their first-round selection, giving Hurts a bonafide No. 1 WR to rely on in the passing game. Last year's first-round pick at wide receiver, Jalen Reagor, is also returning to health, as he never really got started last season due to injuries. Add in a pass-catching weapon out of Memphis University in Kenneth Gainwell and the Eagles' offense should immediately be better than it was in 2020. The third and final step tying all of these new pieces together is new Eagles head coach, and former offensive coordinator of the Indianapolis Colts, Nick Sirianni. With Hurts having a full offseason and training camp receiving first-team reps and a head coach who knows how to orchestrate a successful offense, it should be all systems go for a Hurts fantasy breakout.
Time for a Fantasy Hurts-ing
With an ADP of QB10 and 105.7 overall in Underdog Fantasy ADP, I am targeting Hurts as a QB1 for my fantasy teams. He has enough upside and opportunity through his rushing prowess that finishing as the fantasy QB1 overall is within his range of outcomes, which is the upside you need to chase to win your fantasy league.