Fantasy Football Debate: Ezekiel Elliott vs Jonathan Taylor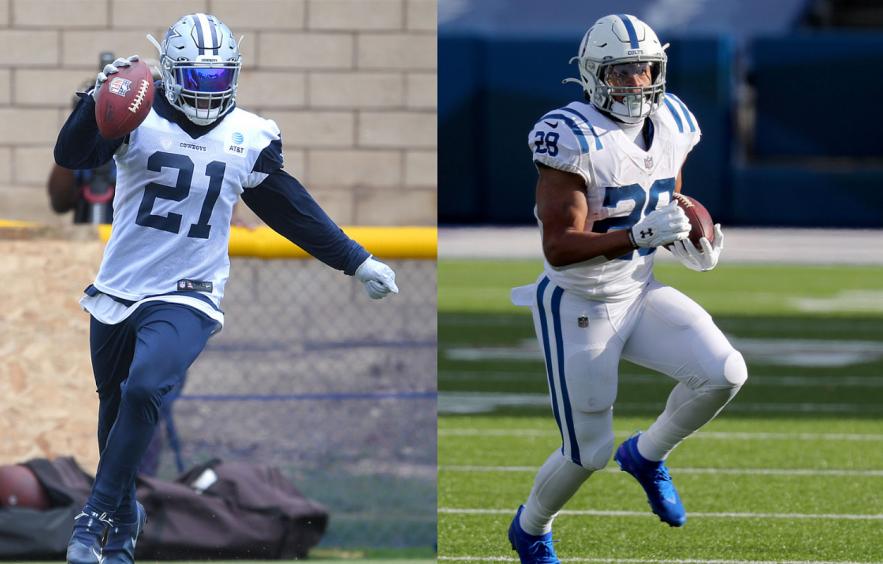 Jayne Kamin-Oncea/Timothy T Ludwig/Getty Images
Ezekiel Elliott and Jonathan Taylor are both being drafted as top-seven fantasy running backs on Underdog. In this debate, 4for4's Rob Lorge will explain why he prefers Zeke while Justin Edwards argues the Taylor side.
---
Other Fantasy Football Debates: Kyler Murray vs Lamar Jackson | Allen Robinson vs Terry McLaurin | D.J. Chark vs Laviska Shenault | Courtland Sutton vs Jerry Jeudy | Darren Waller vs George Kittle | Antonio Gibson vs Clyde Edwards-Helaire
---
The Case for
Ezekiel Elliott
As a Wisconsin native and a hardcore Badger fan, it pains me to say this, but this Jonathan Taylor vs. Ezekiel Elliott debate really shouldn't be much of a debate. Ezekiel Elliott is the better fantasy option this season.
We are talking about a guy who has finished as the RB2 back in 2016, RB10 in 2017 (RB3 in PPG when he missed 10 games), RB5 in 2018 and RB4 in 2019. In the first five games of the 2020 season with Dak Prescott healthy, Zeke was the RB3. Look at that track record. Now, I really like Taylor in fantasy football for the 2021 season, but Elliott has proven himself to be a top-five running back year in and year out.
Since his rookie season, Elliott has averaged over 330 touches per season. That includes 2017 when he played in only 10 games due to a suspension. That is some kind of volume. Since 2016, there have been only seven instances of a running back receiving 300 or more touches and Zeke has three of them.
Jonathan Taylor, despite having himself an impressive rookie season, "only" touched the ball 268 times. Typically, 268 touches aren't anything to knock, but when the other player has averaged over 330 touches across five seasons it certainly takes a little mustard off the 268.
The biggest difference between these two players in regards to their number of touches is their involvement in the passing game. Elliott had 73 targets last year in 15 games and had an 11.7% target share. Meanwhile, Taylor only had 39 targets, which was good for just a 7.0% target share. Since 2018, Elliott has racked up 237 targets, which averages out to 79 targets per season. Even the most optimistic projection for Jonathan Taylor is not going to come close to that number of targets. Elliott averaged 4.9 targets per game last season, while Taylor only received 2.7 targets.
The problem for Taylor is Nyheim Hines who has proven himself to be a capable receiver out of the backfield. Fantasy managers should be expecting Taylor to be more involved in the passing game in 2021 with the added year of experience, but expecting his targets to double is quite another thing altogether.
Zeke's role in the passing game also ensures he will not be scripted out of any games. That may or may not be true for Taylor, which is part of the problem. Hines was primarily used as the third-down back and if the Colts do happen to fall behind on the scoreboard, fantasy managers could see Hines play more than Taylor.
Fantasy managers should always be following the volume. This is especially true at running back. Zeke is the clear favorite to touch the ball more than Taylor. This is true not only because of his involvement in the passing game but also because of each team's current construction. The Cowboys ran the second-most plays in the NFL last season. They played fast because they had to. Their defense gave up the fifth-most points in the league, while the Colts were at 23rd. That difference means a lot because it dictates how the offense needs to play. The more plays the Cowboys run, the more opportunities Zeke has to touch the ball.
Playing Time Equals Opportunity
In Week 13, Elliott injured his hamstring and with the Cowboys' season all but over with the injury to Dak Prescott, Dallas intelligently decided to give Tony Pollard more run. It made no sense to overexert their star running back in meaningless games. From Weeks 1–12, Elliott played 77% of the total snaps. From Weeks 1–5 (when Dak was healthy), Elliott played 88% of the snaps.
Jonathan Taylor only played 50% of the snaps last season. Granted, this was his rookie season, but a jump from 50% to 77%, much less 88% is a substantial increase in playing time. Playing time often has a positive correlation with touches and fantasy managers saw this play out last season with Zeke and Taylor.
The Colts have more competition in their backfield with Hines and the return of Marlon Mack and Jordan Wilkins. While Taylor will undoubtedly lead this group and will likely see his role in the offense grow, there's no way around the fact that the Colts have a lot of running backs the coaching staff has familiarity with and has used extensively at different times. The only running back behind Elliott is Pollard and when Prescott was healthy, he was nothing more than a guy who came in to give Elliott a breather.
From Weeks 1–5, Zeke saw 22.6 touches per game with Dak under center. Prior to his hamstring injury, he averaged 20.0 touches per game. Taylor averaged 17.9 touches per game, which shows Elliott commanding a higher weekly touch total. As already mentioned, this also includes a higher number of receptions. Receptions are worth more points vs. rush attempts, especially in any PPR scoring format. Not only is Zeke receiving more weekly touches, but he's getting more valuable ones.
The
Cowboys

Have the Better Offense

Last season, through the first five weeks of the season, the Cowboys averaged 32.6 points per game. That average was more than the No. 1 scoring offense, the Green Bay Packers. During that same stretch of games, Elliott was the RB3.
Ezekiel Elliot's RB ranks in the five games alongside Dak Prescott:



1st in routes run (172)

1st in carries inside the five (14)

3rd in receptions (24)

2nd in fantasy points (114) pic.twitter.com/IwcxMFOD09

— Adam Pfeifer (@APfeifer24) July 19, 2021
With the offensive line and Dak Prescott healthy, the Cowboys' offense will be one of the most electrifying in the entire league. There will be plenty of scoring opportunities to be had. Zeke scored six times in the first five games, a pace that would have seen him scoring 19 times at the season's end.
Despite the Cowboys starting two backup quarterbacks for 11 games last season, Elliott still recorded 22 (tied for the most in the NFL) carries inside the 5-yard line compared to Taylor's 12. What happens when Dak is healthy for those other 11 games? Elliott will continue to have more scoring opportunities in Dallas than Taylor will have in Indianapolis.
Zeke Has Got Something to Prove
Is this entirely subjective? Yes, I won't deny it. These guys are some of the most competitive in the entire world. It's how they were able to work so hard to get where they're at. When their skill is questioned, most take that personally. After the 2020 season, there has been plenty of talk out there saying that Elliott is starting to lose a step. Some have gone so far as to say Pollard is actually the best Cowboys' running back. I think it's safe to say Zeke has heard that talk and used it as motivation.
A lot of the talk in the offseason is just that, talk. However, there are times when fantasy managers can see that talk get put into action. That's what is happening with Elliott right now. Fantasy managers have grown accustomed to Elliott showing up for the offseason a little out of shape or with a little extra flub around the waistline, but not this year.
#Cowboys RB Ezekiel Elliott says he's down to 218 pounds, his lowest weight since freshman year in college. He hired a chef to improve nutrition and private running backs coach Josh Hicks with workouts emphasizing short-area quickness and ball security.

— Ed Werder (@WerderEdESPN) July 22, 2021
Now, don't get me wrong, this isn't the "quad squad" or anything like that. This isn't so much about how he looks, but rather the mindset he's in. This is not a typical Elliott appearance for this early in the season. Fantasy managers should be excited about how focused and motivated Elliott appears. He showed up to camp like he's got something to prove and that's a great thing for fantasy managers. Imagine a perennial top-five fantasy running back feeling disrespected and with a chip on his shoulder. It's not a narrative I usually buy into, but I'm all for this one.

The Case for
Jonathan Taylor
It was a tale of two different football seasons for Ezekiel Elliott and Jonathan Taylor in 2020. Elliott started hot before quarterback Dak Prescott went down with a horrific leg injury, wrapping up the first month of the year as fantasy's RB4. On the other hand, Taylor took a while to get going to make the most of an injury on his own team —Marlon Mack's torn Achilles— and was coming out of Week 11 as the RB16 in Half-PPR scoring. Zeke's mid-season lull and Taylor's explosive end-of-season flipped things on its head as they finished as the RB11 and RB6, respectively. Both deserve first-round consideration, but only one will score more points.
Rookie running backs have taken a little while to get going in recent history, averaging 22.6% more fantasy points in the second half of the first season and Taylor did not prove to be an exception to that rule.
Jonathan Taylor

2020 Splits

| Time Frame | Yards | Yards After Contact | Broken Tackles | Missed Tackles | Half-PPR FP |
| --- | --- | --- | --- | --- | --- |
| Weeks 1-11 | 518 (20th) | 288 (16th) | 1 (90th) | 6(36th) | 109.5 (16th) |
| Weeks 12-17 | 651 (2nd) | 323 (4th) | 11 (4th) | 14 (1st) | 125.3 (3rd) |
After a one-week absence for being placed on the COVID list in Week 12, Taylor returned and nearly led the league in every counting stat despite not taking a snap in that Week 12. These weren't simply fluky games in which he was finding gaping holes and galloping down the field untouched—he was fourth in broken tackles and first in missed tackles, exhibiting the type of speed-power combination that makes him such a menace on the field.
That speed and power will carry forward into the 2021 season but his noodle-armed quarterback will not. Following the retirement of Philip Rivers, Frank Reich convinced the Colts front office that Carson Wentz's disappointing 2020 was not the fault of a precipitous drop in performance but rather a conglomerate of extenuating circumstances, presumably headed by the fact that he was the most sacked quarterback in the NFL despite playing in only 11 games. At the very least, residing anywhere near the top of that leaderboard will prove very unlikely behind one of the best offensive lines in the NFL.
The Colts led the league in running back team touch share last season, running the offense through the running back on 63.3% of their plays, whether by air or by ground. It is fair to point out that Rivers is notoriously a check-down machine, but in Wentz's last full season at the helm in Philadelphia (2019), he helped boost his running backs to the fourth-most yards receiving (806) at the position. Nyheim Hines is very likely to still be featured often in the Indianapolis passing game, but that didn't stop Taylor from getting his own piece of the pie, catching at least two passes in 11-of-15 games, and finishing with 36 receptions; more than Ezekiel Elliot received in either of his first two seasons.
Maybe it's just a case of the devil you don't know, but I perceive Taylor with a higher 2021 ceiling as he continues to mold himself into a bonafide upper-echelon NFL running back, while Elliot is no longer the most efficient running back on his own team.