2021 Offensive Line Rankings: 10-1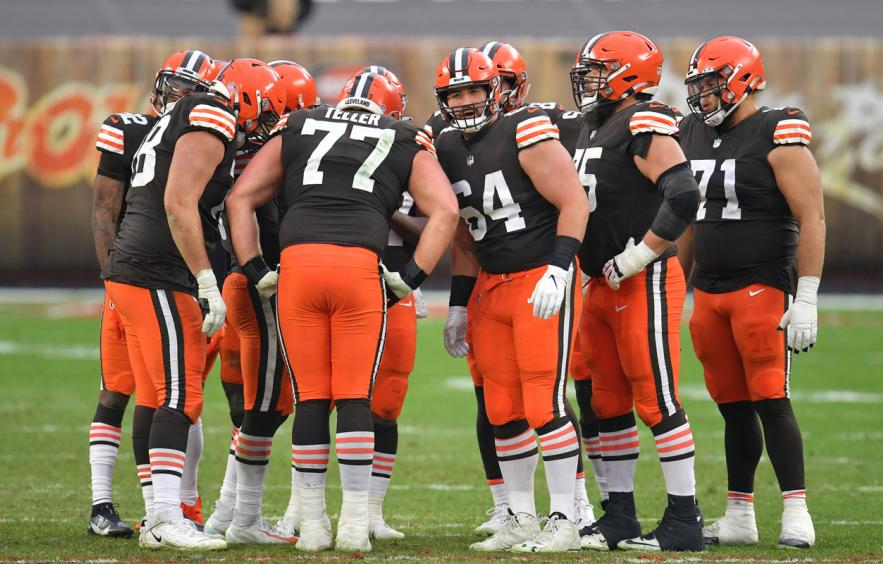 Jason Miller/Getty Images
As I'm sure you have hypothesized in the past, the play of a team's offensive line impacts the fantasy points that each NFL team can produce, and now we have statistical proof. By using the knowledge of good and bad units, we can better attack (or avoid) skill position players on a given team; another edge we can use against our teammates. With that caveat understood, it's time to figure out exactly where a team's offensive line compares to the rest of the league.
---
Other Offensive Line Articles: 32-22 | 21-11 | Which Teams Invested | How Offensive Line Play Impacts Fantasy Football
---
Below I'll be counting down the top -10 offensive lines heading into the 2021 season, with an accompanying "key stat" from last year's unit, plus new faces coming to the team. Additions will denote either the most recent team that player played for, or the round of the draft they were selected. Additions and subtractions will be relegated to players believed to be immediately starting or at the least an immediate backup. Let's dig in.
*Denotes an update from August 24th, 2021
10. Buffalo
Bills
Key 2020 Stat: 4.8% Adjusted Sack Rate (5th)
Offseason Movement
Additions: Spencer Brown (third round), Tommy Doyle (fifth round), Jack Anderson (seventh round), Forrest Lamp (Chargers)
Subtractions: Brian Winters
The addition of two high-upside tackle prospects behind two guys who were already entrenched give the Bills what they need to ensure that Cody Ford stays in the interior from now on, but it does open the question of whether or not Ford is going to be anything above replacement level no matter where he plays. With another solid outing from center Mitch Morse, Ford and his right guard companion Jon Feliciano remain the only two questionable pieces of an otherwise solid —and deep— offensive line. With no dire needs, the Bills were able to wait on the o-line and only take guys who could return a lot of value on their draft slot.
Spencer Brown signed on at Northern Iowa as a 235-pound tight end after not receiving any D-1 interest. Less than a year later he was 290 pounds and lining up as an offensive lineman. Cut to 2021 and —almost hilariously— Brown is being drafted by the Bills in the third round, clocking in at 6'9", 321 pounds, almost the largest man on the field at any given time. His tight end and basketball experience help him with very good fluidity and athleticism, giving Buffalo a great base to work on some of his pad-level issues. He figures to learn the left side through training camp so he can operate as a rookie swing tackle and settle into whichever side opens up in the future. Brown played exclusively on the right side in college because his coaches liked the continuity, not because of any physical limitations.
Giant-sized (6084v, 314v) guys like @UNIFootball OT Spencer Brown (@TooTallo_o) just aren't supposed to bend & slide like this. Makes it look easy here against one of top pass rushers in 2021 draft. Could make strong case Brown has highest ceiling of any tackle in this class. 🛠 pic.twitter.com/z8l53OHpMC

— Jim Nagy (@JimNagy_SB) February 18, 2021
*(Buffalo is hanging on to a thread with this top-ten ranking as the three-person triumvirate of Jon Feliciano, Mitch Morse, and Ike Boettger are still up in the air for both guard positions. Tackle depth could also be an issue if Bobby Hart avoids getting cut and plays the role of swing tackle due to injuries. Nonetheless, the three remaining starters have enough juice to boost the entirety of the line. For now.)
9. Green Bay
Packers
Key 2020 Stat: 50 QB Hits Allowed (Least in NFL)
Offseason Movement
Additions: Josh Myers (second round), Royce Newman (fourth round), Cole Van Lanen (sixth round)
Subtractions: Corey Linsley, Rick Wagner, Lane Taylor
The Packers may not have reined in Aaron Rodgers quite yet, but it's certainly not for lack of trying with their draft picks! Well, at least as far as the offensive line is concerned. Green Bay has now selected six offensive linemen over the last two seasons, and this year was focused on a mass overhaul of versatility and depth for all five positions. Sixth-rounder Cole Van Lanen (Wisconsin) and Royce Newman (Ole Miss) were tackles in college and either one of them could be pushed inside to learn guard while Josh Myers will be given every opportunity to take over the center position from departed free agent Corey Linsley.
I'm not a fan of the decision to allow Linsley to walk, but allowing ultra-versatile Elgton Jenkins to concentrate on guard and find a home instead of being played like a piano all across the line should be accomplished with the drafting of Josh Myers. David Bakhtiari's torn ACL in December of last year can also raise some red flags, but all reports seem to indicate that he will be ready to suit up either Week 1 or shortly thereafter.
*(Elgton Jenkins continues to shine no matter where he plays and positive reports about rookie Josh Myers at center should help Jenkins concentrate on one single position for a change. Fellow rookie Royce Newman has all but cemented a job as the starting right guard, sparking questions about whether or not incumbent Lucas Patrick could be released prior to opening day)
8. Dallas
Cowboys
Key 2020 Stat: 4.48 Adjusted Line Yards (11th)
Offseason Movement
Additions: Josh Ball (fourth round), Ty Nsekhe (Bills)
Subtractions: Cam Erving, Joe Looney (could return, a free agent at the time of writing)
We don't have to lean on coachspeak to figure out what the Cowboys think about the health of their offensive line bookends, Tyron Smith and La'el Collins. Dallas had plenty of opportunities to sink draft capital into an offensive tackle and instead spent their first six picks on the defensive side of the ball for the first time in franchise history. Fourth-round pick Josh Ball is unlikely to see the field this season unless some more catastrophic injury luck hits the team, which I completely understand betting against for the sake of the entire offense. When healthy, this tackle tandem has the upside to be one of the best in the league, but that's the issue; when healthy. Tyron Smith decimates opposing pass rushers when on the field but the fact is, he's missed 22 games over the last five seasons.
Ty Nsekhe is an underrated signing and helps to hedge the bet on health, as he can be pressed into action at either guard or tackle spot, though they would likely prefer for him to play in a pinch and not start more than a couple of games throughout the season. Zack Martin has more or less been a pillar of health before last season, and his lowly six (six!!) holding calls through 104 career games are wild. If —and this is a big, unlikely if— this line can stay healthy for an entire year, it's not a stretch to say they're the best unit in the league.
I hope Zeke Elliott gives Zack Martin a monster gift at the end of each season. All these explosive plays, both in the run game and screen game, are right behind Martin. This is why Martin is a lock Hall of Famer. Incredible athlete in space. Powerful at the LOS. Monster pic.twitter.com/XHT3f8eZTN

— Geoff Schwartz (@geoffschwartz) August 3, 2020
*(Marshall's Josh Ball hasn't had a chance to show whether or not he will make a solid back-up to Tyron Smith and/or La'el Collins as he has spent the majority of the last month in a walking boot. Not to be cruel to the young man, but with the Cowboys' history of offensive linemen injuries, they'd probably like to get it out of the way and spend some of that bad karma on a reserve player.)
7. Detroit
Lions
Key 2020 Stat: 11.17 Blown Block% (7th)
Offseason Movement
Additions: Penei Sewell (first round)
Subtractions: Joe Dahl
When you draft the first lineman off the board, that's inevitably going to be what people are talking about but let's take a look at the rest of the line first to have a feel for Penei Sewell's new home. Playing at left tackle is former 2016 first-round pick Taylor Decker, who has turned into a rock-solid anchor for Matthew Stafford's and now Jared Goff's blindside. Decker signed a long-term extension in September that could keep him with the team until 2025. Yet another first-round pick (2018) along the line, Frank Ragnow, was just extended through the 2026 season, creating a fantastic baseline to build around. Not only for rookie offensive linemen of the future but also for whichever prospective top-five quarterback Detroit will likely be taking in 2022.
The guard position gets a little trickier, with 2020 third-rounder Jonah Jackson penciled in on the left side after a mediocre rookie season, and sixth-year veteran Halapoulivaati Vaitai set to slide to the inside after starting six games at guard last season. Vaitai has logged more than 550 snaps in a season just once (2017) so we'll have to see if he can maintain a starting role throughout an entire year. My bet would be that he doesn't, making backups Logan Stenberg and Tyrell Crosby more viable when considering the overall strength of this line.
That brings us to the consensus number one tackle in the 2021 NFL Draft; Penei Sewell. Not turning 21 until October of this year, Sewell has tape all the way back to the age of 17, and in my humble opinion, he's going to need to use that youth to his advantage in learning some of the more technical parts of his position. He has the requisite size and strength for days, but he has some problems stopping his feet while maintaining blocks which can make him susceptible while run blocking. That said, Sewell has very good athleticism and explosiveness which he displays often when climbing to the second level of the defense. Current Lions offensive line coach Hank Fraley recruited Sewell (the number two ranked guard in the 2018 recruiting class) out of Desert Hill High School in Utah when Fraley was still a UCLA assistant, so there is some familiarity on the team already for the young buck.
Sewell has the immediate tools to be a good NFL tackle right now, but with a little mentorship from one of the best tackles in the league on the other side, he could go on to be great.
6. Indianapolis
Colts
Key 2020 Stat: 58 QB Hits Allowed (3rd)
Offseason Movement
Additions: Eric Fisher (Chiefs), Sam Tevi (Chargers), Julie'n Davenport (Dolphins)
Subtractions: Anthony Castonzo (retirement)
When the Colts came out of the first two rounds of the NFL Draft without selecting a tackle it was written in stone that they would be active in free agency. In the weeks leading up to the draft they signed Julie'n Davenport and Sam Tevi as depth pieces but in the week immediately following the draft they acquired former Chief and two-time Pro Bowler, Eric Fisher. Fisher was the last lineman to be taken first overall (2013) and started 113 games over eight seasons in Kansas City before being a victim of the salary cap after tearing his ACL in the AFC Championship Game. Tevi and holdover Will Holden will fill in at left tackle through the summer as the team is confident that Fisher's rehab will see him on the field by September.
Now sporting three Pro Bowlers across the line, Indianapolis is home to Ryan Kelly, one of the best centers in the league, and Quenton Nelson, arguably the best left guard in the league since being drafted sixth overall in 2018. There was "serious consideration" about moving Quenton Nelson to tackle for this season if none of their plans worked out, and thankfully that didn't happen. We would all benefit from continuing to watch Nelson be an elite guard as opposed to a good tackle.
Check out LG Quenton Nelson battling and resetting vs. Kenny Clark before getting a late body on Za'Darius Smith. pic.twitter.com/STfGDa06zs

— Nate Tice (@Nate_Tice) June 14, 2021
*(The most damning offensive line injury of the summer occurred early in August when left guard Quenton Nelson suffered an eerily similar foot injury to that of his quarterback, Carson Wentz. It is now seemingly likely —though not concrete— that Nelson will miss some of the beginning of the regular season, leaving the very talented left side of this line (Nelson and Eric Fisher) missing in action, probably for the first week or two. I don't think it's egregious enough to significantly discount the team's fantasy options.)
5. Washington Football Team
Key 2020 Stat: 4.35 Adjusted Line Yards (16th)
Offseason Movement
Additions: Samuel Cosmi (second round), Charles Leno (Bears), Ereck Flowers (Dolphins), Tyler Larsen (Panthers)
Subtractions: Morgan Moses
According to John Paulsen's study on offseason spending, Washington spent the most in free agency on the offensive line, adding Charles Leno from the Bears, Ereck Flowers via trade (he played in Washington in 2019), and Tyler Larsen who played with Ron Rivera during his stint as Carolina Panthers head coach. Only one of those additions (Leno) is even guaranteed a starting spot, with a lot of this team's offseason focused on creating depth along the offensive line, even after the surprising (to some) release of tackle Morgan Moses who had a streak of 96 consecutive games suiting up in Washington.
All-Pro right guard Brandon Scherff and newly-extended (four years, $40.5 million) center Chase Roullier are locked in studs along the interior, leaving the camp battles between left guard and right tackle. Guard will be between Wes Schweitzer and new-old addition Ereck Flowers and the tackle position will be decided by either Cornelius Lucas or second-round pick Samuel Cosmi. The release of Moses gives Cosmi more camp reps to work on the technical side of his game, and although he is a high-ceiling prospect, I don't expect him to win this job outright from Lucas.
With Cosmi working both sides of the line throughout his college career in Texas, I see him as immediately one of the best swing tackles in the league with a chance to either usurp the right tackle position during the 2021 season or slide directly into a starting role in 2022 with Cornelius Lucas on the last year of his contract, and Charles Leno having signed a one-year deal.
4. New Orleans
Saints
Key 2020 Stat: 9.06 Blown Block% (3rd)
Offseason Movement
Additions: Landon Young (sixth round)
Subtractions: Nick Easton
There's an argument to be made that Terron Armstead is the best offensive tackle in the league when healthy, and being that right tackle Ryan Ramczyk isn't that far behind, this could be the best exterior line in the league. Problems arise as we venture closer to the inside, as left guard Andrus Peat has settled in as a slightly above average lineman, and right guard Cesar Ruiz had a very disappointing rookie season.
There have been faint rumors of moving Ruiz to his more natural position at center, but Erik McCoy has been a wonderful option at center during his two seasons in the league. On top of that, Hall-of-Famer Drew Brees just retired and you'd like to ease the transition from him to Winston/Hill/Book/Whomever as smoothly as possible, and one way to help that out is to keep some consistency with the guy likely to be calling out protections for the rest of the line.
When assistant offensive line coach (and former Saints player) Zach Strief was asked about the situation in May he said, "It's going to be hard to beat him [McCoy] out, I think he played fantastic last year, he had a huge jump. You've got to wait and see, just like every year, the goal is always to get the best five that you can on the field. And figuring out where those guys best go is kind of on us as coaches. But he was outstanding and we'll just kind of see how it works itself out."
The Saints should feel great that they've put together an entire line with only one weak link and a good amount of depth. If they can refrain from tinkering, they can possibly scheme a little around Ruiz and allow the rest of the stout line to help bring him up to speed in Year Two.
.@Saints @UMichFootball @_OverCees shows you how the #Saints just keep reloading up front on the OL. Some teams just know how to draft! Ruiz; straight outta Camden. #WhoDat #BaldysBreakdowns pic.twitter.com/Y8kOC1oV3C

— Brian Baldinger (@BaldyNFL) May 10, 2021
3. New England
Patriots
Key 2020 Stat: 10 Offensive Line Penalties (least in the NFL)
Offseason Movement
Additions: William Sherman (sixth round), Ted Karras (Dolphins), Trent Brown (Raiders)
Subtractions: Marcus Cannon, Joe Thuney, Jermaine Eluemunor
New England and the Dark Lord Bellichick welcomed back not one but two old comrades over the offseasons; center Ted Karras and right tackle Trent Brown. Brown will be slotted to take over the starting tackle position and make up for two mostly-lost seasons with the Raiders while Karras will jump to the number two space behind David Andrews and create impressive depth there and for either left or right guard. Speaking of depth, this team has it in spades, even after the departure of Joe Thuney. They've got a viable backup behind each starting option and just to make sure they were covered they spent a sixth-round flier on Colorado's William Sherman who can serve as a developmental player as a guard or a tackle.
The Patriots have a crew here who thrive on physicality and bring the fight to the defense, but it will be flexible enough to adjust to a Mac Jones offense if and when that time comes. Sadly for fantasy purposes, we're not going to know whether Jones or Cam Newton wins that job until August. The Patriots' first practice is set for July 31st so we'll begin to know more then, but whoever wins the job will be in good hands.

2.Tampa Bay
Buccaneers
Key 2020 Stat: 4.3% Adjusted Sack Rate (3rd)
Offseason Movement
Additions: Robert Hainsey (third round)
Subtractions: A.Q. Shipley (retirement)
One of the few teams returning all five offensive line starters (and all 22 starters, for that matter), Tampa Bay will look to run it back for back-to-back titles with the ageless wonder at quarterback and a ferocious o-line unit. This group was exceptionally durable last season, with all five of them logging north of 1,1100 snaps worth of playing time in 2020. The only real hit came when Alex Cappa fractured his ankle against Washington in the first game of the playoffs, sidelining him for the rest of the Super Bowl run. He was back at minicamp in early June, returning to his starting right guard job.
With the selection of Notre Dame's Robert Hainsey in the third round, the champs back depth throughout the line in case injury luck rears its ugly head in 2021.
1. Cleveland
Browns
Key 2020 Stat: 4.79 Adjusted Line Yards (6th)
Offseason Movement
Additions: James Hudson (fourth round)
Subtractions: Kendall Lamm
Have you ever left a job just to find out later that the company made wholesale changes that would have made your life a whole lot easier if you still worked there? Well, Joe Thomas has. After years of toiling away as the only sure-fire great offensive lineman on his team, Thomas retired after 10,363 consecutive snaps just to see that the Browns have an honest-to-goodness phenomenal o-line unit. They've been on a steady trajectory for years now, culminating in what I believe is the best unit in the league heading into this season.
Like New England, they will be returning all five starters and we should expect them to excel, especially considering second-year player Jedrick Wills has a full year of left tackle experience under his belt and Wyatt Teller has another year of experience after virtually coming out of nowhere to have one of the best 2020s of any guard in the league. The addition of James Hudson in the fourth round helps to shore up an admittedly shallow tackle depth chart behind Wills and Jack Conklin. Full steam ahead on Cleveland's offensive pieces.
*(There have been no setbacks in Cleveland since these initial rankings and in fact, a bit of turmoil in the rankings behind them, further securing their number one seeding)