2021 Offensive Line Rankings: 21-11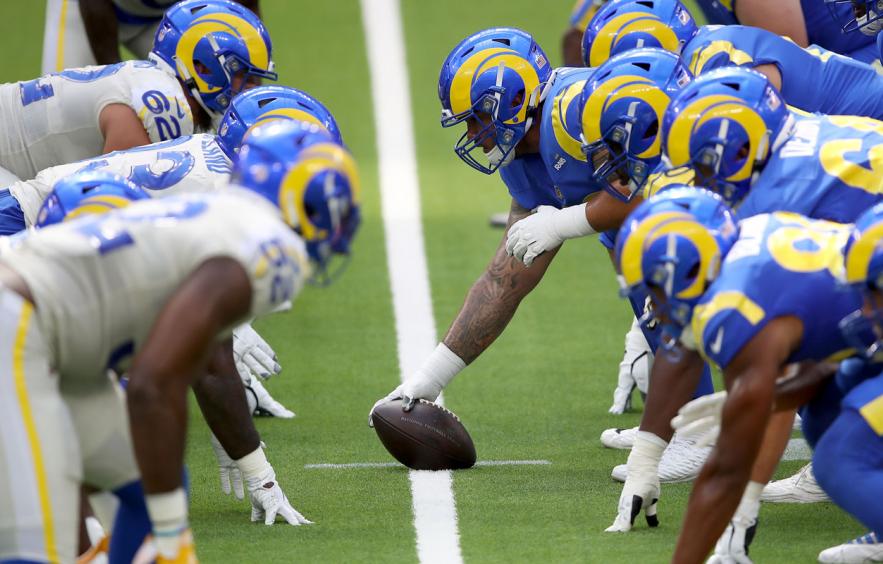 Sean M. Haffey/Getty Images
As I'm sure you have hypothesized in the past, the play of a team's offensive line impacts the fantasy points that each NFL team can produce, and now we have statistical proof. By using the knowledge of good and bad units, we can better attack (or avoid) skill position players on a given team; another edge we can use against our teammates. With that caveat understood, it's time to figure out exactly where a team's offensive line compares to the rest of the league.
---
More Offensive Line Rankings: 32-22 | 10-1
---
Below I'll be counting down middle-11 offensive lines heading into the 2020 season, with an accompanying "key stat" from last year's unit, plus new faces coming to the team. Additions will denote either the most recent team that player played for, or the round of the draft they were selected. Additions and subtractions will be relegated to players believed to be immediately starting or at the least an immediate backup. Let's dig in.
*Denotes an update from August 24th, 2021
21. Philadelphia
Eagles
Key 2020 Stat: 150 QB Hits Allowed (32nd)
Offseason Movement
Additions: Landon Dickerson (second round)
Subtractions: N/A
This ranking is deeply disrespectful to a team with so much talent up front but they are getting to be a very old and, dare I say injury-prone unit.
Philadelphia

Eagles

Starting Five

| Player | Position | 2020 Games Missed | Age in 2021 Season |
| --- | --- | --- | --- |
| Jason Kelce | C | 0 | 34 |
| Brandon Brooks | RG | 16 | 32 |
| Lane Johnson | RT | 9 | 31 |
| Isaac Seumalo | LG | 7 | 28 |
| Andre Dillard | LT | 16 | 26 |
Four of the five projected starters along the Eagles offensive line missed significant time in 2020, with the one exception coming in the form of 11-year veteran Jason Kelce heading into his age-34 season. Help is on the way in interior lineman Landon Dickerson of Alabama, who won the Rimington Trophy last year, voted the nation's best center. He exhibits a "junkyard dog" mentality and versatility but he also has an injury history that includes; a torn ACL, ankle surgery, a separate ankle injury, and ligament damage to his left knee that kept him out of the National Championship.
This team has a lot of talent but you have to squint hard to see a scenario in which the line stays intact for 17 games.
*(Left tackle Jordan Mailata made an unlikely jump this Summer into the starting role after what beat reporter Bo Wulf called his performance the best of any Eagle through the duration of the summer. This moves incumbent Andre Dillard into a swing tackle role, if —and this is a big if—he even remains with the team through the beginning of the season, as rumors have swirled about a potential Philadelphia offensive line trade)
20. Chicago
Bears
Key 2020 Stat: 4.16 Adjusted Line Yards (25th)
Offseason Movement
Additions: Teven Jenkins (second round), Larry Borom (fifth round), Elijah Wilkinson (Broncos)
Subtractions: Charles Leno, Bobby Massie
Both of the Bears' 2020 Week 1 starters at tackle have moved on from the team, with Charles Leno (now with Washington) being outright released 72 hours before the NFL Draft and Bobby Massie (now with the Broncos) having his final-year option declined, making him an unrestricted free agent. Both of their rookie selections may slide directly into those roles if University of Missouri's Larry Borom can outplay Germain Ifedi.
Because of a projected run on offensive linemen to kick off the second round of the draft, the Bears did what they did in the first round; trade up to get their guy. Because Jenkins' name was still on the board, Chicago made a deal with the Panthers that in hindsight was a great decision; six offensive linemen (five tackles) went between their new pick and the 53rd overall pick —their original pick. The rookie will be thrown directly into the fire even though he only has seven games of experience at left tackle at Oklahoma State, and he'll have plenty of pressure to be solid from day one to protect not only his quarterback but maybe even his coach's job.
Hypothetically, if Larry Borom can supplant Ifedi, the line would have a combined 116 career starts, making them one of the youngest lines in the league.
*(After rookie left tackle Teven Jenkins was forced to have surgery on his back, Chicago scrambled to reunite offensive line coach Juan Castillo with 39-year-old Jason Peters. Peters has been —and conceivably could be again— one of the best tackles in the league through his career but that was a handful of years and injuries ago. The Bears could climb these rankings through the season but I think this is a fair spot to keep them for now.)
19. New York
Jets
Key 2020 Stat: 8.1% Adjusted Sack Rate (29th)
Offseason Movement
Additions: Alijah Vera-Tucker (first round)
Subtractions: Josh Andrews
I love the pairing of Mekhi Becton and Alijah Vera-Tucker enough that I'm willingly ignoring the questionable right side of the line. AFC East and Dolphins fans, in particular, may recall a left-side tandem from the early-90s in Richmond Webb and Keith Sims, and —I might be getting a little ahead of myself here— I think this Jets tandem has a chance to terrorize the division for years to come as well. Vera-Tucker played the entirety of his 2020 season at USC as a left tackle, which proves his versatility, but New York would be insane to let him play anywhere besides right next to Mekhi Becton. AVT's dominance at the point of attack and his elite athleticism shone through last year, culminating in a Morris Trophy, which goes to the Pac-12's best offensive lineman, an honor that hadn't been bestowed on a Trojans player since 2011.
Mekhi Becton had a very respectable rookie season, though he did have a couple of nagging injuries, including a shoulder issue that forced him to miss two games. Teaming up a wide-bodied former tackle to play alongside the monstrous Becton (6'7", 370 pounds) is enough for me to have faith that the opposite side of the line will hold it down enough to consider the unit as a whole average.
*(Here's hoping that Alijah Vera-Tucker's injuries don't linger into the season, as the Jets depth at guard isn't very inspiring, and the rookie needs time to meld with sophomore tackle Mekhi Becton)
18. Arizona
Cardinals
Key 2020 Stat: 35 OL Penalties (30th)
Offseason Movement
Additions: Rodney Hudson (Raiders), Brian Winters (Bills)
Subtractions: Mason Cole
Arizona gets a huge upgrade due to Las Vegas selling off most of their offensive line, as they traded Mason Cole to the Vikings for a sixth-round pick (CB Tay Gowan) while bringing in Rodney Hudson, who annually allows the lowest total pressures among the center position. D.J. Humphries will look to build on a career year that came on the back of a three-year, $45m contract extension that he signed in February of 2020.
The tackle room, in general, is a strength of the team, with 2020 third-round pick Josh Jones serving as a swing tackle behind Humphries and right tackle Kelvin Beachum. The guard positions are the real question marks, as left guard Justin Pugh will try to continue a bit of a career resurgence and right guard will presumably be a camp battle between incumbent Justin Murray and Brian Winters, who is now on his third team in as many years. This team is sort of in no man's land as far as this ranking is concerned but Rodney Hudson could really be the glue that holds this interior together, makes them into a top-10 unit, and throws this in my face.
17. Denver
Broncos
Key 2020 Stat: 4.02 Adjusted Line Yards (27th)
Offseason Movement
Additions: Quinn Meinerz (third round), Bobby Massie (Bears), Cameron Fleming (Giants)
Subtractions: Ja'Wuan James (preseason torn Achilles tendon)
Despite Ja'Wuan James' untimely injury (for both parties), occurring before the 2021 NFL Draft the Broncos ignored the tackle position for the second straight season, deciding instead to sign longtime Bear Bobby Massie to a one-year, $4 million deal. James had played a total of 65 snaps after signing a four-year, $51 million deal in 2019 and was released by the team in May (he has since signed with the Ravens and will rehab his injury at their facilities). Denver passed on Rashawn Slater (my favorite tackle in the draft) with their ninth-overall pick, opting to solidify their defense with cornerback Patrick Surtain and allowing Slater to fall in the lap of the Chargers. Massie is likely to be the short-term answer on the right side, with Cameron Fleming operating as a swing tackle for both he and Garett Bolles.
The interior of this line has promise, as both guards are above-average, and the Broncos used their third-round pick on everybody's favorite D-3 lineman, Quinn Meinerz. Meinerz was such a powerhouse at the University of Wisconsin-Whitewater that he was voted as an AP first-team All-American and was selected to go to the Senior Bowl. Before your brain starts to go down the "yeah, but what about weak competition?" wormhole; he was voted as the best offensive linemen to attend the Senior Bowl, as voted on by the defense. Standing in his way for playing time right off the bat is sophomore center Lloyd Cushenberry who, frankly, had a terrible rookie season. According to Sports Info Solutions numbers, Cushenberry had the highest blown block% (3.3%) in pass protection amongst 42 qualifying centers last season (min. 200 snaps).
If Meinerz can't push for playing time at center, there may be work for him at right guard if old injuries begin to flare up for Graham Glasgow as they did in 2020. There are a couple of big question marks along this line but offensive line coach Mike Munchak has a history of getting the most of his players, so I'm not overly concerned for Drew Lock and/or Teddy Bridgewater.
*(Cushenberry was easily the weakest link of this line last season, so recent reports that he used the offseason to bulk up and become more acquainted with the playbook should bode well for an otherwise stout line.)
16. Los Angeles
Rams
Key 2020 Stat: Six Different Starters (Least in the NFL)
Offseason Movement
Additions: N/A
Subtractions: Austin Blythe
I am a big proponent of continuity when you're able to make it work (and we're even getting better at valuating it) but the Rams are living dangerously, having selected only one offensive lineman in the NFL Draft over the last two seasons, Tremayne Anchrum out of Clemson in the seventh round last year. Andrew Whitworth is winding down what is plausibly a Hall of Fame career and I understand not wanting to hurry him out of town but having a (soon to be) 40-year-old as your cornerstone piece along the offensive line is risky business. Whitworth is the oldest lineman in the league and the second-oldest player in the league behind Tom Brady (not counting long snappers).
Whitworth, left guard David Edwards and right tackle Rob Havenstein will man their usual spots with no shake-ups there but with the departure of center Austin Blythe (who signed with Kansas City for less money), the staff decided to do some starting lineup acrobats in the aftermath of not taking any new faces in the draft or free agency. Austin Corbett, who played tackle throughout college, moved to guard after being drafted by Cleveland in 2018 and has never taken a snap at center through the seven-year sample across his playing time with Nevada and the NFL, will be playing center. His back-up looks to be Brian Allen who has seen 600 total snaps since being drafted in the fourth round of 2018's draft. He had a mostly inactive rookie season, tore an ACL in 2019, and lost all of 2020 with COVID problems and another leg injury.
This team has a lot of talent remaining, so I don't want to completely discount them but they have to have a lot of things go right to remain an intact unit for the entire season. Looking at the horizon, each of Joseph Noteboom (swing tackle), Austin Corbett, and Brian Allen are unrestricted free agents in 2022, so something tells me they'll be focusing on the line intently come next spring.
15. Los Angeles
Chargers
Key 2020 Stat: 16.67 Blown Block% (31st)
Offseason Movement
Additions: Rashawn Slater (first round), Brenden Jaimes (fifth round), Corey Linsley (Packers), Matt Feiler (Steelers), Oday Aboushi (Lions)
Subtractions: Trai Turner, Forrest Lamp, Sam Tevi, Dan Feeney
The Chargers are another team who were able to commit a complete overhaul to their offensive line but at the cost of returning only one starter from last season (Bryan Bulaga). Continuing their usage of the Green Bay Packers as an offensive line farm team of sorts, the Chargers made a splash free-agent signing for the second offseason in a row, signing center Corey Linsley just one calendar year after signing former Packers right tackle Bulaga. Bulaga himself registered only 444 (nice) snaps last season but looks to be healthy heading into 2021. As a contingency plan, former Steelers utility man Matt Feiler has plenty of NFL right tackle experience as well as guard flexibility.
As for the rookie pieces, Nebraska's Brenden Jaimes comes ready-made to fill in all across the line as an interior backup. He isn't the greatest athlete on the field but he's got the prerequisite size and length to create depth for all of the new pieces. Rashawn Slater, on the other hand, has it all. Though he doesn't have the towering size of draft classmate Penei Sewell, he is probably the most mentally advanced tackle in the class. He depends on great pass sets, very good footwork, and overall body control to get in front of defenders and take them where he wants them to go. He doesn't have the elite strength that a Sewell already possesses but judging by how much he clearly cares about every other aspect of the game, I'd expect him to put that same energy into bulking up and becoming a cornerstone for the Chargers for years to come.
Chase Young accumulated 56 pressures in his final year with OSU, earning less than three in only one game.



That game he lined up across Northwestern's LT Rashawn Slater and forced one single pressure. Slater would go on to allow only five pressures in all of 2019.

— Justin Edwards (@Justin_Redwards) January 12, 2021
*(Tackle depth has become a glaring issue through the preseason for the Chargers with Storm Norton and Trey Pipkins both vying for the swing tackle role on the team, and both of them performing poorly. If Rashawn Slater or Bryan Bulaga go down for any amount of time this team could be in quite a snag.)
14. Kansas City
Chiefs
Key 2020 Stat: 12 Different Starters (32nd)
Offseason Movement
Additions: Creed Humphrey (second round), Trey Smith (sixth round), Orlando Brown (Ravens), Laurent Duvernay-Tardif (COVID), Kyle Long (retirement), Joe Thuney (Patriots), Austin Blythe (Rams)
Subtractions: Eric Fisher, Mitchell Schwartz
On the world's biggest stage the Kansas City Chiefs showed milLions of eyeballs that us offensive line stans might actually be onto something with all our barking about the o-line's importance. Even leading up to the Super Bowl the Chiefs were beginning to be decimated by injuries, as they started a league-leading 12 different starters last season, ruining any chance of cohesion throughout the season.
Chiefs

2020 OL Starters

| Player | Position | Number of Starts |
| --- | --- | --- |
| Andrew Wylie | RG, RT | 17 |
| Eric Fisher | LT | 17 |
| Austin Reiter | C | 15 |
| Mike Remmers | RG, RT, LT | 13 |
| Nick Allegretti | LG | 12 |
| Mitchell Schwartz | RT | 6 |
| Kelechi Osemele | LG | 5 |
| Daniel Kilgore | C | 4 |
| Stefen Wisniewski | RG, LG | 3 |
| Yasir Durant | RG | 1 |
| Patrick Omameh | RG | 1 |
| Martinas Rankin | LT | 1 |
The team acted quickly these last few months, releasing aging tackles Eric Fisher and Mitchell Schwartz and beginning their overhaul before the draft began, sending their 31st-overall pick in a package to grab Orlando Brown from the Ravens. In the second round, they selected Creed Humphrey of Oklahoma who will spend his Summer battling it out with Austin Blythe for the center position. At right tackle, rookie (sophomore?) Lucas Niang, who was selected in the third round of last season but opted out of the season, will attempt to beat out veteran Mike Remmers, one of the only linemen who didn't miss extended time last year. The final camp battle will be between Laurent Duvernay-Tardif —who opted out to help care for elderly patients dealing with the pandemic in his hometown of Montreal — and rookie Trey Smith. Kyle Long came out of retirement for an opportunity to take up one of the guard spots, but after sustaining a knee injury early in OTAs it looks as if he'll miss some regular season playing time and likely find himself buried on the depth chart.
The hodge-podge group of linemen we saw representing Kansas City in the Super Bowl is going to seem like a distant memory soon enough but we can't disregard the fact that almost none of these players have ever shared a field before. There could be some rough patches throughout, but you have to love the way this team wasted no time solving a problem and fortifying the line for Patrick Mahomes.
*(The Chiefs have looked good thus far in the preseason after concentrating so much on depth this offseason, but they are currently slated to start three players who have never taken a regular-season NFL snap; Creed Humphrey, Trey Smith, Lucas Niang)
13. Tennessee
Titans
Key 2020 Stat: 4.97 Adjusted Line Yards (2nd)
Offseason Movement
Additions: Dillon Radunz (second round), Kendall Lamm (Browns)
Subtractions: Dennis Kelly, Isaiah Wilson (lol)
I'm not sure you can blame due diligence or simply awful luck, but the Titans' 2020 first-round pick —right tackle Isaiah Wilson— is not only out of Tennessee, he's not even on an NFL team right now. Wilson spent two stints on the COVID list, was suspended at one point for violating team rules, and was arrested for a DUI, all in the span of five months. He was traded to the Dolphins in March and lasted three days before he was cut. If second-round pick Dillon Radunz simply shows up to training camp he's already ahead of the curve as far as a rookie offensive lineman in Tennessee is concerned.
Radunz is extremely unlikely to be out of the league in a year, and the former FCS All-American who protected NFL quarterbacks Easton Stick and Trey Lance will make great depth at the tackle position in his rookie year if he isn't moved inside to guard. I've seen people under the impression that if Radunz isn't starting Week 1 then this is a wasted pick, so I'm thinking there's a good possibility that we will have some disappointed Titans fans.
Ok, Dillon Radunz! pic.twitter.com/pyg7SjKHKq

— Chris Kouffman (@ckparrot) January 24, 2021
The surprise cut of Dennis Kelly makes the right side interesting, but the most important piece of the o-line puzzle is the health of Taylor Lewan after he tore his ACL last season. All reports seem to be that he's back to full health so we'll see if Tennessee can start the season as strongly as they began 2020. The interior is filled with mountain-moving heathens that bully defensive lines in the run game, and Arthur Smith was incredible at utilizing them. We'll see if new offensive coordinator Todd Downing is as adept.
*(Taylor Lewan was called "the healthiest of the projected starters at this point." coming off of his ACL rehab, so any doubts on his full recovery can now be quelled.)

12. Baltimore
Ravens
Key 2020 Stat: 7.5% Adjusted Sack Rate (23rd)
Offseason Movement
Additions: Ben Cleveland (third round), Alejandro Villanueva (Steelers), Kevin Zeitler (Giants)
Subtractions: Orlando Brown (Chiefs), Matt Skura
Two of the biggest AFC offensive line shake-ups came to us thanks to Baltimore, as Orlando Brown was traded to the Kansas City Chiefs in return for a bundle of picks and former Steelers right tackle Alejandro Villanueva replaced him a week later, meaning he will be playing his former team twice (or thrice) a year from here on out. As it stands with the Ravens, it's a pretty one-v-one replacement as far as skill, though they are giving up some age with Villanueva entering his age-33 year and Brown still hitting his stride at 25 years old. Kevin Zeitler, another often overlooked supremely consistent o-line piece, also comes to Baltimore to play for the third AFC North team of his career. He immediately boosts the right guard position that was shaky between 2020 third-rounder Tyre Phillips and second-year guard Ben Powers.
Powers could simply slide into the left guard position to start the year off, but the thought around Ravens training camp is that Ben Cleveland is going to get a big opportunity to stake his claim. Offensive coordinator Greg Roman called Cleveland "the best run-blocker in the draft" and remarked it was "unbelievable that he was available in the third round. If that's not a ringing endorsement I don't know what is.
11. San Francisco
49ers
Key 2020 Stat: 122 QB Hits (31st)
Offseason Movement
Additions: Aaron Banks (second round), Jaylon Moore (fifth round), Alex Mack (Falcons)
Subtractions: Weston Richburg (retirement)
It will never be easy to remove an offensive line (or skill position players, for that matter) from the scheme in which they operate but what's the point in trying to evaluate what we're seeing if we're just going to throw our hands in the air. The 49ers' offense will credibly always receive the Kyle Shanahan boost as long as he's in San Francisco, so I'll continue to try my best to evaluate the linemen as their own entity as opposed to the holes created whether they were part of the play or not. San Francisco has much more talent along their offensive line than the data will show and though they didn't necessarily have the most injuries as a unit (poor Chiefs), they had many injuries along the interior —where they were already the weakest.
After spending the third-overall pick on quarterback Trey Lance, the team spent a second-rounder on Aaron Banks of Notre Dame, marking the first time the team has drafted a guard in the Kyle Shanahan-John Lynch era. Banks is a massive guard at 6'6", 330-pounds but his specialty comes in pass protection where he allowed only 26 pressures and two sacks across 1,200+ career pass-blocking reps in college. A six-time Pro Bowl center, Alex Mack will help the new guy bolster an interior that was dealing with constant injuries throughout 2020. Along the outside, Trent Williams and Mike McGlinchey make up one of the best tackle partnerships in the entire NFL.
*(Aaron Banks is not having the preseason San Francisco was hoping for when they spent a second-round pick on the right guard. Banks is currently sidelined with a shoulder injury sustained in the team's first exhibition game and doesn't look to be returning by the regular season, opening the door for 2017 UDFA Daniel Brunskill to try his luck as a starter once again.)