2021 Offensive Line Rankings: 32-22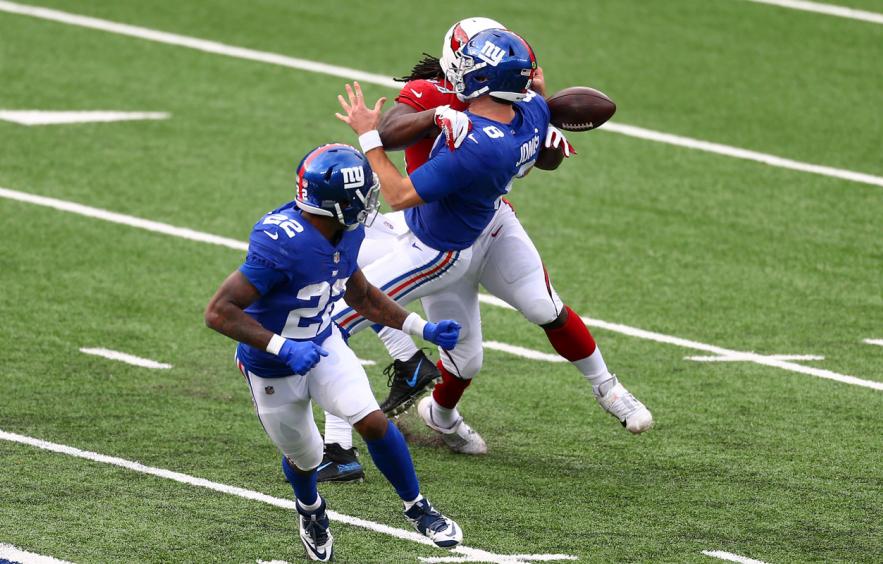 Mike Stobe/Getty Images
As I'm sure you have hypothesized in the past, the play of a team's offensive line impacts the fantasy points that each NFL team can produce, and now we have statistical proof. By using the knowledge of good and bad units, we can better attack (or avoid) skill position players on a given team; another edge we can use against our teammates. With that caveat understood, it's time to figure out exactly where a team's offensive line compares to the rest of the league.
---
More Offensive Line Rankings: 21-11 | 10-1
---
Below I'll be counting down the bottom-11 offensive lines heading into the 2021 season, with an accompanying "key stat" from last year's unit, plus new faces coming to the team. Additions will denote either the most recent team that player played for, or the round of the draft they were selected. Additions and subtractions will be relegated to players believed to be immediately starting or at the least an immediate backup. Let's dig in.
32. New York
Giants
Key 2020 Stat: 16.98 Blown Block% (32nd)
Offseason Movement
Additions: Zach Fulton (Texans)
Subtractions: Kevin Zeitler
The Giants offensive line finished 2020 31st in these rankings and proceeded to release their best guard, sign a declining Zach Fulton, and ignore the offensive trenches throughout the NFL Draft. They did spend two picks on the tackle position last year, with poor outcomes, as both first-rounder Andrew Thomas and third-rounder Matt Peart had their struggles in year one. Left guard Shane Lemieux also came out of last season's draft (fifth round), making the oldest projected starter Nick Gates at 25 years old, so the line is young and has a chance to grow and dig themselves out of the basement.
31. Minnesota
Vikings
Key 2020 Stat: 121 QB Hits Allowed (30th)
Offseason Movement
Additions: Christian Darrisaw (first round), Wyatt Davis (third round), Mason Cole (Cardinals)
Subtractions: Riley Reiff
With movement across the entire line, it remains to be seen exactly how the Vikings line is going to look heading into 2021. While spending two premium picks on each of Christian Darrisaw of Virginia Tech and Wyatt Davis of Ohio State, they also attempted to shore up the depth in the interior with the addition of Mason Cole. Darrisaw is deserving of a first-round pick and is likely to slot directly into the left tackle spot —where he played exclusively in college— with the departure of steady veteran Riley Reiff.
At this point in OTA's, neither Darrisaw nor Davis are taking snaps with the first team, leaving the incumbents Rashod Hill and Dakota Dozier to take starter reps. While that is likely to change, it is worrying that Ezra Cleveland is being pushed to leave the right guard position to move over to the left side (he played left tackle throughout college at Boise State), leaving Mason Cole to compete for the right guard spot and/or center to shift Garrett Bradbury to guard. There are simply too many moving parts after a shaky 2020 to rank them higher than this.

30. Houston
Texans
Key 2020 Stat: 9.5% Adjusted Sack Rate (32nd)
Offseason Movement
Additions: Justin Britt (Seahawks), Lane Taylor (Packers), Geron Christian (Football Team), Marcus Cannon (Patriots)
Subtractions: Senio Kelemete
Houston has had one of the bottom-10 offensive line units for years now, as they've embraced the Seattle Seahawks approach of letting the quarterback get himself out of trouble as opposed to keeping the trouble away from him. It is now looking less and less likely that Deshaun Watson will be taking snaps from center this year, which leaves either Tyrod Taylor or rookie Davis Mills (or both) to deal with an offensive line that ranked dead-last in adjusted sack rate last season.
Laremy Tunsil, part of the reason for Houston's supreme lack of draft picks recently (though it wasn't his fault), has been the anchor of this offensive line since coming over from Miami after the 2018 season. But even his greatness hasn't been able to buoy the rest of the struggling pieces.
Tunsil sticks Clowney in the chest, stands him up, then uses the same outside hand to pick up the looper and block two. Tunsil is playing lights out right now. pic.twitter.com/f4SwKz7Kxg

— Brandon Thorn (@BrandonThornNFL) October 20, 2020
The Texans made some moves to help remedy the problem this offseason but it's hard to see exactly what their plan is with the new faces. Offensive line coach James Campen has already mentioned that he doesn't see Marcus Cannon —who they traded for from New England— moving to right guard from his usual spot at right tackle. This means they're likely paying nearly $7m for a backup unless they kick 2019 first-rounder Tytus Howard inside or to the bench.
The two other interior guys Houston picked up in the offseason are; Justin Britt from the Seahawks who has been a near-replacement level player until being cut in April of 2020 and not catching on with another team for the rest of the season and Lane Taylor, who has hit the injured reserve in each of the last two seasons, accumulating 177 total snaps in that time frame. At least in Taylor's case, he has spent time with coach Campen back in their Packers' days.
29. Cincinnati
Bengals
Key 2020 Stat: 3.88 Adjusted Line Yards (31st)
Offseason Movement
Additions: OG Jackson Carmen (second round), D'Ante Smith (fourth round), Trey Hill (sixth round), Riley Reiff (Vikings)
Subtractions: Bobby Hart, Jim Turner
This may be the first time the Bengals have been out of the gutter in these rankings over the last three seasons but we may just have a case of addition by subtraction in Cincinnati. Questionable hire Jim Turner was finally let go and even the NFL cocoon wanted nothing to do with the controversial o-line coach, as he was reduced to signing on with Texas State. Right tackle Bobby Hart also went the way of his former coach, being released in March after incredibly logging nearly 3,000 snaps of below-average play across the last three years.
There's still an uphill battle with this unit and second-round pick Jackson Carman will long be a study in whether or not the Bengals should have gone with wide receiver Ja'Marr Chase over Penei Sewell or Rashawn Slater with the seventh overall pick. Carman could go on to be a huge asset to his team with his exceptional play strength and physicality but he needs time to work on his footwork and general technique before that happens, and for a team that needed an immediate return through the draft it's hard to boost them as a whole based solely on their 2021 rookie class.
Someone sure to instantly improve the team's play is former Viking Riley Reiff, who after nine seasons split between Minnesota and the Lions will offer a veteran presence and a prompt upgrade over Bobby Hart. Trey Hopkins showed out well at center last season and should be the favorite to remain there once the regular season begins but the two guard spots will be fought over by Carman, Quinton Spain, Xavier Su'a-Filo, and Michael Jordan. Jordan —Cincinnati's fourth-round pick in 2019— is probably considered the incumbent at left guard, but considering he was fourth in pressures allowed (35) despite riding the bench for the final four games of the season, you would think new offensive line coach Frank Pollack would rather use him as a depth piece in 2021.
28. Jacksonville
Jaguars
Key 2020 Stat: 15.88 Blown Block% (29th)
Offseason Movement:
Additions: Walker Little (second round)
Subtractions: N/A
Jacksonville had very little turnover since the end of last season and in fact, is one of only five teams who are projected to have all five starters back this season. Center Brandon Linder has been incredible through his seven-year career with the Jaguars but the rest of the line has been mostly middle-of-the-road, though left guard Andrew Norwell shows flashes of brilliance. It would seem that the writing is on the wall for former second-round pick Cam Robinson after the franchise tag was placed on him and the team spent a 2021 second-round pick on Walker Little.
Most scouts had a third-or-later grade on Little but that was due mainly to a knee injury that has kept him off of the gridiron since September of 2019. His main strengths coming out of Stanford have to do with his pass protection against all types of rushers and would be beneficial to a team looking to move into more of a vertical passing attack. Something to consider if we hear whispers about him kicking over to the right side to supplant Jawaan Taylor; the team could be hinting that they want Trevor Lawrence to air the ball out and spread the defense.
27. Pittsburgh
Steelers
Key 2020 Stat: 3.78 Adjusted Line Yards (32nd)
Offseason Movement
Additions: Kendrick Green (third round), Dan Moore (fourth round), B.J. Finney (Bengals)
Subtractions: Maurkice Pouncey (retirement), Alejandro Villanueva
It had to happen eventually. Year in and year out the Steelers seemed to run out the same line, with minor changes. Even then, a new addition would get to acclimate with three or four players who had been together for multiple seasons. As it stands in the Summer of 2021, Pittsburgh will only be returning two, maybe three, starters, and the pieces returning don't inspire great confidence. With the retirement of eleven-year veteran Maurkice Pouncey, there is set to be a three-way battle for center; last year's back-up J.C. Hassenauer, B.J. Finney (who was released by the lowly Bengals), and rookie Kendrick Green who played only three games at center in college.
At the tackle positions, Chukwuma Okorafor looks like he will be forced to flip to the left side after Alejandro Villanueva signed with the division-rival Ravens and the right side will be tried out by gigantic (6'8", 360 pounds) option Zach Banner who has 302 career snaps, is recovering from a torn ACL and has seen the field mostly in jumbo packages since being drafted in 2017. Of the 15 offensive linemen on the Pittsburgh roster right now, 10 of them are tackles.
With all the moving pieces, it would take an expert to help put them together. Enter; Offensive Line Master Mind Duke Manyweather (@BigDuke50) who is working with several Steelers linemen this offseason. Manyweather recently told ESPN's Brooke Pryor that this team would gel, but made it a point to add "eventually".
26. Las Vegas
Raiders
Key 2020 Stat: 4.32 Adjusted Line Yards (18th)
Offseason Movement
Additions: Alex Leatherwood (first round), Nick Martin (Texans),
Subtractions: Rodney Hudson, Gabe Jackson, Trent Brown
According to John Paulsen's offseason study about which teams invested the most into the offensive line in pure dollars, Las Vegas was the team that spent the least, trading away an unheard-of three starters (Rodney Hudson, Gabe Jackson, and Trent Brown). This was all for the sake of clearing up $25m in salary and acquiring a third and two fifth-round picks. It seems a questionable approach to team building, and I know a lot of us are waiting for the other shoe to drop with this Jon Gruden/Mike Mayock regime. I'm no salary cap expert, so let's just move on to the remaining pieces of this unit.
The biggest (almost physically, likely figuratively) piece of the puzzle moving forward will be 17th-overall selection Alex Leatherwood, who might have been a little bit of a reach, but not nearly as much of a stretch as people who like to laugh at the Raiders made it out to be. Again regarding comments from Duke Manyweather, he mentioned that teams were reaching out to him about Leatherwood's strengths and weaknesses and said "...those are teams at the bottom half of the first round and teams with the top-10 picks in the second round", so clearly this wasn't an egregious pick. Maybe "draft twitter" was simply sick of hearing his name since he almost came out last season. Nevertheless, Leatherwood spent another year at Alabama, curating more positive tape with explosiveness and mental processing. He has some issues with outside speed rushers but, being his only negative, he will presumably spend the next couple of months working extensively on his outside hand placement.
At right guard, Las Vegas is likely hoping that their 2020 fourth-round pick John Simpson could show out and usurp Denzelle Good, who has yet to show consistent production in his six years between Indianapolis and the Raiders. The weakness of this group is center, where 2019 UDFA Andre James was given an $8.65m two-year extension after the team traded away almost their entire starting offensive line for apparent cap relief. James has 117 snaps across his two NFL seasons.
25. Atlanta
Falcons
Key 2020 Stat: 16.51 Blown Block% (30th)
Offseason Movement
Additions: Jalen Mayfield (third round), Drew Dalman (fourth round)
Subtractions: James Carpenter
Jalen Mayfield's 14 career starts in college and his 2020 opt-out just to return for the last two games of the season presumably rubbed the "football guys" the wrong way enough to see him slide all the way to the third round and into the waiting hands of the Atlanta Falcons. Mayfield has experience playing with NFL-level teammates, as he was right tackle on the 2019 Michigan team that saw all four other members get drafted; Cesar Ruiz (24th overall), Ben Bredeson (143rd), Michael Onwenu (182nd), and Jon Runyan (192nd). Because of his relative experience, the best-laid plans for Atlanta would be to give the rookie a year to adjust to the inside and take over one of the guard spots in 2022.
Left tackle Jake Matthews has been stellar for the better part of a decade but the team could use a third-year jump on the other side of the line from Kaleb McGary. Of 196 qualifying offensive linemen last season, McGary ranked 186th with a Blown Block% of 4.0. Adding insult to injury, the Falcons' swing tackle, Matt Gono ranked 196th/196, sporting a 5.7 BB% (Sports Info Solutions).
24. Seattle
Seahawks
Key 2020 Stat: 8.2% Adjusted Sack Rate (30th)
Offseason Movement
Additions: Gabe Jackson (Raiders), Stone Forsythe (sixth round)
Subtractions: N/A
It feels like ages ago that the Texans traded Duane Brown and a fifth-round pick for a second and third-rounder from the Seahawks yet here we are nearly five years later and Brown is still playing at an All-Pro level. Heading into his 14th season and his age 36 year, it remains to be seen how long he can keep up this level of play but he certainly hasn't fallen off of the age cliff yet. There's not much of a contingency plan behind him if that cliff does sneak up; Cedric Ogbuehi isn't much more than a lengthy body in pass protection and sixth-rounder Stone Forsythe is going to need a little grooming before he's ready to plugin. Though Forsythe has experience on both sides of the line and has admirable power and hand placement, he can look a little clunky getting to the next level and he needs to learn to fight against his 6'8" frame to achieve leverage against pass rushers.
Opposite Duane Brown, Brandon Shell had a career year, cutting his pressures allowed nearly in half between his last year with the Jets (43 pressures allowed) to his first year with the Seahawks (24).
Most of the pass rush trouble came from the interior (which is bound to happen when you play Aaron Donald twice a year), so the new addition Gabe Jackson will be depended on to strengthen the core of this line and sneak this group out of the bottom-10 once and for all.
23. Carolina
Panthers
Key 2020 Stat: 6.6% Adjusted Sack Rate (17th)
Offseason Movement
Additions: Brady Christensen (third round), Deonte Brown (sixth round)
Subtractions: Russell Okung
The Panthers let Russell Okung hit free agency, so they are now set to start a different left tackle for the ninth season in a row, and could easily make it a nice round 10 seasons in a row if third-rounder Brady Christensen of BYU can win the job next year. Christensen is likely third in the pecking order, behind some combination of Greg Little, Cam Erving, and possibly even Trent Scott. The rookie forecasts as a project because of a lack of "high-end" competition and his early declare to get into this 2021 draft. Being that he was PFF's highest-graded college lineman last season, he's definitely a name that Panthers fans will want to keep an eye on.
The loss of Okung hurts in a sense of continuity and raw talent, but the former Charger and longtime Seahawk has always had an issue with staying on the field and I'm sure Carolina didn't want to pay a hefty fee to see him on the field for eight-to-10 games (even if the fee was entirely in Bitcoin). Don't feel bad for the Cryptogod quite yet, some team will be dealing with injuries and give him a dial at some point this summer.
To help put some pressure on a middling interior of the line, Carolina found one of the steals of the draft in Deonte Brown nearly three rounds later than he was being projected. Brown is a real-life Blastoise, measuring in the 34th-percentile in height, 39th-percentile in arm length, and 90th-percentile in weight (364 pounds). Truly a road grader, if he finds himself on the field any time soon, we'll get to see how he can use his brute strength and leverage to bully players at the professional level.
22. Philadelphia
Eagles
Key 2020 Stat: 150 QB Hits Allowed (32nd)
Offseason Movement
Additions: Landon Dickerson (second round)
Subtractions: N/A
This ranking is deeply disrespectful to a team with so much talent up front but they are getting to be a very old and, dare I say injury-prone unit.
Philadelphia

Eagles

Starting Five

| Player | Position | 2020 Games Missed | Age in 2021 Season |
| --- | --- | --- | --- |
| Jason Kelce | C | 0 | 34 |
| Brandon Brooks | RG | 16 | 32 |
| Lane Johnson | RT | 9 | 31 |
| Isaac Seumalo | LG | 7 | 28 |
| Andre Dillard | LT | 16 | 26 |
Four of the five projected starters along the Eagles offensive line missed significant time in 2020, with the one exception coming in the form of 11-year veteran Jason Kelce heading into his age-34 season. Help is on the way in interior lineman Landon Dickerson of Alabama, who won the Rimington Trophy last year, voted the nation's best center. He exhibits a "junkyard dog" mentality and versatility but he also has an injury history that includes; a torn ACL, ankle surgery, a separate ankle injury, and ligament damage to his left knee that kept him out of the National Championship.
This team has a lot of talent but you have to squint hard to see a scenario in which the line stays intact for 17 games.