Fantasy Football Debate: Darren Waller vs. George Kittle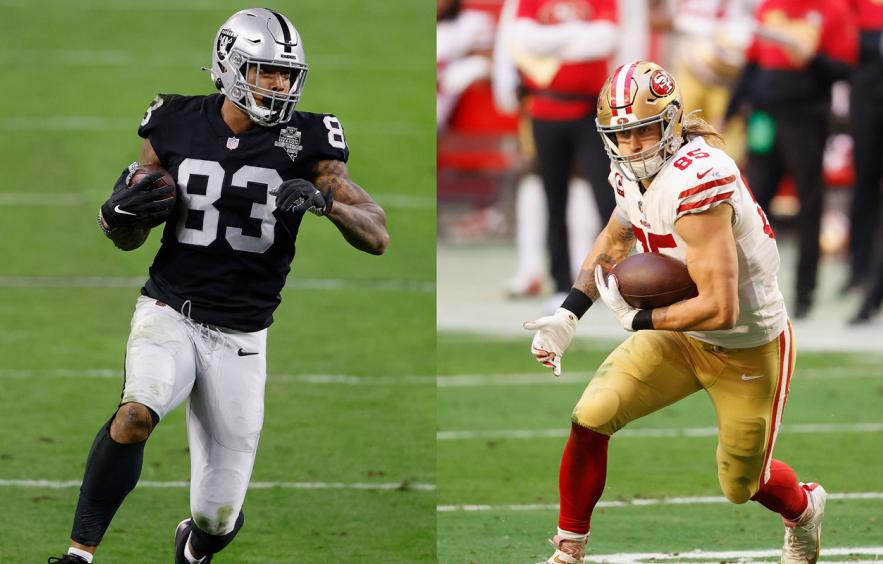 Christian Petersen/Getty Images
Elite tight ends Darren Waller and George Kittle are being drafted as TE2 and TE3, respectively on Underdog Fantasy. In this debate, Jennifer Eakins argues for Darren Waller while Jack Caporuscio fights for George Kittle.
---
Read other player-specific analysis from the 4for4 staff: Player Profiles | More Debates | TE Rankings
---
The Case for
Darren Waller
Jennifer: Rooting for Darren Waller is easy. He battled substance abuse for his first three seasons in Baltimore, switched positions after already playing professional football as a WR for the Ravens, then found the perfect home with the Raiders towards the end of the 2018 season. Since donning the silver and black, all Waller has done is put up incredible numbers, finishing as TE3 in half-PPR points in 2019, and TE2 last season.
We all know it takes volume to put up elite fantasy numbers and Waller bathed in targets last season, seeing 146 total and 9.1 per contest which was first among TEs. Not only does he get the work, he knows what to do with it too. Waller's production at the end of last season was beyond impressive, as he put up a total of 654 yards and four touchdowns in Weeks 13-17, right when fantasy managers needed him the most.
The biggest knock Waller gets when it comes to fantasy football is the QB throwing him the ball. The respect level for Derek Carr isn't high, which is fair, however, he was pretty good last season when actually looking at his metrics. He was among the top nine QBs in yards per attempt (7.9), adjusted completion percentage (78.5%) and PFF grades for both offense and pass (84.7 and 83.9).
Last season the Raiders offense ended as 10th overall and seventh in passing, but they also boasted the 30th ranked defense, a unit that allowed the third-most points in the NFL. They brought in a new DC in Gus Bradley, a few veteran pieces like pass-rusher Yannick Ngakoue and cornerback Casey Hayward, plus rookie free safety Tre'von Moehrig, but chances are they'll be relying on Carr (and Waller) to come out on top of some shootouts in 2021.
As the Raiders No. 1 pass option, Waller is the TE2 after Travis Kelce this season for several reasons. George Kittle may be the better actual TE, but that's even debatable, yet he plays way too hard for his own good, and injuries are inevitable with his type of game. There's also the fact that he plays in a Kyle Shanahan offense, which will always be run first. Kittle is also not the only guy in San Francisco who can catch the ball, he has to share volume with Bradon Aiyuk and Deebo Samuel.
Waller is the far and away best pass catcher on his team and has a QB who invokes a bit more confidence than either Jimmy Garappolo or rookie Trey Lance at this point in his very young career.
According to 4for4's multi-site AFP tool, these two TEs are a handful of picks apart with Waller leaving draft boards at 2.09 and Kittle at 3.01. Give me Waller all day based on volume, place in his offense and high-level efficiency.

The Case for
George Kittle
Jack: This time last year, people debated whether or not George Kittle should be drafted over Kansas City Chiefs tight end, Travis Kelce, who has been the perennial TE1 for fantasy football. Kittle is that good. His talent and skill set are comparable to the best tight end in football. We're quick to forget just how dominant a fantasy asset Kittle is when he is healthy and on the field. Even in an injury-plagued 2020 season, Kittle was a difference-maker in your lineup (if you held onto him that long).
Through only eight games in 2020, Kittle posted 634 receiving yards on 48 receptions (13.2 yards per reception) and two receiving TDs. Kittle's per-game averages of six receptions and 79.25 receiving yards were among the best at the position for fantasy. When healthy, he provided your team with the floor needed at the tight end slot, along with the high-end spike weeks you expect out of a player of his caliber. His Week 4 performance against the Philadelphia Eagles (15 receptions for 183 yards and 1 TD) is the perfect example of a player winning you a week by themselves. Kittle's downfall has been his health. However, at his current ADP in fantasy drafts, he is worth drafting in 2021.
Kittle is the Tier Break at Tight End
Tight ends have been a razor-thin position for fantasy football for what feels like decades now. The dropoff in points produced between the top three tight ends and the rest of the field is tremendous. In 2020, the points difference in half-PPR between Kelce (TE1) and T.J. Hockenson (TE4) was 117.8 total fantasy points, equating to 7.36 fewer fantasy points per game. Nearly 7.5 fantasy points per game can be the difference between you winning or losing a week. This separation in points is why it's worth paying a premium for one of the top three tight ends in your fantasy draft, which Kittle happens to be. Taking any tight end outside of that top-three tier (Kelce, Kittle, Waller) is going to lead to fantasy remorse.
Between the decision of Kittle or Darren Waller, I am leaning Kittle every time. Kittle only scored two TDs in eight games, which is due for positive TD regression to the mean this season. While Kittle has only displayed a career-high of five TDs in a single season, he has almost always been the only viable pass-catcher in San Francisco. With the emergence of wide receivers Brandon Aiyuk last season and Deebo Samuel (another health risk) the year prior, I'd expect Kittle to see less double coverage in the red zone since defenses can no longer key in on just one player. Opposing defenses know that Waller is the only legitimate receiving option for the Las Vegas Raiders. It's much easier for a defensive coordinator to scheme against one good receiving option than it is to try and eliminate three good receiving options. Both players are offensive focal points for their respective franchises, but I expect Kittle to have better opportunities in the passing game this season than Waller.
Kittle is the Better Value
Kittle carries an ADP of TE3 and 25.8 overall on Underdog Fantasy. He is currently going five spots behind Waller in overall ADP and one spot behind in positional. The ADPs are close, but Kittle comes in as the slightly better value at their ADPs and comes attached to the better offense--which is why I am targeting Kittle over Waller every time I get the chance.