Fantasy Football Debate: Courtland Sutton vs. Jerry Jeudy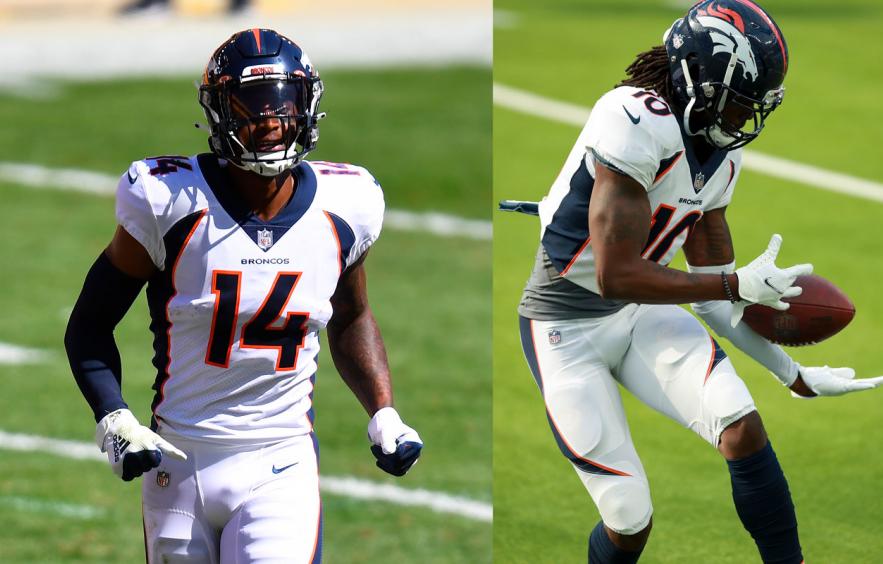 Joe Sargent & Joe Scarnici/Getty Images
Denver's receiving duo Courtland Sutton and Jerry Jeudy are being drafted as WR31 and WR33, respectively on Underdog Fantasy. In this debate, Brandon Niles pounds the table for Courtland Sutton while Justin Edwards argues for Jerry Jeudy.
---
Read other player-specific analysis from the 4for4 staff: Player Profiles | More Debates | WR Rankings
---
The Case for
Courtland Sutton
Brandon: I have nothing but respect for Justin Edwards and all his inaccurate views on fantasy football, but Courtland Sutton over Jerry Jeudy is a no-brainer for me.
I was definitely touting Jeudy as a fantastic prospect a year ago, and I still think he has the potential to be an elite receiver at the NFL level. However, he's entering just his second year and he's going into the season at number two on the depth chart. His rookie season was a rough start to his career, as well. He had a PFF receiving grade of just 64.8, right up there with Jalen Reagor and Josh Reynolds. He also ranked near the bottom of the league with 12 drops – that's the second-most in the league last year and a mere two fewer than everyone's favorite dropper Diontae Johnson.
Sutton comes with some obvious risk after tearing his ACL in Week 2 of last season. However, all the reports are positive on his recovery and he should be healthy for the start of the season. Sutton was going in the fourth round of drafts last year but comes at a discount due to the injury and the short memories of fantasy managers this season. He's currently available in the late-seventh round in 12-team redraft leagues, and his Underdog Fantasy ADP is 66.1 in Best Ball formats. In both cases, he's the 31st WR off the board, with Jeudy available only five picks later on Underdog and 12 picks later in redrafts according to our multi-site ADP tool. I understand the argument Jeudy might be the better option at a discount – as my esteemed colleague wrote earlier this offseason – but that discount simply hasn't come. Sutton is the discount, based on what his production was prior to the injury last year.
Let's look at that 2019 season. Despite playing with Joe Flacco and Drew Lock all year, Sutton ranked 16th in the NFL with a PFF receiving grade of 80.5, and he had just three drops. Sutton finished his sophomore season with 72 catches for 1,112 yards and six touchdowns. It was a huge breakout season for him, despite poor quarterback play. He also had a nice rapport with Lock, with whom he averaged eight targets per game. Lock was better too, with a 2.3 TD/Int ratio in 2019 compared to 1.1 in 2020, when Sutton missed almost the entire year. Lock's completion percentage, QBR and TD% all went down in 2020.
Sutton has the benefit of matching up well with whoever is throwing the ball in Denver. If it's Lock again, we have Sutton's 2019 to look at. If it's Teddy Bridgewater, we can look to Bridgewater's success with the Panthers' wide receiving corps a year ago for assurance that Sutton will continue to produce. Sutton lined up out wide for 84% of his offensive snaps in 2019, the same location D.J. Moore and Robby Anderson produced from last year with Bridgewater throwing the ball. Both Anderson and Moore eclipsed 1,000 yards last season, despite a struggling offense in Carolina. Sutton appears to be quarterback-proof after his 2019 season.
If Sutton were still going in the fourth round and Jeudy was available in the 10th or so, then I'd be on board with Justin's suggestion to go with the sophomore over the guy coming off an injury. However, with the two only a round apart in ADP, I can't justify it. Give me the proven commodity at an injury discount over the guy everyone's drafting on projection 10 times out of 10.

The Case for
Jerry Jeudy
Justin: Rumored before the 2020 NFL Draft to be a target for the newly-transferred Las Vegas Raiders, Jerry Jeudy instead began his professional career with AFC West rival the Denver Broncos. Jeudy was almost immediately thrust into a quasi-number one receiver role when running mate —and the antithesis in this debate— Courtland Sutton, went down for the season after only one game. Sutton left behind an offense that quickly fell into shambles, as Drew Lock played terribly when on the field, and when he wasn't, the position was manned by Brett Rypien, Jeff Driskel, and a practice squad wide receiver-turned-quarterback, Kendall Hinton. The outcome was predictably morose, and the impact on Jeudy was no exception.
Regardless, the rookie still led the team in wide receiver fantasy production en route to earning a team-high 113 targets. A sure knock on Jeudy would be his problems with drops in 2020 but that was largely due to Drew Lock's 73.4 On-Target% (34th/37 qualifying quarterbacks —Sports Info Solutions), and besides, as we've seen, year-to-year catch rates are one of the least sticky stats for a wide receiver. Jeudy showed off his well-polished route-running ability in year one, and his 13.9 aDOT ranked in the top 10 amongst qualifying receivers (min. 75 targets), both aspects of his game that will help force usage in the offense, particularly in the deep game.
Teddy Bridgewater

vs

Drew Lock

Deep Passing

| Player | Att 20+ Air Yards | Comp% (Rank) | Int% (Rank) | TD% (Rank) | YPA (Rank) |
| --- | --- | --- | --- | --- | --- |
| Drew Lock | 65 | 27.7% (32nd) | 7.7% (29th) | 4.6% (32nd) | 10.2 (27th) |
| Teddy Bridgewater | 48 | 45.8% (8th) | 4.2% (11th) | 6.3% (27th) | 17.0 (6th) |
With head coach Vic Fangio on the hot seat heading into the season, I don't believe he is going to risk the prospect of another season full of Drew Lock. This is good news for all of the Broncos' offensive weapons, but none more so than Jerry Jeudy. While Lock was one of the worst deep-ball passers in the league last season (defined here as passes traveling 20 or more air yards), Bridgewater was a much more efficient quarterback pushing the ball downfield. This is exactly the part of the field that Jeudy uses to separate himself from the pack of pass-catchers inside the Denver offense. With a refurbished offensive line and a new running back in Javonte Williams, there's a chance we see more play-action passing from Denver, which would help either quarterback uncork the deep ball more often. The Broncos had a lowly 131 pass attempts off of play-action (seventh-fewest) last season but their average depth of target on those throws was 9.1 yards (ninth-most).
It's a shame these two players didn't get to play more than most of one single game together before Sutton went down with his ACL injury, and honestly, three-plus quarters is just not enough to extrapolate what kind of role each receiver would have had had they played 2020 together. To be completely transparent, I think by the end of this season Courtland Sutton and Jerry Jeudy could have very similar overall fantasy numbers, but it matters how they get there. In the end, spiked weeks win weeks, and I believe Jeudy will get there with explosive week-winning performances, making him my pick of the tandem.