Fantasy Debate: Antonio Gibson vs. Clyde Edwards-Helaire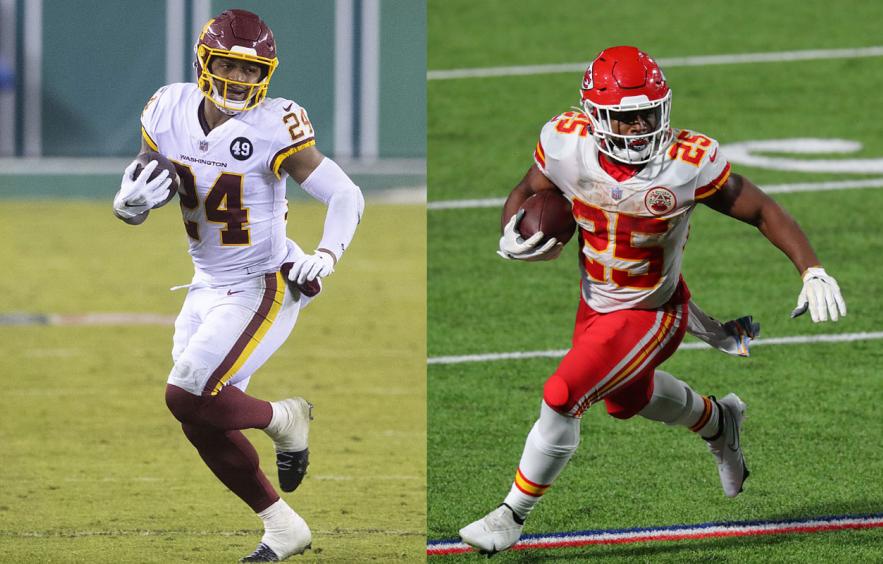 Mitchel Leff/Timothy T. Ludwig/Getty Images
Antonio Gibson and Clyde Edwards-Helaire are both being drafted as fringe-RB1s on Underdog Fantasy. In this debate, 4for4's Rob Lorge takes the side of Gibson while Jack Caporuscio argues for the Chiefs' second-year running back.
---
Other Fantasy Football Debates: Kyler Murray vs Lamar Jackson | Allen Robinson vs Terry McLaurin | D.J. Chark vs Laviska Shenault | Keenan Allen vs Michael Thomas | Courtland Sutton vs Jerry Jeudy | Darren Waller vs George Kittle
---
The Case for
Antonio Gibson
Rob: The hype around Antonio Gibson's sophomore season is growing by the day and there's good reason for it. He had a phenomenal rookie season despite only having 33 carries in college. By all accounts, this was a kid playing a new position for the first time at the NFL level and doing it very well. While we saw another rookie running back struggle a bit last season, (we won't list names), the rookie out of Memphis surely was not one of them.
Despite minimal reps at running back, Gibson wasted no time in making a name for himself. He displayed the kind of skill and athleticism fantasy football managers are constantly on the lookout for. He is absolutely oozing with high-end physical gifts few running backs can match. The sky is the limit.
While my adversary is likely to paint a picture about Clyde Edwards-Helaire surrounding his potential and upside, the fact of the matter is, CEH is an unknown. While he was the No. 11 overall running back in Weeks 1–6 before Le'Veon Bell was added, CEH had four games during that stretch where he failed to rush for more than 64 yards. He had one game with six catches for only 32 yards and another game with four catches and a measly eight yards. Fantasy managers will certainly take the points associated with those receptions, but it's not something that gives off a warm feeling. Gibson's play was explosive all season until a last season toe injury.
Gibson averaged a broken tackle every 8.5 attempts. Only Mike Davis was better. Gibson constantly made defenders miss. The rookie out of Memphis also ranked 13th in evaded tackles and eighth in juke rate according to PlayerProfiler. Edwards-Helaire finished 17th and 24th in those respective categories. Fantasy managers shouldn't be surprised to see, based on these statistics, Gibson averaged more yards per carry than CEH (4.7 vs 4.4).
When Gibson was first drafted, head coach Ron Rivera compared him to Christian McCaffrey, indicating they both have very similar skill sets. Such comparisons always get fantasy football managers excited because we all want "the next fill in the blank", but it rarely comes to fruition. However, after Gibson's rookie season, is a comparison completely out of the question? It's unlikely Gibson rises to the undisputed No. 1 overall spot, but there's a lot of untapped potential.
CMC Year 2? fully unleashed by Rivera.



🔹326 touches

🔹1,965 scrimmage yards, 6.0 ypt

🔹13 total TDs, 4 fum

🔹PPR RB2, 24.1 ppghttps://t.co/Pu2HUjlqi8

— Victoria (@ffb_victoria) June 2, 2021
Expecting that kind of Year 2 leap is unlikely, but to ignore the similarities wouldn't be wise either. As fantasy managers, we're always looking for upside and league winners. Gibson proved himself last year as a rookie and the future looks to be much brighter.
What Could Have Been?
My fellow debater is likely to entice you with what Edwards-Helaire did during those first six weeks sans Le'Veon Bell, but can I interest you in what Gibson did during the first 12 weeks of the season? In Week 13, Gibson suffered a toe injury that caused him to miss the vast majority of Week 13 and the following two contests after that. When he came back, the lingering effects of the injury were still noticeable, but the first 12 weeks, Gibson put on a show.
From Weeks 1–12, Gibson was the RB5 in half-PPR scoring. That ranking was with minimal work in the passing game and with four games with under 10 carries, which means the upside is even higher. The offensive efficiency will likely go up with Ryan Fitzpatrick under center.
While it's likely Gibson's touchdown rate decreases in 2021 (he scored on 6.5% of his carries), the number of scoring opportunities in Washington is likely to increase. Washington was 25th in red zone trips per game last season, a number that will surely go up with more competent quarterback play and the addition of Curtis Samuel.
There's room for Gibson's touchdown rate to decrease without his overall number of touchdowns actually decreasing. An increase in volume, which is likely without the missed games and an improvement in offensive effectiveness should all but eliminate any concerns with his high rate of scoring.
Gibson Will be "The" Focal Point of the Washington Offense
While Clyde Edwards-Helaire is never going to supplant Patrick Mahomes as the engine of the Chiefs' offense, Gibson is likely to be the primary focus for Washington. Fitzpatrick was signed to give the offense more balance and consistency, but it would be unwise to put the keys of the offense into the hands of a 38-year-old journeyman quarterback.
Washington's defense is likely to be a top-five unit in 2021. They are going to be more competitive, which will allow Rivera to stay committed to the running game.
Gibson averaged 13 carries per game in the games he started and finished. With more fantasy-friendly game scripts, it's not unreasonable to see that number increase by 2–3 carries a game in 2021. However, the biggest factor in Gibson's fantasy football ascension will be his involvement in the passing game, where it only makes sense for Washington to get Gibson more involved in 2021. As a senior at Memphis, he had 38 catches for 735 yards, which equals a ridiculous 19.3 yard per reception average.
It was smart for Washington to have brought him along slowly as a rookie, especially with a non-traditional offseason due preparation during COVID-19. He had never played running back before and asking him to learn a new position on top of learning the blocking assignments was too much. They intelligently simplified his role to allow him to be the most successful.
That doesn't have to be the case this season. He showed his potential in the passing game in Memphis and in brief displays as a rookie. He averaged a very healthy 1.52 yards per route run, which was ninth among all running backs. He also caught 81.8% of his targets, while Edwards-Helaire was only at 65.5%.

The Case for
Clyde Edwards-Helaire
Jack: Perhaps no player had higher fantasy football expectations as a rookie in 2020 than Kansas City Chiefs running back Clyde Edwards-Helaire. With first-round draft capital for a player attached to the best offense in football, Edwards-Helaire was expected to be dominant for your fantasy teams. Edwards-Helaire had a solid rookie season statistically speaking. He racked up 803 rushing yards on 181 rushing attempts (4.4 yards per carry), 4 rushing TDs, 36 receptions on 54 targets for 297 receiving yards (8.25 yards per catch) and 1 receiving TD. Edwards-Helaire accumulated these stats in only thirteen games played, but he still finished as the RB22 in half-PPR formats. A back-end fantasy RB2 was not at all what fantasy managers were expecting when spending a first or second-round pick on Edwards-Helaire last season.
The issue was not that our fantasy expectations for him were wrong, but that they were a year too early. Through the first six weeks of the 2020 season, Edwards-Helaire was the RB11 in half-PPR formats, which lived up to his fantasy RB1 price tag in 12-team fantasy leagues. After Le'Veon Bell arrived in Kansas City, Edwards-Helaire's snap share went down. However, even with Bell in tow, Edwards-Helaire averaged a snap share of 49.2% throughout the season. The next closest player in terms of average snap rate was Darrel Williams with 25.4%. With the departure of Bell and no significant replacement for him being signed or drafted this offseason (outside of Jerick McKinnon), it's obvious that the Chiefs trust their 2020 first-round pick to carry the load for the rushing attack.
Edwards-Helaire had only four rushing TDs on thirty-five red zone rushing attempts, which tells us one definitive thing: positive touchdown regression. Four rushing TDs on that many attempts in a high-powered offense is not a statistically probable outcome. Edwards-Helaire will outperform last year's RB22 finish simply by his TD number positively regressing to the mean of what should be expected from a running back in an elite offense with that many red zone opportunities. Those are the valuable touches you want to chase with your fantasy running back because they are much more likely to lead to high fantasy point outputs.
After watching franchise quarterback Patrick Mahomes run for his life in the Super Bowl, the Chiefs spent the offseason completely overhauling their offensive line. The Chiefs traded for a former Pro Bowler in Baltimore Ravens offensive lineman, Orlando Brown Jr., signed a second-team All-Pro player in New England Patriots offensive guard Joe Thuney, signed center Austin Blythe and brought former Pro Bowl offensive guard Kyle Long out of retirement. The Chiefs turned their only weakness into their biggest strength and Edwards-Helaire will reap the fantasy benefits of their investments up-front.
Combine the valuable touches in the red zone with the complete overhaul along the offensive line, a fully healthy offseason, another year in the offensive scheme, a full training camp program and Edwards-Helaire is likely to outperform his current ADP of RB14 in Underdog Fantasy and 22.0 overall. Edwards-Helaire is in the better offense, with the better offensive line, less competition in the backfield and comes at a must cheaper cost than Antonio Gibson, who is currently being drafted with an ADP of RB10 in Underdog Fantasy and 16.8 overall. Take the better value and the higher ceiling in Edwards-Helaire to start your season and be a happier fantasy manager by the end of the season.