15 PrizePicks Player Over/Unders to Target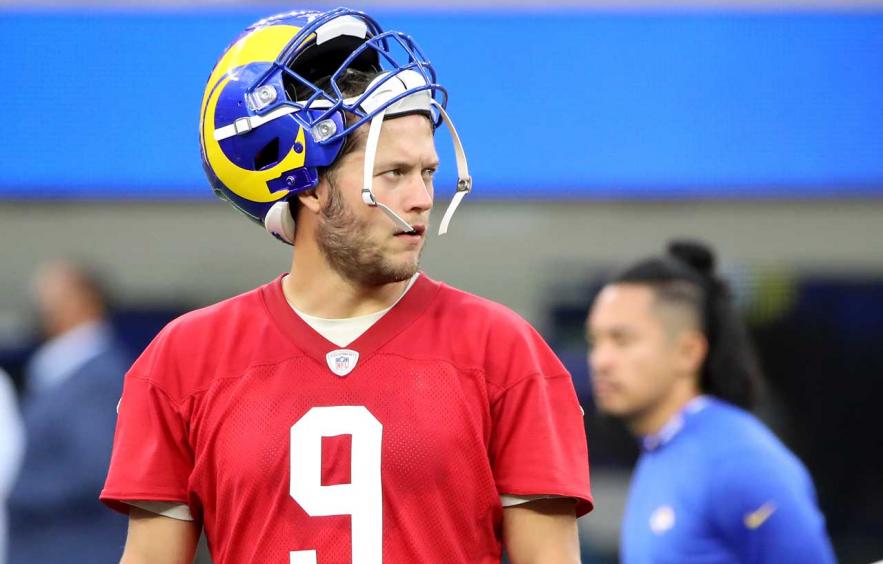 Katelyn Mulcahy/Getty Images
One thing that matters almost more than anything in the fantasy football streets is gaining an edge. Thankfully with the help of John Paulsen's industry-leading projections and Kevin Zatloukal's hard work, there are gains to be made on PrizePicks' season-long fantasy score over/unders. I will be featuring my favorite overs and unders to use based on John's projections compared to PrizePicks' lines.
---
Get Your PrizePicks Deposit Bonus Now: Sign up using Promo Code 4for4 and PrizePicks will instantly match any deposit up to $100!
---
Note: PrizePicks scoring is full-point PPR and four-point passing touchdowns. Scores will be accumulated for Weeks 1-18. For more information regarding scoring rules, check out the scoring chart immediately above the first row of picks.
Locked In PrizePicks
Matthew Stafford

,

Lions
Over 270.0 Fantasy Score (Paulsen: 329.4 Fantasy Score)
This was the easiest decision without using John's projections. With that said, Stafford's points projection is 22% above PrizePicks' line. Stafford is going to be an upgrade for a Rams passing attack that features Robert Woods, Cooper Kupp and Tyler Higbee, with an expected increase in work from Van Jefferson and newcomer DeSean Jackson. A healthy running game will also help Stafford's cause. Stafford did not have a trustworthy running back in consecutive seasons while with Detroit and still put up big numbers.
Ryan Tannehill

,

Titans
Over 290.0 Fantasy Score (Paulsen: 332.4)
Tannehill is Paulsen's QB8, while Stafford is QB12. That is a razor-thin line that features numerous quarterbacks in a small point range. If Tannehill hits John's projection, it will be 12 points fewer than his 2020 total but above his line. There is the danger of losing Arthur Smith's offensive mind in Tennessee, but the addition of Julio Jones will help Tannehill no matter the passing scheme. The former Dolphins QB is a good running quarterback and has found a recipe to maximize his talent away from Adam Gase.
Drew Lock

,

Broncos
Under 190.0 Fantasy Score (Paulsen: 109.2)
Lock realistically hits this mark if he played 14 games in 2020 (he played 13), but with Teddy Bridgewater battling for the starting QB job against Lock, it is realistic that he does not play the majority of the season short of an injury to Bridgewater. I do not feel that Lock starts double-digit games, a threshold he must cross to have a chance at 190 fantasy points.
Saquon Barkley

,

Giants
Under 310.0 Fantasy Score (Paulsen: 235.6)
I am not as down on Barkley as John, but the additions of Kenny Golladay, Kadarius Toney, Kyle Rudolph, Devontae Booker and Corey Clement matter. Booker and Clement can handle enough passing work to limit Barkley's backfield upside that earned him 143 receptions in his first two seasons in the NFL. Rudolph adds another red-zone target, Golladay gives the Giants an alpha-type receiver, and Toney could steal carries and targets. Barkley scored 244.1 PPR points in 2019 when his reception total dropped from 91 to 52 when he was the focal point of the offense. This is all before knowing how Barkley will look coming off a torn ACL.
Sam Darnold

,

Panthers
Over 230 Fantasy Score (Paulsen: 255.4)
A change of scenery was needed for Sam Darnold and he is now in a promising situation. He is now with a team that was willing to trade for him, is reunited with former Jets teammate Robby Anderson, and gets to work with Christian McCaffrey and D.J. Moore. Solid upgrades. The main reason this is a smash is John is ahead of the PrizePicks total and is still below consensus on Darnold. It is okay to feel good about Darnold while still having reservations (looking at the offensive line). Darnold also had his best season with a consistent presence at tight end. In 2019, Darnold averaged over 15 fantasy points per game with Ryan Griffin supplying relevant production. Dan Arnold may not be a TE1 in fantasy, but he has the talent to produce as Griffin did. If Darnold hits a 15 points-per-game average over 16 games (assuming one missed game), he will beat the PrizePicks score by 16.
Miles Sanders

,

Eagles
Under 240.0 Fantasy Score (Paulsen: 188.4)
Miles Sanders averaged 14.2 PPR points per game over 12 contests in 2020. If he were to do so over 17 games, Sanders would top 240 points by one. To comfortably get over the 240-point mark, Sanders would also need to see an increase in touches per game, receptions per game, and to stave off Boston Scott and Kenneth Gainwell for receiving work out of the backfield. That does not also include a potentially full season of Jalen Hurts at quarterback and the emergence of consistent receiving. Sanders averaged 4.33 targets and 2.33 receptions per game, and also had one more red-zone score than Hurts on 18 more rushing attempts. What is worse is Sanders only had one red-zone reception last season. Hurts will cut into his touch/touchdown upside. Sanders played 16 games his rookie season so the hope is 2020 was an exception and not the rule after two seasons in the league. I cannot count on that, especially with the running back position seeing so much contact each game. Sanders has three matchups against top-five run defenses, according to 4for4's Schedule-Adjusted Positional Defensive Rankings, and three more against top-10 defenses. Two of them happen in Weeks 15 and 17, which could cause for a massive sweat.
Lower Stakes Targets
Ryan Fitzpatrick

, Washington
Over 260.0 Fantasy Score (Paulsen: 292.6)
I do not doubt that Ryan Fitzpatrick is capable of being a competent starting quarterback for a full season, but I also know he is prone to blowtorching his fantasy week in short order. What can make or break Fitzpatrick topping 260 points is his rushing. He topped 21 fantasy points in four consecutive weeks in part because of rushing touchdowns in two of them. In those two weeks with rushing scores, he averaged fewer than 240 yards passing, one touchdown and one interception. Averaging 42.5 rushing yards and a rushing score in those games brought him well over 20 fantasy points.
Lamar Jackson

,

Ravens
Over 330.0 Fantasy Score (Paulsen: 358.6)
It's no secret Jackson's rushing upside saves his floor from bottoming out. He threw for 200-plus yards five times in 2020. The Ravens added Sammy Watkins in free agency and Rashod Bateman and Tylan Wallace through the NFL Draft. The concern is losing rushing attempts/yards to passing plays. Bateman and Wallace have boom-bust potential as rookies, while Watkins is good for a game of fantasy production. If the focus is getting Jackson to throw more, the over is in trouble.
Tom Brady

,

Buccaneers
Under 330.0 Fantasy Score (Paulsen: 329.8)
A poor running game, injuries and a motivated Brady on #NarrativeStreet allowed the ageless one to score 337.92 points in 2020. The offense did not upgrade the running back position and full seasons from Chris Godwin and O.J. Howard put Brady in a good position to match or top his 2020 production. At what point does Father Time come for Tom Brady?
Tyreek Hill

,

Chiefs
Under 305.0 Fantasy Score (Paulsen: 331.6)
My first opposing pick is the top option for one of the best quarterbacks in football. Hill scored 6.5 touchdowns over expectations in 2020. Take away four of the actual touchdowns, and Hill finishes last season with 304.9 points. Stopping Hill and Travis Kelce in the same game is a difficult task, but as we have seen the past few seasons, one of them will dud while the other goes off. Hill can have good weeks instead of great ones and finish below 305 points.
Patrick Mahomes

,

Chiefs
Over 390.0 Fantasy Score (Paulsen: 415.3)
A revamped offensive line and founded concerns over Patrick Mahomes's toe makes this a small-stakes play for me. The point of giving the line a facelift is to keep Mahomes from re-injuring his toe, but turf toe and feet injuries for a quarterback will always give me pause. Another reason to be concerned about the over is more trust in the running game. Clyde Edwards-Helaire averaged 4.4 yards per carry and the Chiefs as a team averaged 4.5, good for 11th in the NFL. It is safe to imagine the average goes up some and Kansas City salts games away with a more efficient running game. I have less concern about the No. 2 WR battle because it has been one since Mahomes took over in 2018. What I like is that the more likely winner of that role—Mecole Hardman, Demarcus Robinson or Byron Pringle—all have experience in Andy Reid's system.
PrizePicks to Fade
Aaron Rodgers

,

Packers
330.0 Fantasy Score (Paulsen: 330.3)
I think both PrizePicks and John found a good number. I expect Rodgers to play in 2021, but how well, where, and so on is up in the air and not worth the risk.
Daniel Jones

,

Giants
260 Fantasy Score (Paulsen: 268.6)
Jones was given more offensive firepower in the offseason so it is go-time for him. In the first six weeks of the 2021 season, Jones faces three of the top-10 defenses based on 4for4's schedule-adjusted defensive positional rankings. He also gets road games at Kansas City, Tampa Bay, Miami and Los Angeles (Chargers) between Weeks 8-14. The schedule could limit Jones's upside with his new teammates.
DeAndre Hopkins

,

Cardinals
290.0 Fantasy Score (Paulsen: 288.6)
DeAndre Hopkins averaged 16 targets per game in his first season with Arizona, a unique accomplishment considering changing offensive systems at the wide receiver position is volatile. Rumors have it that Kyler Murray wants to use his running ability as needed and not as a must. That helps Hopkins, but it does not mean he gets another 2-3 targets per game automatically. Out is Larry Fitzgerald and his 70+ targets, but in is rookie Rondale Moore and former stud A.J. Green. Even if Moore is better in real life than in fantasy as a rookie, he and Green will have to get theirs; Arizona ran the most four-receiver sets in the NFL last season. Hopkins will remain one of the most targeted receivers in the league, but I would feel safer about his fantasy output compared to this PrizePicks line if Moore was the only addition to the receiving group.
Ben Roethlisberger

,

Steelers
280.0 Fantasy Score (Paulsen: 273.3)
I have no interest in an aging quarterback with the mobility of a sloth, no matter the receiving options. Roethlisberger is not afraid to sling it and put up week-winning numbers, but the questionable offensive line and top defense do not give me an angle to say whether Big Ben is worth the investment.