Van Jefferson's Fantasy Football Outlook for 2020 and Beyond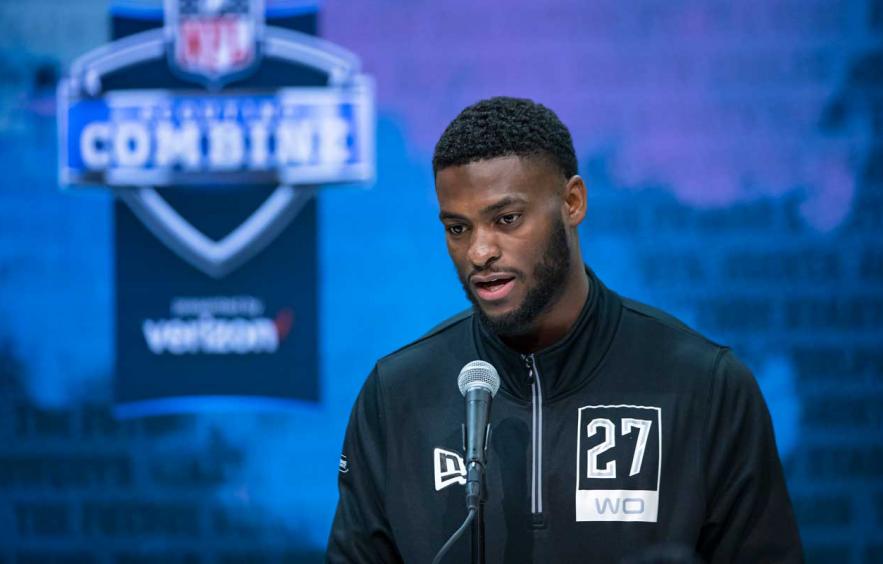 Michael Hickey/Getty Images
After trading Brandin Cooks to the Houston Texans for a second-round pick, the Los Angeles Rams used the pick they acquired to draft Van Jefferson out of Florida. Jefferson will need to beat out veteran Josh Reynolds for the WR3 position, but with the draft capital invested, he should stand a fighter's chance of doing so.
Van Jefferson

's Career at Florida

After transferring from Ole Miss before his junior year, Jefferson led the Gators in receiving yards his final two collegiate seasons. The Florida offense struggled up front and at the quarterback position, but Jefferson was a rare bright spot for the team. He scored six touchdowns in each of the last two years and was productive against quality competition, including catching six balls for 129 yards in an Orange Bowl victory over Virginia. Jefferson managed eight catches, 73 yards and a pair of touchdowns in a losing effort against LSU as well.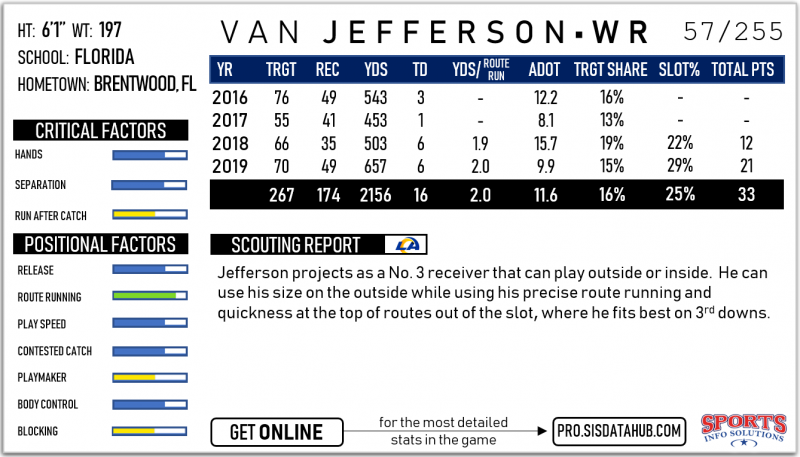 Jefferson landed 17th in Kevin Zatloukal's rookie success model, with only a 19% chance at success in his first three years. However, that's partially a testament to the rookie depth at wide receiver. He would've ranked 12th in Kevin's model last year, and there were 13 wide receivers taken in the first two rounds of this year's draft.
When I saw Jefferson in college, I saw an elite route-runner who could start immediately as a bigger slot receiver. He uses subtle movements to trick defenders and gain separation. That should translate well to the pros and Rams coach Sean McVay will enjoy drawing up plays for him.
Jefferson's Opportunity with the
Rams
Los Angeles is a good spot for an offensive player, in general. They've finished top-10 in total yards and top-11 in points in each of the three years that Sean McVay has been the head coach. They have a young quarterback in Jared Goff who has thrown for 9,326 yards and 54 touchdowns over the past two seasons combined. The question for Jefferson will be how many snaps he can earn on a depth chart that features Robert Woods, Cooper Kupp and Josh Reynolds.
Woods and Kupp both had over 1,000 yards and 130 targets last season, and barring injury, that's likely to continue in 2020. However, with the loss of Todd Gurley and Cooks, there should be some vacated targets available for Jefferson. Some will inevitably go to fellow second-round rookie Cam Akers, who will fight with holdovers Darrell Henderson and Malcolm Brown for Gurley's role, but the 72 targets Cook received last year are wide open. If Jefferson can earn those targets, and also siphon off some of the 49 from Gurley and 43 from Reynolds—who's in a contract year—he could see triple digits as a rookie. That is of course, the best-case scenario. The key is for him to push Reynolds essentially out of the lineup.
The Rams use all their receivers in the slot position, and Cooper Kupp actually lines up there most frequently, so where Jefferson lines up should be fluid in McVay's offense. That bodes well for his ability to see the field, as his route running and ability to separate should allow him to work in any of the three primary receiver slots. And the Rams need more efficiency from the wide receiver position. According to Football Outsiders, after their four top wide receivers posted positive Defense-adjusted Value Over Average (DVOA) numbers in 2018, only Cooper Kupp did a year ago.
For context, Chris Godwin led the league in DVOA last season with 32.8%, while Michael Thomas had the highest catch rate at 80.5%.
Notice Reynolds ranks low in both categories, and wasn't exceptional in 2018 either, with a 1.9% DVOA and a 54.7% catch rate. While Reynolds has experience in the offense and should be motivated to produce in a contract year, Jefferson might simply be more talented and more reliable in a similar role. The opportunity is there for Jefferson to earn the WR3 role early, which could make him well-worth his currently undrafted ADP. There is also some upside for Jefferson if the injury bug strikes Kupp or Woods. Woods has missed six games in his last four seasons and is now 28 years old. Kupp is entering his age-27 season and is just a year and a half removed from a torn ACL.
For those looking beyond this year, there's reason to think of Jefferson as a starter for the Rams as soon as 2021. Kupp's contract is up after this year and he'll likely cost a ton of money. Woods has two years left on his contract, but Over The Cap shows the team can save nine million dollars off the salary cap if they cut him after this season. Kupp plays a lot of slot. Jefferson is a natural fit in the slot. It's possible Jefferson is both a WR3 and a contingency plan.
The Value of a WR3
Let's assume Jefferson does win the WR3 job. While there's upside in that role, particularly in a pass-happy offense, it's important to manage expectations. I took a look at each of the wide receivers from last season who finished third on their teams in fantasy points per game:
The table has some notable flaws when trying to evaluate WR3s, including actual playing position, as well as number of snaps and targets. But, if we logically assume Kupp and Woods finish first and second in fantasy points per game for the Rams, then the table gives a rough estimate of what we can reasonably expect from Jefferson. As the WR3, Jefferson is looking at three optimistic possibilities:
Finish league average for the third-highest scoring receiver on a team at 4.42 fantasy points per game, equivalent to the 80th-ranked wide receiver last season.
Finish similar to what Cooks did as the third-highest receiver for the Rams last year at 5.4 fantasy points per game, or the 67th-ranked wide receiver.
Finish on the top end of the third-highest receiver tier with 8.4 fantasy points per game, or the 34th-ranked wide receiver.
Jefferson finishing somewhere between 34th and 80th gives him a huge landing range, but helps determine what his value is in relation to ADP. He's going undrafted and doesn't currently show up in our rankings, but our rankings do have guys like James Washington and Chris Conley in the 67-80 range. Jefferson landing somewhere in that range as the WR3 in a Sean McVay offense doesn't seem so far-fetched. So putting that as Jefferson's floor makes him a bargain as an undrafted fantasy option with upside.
Bottom Line
Jefferson could be a very useful addition to your fantasy roster as long as you keep expectations in check. A mid-season bye-week replacement with upside in the event of injury is his most likely outcome, but that's still worth considering at his current cost.
Jefferson should immediately be better than Josh Reynolds.
Jefferson's undrafted ADP makes him a zero-risk option in redraft leagues.
Jefferson could be a legit wide receiver handcuff if Kupp or Woods get injured
The Rams' cap situation could make Jefferson a starter as soon as next year.