These 4 Tight Ends Could Help You Win $500K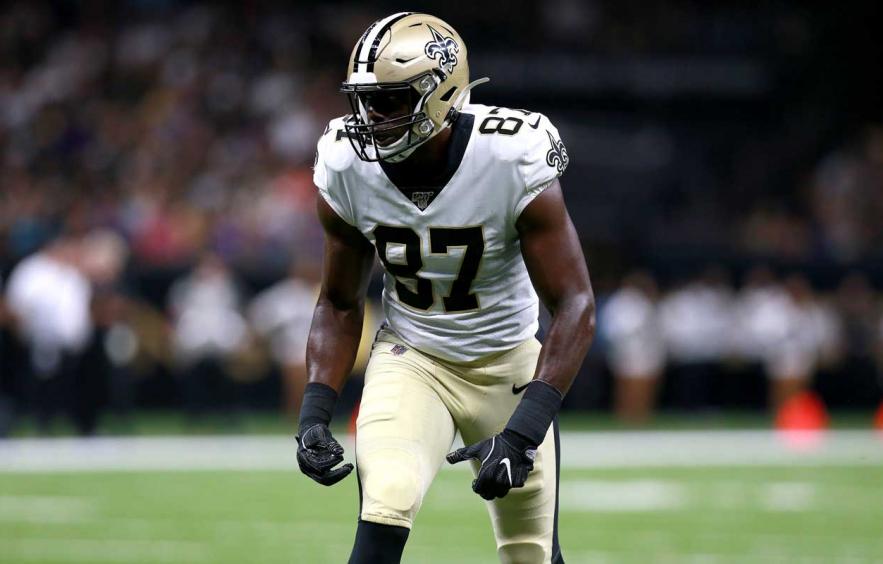 Sean Gardner/Getty Images
For too long football fans have celebrated and idolized prima donna WRs while TEs are the real unsung heroes. Not in the FFPC, the land of TE-premium scoring, where the league's best TEs are rightfully idolized and celebrated.
If you're like me, you're jumping in at least one of FFPC's mid-stakes tournament leagues. It features a $350 buy-in that pays out a hefty $500k to first place. Since FFPC utilizes TE-premium scoring, the top four TEs (Kelce, Kittle, Andrews, Ertz) become exponentially more valuable. With two flex spots available, drafting multiple mid-to-late-round TEs can provide considerable leverage. My high stakes partner-in-crime, Connor Allen, did some research on that subject here.
While there are plenty of intriguing options outside the top-four TEs, I chose to focus my attention on the mid-to-late rounds (Rounds 8+) because of the high-upside TEs available with little consensus in how they should be ranked.
It's not easy to find TEs who have a major role in their passing offense as well as the talent to be efficient fantasy scorers. However, there are several TEs in the eighth round or later that could smash their ADPs and help you win your league and give you a shot at the $500k top prize. I'll cover Rounds 8-10, 11-14, and 14+ in separate articles.
Here are some of my favorite mid-range TEs in rounds 8-10.
Jared Cook

,

Saints

(ADP - 97; TE14)

There isn't much hype for Jared Cook in 2019 but there should be after finishing as the TE7 in his first season with the Saints. Despite being 33 years old, Cook is still an athletic matchup nightmare for opposing defenses and plays in one of the most potent offenses in the NFL, led by the league's most accurate passer in Drew Brees. One of the best parts about drafting Cook is he comes at a discount—despite finishing as the TE7 in TE-premium scoring last season there are usually 13 other TEs that are taken before him in 2020.

Cook's first season with the Saints was a tale of two halves. If not for a slow start, Cook would likely be drafted much higher than TE14. Learning a new offense and building rapport with a new QB is hard enough but getting hampered by injuries slowed down the process even more for Cook and Brees.

The Brees-Cook connection didn't have much time to build chemistry due to some terrible injury luck. Cook injured his thumb in camp, which lingered into the beginning of the season, then Brees hurt his thumb forcing him to sit out Weeks 3-7. Just as Brees was getting ready to come back, Cook was sidelined with an ankle injury weeks 7-8. Cook only caught passes from Brees for two games of the entire first half of the season.
Jared Cook

Stats, Weeks 1–8

| Receptions | Yards | TD | YPR | aDOT | Yards per Route Run | Fantasy Rank |
| --- | --- | --- | --- | --- | --- | --- |
| 15 | 168 | 2 | 11.2 | 8.2 | 1.07 | TE25 |
However, the second half of the season was a completely different story. Cook caught fire the final eight weeks of the season, racking up 547 yards (fourth) and scoring seven TDs (tied for 1st) on 28 catches during that span.
Jared Cook

Stats, Weeks 9–17

| Receptions | Yards | TD | YPR | aDOT | Yards per Route Run | Fantasy Rank |
| --- | --- | --- | --- | --- | --- | --- |
| 28 | 537 | 7 | 19.2 | 12.0 | 2.93 | TE5 |
A full season at that pace: 56/1074/14, which equates to 275 fantasy points in TE-premium scoring. TDs are volatile, so we can't expect that same level of efficiency to continue, however, we can expect the chemistry with Brees and the coaching staff to carry over.
Saints offensive coordinator, Pete Carmichael Jr. explained how it not only took time to build chemistry with Brees but also with the coaching staff:
"It took us a while. But all of a sudden, middle of the season, we're splitting him out by himself and he's kind of running some option-type routes, and he really had success. The other thing is getting the ball in his hands, and he's explosive when he catches the ball. Man, he goes, and he's physical. So, it's just building on those things."
Speaking of explosive, Cook is in elite company. Since 2017, Cook has racked up 64 receptions of 15+ yards—only Travis Kelce and George Kittle have more in that time span. He also had the second-highest average depth of target (aDOT) (10.4) among all TEs—only Mark Andrews finished higher (10.6).
Payton and Carmichael will continue to use Cook as a mismatch and move him around the formation out wide, but also as a "big slot." In Cook's first season with the Saints, he was heavily utilized out of the slot and accumulated the bulk of his production there. Among TEs, Cook accumulated the third-highest snap share (67.9%), the second-most receiving yards (428), and tied with Mark Andrews for the most TDs (5) from the slot, per PFF.
Cook is never going to be a target hog as long as alpha WR Michael Thomas is on the Saints roster. However, "Can't Guard Mike" receives so much defensive attention that it allows Cook to roam free and makes his targets incredibly efficient. It's possible that Emmanuel Sanders and a healthier Alvin Kamara command a bigger piece of the pie but that is already baked into Cook's ADP.
Despite finishing as the TE7 in 2019, Cook is being drafted as the TE14 in FFPC leagues while 4for4 projects Cook as the TE11, making him a draft-day value. Cook has a significantly higher fantasy ceiling than most think. Now fully healthy and propelled by a coaching staff that will utilize his dynamic skillset optimally, draft Cook with confidence in Rounds 8-9.
Dallas Goedert

,

Eagles

(ADP - 101; TE16)

Dallas Goedert is an anomaly. He is arguably a top-five talent at the position but he isn't even the top TE on his own team. The latter makes it seem like he is being over-drafted at TE16, but according to 4for4's projections, we rank Goedert as the TE12. While beating ADP is important, the main idea of this article is drafting TEs with $500k upside and that's exactly what Goedert offers. His floor is a borderline TE1 but his ceiling is in the top four.

The heart of the Eagles' offense is their dynamic TE duo of Ertz and Goedert. In 2019, Ertz caught 88 passes—second among all TEs—and Goedert hauled in a respectable 58 catches himself, combining for a total of 146 passes during the fantasy football regular season (Weeks 1-16). In FFPC scoring, Ertz finished as the TE2 with 259.6 fantasy points and Goedert managed to sneak into the top-10 finishing as TE9 with 165.2 fantasy points during fantasy's regular season.

While Goedert's TE9 fantasy finish was nothing to scoff at, it could have been better had it not gotten off to such a slow start.

Goedert injured his calf in the first game of the preseason and didn't come back until Week 1 of the regular season in which he finished with a meager two catches for 16 yards. Clearly not himself, he re-injured the calf in pre-game warmups against the Falcons in Week 2, forcing him to sit out the game. While he returned to the lineup the following week against the Lions, he only saw one target and failed to catch a single pass. The next two games weren't much better. Through Week 5, Goedert was only able to muster up five receptions for 43 yards and one TD—he was the TE39.

When healthy, Goedert is not only an incredibly talented receiver but he's also a tremendous blocker. My hypothesis is that it's likely the Eagles wanted to utilize him for the latter until he got back to normal.

Thankfully, Goedert began to progressively look like his old self in Week 6 and seemed to get healthier through the rest of the season. From Weeks 6–17, Goedert finished one point shy of being the TE6, racking up 77 targets (fifth), 53 receptions (fifth), 564 yards (eighth), and four TDs (eighth).

Clearly, the Eagles' offense flows through their dynamic TEs and that isn't going to change in 2020. The Eagles don't have anything resembling an alpha WR that will siphon targets away from Ertz and Goedert. A healthy Desean Jackson and dynamic but inexperienced Jalen Reagor will likely help open up the middle of the field and lead to Ertz and Goedert seeing an increase in YAC and overall efficiency. Additionally, Jackson and Reagor won't threaten to steal red zone targets from Philly's twin towers.

It's clear that Ertz is a stud in TE premium. However, it should also be apparent that Goedert is not only a bargain, he offers significant equity. While a top-seven finish is nice, Goedert's path to winning you your league likely comes if Ertz were to miss significant time. But how likely is that?

Zach Ertz is a warrior, missing only seven games in seven seasons with the Eagles. However, he is now knocking on the door of 30-years old and his body has taken a beating. He has battled through multiple hamstring strains, concussions, sports hernia surgery, rib fractures, and most notably a kidney laceration. Trying to estimate injury risk can be fool's errand but if Ertz had to miss time, Goedert would see a significant increase in opportunity. Consider what Goedert did in the 1.5 games without Ertz last season. Zach Ertz got hurt in the second quarter of Week 16 and didn't return until the playoffs. In Weeks 16-17 Goedert saw 22 targets!

If you are doing multiple FFPC mid-stakes drafts it is imperative that you have exposure to Dallas Goedert. He should easily crush his ADP but can offer you top-four upside any given week if Ertz has to miss time.
Jonnu Smith

,

Titans

(ADP - 105, TE17)

Jonnu Smith can emerge from Delanie Walker's shadow as the clear starter in the Titans' offense. We've seen flashes of brilliance when he's been given the opportunity and with a full year of starting snaps, a breakout season awaits. 4for4's lead analyst, John Paulsen, hammered this home on Smith's player page:
"Last year, Walker went down in Week 7, and that's when Smith's playing time spiked. He gained 60+ yards and/or scored a touchdown in five of his last 10 games, and posted the No. 8 yards per route run among TEs, per PFF. From Week 7 on, he basically played at a low-end TE1 pace. He's a fantastic athlete and the Titans are desperate for a productive No. 2 option to complement A.J. Brown, so an 80- to 90-target role is a real possibility for Smith. He just needs targets."
For such a large man, Smith is incredibly evasive with the rock in his hands. He broke PFF's Elusive Rating in 2019 posting a score of 1,023.1 leading the NFL by breaking 19 tackles on only 39 tackles.
Smith is currently a value in FFPC drafts as he is the 17th TE off the board compared to 4for4's ranking of TE13. The path to Smith being a league-winner would probably be due to the Titans being forced to pass more than they want and Smith separating from the rest of the Titans receivers outside of A.J. Brown. The latter is more likely than the former. Smith may be somewhat volatile week-to-week but if things were to break right the sky is the limit for such an efficient playmaker.
Mike Gesicki

,

Dolphins

(ADP - 85, TE10)

I have a soft spot for freak athletes, especially at the TE position. Mike Gesicki is a 97th percentile athlete who stands 6'6 and weighs 247 pounds. It usually takes TEs a few years to develop and we started to finally see some glimpses of Gesicki's improvement during his sophomore season, especially in his usage.

Part of Gesicki's improvement came from the Dolphins finally limiting his blocking assignments (only 22.6% of snaps inline) and focusing on using him as a receiver. His raw totals were very positive and proved the Dolphins' coaching staff were trying to use him as their "big slot". Consider his production compared to other tight ends last season
71.8% slot snap rate (First)
52 targets out of the slot (Second)
910 air yards (Fourth)
10.2 aDot (Fourth)
In total, Gesicki put up a 35/382/2 line from the slot alone. While Gesicki's usage was a positive indicator of a future breakout, his lack of efficiency was not. Despite his elite combination of size-speed, he had a disappointing YAC of 3.6 (36th) and averaged only 1.09 yards per route run, tied for 32nd with Darren Fells and Kyle Rudolph (PFF).
A healthy Preston Williams could limit some of Gesicki's opportunity but while it sounds like Williams is on track for Week 1 it might take him some time to get back to where he left off in 2019. Helping Gesicki's cause is the fact that Allen Hurns and Albert Wilson both opted out of the season (COVID-19)—they accounted for a combined 109 targets last season. It is worth noting that Wilson opting out likely further solidifies Gesicki's slot usage.
This will be Gesicki's third season and will likely paint a picture of his career trajectory. Will his elite athleticism ever translate into fantasy stardom? Or will his career plateau as another over-hyped underachiever? His lack of efficiency is a red flag and could cap his overall ceiling; however, his floor is high due to his expected opportunity as the Dolphins "big slot" in 2020. Gesicki has a chance to make the leap in year three and if he does, he will likely crush his ADP, launching himself into the next tier of pass-catching TEs.
Note that Gesicki's ADP is now the beginning of the eighth round but drafter's opinion of him seems to vary from draft-to-draft. According to Fantasy Mojo, he has been drafted as early as the beginning of the seventh round and as late as mid-ninth round. I prefer Gesicki when he slides to the ninth round, otherwise, I prefer to draft T.J. Hockenson or Noah Fant, especially, with news of Preston Williams sounding like he is nearing his return which was in doubt earlier in the offseason. Another factor is that recent reports indicate Tua Tagovailoa is healthy and if he takes over at some point in the season it's unlikely he will chuck the rock as much as Fitzmagic. With a shortened offseason this information creates some uncertainty so following reliable beat reporters up until your draft day is more important than ever.
Other Tight End Notes
Former Hawkeyes' teammates T.J. Hockenson and Noah Fant were both elite college prospects that now find themselves looking for a sophomore breakout in low-volume passing offenses that are crowded with other talented receivers. I prefer both of them in the ninth round.
T.J. Hockenson

,

Lions

Besides health (ankle is reportedly 100%), the only thing that stands in his way is Kenny Golladay, Marvin Jones, and Matt Patricia. Hockenson's ceiling is capped and week-to-week usage will be frustrating as long as he is third in the pecking order in a Patricia offense. If he slips to the ninth or 10th round, the upside is well worth it. Hockenson will replace Gesicki in my rankings if his ankle continues to sound like it won't be an issue and as Preston Williams returns to health.
Noah Fant

,

Broncos

Fant is athletically superior to Hockenson and just about any other TE. His production as a rookie puts him in elite company but his unproven quarterback is a big question mark. Also, similar to Hockenson is the question of how much of the passing pie can he secure in a Broncos offense that is not expected to be high volume. Can Drew Lock support Courtland Sutton, Jerry Jeudy, and Noah Fant? While I prefer Stafford to Lock, I'd rather have Fant's full round discount in a similar situation. Fant should have a similar target expectation but the difference is Fant can score from 80 yards out.