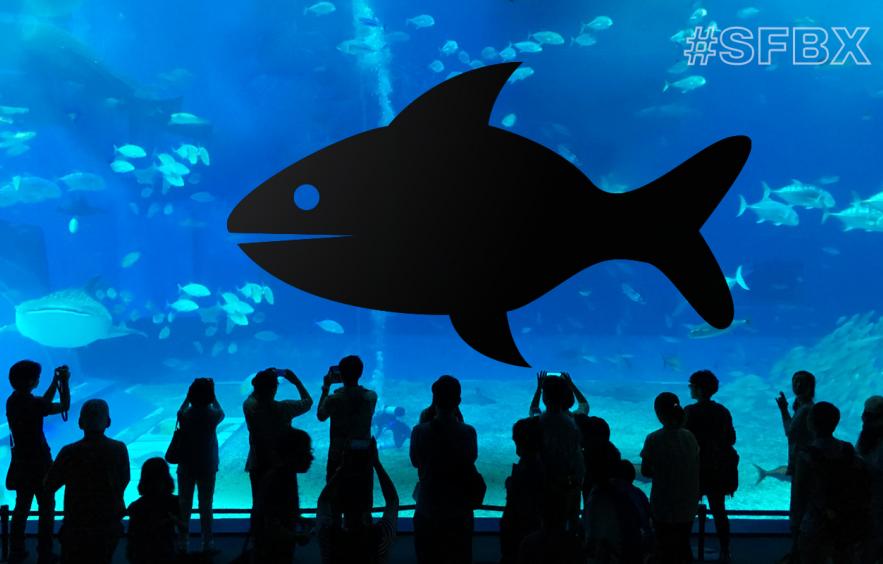 Doug Houvener/4for4
Since its inception, the Scott Fish Bowl marks the unofficial kickoff to the fantasy football season. The inaugural Scott Fish Bowl, known back then as the FFOasis Invitational, featured a mix of 96 fans and fantasy analysts. This year's Scott Fish Bowl—#SFBX—has grown to 1,440 competitors. For the uninitiated, the Scott Fish Bowl is a pro-am fantasy tournament featuring industry analysts and amateurs competing to be crowned the ultimate fantasy champion that also helps raise money for Toys for Tots. The charity organization behind the Scott Fish Bowl, Fantasy Cares, helped raise $60,000 in 2019.
The Scott Fish Bowl starting lineup consists of 1-2 QBs, 2-6 RBs, 3-7 WRs, and 1-5 TEs. That's right, no kickers and no defenses, a total of four FLEX spots, with one of those FLEX spots being a Superflex. Here is a link to this year's scoring settings.
---
Editor's Note: One of the scoring settings in #SFBX is points per first down and, luckily for 4for4 subscribers, we project first downs. To access the data, visit our rankings page and click on the Download CSV button. Once downloaded, you'll find the rankings in the Ru1D and Rec1D columns.
For more Superflex content, make sure to read Greg Smith's Introduction to 2QB and Superflex Leagues.
---
A large number of 4for4 staff members are competing in this year's #SFBX, which kicks off on July 6. We asked a few of them to share their draft strategy thoughts...
How many years have you played in the Scott Fish Bowl (SFB)? What was your best finish?
Jennifer Eakins: I've played in the Scott Fish Bowl for four seasons and the first two were my best (beginner's luck, I suppose). With records of 9-3 and 8-4, respectively, I received first-round playoff byes and made it another round of the postseason in both years.
Greg Smith: I've played in the Scott Fish Bowl since 2016. My best raw finish was 165th in my first year, but that was out of only 480 teams. My best percentile finish was last season (2019), where finishing 249th out of 1,200 put me in the top 21% of teams.
Justin Edwards: This will be my third year overall and second in a row. Last year I had a nice mediocre 7-5 season; I think I only won three games in my first appearance!
Chris Allen: This will be my fourth year in the SFB. My best finish was in SFB7, where I made it to the second round of the playoffs.
Kevin Zatloukal: I think I've done three of them. It looks like I won over 60% of my games during the regular season, which seems good, but it's been a sad story in the playoffs. That first year was especially most depressing... I did so well that I got a bye week for the first round of the playoffs, and then, in the second round of the playoffs, my QB broke his hand early in the game, giving me zero points and ending my season. The next year, I think I got to the playoffs again but crashed out. (This one was not as memorable as that first season, so I'm having a hard time remembering.) Last year, I took Antonio Brown in the second round, which was... not good. I think I still snuck into the playoffs and made a run (thanks, Lamar Jackson!), but once again, I couldn't make it to the big dance at the end.
John Paulsen: I think this is my sixth year playing in the SFB. Last year, I finished third out of 1,200 entries. It came down to Week 16 MNF, I was in second place and I pivoted from Mike Boone to Ameer Freaking Abdullah to try to catch the team in first place. That actually worked, but we were both leapfrogged by one team that had Aaron Jones and another that had Davante Adams.
What's the biggest mistake you remember making in past SFB tournaments and what did you take away from it?
Jennifer Eakins: Getting caught up in the scoring can really mess with players in this format. Overanalyzing small tweaks in scoring can cause some to reach or pass on a player when in reality they should just select the best player available.
Chris Allen: Not developing my own strategy and taking a stance on players. I adhered to a lot of the popular strategies and narratives without taking stock of the people in my league. It's obvious now, but expert leagues aren't like your home leagues and, more importantly, tournaments like SFB aren't like home leagues. Adjusting your team-building strategy for the expected swings in ADP will force you to take on risk, but it comes with an understanding that the acquired player can propel you deeper into the playoffs.
Justin Edwards: Playing quarterback chicken. Wait just one round too many in these formats and you can miss an entire 8-10 quarterbacks depending on your draft slot.
Kevin Zatloukal: Taking Antonio Brown in the second round. Seriously though, I think when a player that is "value" but I don't really like falls to me and I end up taking them, I usually regret it. If you're going to lose, it feels a lot better to lose because players you believe in didn't do as well as you hoped. In most cases, those "values" that are falling in the draft are often "value traps", as they say.
Eric Moody: The biggest mistake I remember making in one particular SFB tournament is overvaluing the tight end position. It may be intriguing to imagine starting your draft with Travis Kelce, George Kittle and Mark Andrews, given the tight end premium format. Unfortunately, by doing so you miss out on other difference-makers at wide receiver and running back. If you're too aggressive it will put your team at a disadvantage. My biggest takeaway from that particular experience is that having a balanced team is the preferred way to go.
What is your draft strategy approach to this year's Scott Fish Bowl?
Justin Edwards: I'm in a good amount of Superflex/TE Premium leagues. I believe treating SFB like one of those is a good way to go. The 0.5 PPR and .5 points for first downs should make attacking un-explosive, possession receivers a good route.
Chris Allen: I'm looking into what are the profiles/trends that surround league-winning players and what/where the pitfalls are in general snake drafts. Identifying possible late-round targets, their ADP, and monitoring their popularity will help gauge the level of aggression required to optimally round out my roster. Also, if I know what trends can help reduce risk (e.g. drafting running backs in the RB15-20 range at cost), I can build a strong core to start the season.
Eric Moody: It's important to secure one of the elite tight ends. Travis Kelce, George Kittle and Mark Andrews are all solid options. You should also not rush to select a quarterback. In my experience, the position is historically over-drafted in SFB. You'll want your roster to have at least three starting quarterbacks, but passing on an elite running back or wide receiver in the high leverage rounds for a middle of the road option is sub-optimal. Pass-catching running backs are also much more valuable in SFB due to the bonuses. It's also best practice to hoard as many wide receivers as you can; there are so many mid-to-late-round values at the position. It's important to come to the draft prepared with position tiers and as many mock drafts under your belt as possible. 4for4 has a plethora of resources you can leverage, but remember, every Scott Fish Bowl draft is full of surprises.
John Paulsen: I drew the 1.01, so I'll very likely be starting with Christian McCaffrey and going from there. I'll use my projections and compare them to #SFBX mock ADP to hopefully identify some value plays at each turn.
Scott likes to switch things up every year, and this year's newest wrinkle is that QB sacks are worth -1 fantasy points. How will that adjust your overall draft strategy? And how will you handle the quarterback position, specifically?
Jennifer Eakins: Last year I found that not having two solid quarterbacks was a struggle from week to week, and I had to spend most of my FAAB chasing the position on the waiver wire. So I will put more of an emphasis on signal-callers in 2020, and plan to factor in weaker offensive lines when deciding who to pick, in order to not get smashed by the negative sack points.
Greg Smith: My strategy from previous seasons will generally remain the same. I prefer to wait on the quarterback position whenever possible and use my early-round picks on scarcer positions. With that said, there are some specific sack-prone quarterbacks, like Josh Allen, who will fall in my rankings relative to other passers.
Justin Edwards: As the "offensive line guy", I love this wrinkle! Looking at a player's offensive line will work as a tiebreaker for me, and though I doubt it will take a quarterback completely out of a tier, I will probably mix up players inside a tier. For example, John Paulsen has a section of QBs ranked Cousins-Burrow-Goff-Mayfield-Rivers. That's a good tier of QB2s. While I wouldn't take Burrow out of that tier, I would realign them Cousins-Goff-Rivers-Mayfield-Burrow because of the O-Line component.
Chris Allen: I'll be doing more research into offensive lines and their overall cohesiveness. Metrics like pressures allowed for the line or attempts while under pressure for quarterbacks will give me a better idea of how much the scoring setting will affect quarterback ADP. I normally approach quarterback with a late-round strategy, but I'm assuming the scoring change will push up the position significantly. A mid-round approach with an aim at securing a top-tier passer feels like a proper strategy to balance the QB scoring with building a strong team.
Kevin Zatloukal: My guess is that the extra wrinkles in QB scoring are going to make it harder for most drafters to figure out which QBs are going to do well, and as a result, there will be more late values at the position. ("Late" being a relative thing, of course, since it's still Superflex.) So I will try to capitalize on better projections for these players by drafting QBs a little later.
Eric Moody: I'll spend time researching the percentage of dropbacks certain quarterbacks were under pressure from last season, along with their sack percentage and the percentage of dropbacks the offensive line kept them clean. Two other advanced metrics I'll analyze are a quarterback's average time in the pocket and the percentage of dropbacks in which the football was held less than 2.5 seconds. It's important to be aware of the new wrinkle, but it won't dramatically alter my strategy. The best approach to the quarterback position is to target QB2s from a traditional ADP perspective who have QB1 upside. Derek Carr and Jared Goff are two examples of quarterbacks who fit that mold.
John Paulsen: Accurate, low-sack quarterbacks get a boost in this format, while inaccurate, sack-prone QBs like Josh Allen take a big hit. I'll try to get three so I can always run two quarterbacks out there.
While SFB receives a lot of pub for being a Superflex league, there are four total FLEX spots, with only one of those FLEX spots being a true Superflex spot. What is your plan when it comes to filling the FLEX spots?
Greg Smith: The overall depth of these leagues makes it very difficult to load up on one specific position to "win the FLEX" without hurting your overall roster, so I tend to view the three flex spots as wild cards (insert Charlie Day gif). Essentially, I don't care what positions I'm using to fill my flexes as long as the players project as high scorers. I'm more concerned with getting top-end talents for my position-specific roster spots like RB, WR and TE. What positions I end up using in the FLEX spots will ultimately depend on how my draft plays out. If forced to make an educated guess, I presume that my FLEX starters coming out of the draft will be one running back and two wide receivers (or maybe vice versa).
Justin Edwards: Because of the points for first downs scoring setting, filling those FLEX spots with possession receivers as much as possible could be a good way to raise the floor of your team's scoring week-in and week-out.
Chris Allen: I've normally filled FLEX spots primarily with wide receivers. Their floor may be lower, but their ceiling can win your week. However, using a strong mix of RBs and WRs in the FLEX may be a stronger approach. First, the combined floor and ceiling may boost weekly scoring if wide receiver output falters. Second, the running backs who would start in the FLEX would likely fit the profile of a league-winning asset. With this in mind, I'll be looking to acquire running backs in the middle rounds.
Eric Moody: I prefer to use the Superflex spot on a quarterback and three FLEX spots on wide receivers.
Waiting on quarterback and streaming the position is a popular strategy in traditional one-quarterback leagues, but is that viable in this format? Why or why not?
Greg Smith: You can absolutely wait on the QB position in Superflex drafts. Let's look at standard quarterback scoring from last season as an example. Among signal-callers who started the bulk of their teams' games in 2019, 15 of them finished at least half of their weeks as top-15 quarterbacks. And 28 different starters finished at least half their weeks as top-20 quarterbacks. The scoring settings in #SFBX aren't standard, but with 24 starting quarterback spots available each week, those generic top-15 and top-20 numbers make it pretty clear you can get serviceable production from later-pick passers. If you can load up your SFB roster with difference-makers at running back, wide receiver and/or tight end in the early rounds, serviceable production is all you need at quarterback.
Justin Edwards: As someone who has been burnt by trying to wait one or two more rounds than necessary to grab a QB in years past, I would strongly suggest against depending on the waiver wire to consistently find quarterbacks to stream. This might be the sharpest league there is, and your opponents are not going to let you constantly pull guys from the waiver wire without spending most (or all) of your FAAB money.
Chris Allen: I don't see how a streaming strategy is viable in such a large-field tournament with these scoring settings. It's likely ADP will reflect offensive line rankings, leaving a late-round/streaming strategy with quarterbacks who won't have the same upside as they would in traditional leagues. I'm also assuming that with the Superflex setting, a larger number of quarterbacks will be drafted (average three QBs per team), leaving fewer options in the pool. I'd rather be aggressive at the position than start off the season with question marks at one of the positions that generate the most points.
Eric Moody: It can be viable in this format if you are closely monitoring the supply and demand of startable quarterbacks.
John Paulsen: You can wait on the QB position, but not too long. Early ADP is showing 20 QBs off the board by the end of the sixth round. Given how the QB rankings are shuffled from rankings of traditional scoring, I think that there will be value to be had in those middle rounds.
What advice or tips can you give newcomers competing in their first Scott Fish Bowl?
Jennifer Eakins: First and foremost, have fun and embrace all the chatter and camaraderie this league builds among the fantasy football community. The draft itself can be more fun and entertaining than in-season as everyone compares their boards across divisions on social media. Be sure to familiarize yourself with the scoring and weekly lineup parameters, and also be aware that the waiver wire is extremely cutthroat. You will have to spend your FAAB money liberally to get any hot players from week to week. It's all for charity, so don't take it too seriously. At the end of the day, it's still just fantasy football, albeit it's against 1,440 members of the industry and fans.
Greg Smith: Pay attention to the scoring settings, but don't overreact to them. For example, the format's TE-premium scoring helps players at that position score more points per touch, but the scoring settings don't actually affect the volume of targets those players will see, and we want predictable high-usage from our players above all. Therefore, while the elite high-volume tight ends like Travis Kelce and George Kittle deserve a bump in value, the mid- and lower-tier tight ends with more sporadic usage remain high-variance, regardless of the TE-premium scoring. More generally, the scoring settings have no impact on the relative depth of each position. So while the settings have been designed to prop up quarterbacks and tight ends, workhorse running backs are still fantasy football's most limited resource, and we need to be mindful of the relative values generated by each position's overall scarcity when drafting.
Justin Edwards: Have fun. This is a great way to network and—more importantly—for the fantasy community to give to charitable organizations. Don't get me wrong, I want to beat all of you, but if I only win three games then it is what it is. Good luck, newbie.
Chris Allen: For all types of newcomers, have fun and donate to Fantasy Cares (if you can). The mock drafts, charity drafts and podcasts leading up to SFB are part of the experience. Try and join some to start forming your own strategy and see how the market is reacting to the scoring. Once you know your division, set up a DM thread with your league. If you're an analyst, use this time to network. The community is constantly growing and it's always a good idea to see what new work is being done. If you're a fan, check out your competition. Every analyst has their work out there somewhere (e.g. on their Twitter timeline or their website). You can quickly get a sense of who "their guys" are and can leverage ADP to snipe them during the draft.
Kevin Zatloukal: Just have fun. There are over 1,400 players, so the odds of winning are very long. Instead, focus on making sure you enjoy yourself, make some friends and contribute to some good causes.
Eric Moody: Expect the unexpected. use position tiers and take into account the unique scoring system.
John Paulsen: Newcomers need to understand the scoring system and how it impacts the value of each position. That will give you a leg up on at least half of the competition.
---
If interested in learning more about #SFBX and ways you can give back, follow the @SFBPodathon on Twitter. Starting at 8 PM EST on July 5, they will be hosting a live 24-hour stream on YouTube to raise awareness for various charities. They have also set up a PayPal pool you can donate to in which the funds will be split equally between Toys For Tots and the Equal Justice Initiative.
About Author