2020 Offensive Line Rankings: 32-22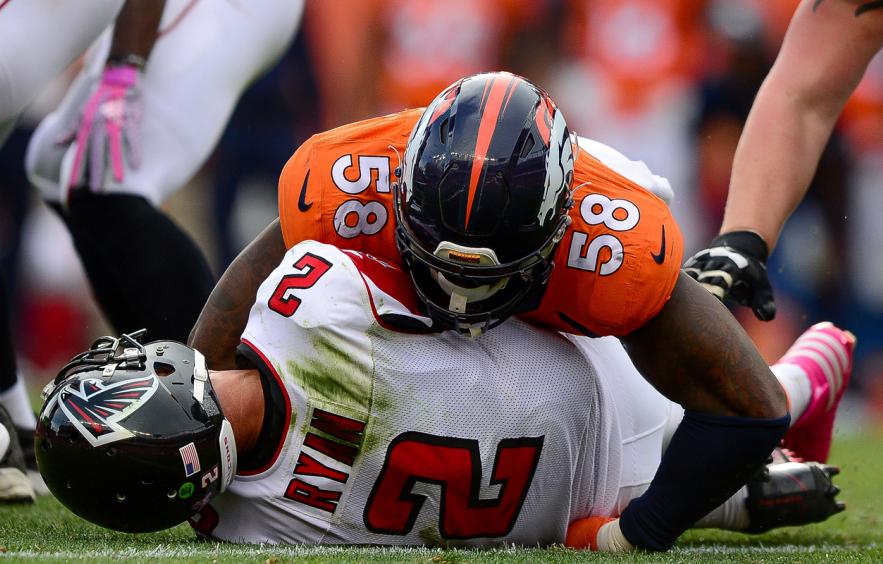 Dustin Bradford/Getty Images
As I'm sure you have hypothesized in the past, the play of a team's offensive line impacts the fantasy points that each NFL team can produce, and now we have statistical proof. By using the knowledge of good and bad units, we can better attack (or avoid) skill position players on a given team; another edge we can use against our teammates. With that caveat understood, it's time to figure out exactly where a team's offensive line compares to the rest of the league.
---
More Offensive Line Rankings: 21-11 | 10-1
---
Below I'll be counting down the bottom-11 offensive lines heading into the 2020 season, with an accompanying "key stat" from last year's unit, plus new faces coming to the team. Additions will denote either the most recent team that player played for, or the round of the draft they were selected. Additions and subtractions will be relegated to players believed to be immediately starting or at the least an immediate back-up. Let's dig in.
32. Cincinnati
Bengals
Key 2019 Stat: 3.04% Blown Block Percentage (31st)
Offseason Movement
Additions: OG Xavier Su'a-Filo (Cowboys)
Subtractions: N/A
The Bengals haven't had a starting-caliber left tackle since they allowed Andrew Whitworth to sign with the Rams following the 2016 season. Things should change in 2020 as last year's 11th-overall pick Jonah Williams will start Week 1 after missing his entire rookie season with a torn labrum in his left shoulder. Granted, Cincinnati had now spent a first-round pick in each of the last two seasons (with Billy Price going as the 21st-overall pick in 2018), but ignoring the line until the sixth-round doesn't feel like the best route to protect your franchise quarterback. The signing of Xavier Su'a-Filo lessens the burn of Billy Price's slow NFL development but that's more of a stopgap than a move that's going to elevate the line out of obscurity.
Bobby Hart, who will be playing right tackle yet again, has been one of the worst starters at the position since being drafted by the Giants in the seventh-round of 2015. His competition comes in the form of undrafted free agent Josh Knipfel of Iowa State.
Straight up, Bobby Hart is not a starter in the NFL. If protecting Andy Dalton was the goal, this decision was negligent: pic.twitter.com/UWTgacE4iI

— Brandon Thorn (@BrandonThornNFL) September 12, 2018
31. Washington Redskins
Key 2019 Stat: 9.8% Adjusted Sack Rate (31st)
Offseason Movement
Additions: OT Cornelius Lucas (Bears), OG Wes Schweitzer (Falcons), OG Saahdiq Charles (fourth-round)
Subtractions: OT Trent Williams
For a team predicated on winning the battle in the trenches, Washington didn't elect to take an offensive lineman until the fourth round with left guard Saahdiq Charles. Charles will move from left tackle into the inside at the NFL level, but likely won't be a Week 1 starter as he deals with some injuries. He fits the offense's run scheme but his fatal flaws are in pass protection, where Washington already ranked 31st in adjusted sack rate in 2019. Free-agent additions Cornelius Lucas (16 career starts in six seasons) and Wes Schweitzer (part of 2019's woefully under-performing Atlanta Falcons offensive line), are slated to anchor Dwayne Haskins' blindside. There's something to be said about practicing against some of the best edge rushers in the game, so we'll see how long they stay this far down the rankings.
30. Arizona
Cardinals
Key 2019 Stat: 8.4% Adjusted Sack Rate (t-28th)
Offseason Movement
Additions: OT Josh Jones (third-round)
Subtractions: OC A.Q. Shipley
There's no doubt that the Cardinals got a steal —probably the biggest steal of the draft— when they selected Josh Jones with their 72nd overall pick. The tackle-desperate teams selected four of them by pick number 13 and with six going in the first round, it left Jones to slide right on through the second round. With so many holes at the tackle position already filled, Jones was the odd man out even though he was commonly ranked as a top-five option.
The problem isn't with the pick, the problem lies in what sort of impact it will have on the offense in 2020 —likely none at all. Jones has the ceiling to become a fantastic right tackle, and may even be able to slide to the left side later in his career, but he's going to need some time to polish his game. He needs to better use his length, strength, and strike variance to keep defenders out of his frame. Until then, Arizona will be returning a line that finished bottom-third in adjusted line yards and bottom-five in both adjusted sack rate and blown block percentage.
josh jones is on another level



pic.twitter.com/t6kUIiKqHS

— Austin Gayle (@PFF_AustinGayle) January 23, 2020
29. Miami
Dolphins
Key 2019 Stat: 3.87% Blown Block Percentage (32nd)
Offseason Movement
Additions: OT Austin Jackson (first-round), OG Robert Hunt (second-round), OG Erick Flowers (Redskins), OC Ted Karras (Patriots)
Subtractions: OC Daniel Kilgore, OG Evan Boehm
On one hand, the Dolphins attacked the offensive line through the draft and free agency more than any other team in the league. They signed former Patriots center Ted Karras and spent both a first and second-round pick with the intention of shoring up the trenches.
On the other hand, the Dolphins return the least amount of starters from 2019 during the most tumultuous offseason in recent memory. According to research done by Thomas Emerick (@ThomasEmerick on twitter), offensive line continuity can be an easy marker for year-over-year success from the group. Miami certainly has added more raw talent to their roster (and is a key component of why they are no longer ranked number 32), but it remains to be seen how long it will take before they gel.
Starting offensive line continuity by NFL team pic.twitter.com/g6HHv0u95x

— thomasemerick (@ThomasEmerick) May 16, 2020
Add to that some pushback on whether or not Austin Jackson is going to excel right out of the gate at tackle, and we could have some growing pains in Miami this year.
"Austin Jackson is a little inconsistent for me. I can't get over watching him get beaten by AJ Epenesa when USC played Iowa. He's going to need some time." - Mel Kiper
28. New York
Jets
Key 2019 Stat: 3.8 Adjusted Line Yards (30th)
Offseason Movement
Additions: OT George Fant (Seahawks), OC Connor McGovern (Broncos), OG Greg Van Roten (Panthers), OT Mekhi Becton (first-round)
Subtractions: OT Kelvin Beachum, OG Tom Compton, OG Brian Winters
The Jets fall into a similar boat as the Dolphins, having invested the most monetary capital in the trenches this offseason, but that leaves them with only two returning starters and a whole lot of new faces that will need to get acquainted in a hurry.
Newly signed center Connor McGovern turned a much-improved third season into a three year, $27 million contract. McGovern will be an immediate improvement on Jonotthan Harrison, who had to take over for Ryan Kalil after Kalil un-retired and managed to only play 343 snaps.
Tackle George Fant completed a similar deal after his third season in the league, inking a three year, $30 million contract. While still young with room to grow, Fant has logged nearly the same amount of snaps as a heavy/jumbo package tight end (454) than he has as a pure OT (477) over the last two seasons in Seattle. It remains to be seen how much he will be improving this team.
The road for the Jets to make a big step out of this tier of lines rests on the talented —and giant— shoulders of rookie Mekhi Becton.
EYES ON LT:

Mekhi Becton of @UofLFootball is a long, massive, powerful and nasty JYD. Very good hand usage #EyesOnOLine#StrikeLeverageDriveFinish pic.twitter.com/cYZZ763Y4x

— Duke Manyweather (@BigDuke50) October 1, 2019
27. Atlanta
Falcons
Key 2019 Stat: 135 QB Hits Allowed (31st)
Offseason Movement
Additions: OC Matt Hennessy (third-round)
Subtractions: OG Wes Schweitzer, OT Ty Sambrailo
Things did not go as planned for the Falcons offensive line after they spent not one, but two first-round picks in 2019. The 14th overall pick (right guard) Chris Lindstrom lasted 45 snaps before suffering a broken foot and hitting the injured reserve, and their 31st overall pick (right tackle) Kaleb McGary had a healthy, but disappointing season. McGary's 4.78 blown block percentage in the passing game ranked him 159th out of 173 qualifying offensive linemen (minimum 250 snaps).
Atlanta (and Matt Ryan/Todd Gurley/etc. fantasy owners) are hoping for a reversal of fortune, as third-rounder Matt Hennessy will battle it out for the starting left guard position at best, or provide depth at all three interior positions at worst.
Rarely-talked-about left tackle Jake Matthews will buoy this unit from bottom-of-the-league even if everything else crashes around him.
26. Carolina
Panthers
Key 2019 Stat: Number of OL Penalties, 30 (t-4th)
Offseason Movement
Additions: OT Russell Okung (Chargers)
Subtractions: OL Daryl Williams, OG Trai Turner
Matt Rhule became the Carolina Panthers head coach this offseason, and as his first act, the franchise drafted a defensive player with all seven of their picks, the first time in history. This leaves the offensive line with a lot of below-average moving parts and nothing to rest their hat on. Letting Daryl Williams walk wasn't the worst idea —he didn't have a great season after playing only 56 snaps in 2018— but he was also forced to play four different positions. To fill that versatility void they traded Trai Turner straight up for Russell Okung, who is not going to take a snap anywhere but left tackle, and was only able to play in six games last season, and they also signed four undrafted free agents.
We've seen college-to-NFL coaches scheme away from poor offensive lines as recent as Kliff Kingsbury in 2019, so there is optimism for Teddy Bridgewater/Christian McCaffrey. For that to happen, Joe Brady is going to have his work cut out for him.
25. Houston
Texans
Key 2019 Stat: Number of OL Penalties, 54 (30th)
Offseason Movement
Additions: OT Brent Qvale (Jets)
Subtractions: N/A
At the witching hour of the 2019 season (August 31st, to be exact), the Texans decided it would be a good idea to make DeShaun Watson's life a little easier. By trading one second-round pick and two first-rounders to the Miami Dolphins, they received Kenny Stills and —more importantly— left tackle Laremy Tunsil to pull them out of the doldrums of pass protection.
Tunsil held up his end of the bargain, allowing two sacks in Week 1, but allowed only one more by season's end. Houston still finished with an 8.4% adjusted sack rate (27th) as the rest of the line was unable to play up to the level of their left tackle.
Help may be incoming at the opposite tackle, where 2019 first-round pick Tytus Howard was beginning to develop before going down with a knee injury. It remains to be seen how far and fast Howard can go as a prospect, as many (most) draft evaluators had him valued at anywhere from a third-round pick to a seventh-round pick.
24. Jacksonville
Jaguars
Key 2019 Stat: Number of OL Penalties, 61 (32nd)
Offseason Movement
Additions: N/A
Subtractions: N/A
Only one starter missed any time —Cam Robinson (Weeks 1 and 2)— for Jacksonville last season which is both good and bad news. The good news is obvious; they only had to start six players for the entirety of 2019, which is often the most difficult thing to do as a unit, with 300-plus pound men falling on your ankles for 70 snaps a game. The bad news is, well, we have already seen this unit at full strength and they just led the league in offensive line penalties and finished 27th in adjusted line yards. With no offseason movement of note, that may have already shown us the best that they have to offer.
Taking the next step would likely have to come via higher-level play from second-year right tackle Jawaan Taylor, who at 22-years old already has one good season under his belt and represents the only youth across the line. With Taylor's pass protection ceiling yet to be realized and the continuity of all five starters returning, Jacksonville avoids a deeper drop in the rankings.
OT Jawaan Taylor was at one point during the pre-draft process considered a top 10 prospect. Medical concerns caused him to slip to the Jaguars at pick 35.



He was the only rookie in the NFL to play 100% of the snaps for his team, showing improvement along the way. Impressive.

— Field Yates (@FieldYates) December 31, 2019
23. Seattle
Seahawks
Key 2019 Stat: 111 QB Hits Allowed (29th)
Offseason Movement
Additions: OG Damien Lewis (third-round), OT Cedric Ogbuehi (Jaguars), OC BJ Finney (Steelers), OT Brandon Shell (Jets)
Subtractions: OG DJ Fluker, OC Justin Britt
No question that the Seahawks were ready to see a change after the offensive line allowed an adjusted sack rate in the bottom-10 of the league for the —let me check my notes— seventh straight season. Finding no trade partners leading up to the NFL Draft, Seattle released both center Justin Britt and right guard DJ Fluker, who combined for 24 starts for the team in '19. Though they loaded up on replacement players through the draft and free agency, new center BJ Finney may be the only one worthy of a shot as a starter. Cedric Ogbuehi is a former first-round pick but there is a reason this will be his third team in three years.
The bright spot in the incoming group is guard Damien Lewis from LSU, whose wide frame and power-blocking expertise should shine in an offense that is notorious for running the football. He will test for a starting job, if a little later in the season considering the lack of a normal training camp.
Will this be the year Russell Wilson experiences a season of league-average sack rates? Doubtful.
Damien Lewis is a bully...



But he's an under control bully, a balanced mauler, a calculated bouncer. And those guys are so so dangerous!!



He will clear you the f- out the way #2020NFLDraft pic.twitter.com/cdvChFehyy

— Ben Fennell (@BenFennell_NFL) February 1, 2020
22. Tennessee
Titans
Key 2019 Stat: 11.2% Adjusted Sack Rate (32nd)
Offseason Movement
Additions: OT Isaiah Wilson (first-round)
Subtractions: OT Jack Conklin
This won't come as a surprise to anyone who watched the Titans offense last season, but the strength of the line was its run-blocking while the pass protection wasn't always the greatest —even if it didn't seem to affect Ryan Tannehill's efficiency. That elite run blocking took a hit in the offseason when they allowed Jack Conklin —one of the best run-blocking tackles in the league— to walk in free agency. They drafted his immediate replacement with the 29th-overall pick in 6'7", 345-pound Isaiah Wilson out of Georgia. Wilson can replicate the success of Conklin, and possibly even surpass him but he is not nearly as technically sound and will present an immediate downgrade at the position.
On the other side of the line, Taylor Lewan took a little bit to get going but ended the season looking like his normal Pro Bowl self after serving a four-game suspension to begin the year. There are a lot of talented pieces on this team, and it could be argued that I have this unit ranked too low. Nonetheless, I'm of the belief that last year's adjusted sack rate wasn't a fluke, and of the disbelief that Ryan Tannehill will continue to be the most efficient quarterback in the National Football League.