Fantasy Debate: Stefon Diggs vs A.J. Green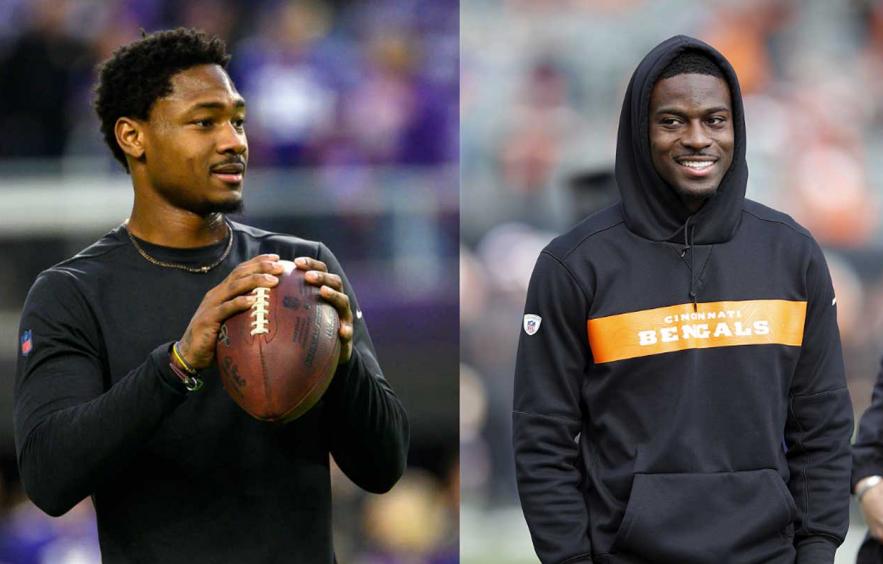 Stephen Maturen/Joe Robbins/Getty Images
Stefon Diggs and A.J. Green are both being drafted as high-end WR3s, going off the board 25th and 29th, respectively, at wide receiver across all sites—platforms such as ESPN have the two going within three picks off each other. In this debate, Eric Moody will explain why he prefers Buffalo's new receiver while Alex Gelhar sells you on the Bengals' veteran.
The Case for
Stefon Diggs
Eric: The Bills acquired disgruntled wide receiver Diggs from the Vikings back in March for 2020 first, fifth, and sixth-round picks and a 2021 fourth-round pick. Buffalo also received a seventh-round pick in this year's NFL Draft. Diggs was very vocal about his frustrations in the media last season. It was clear that the receiver wasn't on the same page with Vikings quarterback Kirk Cousins last season. Diggs did have multiple 100-yard games in the middle of last season after being force-fed targets. He finished as a WR1 four times from Week 6 to 11. Diggs was a WR3 the rest of the season and was phased out of the Vikings offense.
This didn't quench his thirst and ultimately Diggs' personality wasn't a good fit in Minnesota with head coach Mike Zimmer's no-nonsense approach and the team's run-heavy approach. His number of targets decreased from 149 in 2018 to 94 in 2019. Cousins finished last season with a better passer rating when targeting Thielen (131.9) instead of Diggs (110.7). Now the 26-year old receiver will look to bounce back with quarterback Josh Allen and the Bills in 2020. Let's take a brief moment to look at Diggs's entire statistical body of work before breaking down how he fits with Buffalo.
Any discussion of top-five route runners that doesn't include Stefon Diggs is wrongpic.twitter.com/a6jpUqNPUt

— Ian Hartitz (@Ihartitz) July 4, 2020
Diggs has surpassed 1,000 receiving yards in each of the last two seasons. He's averaged 8.0 targets, 5.5 receptions, 71.7 receiving yards, and 89.6 air yards per game over that span of time. Diggs was very effective with the target volume. He averaged 2.6 fantasy points per game more than expected over his last 30 games. It took Diggs three seasons to exceed 1,000 receiving yards. He's only accumulated 532 targets in his entire five-year career. Diggs has all of the desired characteristics of an elite NFL receiver, but hasn't been given the target volume.
Imagine his production if he'd been provided the number of targets of Mike Evans (712), Jarvis Landry (745), or Julio Jones (806) since 2015. Another interesting observation is that Diggs has seen a steady increase in air yards each season. Last season he set a career-high with 1,412. The only other receivers who had more targets of 20 or more yards than Diggs (29) in 2019 were Odell Beckham (33) and Kenny Golladay (36). Ultimately the Vikings will regret trading away Diggs, but Allen will benefit greatly.
John Brown finished last season as a top-20 receiver in half-point PPR formats with the Bills last season. He averaged 7.7 targets, 4.8 receptions, 70.7 receiving yards, and 109.6 air yards per game. Brown was provided 27 targets that were 20 or more yards. He and teammate Cole Beasley both ranked inside the top-25 in Player Profiler's target separation metric. And you guessed it, Diggs did as well. Many are quick to criticize Allen because of his accuracy. It may come as a surprise, but he finished 18th in true passer rating. This rating factors out unpressured throwaways and dropped passes.
Allen was under pressure on 36.1% of his dropbacks last season. It's critical for him to continue to develop as a passer in 2020. Allen is in a great position to do so by leveraging his downfield passing ability with his top-three receiver's ability to separate and his mobility allowing him to extend plays. The Bills' running backs have a very bad schedule according to our signature strength of schedule metric, schedule-adjusted fantasy points allowed (aFPA). Allen's number of pass attempts is likely to increase above 500 this season. The Bills acquired Diggs to be their No. 1 receiver and he's in line for a substantial target share in 2020. Buffalo's official website also reported he worked out with Allen earlier this offseason. And now, you're wondering how he compares to A.J. Green from a draft perspective.
Green missed all of the 2019 season after suffering torn ligaments in his ankle during training camp. He's averaged 9.24 targets, 5.42 receptions, 80.2 receiving yards, and 0.57 touchdowns per game in his career. Green's missed 23 of the last 32 games with injuries. The soon to be 32-year-old receiver is set to return this season with rookie quarterback Joe Burrow under center. The No. 1 overall pick in this year 's NFL Draft will inherit a Bengals offense that ranked sixth in pass attempts per game last season.
With Burrow under center, Cincinnati is more likely to lean heavily on Joe Mixon and the running game this season. He was the engine that propelled the Bengals offense as they prioritized the running game after the Week 9 bye week. Mixon accumulated 100 yards or a scored touchdown in six of eight games down the stretch. He finished the season with the sixth-highest opportunity share among running backs. The Bengals running backs also have a good schedule according to aFPA in 2020.
Burrow is the frontrunner to win the NFL's Offensive Rookie of the Year, but that won't translate to fantasy football league winning success in 2020. Only five quarterbacks selected in the first round of the NFL Draft have finished their rookie season as a top-10 option.
| Player Name | Season | Passing Attempts | Passing Yards | Rushing Attempts | Rushing Yards | Games | FP Per Game |
| --- | --- | --- | --- | --- | --- | --- | --- |
| Kyler Murray | 2019 | 542 | 3,722 | 93 | 544 | 16 | 17.8 |
| Robert Griffin III | 2012 | 393 | 3,200 | 120 | 815 | 15 | 21.2 |
| Andrew Luck | 2012 | 627 | 4,374 | 62 | 255 | 16 | 17.3 |
| Cam Newton | 2011 | 517 | 4,051 | 125 | 709 | 16 | 23.1 |
| Vince Young | 2006 | 357 | 2,199 | 83 | 552 | 15 | 13.5 |
Lamar Jackson (2018), Deshaun Watson (2017), and Jay Cutler (2006) may have finished in the top-10 if they started an entire season. Two traits that all of these quarterbacks have in common were their willingness to throw downfield and create yards with their legs. Burrow is athletic, but he's unlikely to produce the rushing number of the quarterbacks mentioned above. The reality is that it's rare for rookies to become immediate fantasy stars at the quarterback position due to the learning curve of the position at the NFL level. These are direct and indirect reasons it would be wise for you to prioritize Diggs in fantasy drafts and not Green.
The Case for
A.J. Green
Alex: A.J. Green missed all of 2019 with a reported combination of toe, ankle, and hamstring injuries. He's about to turn 32, and he's played a full 16 games just twice in the last six years. He'll be hitting the field for the first time in Zac Taylor's offense while catching passes from a rookie quarterback. So why is he a better fantasy pick than Stefon Diggs given their current ADPs? Let me count the ways.
Green begrudgingly signed the franchise tag this offseason, so the veteran will be looking to produce to secure a new contract next season—from the Bengals or another team. At 32, with a season on the sideline, Green should have plenty of gas left in the tank (but there's no guarantee). Since 2010, there have been 20 instances of a wide receiver over 32 years old notching at least 70 receptions—23 of those aging wideouts posted at least 800 yards, and 20 notched six or more touchdowns. These are arbitrary cutoffs, but merely help illustrate that aging wide receivers can still contribute in the modern NFL.
The 2019 Bengals threw the ball 616 times, and their pass percentage of 58.7% was the seventh-highest mark in the league. That number is likely to regress as the team will seek more balance to help protect its rookie quarterback, LSU phenom Joe Burrow. Unfortunately for those plans, the Bengals defense was one of the league's worst statistically in 2019. It allowed the fourth-most yards in the league, eighth-most points, and tied for the third-fewest takeaways with 16. The team made several additions in free agency to help improve the defense, but those additions may not be enough to turn this unit around.
If the unit doesn't magically transform into a top-10 defense, then the team may be forced to rely on Burrow's right arm more often than not. If the kid is as advertised from his time at LSU, the Bengals will be in good shape. They boast a deep group of pass-catchers, including Green, Auden Tate, rookie Tee Higgins, and last season's fill-in No. 1, Tyler Boyd. While Tate, Higgins, and Boyd all have strengths, none boast the size, speed, and track-record of Green (a seven-time Pro Bowl selection). Green figures to start the season as the team's No. 1 wideout, a role that showered Boyd with 24% of the team's targets last season. That share could dip given the depth at the position, but even at a 20% share, Green can still produce as a mid-tier WR3 as he's being drafted. The point is, Green should inherit a healthy target share in what could be a surprisingly potent pass offense.
There are certainly question marks surrounding Green in fantasy, including his age, health, rapport with a rookie quarterback, and target share in a loaded Bengals pass-catching corps. However, many of those same questions plague Diggs as well.
Diggs will likely be the No. 1 option for the Bills, but the Bills offense isn't built on the passing game. Only five teams passed the ball on a lower percentage of offensive plays last year than the Bills at 50.4%. And there are already two players in the Bills offense who commanded over 100 targets a year ago, John Brown and Cole Beasley. The Bills' defense is one of the better units in the league, and the offense leans on a fierce running game led by the three-headed attack of Devin Singletary, rookie Zack Moss, and quarterback Josh Allen. That combination alone takes a bit of the air out of the Bills' offensive attack, even if their numbers (like most teams) regress back toward the mean a bit.
Speaking of Allen, Diggs may have an adjustment to make catching passes from the young passer. Kirk Cousins, Diggs's former quarterback, is a pretty accurate quarterback when given time in the pocket. Meanwhile, Allen often receives the "gunslinger" tag. That tag can be a positive, but it can also be negative too (just google Josh Allen deep ball and you'll find plenty of evidence). Diggs is a phenomenal route-runner who thrived with a precise, timing-based quarterback like Cousins. Will he be able to adjust to Allen's delivery and bouts with inaccuracy? The two could click instantly, or there could be growing pains that linger deep into the season. That's worrisome for fantasy purposes, especially given the offense's penchant for running the ball.
Neither wideout discussed in this piece is falling into a perfect situation, but when looking for a WR3 in fantasy I want the player with the clearer path to a higher statistical ceiling. For me, that's Green, thanks to his talent, NFL pedigree, and the offense and quarterback he'll be playing with in 2020.