16 Dynasty Players to Trade Before the NFL Draft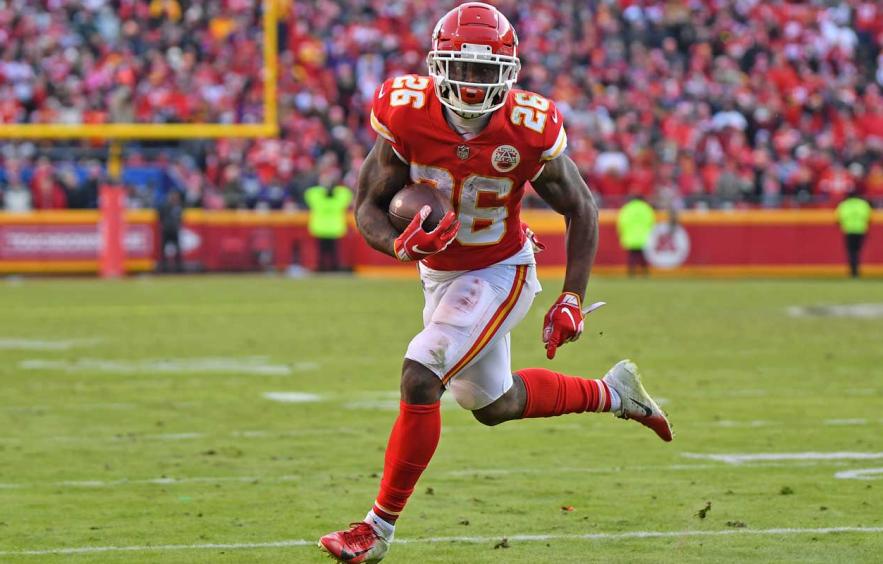 Peter G. Aiken/Getty Images
Many dynasty players are very familiar with the investment adage buy low and sell high. It's possibly the most famous adage about making money in the stock market. From a dynasty perspective it's so obvious it sounds like a joke. The reality is that the adage is easier said than done. It is difficult to read how others in your league value certain players. There is a neverending internal tug of war between their analytical brains and emotions. When you are trading away a player, have you ever dealt with loss aversion? Dynasty players often feel the agony of loss more than the triumph of gains. It is also important to factor in recency bias when trading away a player. Managers believe what's happened recently will continue to happen. It's important to have an awareness and understanding of these biases not only for yourself but for the other managers you'll be trading with. This article will highlight 16 players you should trade before the 2020 NFL Draft.
Quarterbacks
Lamar Jackson
Jackson finished as QB1 in 87% of his games last season in his first full season as the Ravens starter. He averaged a ridiculous 30.1 fantasy points per game finishing as the fantasy QB1. Jackson ranked 26th in passing attempts and 22nd in passing yards while finishing first in passing touchdowns. He finished with 1,206 rushing yards which were the sixth-best in the NFL and the most by a quarterback in NFL history. Can he replicate this success in 2020 and beyond? What adjustments will defensive coordinators make in 2020? Can Jackson sustain his style of play long term without improving as a passer? These are all questions you must answer internally if he is one of the quarterbacks on your dynasty roster. Peyton Manning (2013), Patrick Mahomes (2018), and Jackson were the only quarterbacks since the year 2000 to score 400 or more fantasy points in a single season. All signs suggest the Ravens will continue to lean heavily on its running game. It's the perfect time to trade him away and capitalize on those caught up in the moment.
Deshaun Watson
Watson averaged 33 pass attempts, 257 passing yards, 27.5 rushing yards, and 24.4 fantasy points per game last season. He finished as the QB4. Watson (81) had the fourth most deep-ball passing attempts last season. The only quarterbacks with more were Jameis Winston (113), Aaron Rodgers (94), and Russell Wilson (83). Watson's completion percentage (42%) on these passes was the highest among these quarterbacks. He also finished fourth in passing air yards. Mahomes (26.3) is the only quarterback to have a higher number of fantasy points per game than Watson (24.5) since 2017. One concern that dynasty players should have with Watson is his durability. He's only played in 38 games since his rookie season back in 2017.
The loss of all-pro wide receiver DeAndre Hopkins in an asinine trade to the Cardinals also alters Watson's dynasty outlook. The addition of Brandin Cooks implies that the Texans will continue to lean heavily on the vertical passing game with Will Fuller and Cooks. Hopkins averaged 89.5 receiving yards per game in 46 games since 2017. It will be difficult to replicate what he brought to the table for the Texans offense. Would you be surprised to see Watson sign with another team when he becomes a free agent in 2020 considering poorly Bill O'Brien is running the Texans as their head coach and general manager?
Tyrod Taylor
Taylor will act as a bridge quarterback as the Chargers move on from Philip Rivers after 16 seasons into a new stadium. Taylor signed a two-year contract last season with Los Angeles and has been publicly endorsed by head coach Anthony Lynn and general manager Tom Telesco. Taylor was the Bills' starting quarterback from 2015–2017. He averaged 19.7 fantasy points per game and threatened defenses through the air as a passer and as a runner with his legs. The window is nearly closed to maximize Taylor's trade value ahead of the NFL Draft. Many draft experts are predicting that the Chargers will select Oregon quarterback Justin Herbert. It's time for Los Angeles to look to the future and the staff would prefer not to picking as high as No. 6 overall anytime soon.
Running Backs
Derrick Henry
Henry steamrolled his way to an RB3 finish in Half-Point PPR fantasy leagues last season with quarterback Ryan Tannehill under center. He averaged 21.9 opportunities and 19.4 fantasy points per game. Henry led the NFL with 303 rushing attempts and 1,540 rushing yards and tied for the league lead with 16 rushing touchdowns. The only other running backs with a higher opportunity share than Henry (81.4%) were Saquon Barkley (88.7%), Leonard Fournette (90.1%), and Christian McCaffrey (91.5%). Were you aware the second-round pick from the 2016 NFL Draft didn't even have a season with 1,000 or more rushing yards until his third NFL season? Henry spent his first two seasons backing up DeMarco Murray. The Titans have been using him as a bell cow over the last 20 games. Henry signed his $10.2 million franchise tender earlier this month. The Titans general manager Jon Robinson has to determine how much to pay him and for how long. It didn't work out particularly well for his predecessors Floyd Reese and Mike Reinfeldt with Eddie George and Chris Johnson.
The departure of Dion Lewis does leave a void for the Titans. Henry was only targeted 25 times last season as a receiver out of the backfield. The Titans will address this in the draft by selecting a true handcuff for him. Former Florida running back Lamical Perrine would be a great pick for Tennessee in the third or fifth round (Titans don't have a fourth-round pick in 2020) to act as a change of pace or receiving option. He rushed for 2,485 yards, 493 rushing attempts, and 22 rushing touchdowns during his Florida career. Perrine also had 72 receptions, 674 receiving yards, and eight touchdowns. He caught 40 balls for 262 yards and five touchdowns during his senior year. Perrine would be an inexpensive contingency plan for the Titans if they don't want to commit to Henry beyond 2020. The time to trade him is now.
Mark Ingram
Ingram thrived during his first season with the Ravens outside of the Saints running back-friendly offensive scheme. The 30-year old running back averaged 15.4 opportunities and 15.5 fantasy points per game while finishing as an RB2 or better in 66% of his games. Ingram had 10 rushing attempts that went over 15 yards, but Jackson's proficient rushing ability did cause Ingram to lose some opportunities. He had the 13th-best fantasy season since 2000 for a running back age 30 or older. Ingram turned 30 back in December. One concern is that only five out of the 12 running backs on that list have scored 234 or more fantasy points., the most recent being Adrian Peterson (251.7) back in 2015. Ingram will also have to continue competing for snaps with Gus Edwards and Justice Hill. This unit set a new single-season record in rushing yards. Some mock drafts have the Ravens selecting a running back in the first round, such as Georgia's D'Andre Swift or Wisconsin's Jonathan Taylor. It would prudent to move Ingram now.
Damien Williams
Williams has averaged 13.5 opportunities and 13.4 fantasy points per game since Week 12 of the 2018 NFL season. He's finished as an RB2 or better in 57% of those games. Unfortunately, Williams has only been active in 24 games since joining the Chiefs in 2018. Kansas City has picked up his option (Williams will make $2.3 million in the final year of his deal) and many view him as the leader of the Chiefs running back by committee in 2020 that also includes DeAndre Washington, Darrel Williams, and Darwin Thompson. The most recent memory that dynasty players have of Williams is his masterful Super Bowl LIV performance. He rushed 17 times for 104 yards and a touchdown. Williams also had four reception for 29 yards and a receiving touchdown. The Chiefs could make a daring move by selecting a running back with the 32nd overall pick in this year's draft to solidify their backfield. Now is an optimal time to trade Williams away in case the Chiefs select D'Andre Swift, Cam Akers, or Zach Moss.
Ronald Jones
Jones played all 16 games in his sophomore season. He was listed as the starter over Peyton Barber in the Buccaneer's last nine games. The backfield still operated as a committee with Jones averaging 14.3 opportunities per game over that time frame. Jones finished with 724 rushing yards and six rushing touchdowns to go along with 31 receptions for 309 receiving yards. His number of receptions nearly doubled Barber's total. Jones' pass protection continues to be an opportunity. He was on pace last season to join Doug Martin and LeGarrette Blount as the only 1,000-yard rusher for the Buccaneers in the last decade. The perception of many in the dynasty community is that Jones will break out in 2020 with Barber gone and future Hall of Famer Tom Brady under center. His value has never been higher heading into the new season. This is what you'll leverage when trading a trade. The Buccaneers do need to draft a running back in this year's draft.
Jordan Howard
Howard signed a two-year $10 million contract with the Dolphins during free agency. He is currently the favorite to lead the Dolphins backfield in touches as the coaching staff looks to rehabilitate their running game. Quarterback Ryan Fitzpatrick led Miami in rushing last season. Howard was the NFL's second-leading rusher (1,313) during his rookie season in 2016 with the Chicago Bears. He followed that up with 1,122 rushing yards in 2017. Howard scored 15 rushing touchdowns during that time frame. Did you know that he has the third-most rushing yards and seventh-most rushing touchdowns in the NFL since 2016? Howard has rushed for 221 career first downs. He's also caught 73.6% of his targets as a receiver out of the backfield averaging 7.9 yards per reception. This is a prime trading window for Howard when you examine the Dolphins' depth chart. Miami could use one of their three first-round picks in the NFL Draft on one of the top-three running backs. Swift, Taylor, or J.K. Dobbins could find themselves selected by the Dolphins to form a committee with Howard.
Darrell Henderson
Henderson was a third-round pick by the Rams in last year's NFL Draft. He was viewed as a potential change of pace back and contingency plan for Todd Gurley considering all the attention surrounding the durability of his left knee. Henderson didn't have a major role during his rookie season. He rushed for 147 yards on 39 rushing attempts. Malcolm Brown and John Kelly are also part of the Rams running back by committee after the departure of Gurley. Many view Henderson as the lead back in Los Angeles' committee. The Rams could use one of their two second-round picks on their new back of the future. It will be difficult to win the NFC West with the running backs currently on the roster. Henderson's value has never been higher.
Aaron Jones
Jones finished last season as the fantasy RB2. He averaged 19.1 opportunities, 97.6 total yards, and 18.4 fantasy points per game. Jones tied with Dalvin Cook for the fourth most evaded tackles (86) while averaging 1.03 fantasy points per opportunity. His value is at an all-time high right now heading into the 2020 season after finishing 69% of his games as an RB2 or better. Jones will be a free agent after this season. Head coach Matt LaFleur has publicly made comments that he'd like to add another running back to the Packers committee that also has Jamaal Williams because of the physicality of the running back position. When you take into account all of these different factors the time to strike is now.
Kenyan Drake
The Cardinals resigned Drake to a one-year transition tag worth nearly $8.5 million and continue to have ongoing talks about an extension. The 26-year old running back resurrected his career in Arizona following a midseason trade from the Dolphins. Drake rushed for 643 yards and scored eight touchdowns. He also added another 171 on 28 receptions. He was a perfect fit in Cardinals head coach Kliff Kingsbury's system because of his versatility. Drake averaged 18.2 fantasy points per game with Arizona from Week 9 to 16. He only finished and an RB1 three times during that time frame with his fantasy production being inflated by scoring touchdowns. The addition of Hopkins will reduce some of his targets and red zone opportunities. Hopkins' arrival also complicates the extension discussions for Drake. The Cardinals have addressed the running back position in the short term, but could also select one in the draft to build for the future. Drake may not be Arizona's long term solution.
Wide Receivers
Robert Woods
Woods has had two consecutive seasons with 1,000 or more receiving yards. He's averaged 8.7 targets, 5.7 receptions, 76 receiving yards, 85.6 air yards, and 13.2 fantasy points per game in his last 31 games. The loss of Brandin Cooks to the Texans means opposing defenses will focus more of their attention on Woods and teammate Cooper Kupp. The loss of Gurley places more pressure on Rams quarterback Jared Goff who is looking to bounce back from a season that trended in the wrong direction. His passing numbers look impressive on the surface, but Goff finished 22nd in true passer rating. This quarterback rating factors out unpressured throwaways and dropped passes. It has also been reported that Rams head coach Sean McVay will implement more two-tight end sets in 2020 in an effort to mimic the Patriots two tight end offense of 2011. New England's top three receivers that season were Rob Gronkowski, Wes Welker, and Aaron Hernandez. The Rams have the personnel to replicate this with Kupp, Gerald Everett, and Tyler Higbee. Woods may not see as many targets as dynasty players expect in 2020 with the departure of Cooks. It's a very good time to move him.
John Brown
Brown finished last season with 115 targets, 72 receptions, 1,060 receiving yards, and six touchdowns last season. He served as the Bills' No. 1 receiver last season averaging 109.6 air yards per game and was very consistent. Brown finished as a WR3 or better in 73% of his games in a bounce-back season. He will work with Stefon Diggs in 2020 after the Bills traded away a large haul of drafts picks to land the former Vikings receiver. There may not be as many targets to go around in Buffalo's run-heavy offense that averaged the sixth-most rushing attempts (29.1) per game last season. Diggs will see his fair share of targets and the Bills also need to get the football to Cole Beasley, tight end Dawson Knox, and running back Devin Singletary as a receiver out of the backfield. All of these additions will make Brown fantasy production very volatile on a week to week basis.
DeVante Parker
Parker finally lived up to his potential last season after the Dolphins drafted him 14th overall in the 2015 NFL Draft. He played all 16 games and had a career-high 1,202 receiving yards and nine touchdowns. Parker never topped more 744 receiving in a season prior to 2019. He finished as a WR2 or better in 63% of his games last season. Parker also had the second most contest targets (52) in 2019 and caught 51.4% of them. He thrived with Ryan Fitzpatrick under center while the Dolphins offense was constantly playing from behind with the worst running game in the NFL. Miami's defense allowed 398 total yards per game which were the third highest in the NFL last season. Parker and Preston Williams were in a perfect position to see more targets after the Dolphins traded Kenny Stills prior to the season.
Williams was on his way to breakout rookie season before suffering an anterior cruciate ligament tear. Parker began to see more targets after Williams' ACL injury and this is when his fantasy production really skyrocketed. The Dolphins rewarded Parker with a four-year contract extension worth $40 million. The deal also included an $8 million signing bonus and $21.5 million in guaranteed money. Williams is expected to return this season and the Dolphins could add additional wide receivers in the NFL Draft which could negatively impact Parker's targets. The Dolphins have also made moves to improve their defense. It is also more difficult for wide receivers to replicate what Parker did statistically last season especially once they breakout later in their career. It's an ideal time to trade him.
Chris Godwin
Godwin is coming off a terrific season in which he finished as the fantasy WR2. He averaged 8.5 targets, 6.1 receptions, 95.2 receiving yards, 89 air yards, and 16.7 fantasy points per game. The 25-year old receiver had the third-highest true catch rate (91.5%). This advanced metric divides total receptions by total catchable targets. The Buccaneers averaged 39.4 pass attempts and led the NFL with 303 passing yards per game. Godwin produced 2.61 yards per pass route which ranked eighth among wide receivers. Can this type of downfield passing attack be recreated in 2020 with soon to be 43-year old Brady under center? It's unlikely because his passing yards per game has trended down over the last three seasons. Brady signed a two-year, $50 million, fully guaranteed contract, with another $9 million in total incentives over two years.
If Godwin comes close to repeating his production from last season he will be looking to achieve a career-defining payday as a free agent in 2021. The Buccaneers have made a significant investment in Mike Evans after he signed a five year, $82.5 million contract with $55 million guaranteed back in 2018. Will Tampa Bay be willing to pay Godwin? The Buccaneers will address the wide receiver position in this year's draft as early as the third round after the loss of Breshad Perriman in free agency. Now it is a very good time to trade Godwin. His value will never be higher than right now.
Breshad Perriman
Perriman was drafted No. 26 overall in the 2015 NFL Draft by the Baltimore Ravens. The Buccaneers are his fourth team. Perriman has struggled statistically so far in his career with 95 receptions, 1,561 receiving yards, and 11 touchdowns. The former receiver from Central Florida has only played in 51 of a possible 80 games. Perriman continued to be an afterthought for most of last season with the Buccaneers until Evans and Godwin suffered season-ending injuries in back to back weeks. Perriman answered the door and accumulated 54% of his receiving yards in 2019 during the Buccaneers' last three games. He averaged 5.7 receptions, 116.3 yards, and 174 air yards per game. Perriman signed a one-year $8 million contract with the Jets to replace Robby Anderson who signed with the Panthers. He will fill the deep-threat role in the Jets offense with Jamison Crowder dominating underneath. New York is still very likely to continue to address the receiver position early in the draft.
Bringing It All Together
Embracing the herd mentality can be devastating to an investment portfolio. It can do the same thing to your dynasty team. The herd instinct in finance is where investor follow what they perceive other investors are doing, rather than their own analysis. You can be a contrarian by implementing some of the recommendations mentioned above. Every dynasty team is different and you may hungry for additional advice related to your specific situation and league. Follow me on Twitter and interact with me on that platform. I'll be happy to answer any questions you have in order to position you to crush the others in your dynasty league. Until next time!