The Top DFS Contrarian Stacks: Week 16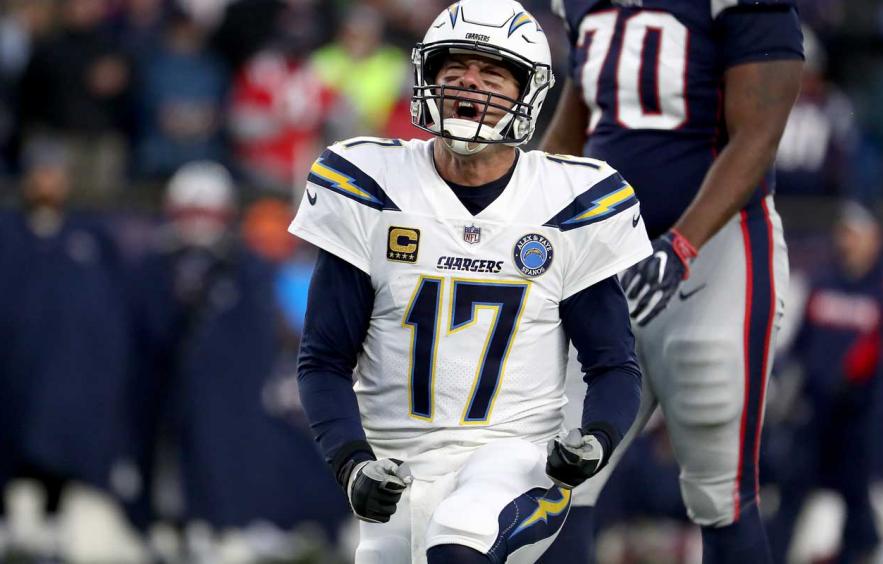 Al Bello/Getty Images
When laying out Week 16 NFL DFS contrarian stacks, I'll be using a combination of our Stack Value Reports and GPP Leverage Scores to find unique stacks that can take down a tournament. I encourage you to read the series on how to win a GPP in the DFS Strategy Hub. You'll quickly realize that taking down a tournament requires a balance of players ranging from low-owned to chalky.
I like building contrarian stacks around my chalkier core of players because you only have to get one instance correct for it to hit. For example, if we hit on a contrarian quarterback play while having a pass-catcher or two from that same game, the positive correlation of those stacks is technically getting one contrarian play correct despite filling multiple roster slots. I feel this is easier than having a chalkier stack while trying to hit multiple individual low-owned plays throughout the rest of your lineup. Keep in mind that these are contrarian stacks, so you don't have to use these stacks in a large percentage of lineups to be overweight on the field. They should be used in tandem with a chalkier core of players.
QB/WR1/Opp. WR1 Stack
QB
Drew Lock

($5,600 DK/$7,300 FD)

WR

Courtland Sutton

($6,200 DK/$7,100 FD)

WR

Danny Amendola

($4,900 DK/$6,000 FD)

Drew Lock struggled mightily last week after playing two solid games in his first-ever career starts. Going into Arrowhead to face the Chiefs in the blistering cold and snow is a much different scenario than playing a home game against the decimated Lions defense. The Lions currently rank third from last in adjusted fantasy points allowed (aFPA) to the quarterback position. He flashed a yards per attempt over 11 against the Texans, so we know he can get it done when the matchup is right. He's also rocking a 5:2 touchdown-to-interception ratio outside of last week's game against the Chiefs. Lock even has a bit of mobility. He's not going to rack up rushing yards like Josh Allen or Ryan Fitzpatrick, but Lock can move the pocket and pick up first downs with his legs if need be. His main target Courtland Sutton will see a lot of Darius Slay this week, but Slay doesn't seem to be a formidable matchup any longer. Sutton is hovering right around his season averages with Lock in the last three games, seeing 37% of air yards and 23% of total targets. Noah Fant is pretty much the only other regular target on this Broncos' team that can push Sutton for a reasonable target share. I think a lot of players will have trouble clicking locks name this week, but he's a reasonable price on both sites and in this matchup at home, he can push for the 300-yard bonus and three touchdowns.

On the other side of this matchup is a wide receiver cornerback matchup that I do think we should ignore. Chris Harris Jr. has put the clamps on receives like DeAndre Hopkins, Davante Adams, and Allen Robinson, holding them far below their season averages. That means Kenny Golladay, especially with David Blough slinging the rock, is going to be in for a rough day. Enter last week's hero Danny Amendola. With Marvin Jones off the field, Amendola racked up 13 targets and hit the 100-yard receiving bonus. I envision much of the same happening in this game in terms of game script. The Lions should get behind early thanks to sluggish offensive play and one of the worst defenses in the league. Amendola will benefit from the Harris on Golladay shadow coverage. We should see Blough pepper Amendola with targets again in catch-up mode. Amendola is priced up and not the typical tournament receiver, but I'll make an exception in this specific case.
QB/RB1/WR1/Opp WR1 Stack
QB
Philip Rivers

($5,700 DK/$7,500 FD)

RB

Austin Ekeler

($6,100 DK/$6,800 FD)

WR

Mike Williams

($5,000 DK/$6,500 FD)

TE

Darren Waller

($6,100 DK/$6,500 FD)

In the words of my favorite comedian Sebastian Maniscalco, "Aren't you embarrassed?" The Chargers got absolutely humiliated last week, turning the ball over seven times on their way to getting blown out by the Vikings. So, what a perfect time to go back to the well. Philip Rivers has gone over 300 yards in three of his last four games. Rivers is the type of quarterback that needs to take advantage of poor secondaries. Two weeks ago against the Jaguars depleted unit, he went for 27 DraftKings points. Austin Ekeler is actually an optimal stacking partner with Ekeler as he has eight touchdown catches on the season. They run a lot of wheel route and seam stuff with Ekeler, so this is a more correlated play than you'd think. Ekeler may be the most boom or bust running back in the league this season. He has seven games of more than 23 fantasy points, but has also turned in several games of fewer than 15 fantasy points. Nonetheless, in a full season view, Ekeler ranks second on this slate in fantasy points per game and he'll still be under-owned because of the presence of Melvin Gordon. Let's also tack on Mike Williams here who has scored two touchdowns in as many weeks after having the worst luck of any wide receiver in the NFL in terms of touchdown variance. It's been nearly two months since Williams has played in a game in which he didn't catch a reception of 40 yards or more. In the last month, Williams has seen a tick shy of half the Chargers' air yards. He's finally seeing that positive regression we've been waiting for.

Darren Waller has benefitted greatly from Hunter Renfrow's absence during the last few weeks. It's 15% of the Raiders' target share up for grabs and it's headed Waller's way. He is heads and shoulders above all other Raiders' pass-catchers in terms of target share (23%) and air yards share (33%). He's the only logical stack with the Chargers offense as he's been really the only productive passing game asset the Raiders have trotted out on the field in the last month. He's averaging seven receptions and 97 yards in his last three games. If the Chargers mentioned above go off, I'd expect Waller to be coming back at them from the other side with volume targets in a trailing game script.
QB/RB1/WR1
QB
Ryan Fitzpatrick

($6,000 DK/$7,400 FD)

RB

Patrick Laird

($4,600 DK/$5,500 FD)

WR

DeVante Parker

($6,800 DK/$6,900 FD)

Ryan Fitzpatrick has quietly been a fantasy asset this season, so much so that I'm considering him in cash games this weekend. One of the main reasons Fitzpatrick has been so valuable is his willingness to run the football. In the last month, he's run for 140 yards in four games. Tacking on a full passing touchdown with rushing production in each game can go along way. He now gets a home matchup with the Bengals 22nd ranked aFPA to quarterback defense.

Then there's Patrick Laird, the chalk last week. He's been somewhat of a cult hero recently, but I think people will begin to back off because of the chalk bust against the Giants last week. He pretty much had the number of opportunities we expected (17), but just couldn't convert. He also played fewer snaps because he tried to bounce a run outside at the goal line and got wrapped up for a safety. The Dolphins' coaching staff ended up bringing in Gaskin for more series directly after that mistake. This week against the Bengals we should see more of what we saw the week prior—approaching 20 touches with a solid chunk of those being targets.

DeVante Parker needs no coercing to be rostered at this point. He has come into his own thanks to Ryan Fitzpatrick feeding him the football. He's averaging over nine targets per game in his last four and has also scored multiple touchdowns in back-to-back games (not including Week 14's early injury exit). The Bengals don't have anyone to match his athleticism and physicality in the secondary, he should eat.