FFPC Main Event Draft Strategy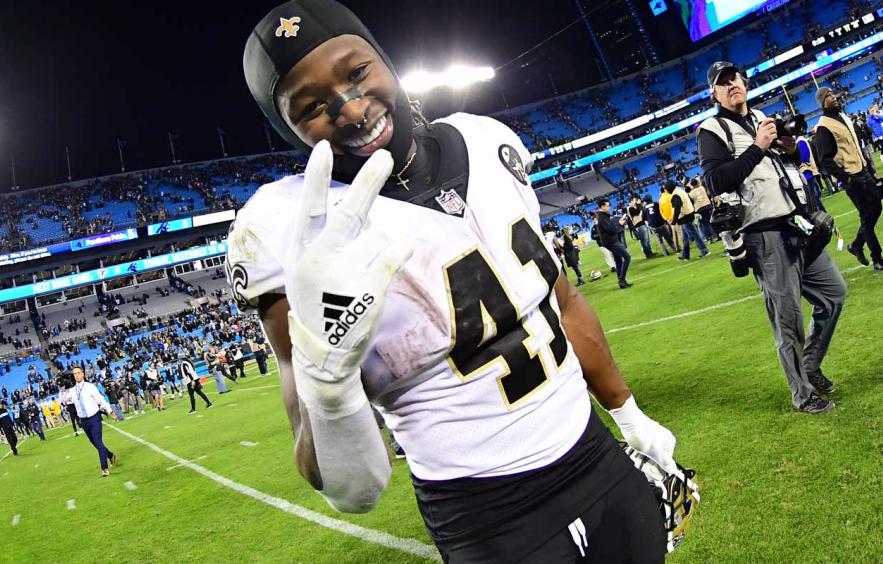 The following is a guest post written by Mike Dente. Mike has over 14 years of fantasy football experience with seven years of writing experience in the industry. He plays in over 25 leagues every year, including several high stakes leagues through the FFPC. Mike is a featured fantasy football writer for FantasyPros and is also a contributor for RotoBaller and ArbourPro. He is a four-time Footballguys Player Championship League Winner and a one-time FFPC Main Event League Winner. Follow him on Twitter @1ststopfantasy.
---
We are now just a few weeks away from the start of the regular season, which means we are also into the heart of fantasy football drafting season. Over the years, I have participated in hundreds of leagues ranging from home leagues to various industry drafts. About six years ago, I discovered the Fantasy Football Players Championship (FFPC) and it has changed the way I prepare, participate and play the evolving game of fantasy football. Aside from drafts with friends, the FFPC is home to all 20-something of my leagues.
---
More FFPC Coverage: 15 Overvalued or Undervalued FFPC Players
---
The FFPC has several different league types that you can check out on their homepage, but I won't get into all that in this article. This article is about one format in particular, the holy grail of high stakes fantasy football—the FFPC Main Event.
I started playing in the Main Event about five years ago. While it is a large investment, the potential return is massive. I never thought any draft could fill my veins with adrenaline and have my heart beating 100 miles per hour, but the Main Event never fails.
How it Works
The FFPC Main Event consists of a maximum of 150 leagues of 12. You compete with your league of 12 through Weeks 1–11, with playoff matchups in Weeks 12 and 13. There are cash prizes awarded to the team with the best regular season record, most points, playoff winners and for finishing second or third in the playoffs. More importantly, the top-two regular season teams and league winner will advance to the 'Championship Round' to compete for the grand prize of $250,000. The Championship Round takes place from Weeks 14–16 and pays all the way down to 100th place overall. (Complete Set of FFPC Main Event Rules.)
The Vegas Experience
Main Event players have the option of drafting online or live in Vegas. I have drafted live in Vegas once and it was an unbelievable experience. I will no doubt be going back next year. Not only are you doing your draft live in the ballroom of Planet Hollywood, but you will also get to enjoy other perks such as the viewing party for the opening game of the NFL regular season on Thursday Night, various foods and snacks, reserved seating for Sunday's action for $10, and more. It truly is a great time and I would recommend it to anyone.
Now that you know a little bit about the league itself, it's time to talk strategy. Below are four things you need to keep in mind when playing in the FFPC Main Event.
Preparation
Preparation is key to have success in any fantasy football league, yet even more so in the FFPC Main Event. Doing random mock drafts on Fantasy Football Calculator, Yahoo, ESPN, or any of those sites won't help. The roster configuration is unique (1QB/2RB/2WR/1TE/2Flex/1K/1DEF), the benches are deeper (10 bench spots) and the scoring is different (1.5 PPR for TEs). A good way to get yourself ready is to do several $35 classic leagues through the FFPC. Even though it's a much cheaper league, it's still a good way to gauge overall values of players and experiment with different strategies. Also, checking out www.fantasymojo.com is a really good idea as it has exclusive FFPC data.
Competition
This is an $1,800 league with a payout of $250,000, so you already know you are playing with the best fantasy players in the world. This isn't a home league where people bring a magazine that was published three months prior and cross off players as they go. A lot of your sleepers will go before you get a chance to take them, kickers won't go in the eighth round, etc. Don't let the competition scare you, just prepare and you'll be fine.
Tight End Scoring
Tight ends are rewarded 1.5 points per reception in every FFPC league, including the Main Event. This is why you need to do drafts and research that is based strictly on the FFPC and not other sites, as I mentioned earlier. Tight ends will fly off the board early and you don't want to miss that boat. Since you can start up to three TEs (one in the TE slot, and the option of two in the flex) it's essential to grab at least one of them pretty early with two capable backups in most cases.
Upside, Upside and More Upside!
In order to be successful, you need to take risks and draft for upside, which is another reason why ADPs and mocks on other sites are basically useless. The ultimate goal is to win $250,000 or at least place somewhere on the overall leaderboard. Drafting conservatively and placing fifth won't do you any good, so target players with league-winning potential. It's no coincidence Todd Gurley was on each of the top five rosters last year.
Ideal Roster Configuration and Positional Strategy Talk
Note: The numbers in brackets after each position is the number of players I would suggest drafting for that position.
Quarterbacks (1-2): This is the deepest QB class in the history of fantasy football, and this isn't a league that offers big points to the position. I can almost guarantee that there will be fringe QB1s or strong backup options on the waiver wire at different points in the season, which is why I am a fan of selecting just one quarterback. Drafting one QB gives you an additional shot at landing a sleeper who could help you win your league. My ideal number of QBs to draft is one.
Running Backs (5-7): Five is the absolute minimum, but aim for around seven running backs total. This is the weakest position group in fantasy and is also the most likely to feel the wrath of the injury bug. There is no trading in the Main Event, so this is a position you are going to want additional depth at. A wise man once said, "you can never have enough running backs," and he is absolutely correct. My ideal number of RBs to draft is seven.
Wide Receivers (6-7): Contrary to the running back position, the wide receiver pool appears to be as deep as ever. Drafting six to seven total should give you nice depth and the opportunity to land a sleeper or two late. With two flex spots and the ability to start four total, this is a position you want to be loaded at. My ideal number of WRs to draft is seven.
Tight Ends (2-4): This isn't a deep tight end class by any means, but there are 10–12 good one, and another handful of either worthy sleepers or steady veterans. With the premium on tight end scoring it would be wise to draft at least three. Look to target a starter within the first six or seven rounds, a backup before the 10th or 11th rounds and a sleeper in the early double-digit rounds. My ideal number of TEs to draft is three.
Kickers (1): Again, you want to maximize your roster space for sleepers and depth at key positions. Just draft one kicker in one of the final two rounds. My ideal number of kickers to draft is one.
Defense/Special Teams (1): See above. A tip is to target a defense with decent matchups versus rookie QBs or struggling offenses in the first few weeks. My ideal number of D/STs to draft is one.
Having just one QB, K and D/ST on your roster is just temporary. A few sleepers likely won't pan out for you, so you can simply drop them and add an additional QB or D/ST after the first couple of weeks. The key is to maximize the number of sleepers you can take a shot on, so you have a better chance of hitting on one or two of them. Just like dating, it's a numbers game.
Lessons Learned
The table below shows the positional breakdown of the top 10 Main Event teams drafted online in 2017. Unfortunately, the draft boards from the live drafts in Vegas were unavailable.

Quick Observations:
Six of the 10 teams selected three tight ends, while the other four teams selected just two.
Of the 10 teams, the latest a starting tight end was selected was in the ninth round. However, they followed that up with another tight end immediately after in the 10th.
The earliest round a quarterback was selected was in the seventh, proving it's worth waiting on the position.
Fourteen of the 17 total quarterbacks drafted were chosen in the double-digit rounds. Keep in mind that the QB draft class is even deeper this year.
Fifty-four percent of the picks in the first five rounds were wide receivers, even though none of the top-10 finishers took any in the second round.
Staying true to conventional fantasy wisdom, seven of the 10 teams waited until the very last round to select a kicker. Although the first-place team and winner of $250,000 took Justin Tucker in the 15th round.
The 15th round was also the earliest landing spot for any defense/special teams unit.
Only two of the 10 teams drafted two or more defense/special teams and only one person took multiple kickers. Remember to maximize those roster spots by taking the bare minimum required.
Below is a closer look at the roster turnover of the top 10 overall teams in the FFPC Main Event in 2017. The number indicated represents the number of players who were drafted and remained on that respective roster until the end of the year. The percentage in brackets illustrates the roster turnover percentage. The lower the number, the more waiver wire pick-ups that owner made during the year. The data provided shows that there was a 37 percent roster turnover among the top 10 teams last season, so you don't have to hit on every pick in the draft. The key is to identify the studs and build around them. Who will be the 2018 version of Todd Gurley or Alvin Kamara? That's the $250,000 question.
The table below shows the most owned players of the top 10 overall teams in the 2017 FFPC Main Event, as well as their ADPs at the time of the drafts.
*Data provided by www.fantasymojo.com.
A Final Observation
After spending some time researching the top teams in 2017, it shocked me to see that you really don't need a home-run draft to win the $250,000 grand prize. Several of the top dogs hit big on two or three players but whiffed on several of the other picks. Landing the 2018 Alvin Kamara or Todd Gurley is what will put you in the running. Great in-season team management with waivers and setting lineups will keep you there.
Photo by Scott Cunningham/Getty Images.
---
Related Articles