15 Overvalued or Undervalued FFPC Players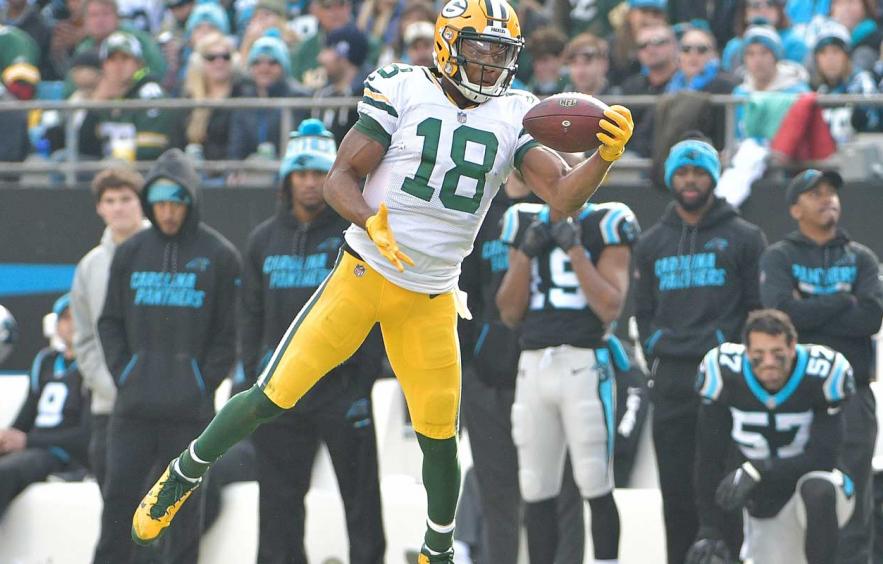 Fantasy football drafts are in full swing and there's no bigger fantasy tournament than the Fantasy Football Players Championship (FFPC). Using 4for4's new ADP Bargains (Sleepers) tool, the following article will highlight the most overvalued and undervalued players in FFPC drafts, relative to 4for4 projections.
When setting the ADP Bargains tool for FFPC, keep in mind the starting lineup is 1-QB, 2-RB, 2-WR, 1-TE, 2-Flex (TE eligible). Therefore, the ADP Bargains tool should be set to 1-QB, 2.7-RB, 2.7-WR, and 1.7 TE. We will also set scoring to PPR, per the rules of FFPC.
Undervalued FFPC Players
QB
Kirk Cousins

,

Vikings

Cousins is being drafted almost three rounds later than he should be, based on our top-200 4for4 rankings for these league settings. That's to be expected with sharp drafters in FFPC, who often wait on quarterbacks. However, anything after the seventh round is fair-to-good value on Cousins, as he moves to a Minnesota offense with massive upgrades to his weapons from Washington. He has the top Bargain Score among QBs in FFPC drafts.
RB
Rex Burkhead

,

Patriots

Most of us at 4for4 are very high on Burkhead this season, as his red zone/goal-line role is incredibly valuable in the Patriots' high-powered offense. He is the best value among our top-24 RBs, with an ADP near the round 6-7 turn, but his 4for4 top-200 ranking assigns him a value where it would be okay to take him near the round 3-4 turn. Cash in on those savings.
RB
Duke Johnson

,

Browns

Among backs we have ranked in the top 30 but not in the top 24 at their position, Duke Johnson stands out as one who is being drafted a little later than he should be, given the PPR format of the FFPC. He's being drafted in the late-seventh-round to the early-eighth-round. We have that as two rounds later than he should be going. His role as the pass-catching back should be safe this season, especially with Josh Gordon now missing a lot of training camp and Cleveland signing Johnson to a long-term extension. We also all know how often Todd Haley liked to use LeVeon Bell in the passing game.
WR
Cameron Meredith

,

Saints

Among our top-50 receivers, Cameron Meredith has the best bargain score. He's being drafted after the 11th round—at least three rounds later than he should be going, based on our projections. Sean Payton specifically targeted Meredith as a restricted free agent and stole him from Chicago. The slot receiver role in New Orleans has paid fantasy dividends in the past.
WR
Randall Cobb

,

Packers

Even with sharp players in the FFPC, Cobb still checks in as the best value among our top-30 receivers. His ADP here near the round 8-9 turn is still two rounds lower than it should be. With Jordy Nelson gone, there is a huge opportunity for Cobb to re-emerge as a fantasy WR2 this season, making him a screaming value.
TE
Mike Gesicki

,

Dolphins

The rookie out of Penn State is gaining momentum in camp, stringing together good days and impressive plays in Miami. No player has a higher Bargain Score in FFPC than Gesicki. His ADP after the 13th round is six to seven rounds later than it should be, as we have him as a borderline TE1. Rookie TEs are always a gamble, but the Dolphins have the second-most vacated targets from a year ago.
Overvalued FFPC Players
QB
Alex Smith

,

Chiefs

No quarterback has a bigger negative Bargain Score in FFPC than Smith, although it's only about one round later than it should be. However, it appears most of the late-round QB options are not falling to points where they become values. Matt Ryan, Marcus Mariota, Jared Goff, Patrick Mahomes, Ben Roethlisberger, Philip Rivers, and Smith all have negative Bargain Scores. Perhaps taking one of the undervalued QBs above or pulling the trigger on an elite option in the fifth or sixth round gains you an advantage in FFPC drafts this year.
RB
LeSean McCoy

,

Bills

Our FFPC ADP data still shows McCoy being drafted in the third round. That's far too rich for our blood given the controversy surrounding him, the Bills losing three offensive linemen, and the likelihood of negative regression in this offense. No player in FFPC has a worse Bargain Score than McCoy right now.
RB
Kerryon Johnson

,

Lions

The talent is there, and the Lions traded up to get him. There's no arguing the rookie out of Auburn has that going in his favor. However, this is still a massively crowded backfield, with LeGarrette Blount and Theo Riddick still in the mix. His sixth/seventh-round price is more than four rounds higher than it should be.
RB
Sony Michel

,

Patriots

As Burkhead is undervalued, we believe the rookie out of Georgia is overvalued. He's being selected in the fourth round, which ignores the fact that when Dion Lewis and Burkhead were both healthy in games last season, Burkhead outscored him. Michel's ADP also ignores ball security concerns that could find him on the bench in any given week. He's our fourth-worst value among RBs in FFPC, being drafted multiple rounds too early.
RB
Derrick Henry

,

Titans

Friendly reminder that FFPC is a PPR format and that Henry is a standard-league back. He's failed to catch 20 passes in a season, and new offensive coordinator Matt LaFleur has targeted his running backs around 100 times per season in the past three years. Henry's fourth-round ADP is far too rich and likely only returns investment if Dion Lewis misses significant time.
WR
Josh Gordon

,

Browns

Until he shows up to camp, he's a gamble not worth taking at his current FFPC ADP in the fifth round. There are far too many other receivers available at the same time or later that should be picked ahead of Gordon, who still carries the risk of a season-long suspension over his head. We can root for his sobriety and not pay his expensive fantasy price tag at the same time. No receiver has a worse Bargain Score here.
WR
Julian Edelman

,

Patriots

This is a fun one to discuss. On the surface, only Josh Gordon has a worse bargain score than Edelman. He's serving a four-game suspension, which pushes his season-long projection down to WR47 in our PPR rankings. On a per game basis though, he's a top-20 projected PPR receiver. In FFPC, he's the 29th receiver off the board on average. Does that actually make him a value then? That's for you to decide if you think you can navigate his four-game suspension.
WR
Devin Funchess

,

Panthers

It's important to note Funchess emerged last year without TE Greg Olsen in the picture, and now Carolina has spent a first-round pick on WR D.J. Moore. Funchess is being drafted in the eighth/ninth round. Where are the targets going to come from in this offense for Funchess? He feels touchdown dependent. He's being drafted two rounds earlier than we'd like to see.
TE
Jordan Reed

, Redskins

FFPC is a TE-premium format, which awards 1.5 points per reception to the position. Our Bargain Tool at this position should be taken with a grain of salt when looking at overvalued tight ends; however, Reed still carries the annual high risk of injury. Even in the TE-premium format, his fifth-to-early-sixth-round ADP seems like you are chasing his ceiling. Huge risk here.

Photo by Grant Halverson/Getty Images.
---
Related Articles