Rex Burkhead is the Patriots Running Back to Own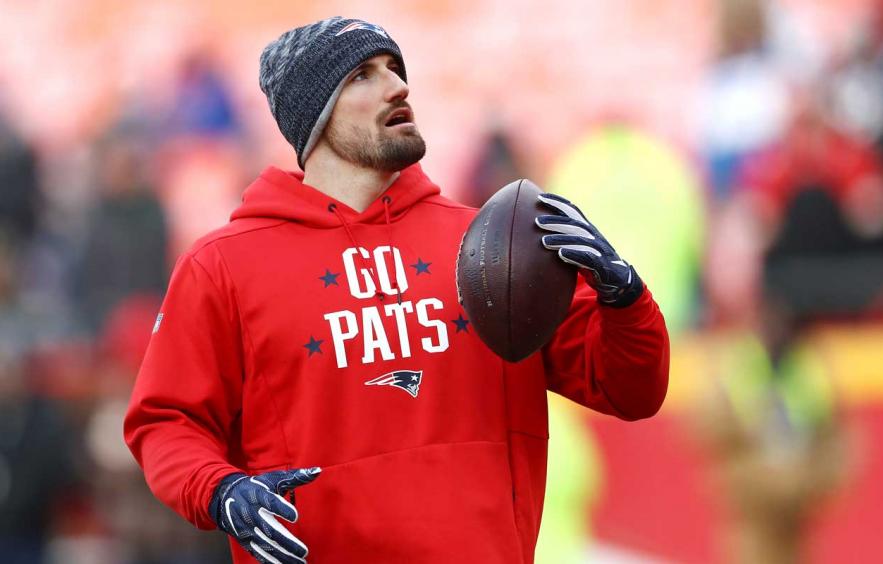 The New England backfield was in flux last year, which is nothing new. Four different players have led the team in rushing the last five years.
Last year, Mike Gillislee started the season as the primary back and was on pace for 196 carries through his first eight games. But his production (3.62 YPC) wasn't good enough to provide him with any cover after losing a fumble in Week 6. He was a healthy scratch for most of the games after the team's Week 9 bye.
Editor's Note: Find all our 2018 Player Profiles here.
As a result, Dion Lewis started to get more work in Week 6 and played well, finishing with 235 touches in his final 14 games, including the postseason. He averaged 15.0 PPR fantasy points in that span.
Rex Burkhead only saw four touches in Week 1, but he scored a receiving touchdown in Week 2 before missing four games with a rib injury. He returned in Week 7 with seven touches for 42 yards. He then proceeded to average 12.1 touches (including 4.0 catches) for 65 yards and 1.0 touchdowns per game in his next six games. This equates to 16.5 PPR fantasy points per game.
He injured his knee in Week 15 and wasn't able to play much of a role for the rest of the season, so injuries are obviously a concern despite the fact that Burkhead played all 32 games (albeit in a limited role) for the Bengals in 2015 and 2016.
Of course, after years of devaluing the running back position in free agency, the Patriots broke their own tendencies and drafted Sony Michel in the first round. By all accounts, Michel is a talented young running back and will eventually take over as the team's lead back. Still, he is a rookie and has a lot to learn. He also had ball security issues in college, fumbling 12 times.
The fantasy community seems to think Michel will win the job sooner rather than later, as they are taking him in the fifth round, three rounds before Burkhead. But at their respecting prices, I'd rather have Burkhead.
Likely Workload and Production
I compiled the averages for the top two running backs for each New England game from last season to get a feel for how the team distributes touches and what sort of fantasy production we can expect from each role. (For the purposes of this piece, I'm expecting James White to see his usual work—4.0 catches per game—in the passing game but have a very limited role as a runner.)
2017 New England RB Fantasy Production By Role

| Role | Rush | Rush Yds | Rush TD | Tgts | Rec | Rec Yds | Rec TD | Touches | Tot Yds | FP (PPR) |
| --- | --- | --- | --- | --- | --- | --- | --- | --- | --- | --- |
| RB1 | 13.7 | 61.3 | 0.58 | 2.6 | 2.3 | 16.2 | 0.16 | 16.0 | 77.5 | 14.5 |
| RB2 | 6.9 | 30.1 | 0.37 | 3.8 | 2.9 | 21.4 | 0.21 | 9.8 | 51.4 | 11.5 |
In the team's 19 games last year, the RB1—the back who earned the most touches in the game—averaged 16.0 touches for 78 yards and 0.74 touchdowns, or 14.5 PPR fantasy points per game. The RB2 averaged 9.8 touches for 51 yards and 0.58 touchdowns, or 11.5 PPR fantasy points per game. So the Patriots' RB1 in any given week provides fantasy RB1 numbers while the team's second back provides fantasy RB2 numbers.
In the six games from Week 8 to Week 14, when Burkhead was healthy and active, he finished as the Patriots' RB1 or RB2 in all six games. He was mostly playing second-fiddle to Dion Lewis, but in Weeks 12–14, Lewis garnered 41 touches to Burkhead's 40 touches, so it was pretty much an even split.
As 4for4's own T.J. Hernandez noted, "Even if we project New England for their three-year low of 456 total PPR running back points, Burkhead would need to account for just a third of that production to push for RB2 numbers."
The Contract
After signing Burkhead to a one-year deal worth $3.15 million in 2017, the Patriots gave him a three-year deal worth $9.75 million this summer, including $5.5 million in guaranteed money. This tells me that he's a big part of their plans heading into the 2018 season, especially since they let Dion Lewis walk in free agency.
Bottom Line
Given the inexperience and the ball security issues of his top competitor for touches (Michel), I believe Burkhead has better than a 50/50 shot to lead the backfield in total touches, provided he's able to stay healthy. Even if he does play second-fiddle to Michel, the Patriots backfield is productive enough that Burkhead can post fantasy RB2 numbers in a secondary role. This makes him a great value as the 36th running back off the board in the eighth round.
Photo by Ronald Martinez/Getty Images.
---
Related Articles