Royce Freeman is the Bronco Back to Own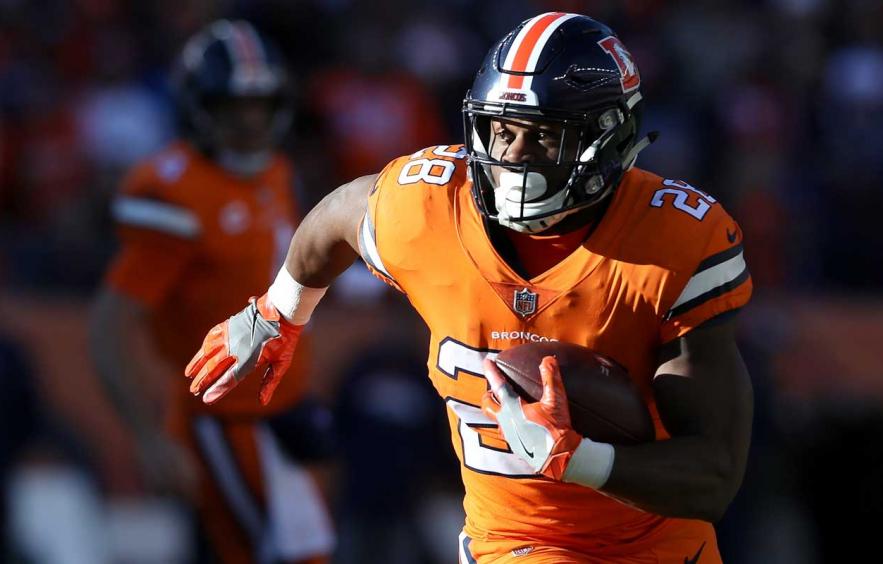 The Denver Broncos selected Oregon running back Royce Freeman with the 71st pick in the 2018 NFL draft. The team released C.J. Anderson just weeks prior to the draft, leaving a big hole to fill at running back. In steps the polished Freeman who has been one of the country's best backs for the past four years. With 5,614 career rushing yards and 60 touchdowns, Freeman entered the draft as the most productive back in his class.
Editor's Note: Find all our 2018 Player Profiles here. If you're in a dynasty league or you're looking for more information on the incoming rookies class, you should definitely check out all the content from our friends at Dynasty League Football.
Freeman had incredible vision at Oregon—arguably the class's best—and he used it to his advantage play after play. He also has a tremendous understanding of defensive leverage, setting defenders up at the second and third level to maximize every possible yard to be gained.
Beyond his mental approach to the game, Freeman is a big and powerful running back. At the NFL Combine, he was measured at 5-foot-11 and 229 pounds—nine pounds lower than his listed playing weight at Oregon. While Freeman's film didn't scream big-time athlete, his testing numbers do. Per PlayerProfiler, he had an 86th percentile speed score based on running a 4.54 40-yard dash, and an 83rd percentile agility score, finishing the 3-cone drill in 6.9 seconds.
A back with Freeman's vision and athletic ability usually translates to success in the NFL, if given the opportunity. And Freeman being drafted by the Broncos means he should receive that opportunity.
Opportunity
C.J. Anderson and Jamaal Charles are no longer Broncos, opening up 822 running back snaps. Obviously, Royce Freeman won't see all those snaps, as he'll compete for time with Devontae Booker and De'Angelo Henderson. However, Freeman is the most talented back among the three, and he has the most draft capital spent on him. He is the favorite to win the starting tailback job.
Broncos head coach Vance Joseph has said how Freeman is the favorite for early-down work, with Booker in line for the third-down role. That early-down workload was Anderson's in 2017, who finished 12th in the NFL in total touches (273). Anderson also accounted for 57.1 percent of the team's attempts from inside the 5-yard line. Freeman should see most of the premium carries near the goal line for the Broncos. Vance Joseph said this about Freeman: "When we get down there in the red zone and we want to run the football, he's a nice option. When you're third-and-one, fourth-and-one, he's a great option."
Last season the Broncos finished eighth as a team in the NFL in total rushing attempts, despite winning five games. With improved quarterback play, the Broncos should win more games in 2018. Their current projected win total by Vegas is seven. The improvement of the team should mean better game script and more opportunities.
Pass-Catching Duties
The man in the way of Freeman and fantasy glory is Devontae Booker—the Broncos' likely third-down back. He finished 2017 with the 36th-most targets among running backs (38), and was targeted on 13.1 percent of his snaps. Booker's 9.2 yards per reception were more than Jarvis Landry, Kareem Hunt, and Jerick McKinnon. While Booker has been a disappointment as a runner, he has been an effective receiver. Freeman will have a tough time winning the third-down/receiving back role from Booker, barring an injury.
While he may not get all the receiving work, there are still plenty of targets to go around, even after taking Booker into account. Last season, despite having only seen a 6.5 percent target rate, Anderson still led the team in targets at the running back position (40). With Anderson and Charles gone, there are now 68 unaccounted for targets in the backfield for Booker and Freeman to fight over. Even if Freeman doesn't get the third-down role, he is still a safe bet to see over 30 targets in year one.
Freeman should make the most of the targets he does get. In his college career, he caught 79 passes for 814 yards and four touchdowns, finishing his career with a 10.3 yards-per-catch average. While Freeman doesn't profile as someone who can break down linebackers in space and be a dynamic receiver, he is a very capable receiver in the screen game and in dump-off situations. He has great patience running screen routes, and his vision allows him to set up his blocks and hit on big plays. Freeman could easily earn himself more targets as the season goes on thanks to the talent he has after the ball is in his hands.
Freeman is currently being drafted as the 58th running back. As more drafts happen, his landing spot will push him up the board but his ADP is unlikely to match his true value anytime soon. Freeman has the volume that makes him a fringe RB2. He projects to get most of the premium touches around the goal line, he has the talent to make the most of his opportunity, and he should get enough passing-game work that he doesn't lose value in PPR leagues. At his current price tag, I want as many Freeman shares on my fantasy teams as possible. I won't stop buying unless he creeps into the top-30 of drafted running backs.
Photo by Matthew Stockman/Getty Images.
---
Related Articles