Derrius Guice is Overpriced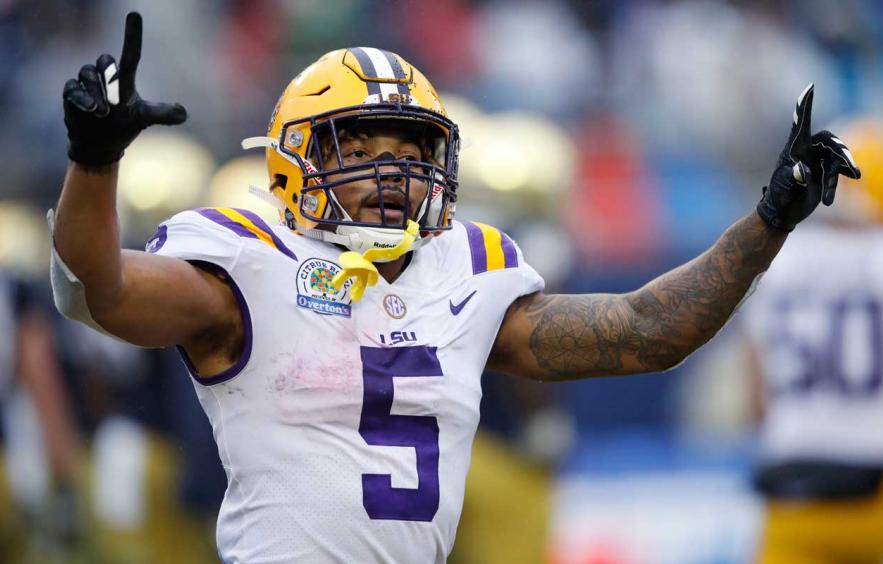 Update August 10: Guice tore his ACL, ending his 2018 season.
With the 59th pick in the 2018 NFL draft, Washington selected running back Derrius Guice. The talented back was the consensus second rusher in this draft class, but he slipped down the board on draft day due to character concerns. While the off-field concerns aren't drug related or violence related, teams worried he would struggle with confrontation and not getting his way off the field.
However, when Guice is on the field, he has no problem getting his way. He handles confrontation by running through a defender's face, breaking a tackle, and being a tone-setting running back. At 5-feet-10 and a half inches and 224 pounds, Guice is built like Marshawn Lynch—coincidently the player Guice looks to model his game off of. So far he's doing a good job.
Editor's Note: Find all our 2018 Player Profiles here. If you're in a dynasty league or you're looking for more information on the incoming rookies class, you should definitely check out all the content from our friends at Dynasty League Football.
Guice brings breakaway speed to the running back position, and he can run over a defender or make him miss in space. He combines excellent lateral agility, insane contact balance, and strong leg drive to make the most out of every run. Blessed with good vision, he consistently hits cut back lanes and he uses his understanding of defensive leverage to set himself up to be in the best situation. While Guice was never a prolific receiver in college, due in part to the offense he played in, he has the traits to be effective in this area. He never caught more than 18 passes in a season, but on his limited opportunities he showed soft hands and the ability to make plays after the catch. He may never be a dynamic receiver, but he will have no issues being a capable one.
One concern with Guice is his ability to stay healthy. That run-the-defender-over mentality is amazing to watch but it takes a toll on the body. In 2017, Guice struggled with an ankle injury and missed time during games. He was still a successful player, averaging 5.3 yards per carry, but he wasn't his 2016 self when he finished with 1,387 yards and 15 touchdowns, averaging 7.6 yards per carry. A common phrase by Guice truthers is "2016 is the real Guice." While from a talent perspective that may be true, it's important to keep in mind Guice is a back who will likely be nicked up throughout his career.
Catching Passes
As I mentioned in Guice's scouting profile, there are some concerns about his ability to catch the football. His new head coach Jay Gruden said, "I think he can catch the football fine, but really, our role for him is quite easy to see. It's first, second down. We have a third-down back. He's not going to play on third down anyway."
Sometimes when a coach talks, I don't buy what he's selling, but in the case of Gruden, I'm inclined to believe him. Chris Thompson was one of the most frequently targeted backs in the NFL last season. He left the Saints game with a season-ending injury, but in the 10 games he played he accounted for 79 percent of the backfield target share.
Washington targeted running backs on 111 pass attempts in 2017, 18th in the NFL. Even if we factor in regression for Thompson and give him only 70 percent of the targets, that leaves Guice splitting around 33 targets with the rest of his teammates. Even once Thompson was out for the season, Washington inserted Kapri Bibbs into the Chris Thompson role instead of peppering Perine with targets. Perine only led the team in targets in two of the six games without Thompson. Looking back on Jay Gruden's days as a coordinator for the Bengals, they always used multiple backs with one player in the pass-catching role and another in the "two-down role."
2017 Washington RB Targets w/ a Healthy

Chris Thompson

| Player | Pos | Team | G | W7 | W8 | W9 | W10 | TGTs | TGTs/G | Target Rate |
| --- | --- | --- | --- | --- | --- | --- | --- | --- | --- | --- |
| Chris Thompson | RB | WAS | 9 | 5 | 9 | 6 | 7 | 53 | 5.9 | 16.60% |
| Rob Kelley | RB | WAS | 7 | 2 | 1 | 0 | 2 | 7 | 1 | 5.10% |
| Samaje Perine | RB | WAS | 8 | - | 0 | 0 | 1 | 6 | 0.8 | 5.00% |
| Mack Brown | RB | MIN | 3 | 0 | - | - | - | 1 | 0.3 | 7.10% |
Two-Down Role
While Guice may not catch the ball, he should still see plenty of touches. Washington desperately tried to find a two-down back last season, giving Samaje Perine, Rob Kelly, and Kapri Bibbs cracks at the job. In 2017, there were eight games in which a running back had 20 or more touches, although five came after Thompson's injury. In 2018, the two-down role should be Guice's, but the lack of high-number carry games with Thompson should give fantasy players pause when projecting him for a high number of total touches.
For Guice to be fantasy relevant as an RB2 or better he will need to be extremely efficient with his carries and dominate in the red zone. With such a low projected target share of the offense, Guice will have a difficult time cracking the top 24 fantasy scoring running backs. Among last season's top-24 PPR running backs, not a single player had less than 30 targets on the season. The players who were top backs despite lacking the ideal amount of targets were either extremely efficient, like Dion Lewis and Alex Collins, who were third and seventh, respectively, in PPR points per snap, or Jordan Howard and Frank Gore, who finished fifth and eighth, respectively, in total carries.
One other thing working against Guice is that Washington is not projected to be a very good team. Their current over/under wins total is set at seven by Las Vegas, with the juice being on the under. If you aren't going to get the passing-game work, you want the game script to be in your favor. With the success of the team in doubt, it is notable that only 30 percent of Washington's rushing attempts came when trailing in 2017. As a result, if you are worried about them being successful in 2018, you need to be worried about Guice as well.
We all know Guice is an incredibly talented player, but at his current ADP of RB21 (39 overall), he is an easy fade. He's unlikely to get the passing-game work that lands him in the top 20 of running backs, and while he should lead the backfield, the pure volume questions are troubling. The lack of 20+ touch games with Thompson on the field, the game script concerns, and his violent running style that may lead to missing plays all add up to his not being one of the backs who is near the leaderboard in total carries. Without the receiving work and sure-fire volume, Guice will need to be extremely efficient to match his current price tag, making him a player I will let another owner take the risk on.
Photo by Joe Robbins/Getty Images.
---
Related Articles