Saquon Barkley is a Fantasy Buy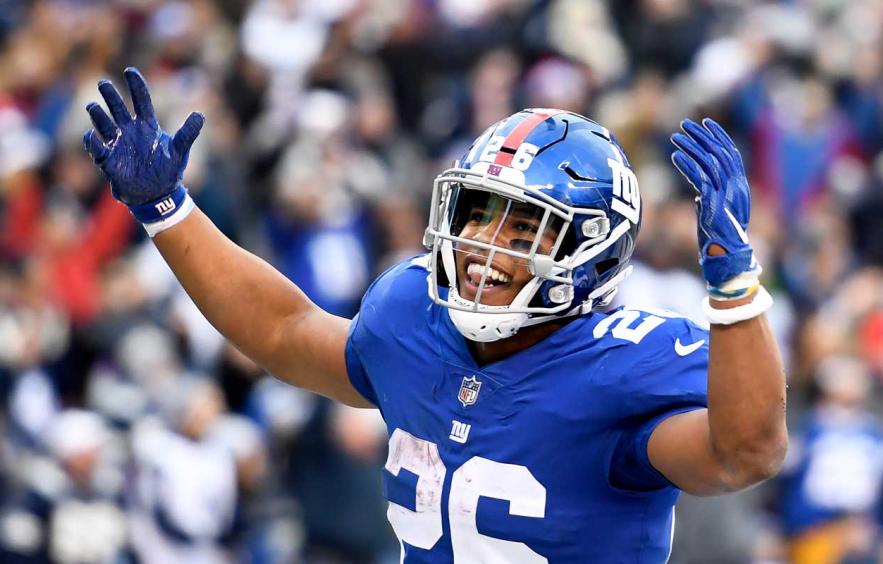 Before we get into Saquon Barkley's draft capital and landing spot, let's break down what he brings to the field for the New York Giants. Barkley is an explosive athlete, testing at the combine in the 99th percentile for running backs. He had the most bench press reps (29), the highest vertical leap (41 inches), and the best weight-adjusted 40-yard dash time of any running back in the class—blazing a 4.40 at 230 pounds. But Barkley is so much more than just an athletic specimen—he is a darn good football player, too.
Editor's Note: Find all our 2018 Player Profiles here. If you're in a dynasty league or you're looking for more information on the incoming rookies class, you should definitely check out all the content from our friends at Dynasty League Football.
Barkley's athleticism translates to on-field success. He can sink his hips and explode out of cuts, he can start and stop on a dime, and he has incredible balance both through contact and when cutting in the open field. Barkley is an open field nightmare. If he is given just a sliver of space, he can take it to the house and won't be caught. He has both extraordinary open-field vision and understanding of defensive leverage. He returned just 15 kicks this past season at Penn State, but took two of them to the house. He was also the most dangerous receiver in this year's class, catching 54 passes last year at Penn State—more than Rashaad Penny, Sony Michel, Nick Chubb, and Ronald Jones III combined. Barkley is not just a dump-off receiver; he is a player who can split out into the slot and run receiving routes. He can be used as a weapon in the passing game like an Alvin Kamara or Christian McCaffrey, but at 230 pounds, and as a better athlete.
What Does It Mean He Went in the Top 10
As we have learned over the years in fantasy football, volume is king at the running back position. Of the top-10 running backs in PPR scoring in 2017, only one didn't finish in the top ten in either carries or targets. The lone exception was Mark Ingram, who finished as the No. 6 RB on the season, but was 11th in the NFL among running backs in targets. In fantasy, having a workhorse running back on your team gives you a huge advantage over your opponent if they have someone who is a part of a running back by committee approach. Going second overall to the Giants, Barkley was the earliest running back drafted in a decade. I looked at what that means for his volume in year one. The one thing each one of the last five backs to go in the top 10 had in common was opportunity. While McCaffrey didn't have the total volume, he led the league in targets his rookie year. As the chart below shows, when a team spends premium draft capital on a running back they get him the ball. As famous as Trent Richardson is for being a bust, he still finished as the ninth-highest scoring fantasy back his rookie year. No running back drafted in the top 10 since 2012 has finished outside of the top 10 running backs in PPR scoring in his rookie year.
Last Five Top-10 Drafted Running Backs' Rookie Stats

| Year | Player | Team | Games | Touches | Touches/G | Targets | Targets/G | Touches+Targets/G | PPR Rank |
| --- | --- | --- | --- | --- | --- | --- | --- | --- | --- |
| 2016 | | DAL | 15 | 322 | 21.47 | 39 | 2.6 | 24.07 | RB2 |
| 2017 | Leonard Fournette | JAX | 13 | 268 | 20.62 | 48 | 3.69 | 24.31 | RB9 |
| 2012 | Trent Richardson | CLE | 15 | 267 | 17.8 | 70 | 4.67 | 22.47 | RB9 |
| 2015 | Todd Gurley | LAR | 13 | 229 | 17.62 | 21 | 1.62 | 19.23 | RB9 |
| 2017 | Christian McCaffrey | CAR | 16 | 117 | 7.31 | 113 | 7.06 | 14.38 | RB10 |
New York Giants Offense
New Giants head coach Pat Shurmur was asked how he feels about the running back position. "I have a high opinion of what a running back brings to your offense," Shurmur said at the NFL Combine, "but I also have a very high opinion that guy has to be able to run the ball, be able to pass protect and has to be able to catch. That's one of the things we must get better at, catching the football. The running back can be a huge weapon in the passing game." This is highly encouraging for Saquon Barkley as he is a dynamic receiver whose skill set calls for 90+ targets. Last year, Shurmur's Vikings targeted running backs 20.9 percent of the time, which was 17th in the league. However, Jerick McKinnon finished 13th in the league in total running back targets, while seeing more targets per snap than LeVeon Bell and Todd Gurley. With Barkley projected to play more snaps than McKinnon, Shurmur's belief in the importance of running backs catching the football, and his offensive history of willingness to target running backs, Barkley should be in for a major workload in the passing game.
Snaps Available
The Giants backfield is wide open for Saquon Barkley. They let go of Orleans Darkwa and Shane Vereen, who played 640 combined snaps, while Wayne Gallman's 325 snaps will be lowered significantly due to his being third on the RB depth chart.
The area of concern for Barkley is attempts inside the red zone and getting vultured for touchdowns. New Giants general manager Dave Gettleman brought Jonathan Stewart with him to New York. Stewart saw 57.1 percent of Carolina's carries inside the five-yard line; his 12 carries inside the five were the seventh-most in the league last year. Five of Stewart's six touchdowns came from runs inside the five-yard line. If the Giants plan to reprise Stewart's role in New York, it may limit Barkley's touchdown upside.
Barkley is a Top-10 Fantasy Player
When looking at the whole picture, Barkley is worth the investment of building your fantasy team around him. He is currently being drafted as the ninth overall player and eighth overall running back according to FantasyPros' ADP. We have shown that every running back drafted in the top 10 this decade finished as a top 10 back his first year in the league. Barkley has the talent to surpass them all, plus he has a head coach who believes in targeting his running back in the passing game to help him do it. Barkley joins a team where there are plenty of snaps to go around, with his only real concern is getting vultured for touchdowns by Jonathan Stewart. Barkley is a player I'm targeting at his current ADP—he's someone who can help you win your league.
Photo by Sarah Stier/Getty Images.
---
Related Articles