Hunter Henry is Primed for a Breakout Season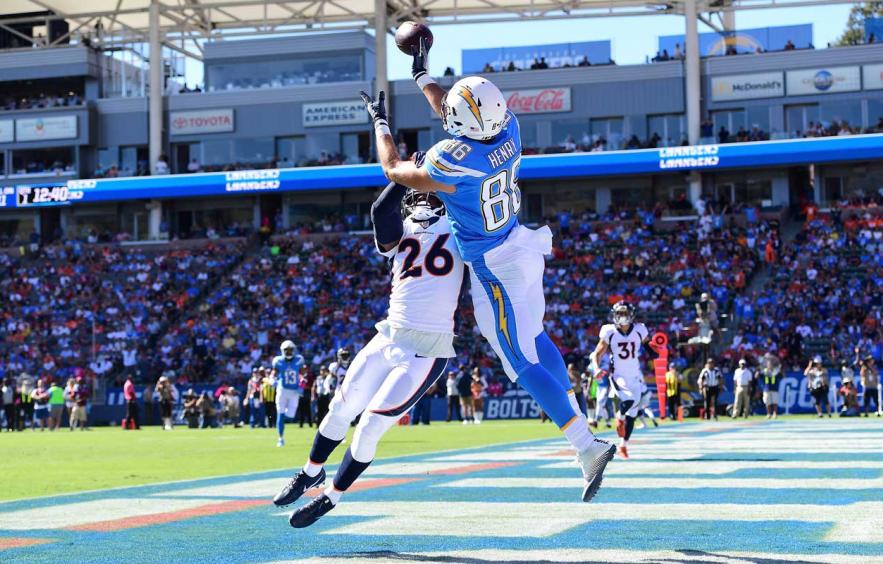 Update 5/22: Henry tore his ACL, so don't draft him.
Hunter Henry is a third-year tight end for the San Di—err—the Los Angeles Chargers. Fantasy-wise, in his first two seasons, he finished No. 18 and No. 14 in PPR formats (No. 11 and No. 13 in standard leagues), respectively. Not bad.
With Antonio Gates no longer under contract, in early best ball drafts (Fanball MFL10s and Draft), Henry is currently the seventh tight end off the board in the late-sixth or early-seventh round. Relative to his position, I think that's too low—here's why:
1. He has been very productive in his first two seasons.
Tight end is a notoriously difficult position to learn as an NFL rookie and Henry has performed admirably early in his career. In 29 games, he has posted 259 fantasy points (PPR), which is the 10th-highest total by a tight end in his first two seasons since the 2000 season. How did he compare to Gates in his first two seasons? Let's take a look:
Gates played a minor role as a rookie and then blew up in his second season, garnering 114 targets for a receiver-deprived Chargers offense (WR Eric Parker was second on the team in targets with 71!). Gates caught 81 passes for 964 yards and 13 touchdowns that year. Even with Gates' monster season, Henry's numbers through two years are very respectable in comparison. Unsurprisingly, he didn't get as much volume as Gates did—in large part to the fact Gates was still on the roster—but he posted a slightly better Yards Per Reception, Catch % and Fantasy Points Per Target. This bodes well.
2. His role should grow.
Due to the presence of Gates, Henry's role was limited in 2016 and 2017. He played just 58 percent of the snaps as a rookie and 65 percent of the snaps in his sophomore season. With Gates out of the way, his snap percentage should rise to 75 percent or more. He could perhaps play 90 percent of the snaps, a benchmark achieved only by Jason Witten, Jack Doyle, Travis Kelce, and Rob Gronkowski in 2017. I think his snap rate will fall somewhere in the high 80s.
3. He's been extremely efficient.
According to Player Profiler, a site that compiles data via the charting of game film, Henry has been very efficient across the board. He was No. 3 in Fantasy Points Per Target, No. 5 in Fantasy Points Per Pass Route, and No. 1 in Catchable Target Rate. Also, he was No. 6 in Production Premium, which measures his productivity against his peers after adjusting for game situations.
4. His quarterback likes to utilize the tight end, especially in the red zone.
Since the 2013 season, Philip Rivers has targeted Gates, Henry, or Ladarius Green on 23.4 percent of his pass attempts, which resulted in a 23.5 percent share of his passing yardage and 32.5 percent of his touchdowns. In the red zone, Rivers has targeted one of those three tight ends on 30.0 percent of his pass attempts, resulting in a 30.4 percent share of his red zone yardage and 38.6 percent of his red zone touchdowns.
5. He doesn't have much competition for tight end targets.
As the roster stands, Henry leads a tight end group consisting of Virgil Green, Sean Culkin, and Braedon Bowman. Green set a career-high with 22 catches in 2016, while neither Culkin nor Bowman have caught a pass in the NFL. Even if the Chargers elect to bring Gates back on a one-year deal, I still believe Henry's role would grow exponentially in 2018.
When looking at early best ball ADP, Henry's positional ranking (No. 7) looks too low to me. Sure, Rob Gronkowski, Travis Kelce, and Zach Ertz are better and safer picks, but Greg Olsen is 33 and is coming off a bad year, Evan Engram will likely see a reduction of targets due to the return of Odell Beckham, and the 31-year-old Jimmy Graham is coming off a seven-year low in receiving yardage and is joining a new team.
Take Henry instead. He's going to have a breakout season.
Photo by Harry How/Getty Images.
---
Related Articles