Mitch Trubisky Will Be a Top-10 Fantasy Quarterback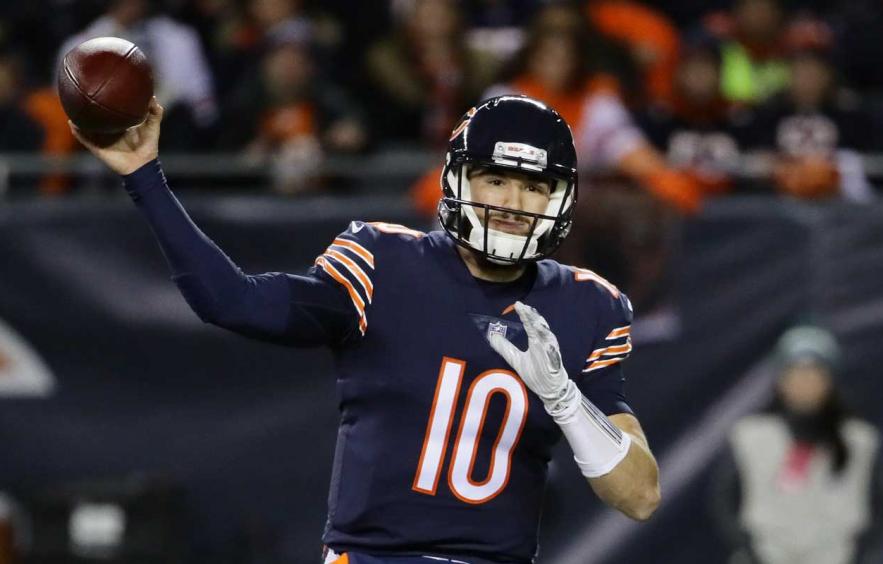 The hot name in the fantasy community this year should be quarterback Mitch Trubisky of the Chicago Bears. His fantasy career got off to a slow start last year when he averaged just 11.0 points per game, finishing with 132.5 fantasy points in 12 starts—good for QB28. However, no quarterback received more help this offseason than Trubisky, as the Bears made coaching changes and brought in key playmakers. Not only did the Bears move on from QB killer John Fox and replace him with Matt Nagy of the Chiefs, but they added former Oregon head coach Mark Helfrich as their offensive coordinator. Nagy will oversee the offense, while Helfrich will bring creativity and pace to the offense. On top of this dramatic change in philosophy, the Bears added playmakers for Trubisky in Allen Robinson, Taylor Gabriel, and Trey Burton. The new look scheme and playmakers should add volume and efficiency to the second-year quarterback.
I break down below how each change benefits Trubisky.
The Coaching Change
Under John Fox, the Bears ran the ball 45.18 percent of the time, the seventh-highest rate in the league, while finishing 32nd in both pass attempts and passing yards. Fox brought an old-school mentality to coaching football: Run the ball and play good defense to win games. The problem is he didn't win games. The Bears finished with a 14-34 record under John Fox, which will really limit a quarterback's ability to succeed in fantasy. While volume is the most important aspect of most fantasy positions, efficiency is the most important predictor of future fantasy success. Quarterbacks perform better when their team is leading games. Of the Bears' 473 pass attempts in 2017, only 24.8 percent came while leading the game. When leading, the Bears had a 4.3 percent touchdown rate and only a 1.1 percent interception rate; when trailing they dropped to a 2.5 percent touchdown rate and a 3.1 percent interception rate, with yards per attempt and completion percentage dropping as well.
Editor's Note: Find all our 2018 Player Profiles here.
How does new head coach Matt Nagy's offense compare to Fox's? It doesn't. Even taking into account that the Chiefs spent more time leading than the Bears, the efficiency numbers under Nagy are astounding. When passing, Nagy's offense averaged 1.5 more yards per attempt, finishing with 13 more passing touchdowns, four fewer interceptions, and 80.8 more yards per game. One could argue the Chiefs were the better team and were leading more games than the woeful Bears. However, even when trailing, the Chiefs offense averaged 8.9 yards per attempt, with a seven percent touchdown rate, a 0.9 percent interception rate, and a 71.6 percent completion rate, all of which dwarf the Bears by comparison.
On top of this offensive efficiency under Nagy, the Chiefs used Alex Smith's legs. In 2017, Smith finished sixth in the NFL in rushing with 355 yards and seventh in total carries. Rushing adds tremendous value to a quarterback's fantasy outlook, and Trubisky should provide a major upside in this area. Nagy will likely take full advantage of Trubisky's athleticism—remember that Trubisky ran a 4.67 40-yard dash and a 6.87 three-cone, both of which were in the 80th percentile historically among quarterbacks.
In addition to Nagy, Mark Helfrich brings a fast-paced, efficient, spread concept offense with him from Oregon. While he was the head coach at Oregon, his offensive efficiency was one of the best in the country each year, on top of one of the most dangerous passing schemes in the country.
Oregon's Offensive rankings under Helfrich

| Year | Passing Yards/ Attempt (Rank) | Points Per Game (rank) | Punts Per Score (Rank) |
| --- | --- | --- | --- |
| 2016 | 7.9 (30th) | 33.8 (32nd) | 0.9 (48th) |
| 2015 | 8.9 (10th) | 41.5 (6th) | 0.6 (15th) |
| 2014 | 9.8 (1st) | 46.1 (3rd) | 0.4 (2nd) |
| 2013 | 9.3 (5th) | 43.8 (3rd) | 0.6 (2nd) |
If Nagy and Helfrich can replicate their past success to any degree, Mitch Trubisky is in for a significant improvement during his sophomore season.
Help Has Arrived
The Bears are all-in on Trubisky and doing everything they can to help him succeed. This goes beyond just bringing in coaches with a history of producing highly-efficient quarterback seasons. They also added three playmakers this offseason in Trey Burton, Allen Robinson, and Taylor Gabriel—completely remaking their receiving core in the process. A look below at last season's receiving corps, which has seen the departures of Dontrelle Inman, Kendall Wright, Deonte Thompson, Markus Wheaton, and Tre McBride, with only Kevin White, Tanner Gentry, and Josh Bellamy remaining on the team.
The Bears are paying Trey Burton $32 million over four years, making him the sixth-highest paid (per year) tight end in the NFL, along with the second-highest guaranteed money percentage of any tight end in the league, per OverTheCap.com. When a team pays a player that much, they plan to use him. And if Burton's efficiency can translate into sustained success with more volume, he will have a huge impact on the Bears' offense. In limited action last year, Burton was one of the most efficient fantasy producers. Of all tight ends who played at least 25 percent of their team's snaps, Burton ranked fourth in PPR/snap (0.26). That matched the efficiency of former teammate Zach Ertz and edged out all-world tight end Rob Gronkowski. Burton will have an expanded role with the Bears as their move tight end. In his career, he has averaged 10 yards per catch and posted a 66.3 percent catch rate. He should be a matchup problem for defenses while giving Trubisky a security blanket.
Top Tight Ends in PPR Points Per Snap in 2017 (Min. 25% snaps played)

| Player | Pos | Team | G | Snaps | Snap % | STD/Snp | PPR/Snp |
| --- | --- | --- | --- | --- | --- | --- | --- |
| Travis Kelce | TE | KC | 15 | 875/966 | 91% | 0.17 | 0.27 |
| Zach Ertz | TE | PHI | 14 | 778/971 | 80% | 0.17 | 0.26 |
| Jordan Reed | TE | WAS | 6 | 233/381 | 61% | 0.14 | 0.26 |
| Trey Burton | TE | CHI | 15 | 300/1053 | 28% | 0.18 | 0.26 |
| Rob Gronkowski | TE | NE | 14 | 905/1006 | 90% | 0.17 | 0.25 |
Allen Robinson, a 6-foot-3 inch, 220-pound receiver with a 39-inch vertical and 91st percentile catch radius, is adept at making plays down the field. He missed all but one game in 2017 after suffering a torn ACL. Despite playing with one of the worst quarterbacks in the NFL in Blake Bortles, Allen Robinson has put up impressive numbers throughout his four-year NFL career. In his best season in 2015, Robinson caught 80 passes for 1,400 yards, 14 touchdowns, and he averaged 17.5 yards per catch. Robinson has posted eight games of 100 or more yards in his career, in just 45 career starts (one game cut short due to injury). By comparison, the 2017 Bears receivers have combined for just 12 touchdowns across 125 career starts. Trubisky didn't have anyone with Robinson's talent to make plays in contested situations and plays downfield. Despite that, Trubisky posted a 36.7 percent completion percentage down the field, 11th-best in the NFL according to PlayerProfiler. With the addition of Allen Robinson, Trubisky can build on a strength and become one of the best deep ball throwers in the NFL.
Taylor Gabriel is a part-time player who is known for making plays with the ball in his hands. While his impact won't be as significant an upgrade as Burton and Robinson, he should help Trubisky as well. In his career, Gabriels has started just 13 of a possible 58 games, but it hasn't stopped him from having an impact. Per Pro Football Focus, during Gabriel's best year in 2016, he was the league's best screen receiver. That year, he caught all 12 of his targets for 144 total yards and was the only receiver to score more than one touchdown on a screen pass. New offensive coordinator Mark Helfrich used screen passes at Oregon to get playmakers the ball in space. With one of the league's best screen receivers at his disposal, Trubisky can make easy throws that result in big plays. Don't forget in his one year as a starter at North Carolina, Trubisky thrived targeting slot receiver Ryan Switzer, who finished with 96 catches and 1,112 yards, and whose game is very similar to Gabriel's.
Anthony Miller was one of, if not the most NFL ready receiver in the draft. He has drawn comparisons to Antonio Brown, and while those are lofty he does have some similarities to his game. Miller is a polished route runner, with excellent feet, who can win contested catch situations and is a dynamic player with the ball in his hands. He is another weapon at Trubisky's disposal.
Trubisky enters 2018 armed with new weapons and playing for a new coaching staff with a history of producing highly efficient quarterbacks. He has a deep threat and contested catch specialist in Allen Robinson, who is far and away the best receiver he has ever played with; one of the league's most efficient tight ends on a per snap basis in Trey Burton, and one of the league's most dangerous yards-after-catch receivers in Taylor Gabriel. All this adds up to a solid bet that Trubisky will take significant steps forward and finish as a top-10 quarterback.
Photo by Jonathan Daniel/Getty Images.
---
Related Articles