Buyer Beware: Sony Michel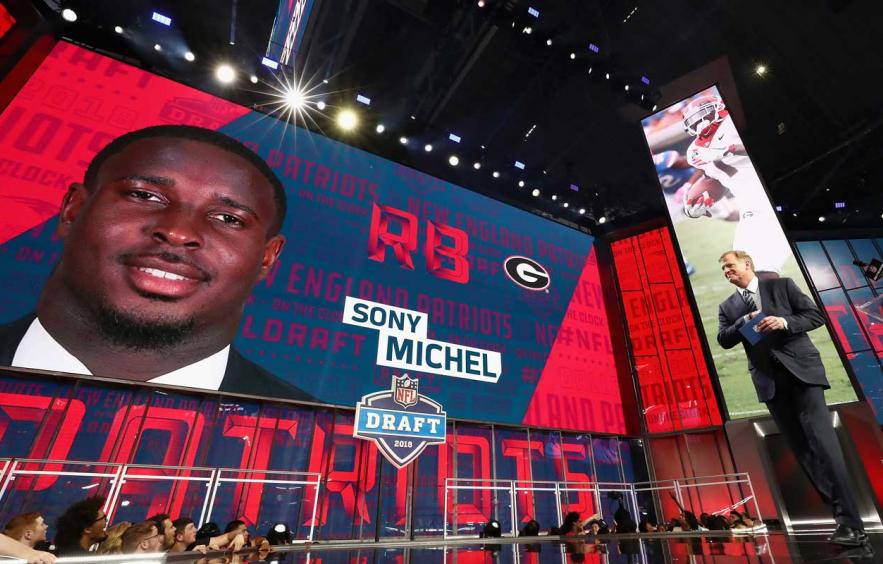 With the 31st pick in the 2018 NFL draft, the New England Patriots selected Sony Michel, running back out of Georgia. This was the first time the Patriots selected a running back in the first round since 2006, when they selected Laurence Maroney. Michel was also the first running back drafted by the Patriots in general since James White in 2014, and he was the first running back they selected in the first three rounds since Shane Vereen (2011). The Patriots clearly saw something in Michel.
Editor's Note: Find all our 2018 Player Profiles here. If you're in a dynasty league or you're looking for more information on the incoming rookies class, you should definitely check out all the content from our friends at Dynasty League Football.
Coming into the draft, Michel was my third-ranked running back. He tested as an average athlete—5-foot-10 and 214 pounds—and he ran a 4.54 40-yard dash. Nothing about that stands out. What does stand out is his play on the field. Michel is a compact back with good contact balance, excellent acceleration, and great anticipation and vision. He gets to play with his former teammate Isiah Wynn, who was the 23rd overall pick. They had amazing chemistry at Georgia, where Michel would consistently show patience and anticipation waiting for a hole to open and then explode into the open field. Michel was a big play waiting to happen, averaging 7.9 yards per carry in 2017, and he dominated the college football playoff scene, carrying the ball 25 times for 279 rushing yards versus Oklahoma and Alabama.
Michel was also the class' best running back in pass protection. While this doesn't help us get fantasy points, it does help him get on the field on more third downs. Michel is the rare rookie back who can be trusted to protect a franchise quarterback. On top of his blocking ability, Michel is also a dangerous receiver. While he only caught six passes last season, he caught 48 passes the previous season. He is a capable route runner with soft hands, who can be split out in the slot, break linebackers down in space, and is very comfortable catching and turning up the field.
Michel's problem is that his landing spot is less than Ideal.
*David Wilson missed time due to injury.
Draft Capital
The chart above looks at all running backs drafted in the first round since 2011, and the volume they received in their rookie season. The numbers show very clearly that when a team spends premium draft capital on a running back they plan on using them. However, the last time the Patriots took a running back in the first round, as mentioned earlier, was Laurence Maroney in 2006, and he didn't start a single game. He ended up with 175 carries and 30 targets in 40 games, good for 14.64 touches and targets per game—slightly more than Christian McCaffrey's 14.38 touches per game, but that's ignoring the fact McCaffrey was targeted 83 more times than Maroney. While the Patriots invested first-round draft capital in Michel, it may not mean they are going to feed him the football.
New England's Crowded Backfield
This offseason the Patriots decided to let go of Dion Lewis after he led the team in snaps played at running back last season (404). The common line of thinking is that Michel will step in and fill that Dion Lewis role. Of players who played at least 30 percent of their team's snaps, Lewis finished tied for second in efficiency, averaging 0.49 PPR points per snap. That level of efficiency will be tough for Michel to match.
A closer look at Dion Lewis' 2017 numbers reveals just how crowded New England's backfield is. Lewis averaged two more carries per game, and he finished with five touchdowns in seven games without Burkhead compared to just two in 12 games with Burkhead in the backfield. Lewis averaged 1.58 more targets per game in the games Burkhead missed. With Burkhead back in the fold, and Michel slated to take over the Dion Lewis role, there may not be as much upside as we think when we look at Dion Lewis' raw numbers.
Games Without Burkhead

| | Carries | Yards | TDs | Targets | Receptions | Yards | TDs | Total Yards |
| --- | --- | --- | --- | --- | --- | --- | --- | --- |
| Total per Game | 12.71 | 58.86 | 0.43 | 4.00 | 3.71 | 24.86 | 0.29 | 83.71 |
Games With Burkhead

| | Carries | Yards | TDs | Targets | Receptions | Yards | TDs | Total Yards |
| --- | --- | --- | --- | --- | --- | --- | --- | --- |
| Total per Game | 10.33 | 51.58 | 0.17 | 2.42 | 2.17 | 14.92 | 0.00 | 66.50 |
Michel will also have competition for goal-line carries. The Patriots brought back Mike Gillislee and signed running back Jeremy Hill to compete for the goal-line back role. Gillislee led the team with eight carries inside the 5-yard line, converting five for touchdowns, while Jeremy Hill didn't have a single carry inside the five last season. The Patriots are unlikely to keep both players on their roster, but whoever makes the team is likely to be featured as the goal-line back. While Lewis converted three attempts inside the five to touchdowns, he only saw 19 percent of the possible touches. This points to Sony Michel seeing part-time work in this role, which limits his touchdown upside.
New England RBs Red Zone Work

| Player | Tm | Att 20 | TD 20 | %Rush 20 | Att 10 | TD 10 | %Rush 10 | Att 5 | TD 5 | %Rush 5 |
| --- | --- | --- | --- | --- | --- | --- | --- | --- | --- | --- |
| Mike Gillislee | NWE | 25 | 5 | 24.00% | 13 | 5 | 25.00% | 8 | 5 | 38.10% |
| Rex Burkhead | NWE | 16 | 5 | 15.40% | 9 | 4 | 17.30% | 7 | 4 | 33.30% |
| Dion Lewis | NWE | 35 | 6 | 33.70% | 20 | 6 | 38.50% | 4 | 3 | 19.00% |
| James White | NWE | 15 | 0 | 14.40% | 6 | 0 | 11.50% | 2 | 0 | 9.50% |
Running Back Targets
I noted earlier how Michel could become an excellent receiver in the NFL. This matches up well with the Patriots, who targeted running backs on 27.1 percent of overall targets, fifth-most in the NFL. While 158 of the team's total targets went to running backs, the Patriots' top two receiving backs are back in the fold this year. With White (72 targets) and Burkhead (36) back on the roster, 68.3 percent of Patriots running back targets are returning. While Lewis did see 35 targets last year, that ranked 45th most among all NFL backs—and was only fourth-most on a per snap basis of all Patriots running backs.
Final Outlook
I love Michel's talent, his receiving ability, and his upside. The Patriots are getting one hell of a football player, however, barring injury, he is likely to be a better football player than fantasy player in year one. He is fighting an uphill battle in the Dion Lewis role, he has major competition for goal-line work, and the Patriots' two best receiving backs are returning. To finish in the RB2 conversation and match Lewis, Michel is going to have to be one of the most efficient backs in all of football. For these reasons, I am passing on Michel and letting someone else take the risk.
Photo by Ronald Martinez/Getty Images.
---
Related Articles