Don't Leave Your Fantasy Draft Without Rashaad Penny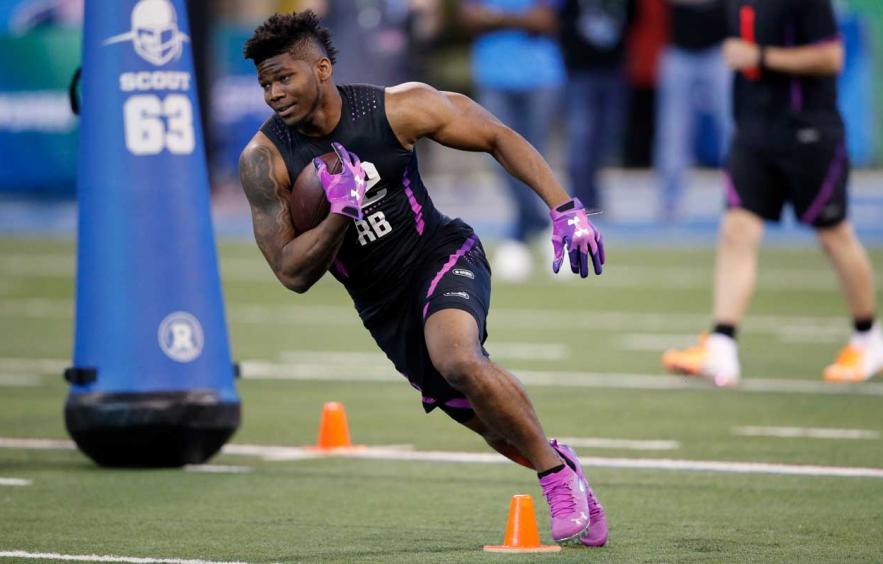 With the 27th overall pick in the 2018 NFL draft, the Seattle Seahawks selected Rashaad Penny, running back out of San Diego State. This pick was a surprise to NFL insiders and the fantasy community alike. While Penny is a very talented player, he was expected to go late in round two or early in round three. The Seahawks made a statement by drafting him: They believe he is the guy to build their running game around.
Editor's Note: Find all our 2018 Player Profiles here. If you're in a dynasty league or you're looking for more information on the incoming rookies class, you should definitely check out all the content from our friends at Dynasty League Football.
Penny is a physically imposing back at 5-feet-11 and 220 pounds. He has home-run speed, running a 4.46 40-yard dash, combined with the vision and contact balance to be an excellent NFL running back. Penny was an extremely productive college running back. As the featured back for the first time in his career this past season, he rushed for 2,248 yards on 289 carries and scored 23 touchdowns. On top of being an elite producer at the running back position, he is tied for the most kick return touchdowns in NCAA history with seven.
Penny combines his excellent vision with lateral agility to make defenders miss their target point, and then uses his contact balance to stay upright. He was one of the nation's best backs in forced missed tackles and yards after contact. With his good leg drive, he can be a beast in the red zone, finishing through contact to get the hidden yardage. Penny can be a game-breaker at the position because once he is in the open field no one will catch him. As a pure runner, he is on the same level as Saquon Barkley.
The questions for Penny lie in his third-down ability. He struggled mightily in pass-protection and never dominated as a receiver, with his 19 catches in 2017 a career-high. At this point of his career, he is more of a dump-off receiver than a weapon in the passing game. However, with the draft capital spent on him, Penny is likely to be given the opportunity to catch passes and develop in this area.
Draft Capital
As I discussed in my articles on Sony Michel and Saquon Barkley, taking a running back in round one historically means the team is going to heavily involve him in the offense. Like Penny, other first-round running backs Melvin Gordon and Leonard Fournette never caught more than 19 passes in a season in their college careers. This didn't stop their teams from featuring them in the passing game during their rookie campaigns. Fournette finished 21st among rookies in targets, and Gordon finished 35th. When teams spend a premium pick on you as a running back they will feature you as a runner and in the receiving game, even if your skill set doesn't call for doing so. Both Pete Carroll and general manager John Schneider said in the post-draft press conference they view Penny as a three-down back.
*David Wilson battled injuries his rookie year.
Ideal Landing Spot
The Seahawks tried to replace Marshawn Lynch by using a running back by committee approach—it failed. This past season, the Seahawks failed to crack the top 20 in both rushing yards per game and rushing yards per attempt. They used all of their backs in 2017, with six different running backs playing 20 percent or more of the snaps in the games they were active, and a running back played in over 60 percent of the snaps in only three games last season. Russell Wilson finished as the team leader in total touches, which should tell you all you need to know as to what a mess that backfield was. The Seahawks have tried replacing Lynch with multiple players, but it simply hasn't worked. They drafted Penny so they can replace Lynch's role with one man and be done with a committee.
The selection of Penny symbolizes a philosophy change by the Seahawks. They want to go back to the productive workhorse back who stays on the field. Penny should step in and be the feature back from day one, with Seahawks hoping he thrives in the Lynch role. In the three final seasons of Lynch's career with the Seahawks, they finished in the top five in both rushing percentage and rush attempts. Since his departure, they have yet to crack the top 15 in either category. Lynch was banged up in 2015, but in 2013 and 2014, he finished as the No. 3 and No.4 fantasy back, respectively. From 2011-2014 Marshawn Lynch had 300 or more touches in every season, averaging 295.5 carries and 40.75 targets per season. With the Seahawks giving Penny the Lynch role, he is going to get the ball and get it often.
Seahawks

Ground Game

| Year | Rushing Percentage | Rush Attempts |
| --- | --- | --- |
| 2017 | 40.62% (20th) | 25.6 (21st) |
| 2016 | 40.63% (16th) | 25.7 (15th) |
| 2015 | 46.71% (4th) | 30.0 (3rd) |
| 2014 | 51.44% (2nd) | 32.7 (2nd) |
| 2013 | 52.71% (1st) | 31.8 (2nd) |


A fair counterpoint to the Seahawks' rushing percentages with Lynch is that they were one of the league's best teams when Lynch was there. They were in the middle of back-to-back Super Bowl appearances and were controlling the clock. On paper, this Seahawks team isn't nearly as good as those teams; however, the team still has plenty of talent and Vegas set the team win total at 9. The Seahawks are still projected to be one of the league's better teams, and Penny should find himself in plenty of positive situations. Even if you take 50 touches off Lynch's season average, you still are at 245 carries for Penny, and with the coaches saying he will get three-down work, you should add in about 30 receptions as well. Projecting 275 touches for Penny would put him as the 11th-most used running back in the league in 2017.
Penny has proven he can handle a heavy workload. In his first season in the role for the San Diego State Aztecs, Penny had 20 or more attempts in 10-of-13 games, breaking the 200-yard mark in six games and failing to crack 100 yards just once. Penny didn't wear down as the season went on; he got stronger, rushing for 200 or more yards in the final five games of the season. Prior to his senior season, Penny was in a running back by committee backfield with Eagles running back Donnel Pumphrey, so with only 488 career carries he doesn't have much wear and tear on his tires.
From a fantasy football perspective, the running back position is a volume game. The kind of volume Penny will see puts him squarely in the RB2 discussion, with RB1 upside. He is currently RB43 in ADP per FantasyPros, but that will only continue to rise after his first-round selection. Penny has the talent and the opportunity to be a fantasy league-winning pick, and he will come at a discounted price tag. He is one of the year's best buys.
Photo by Joe Robbins/Getty Images.
---
Related Articles