Alex Smith in Jay Gruden's Offense is The Good Place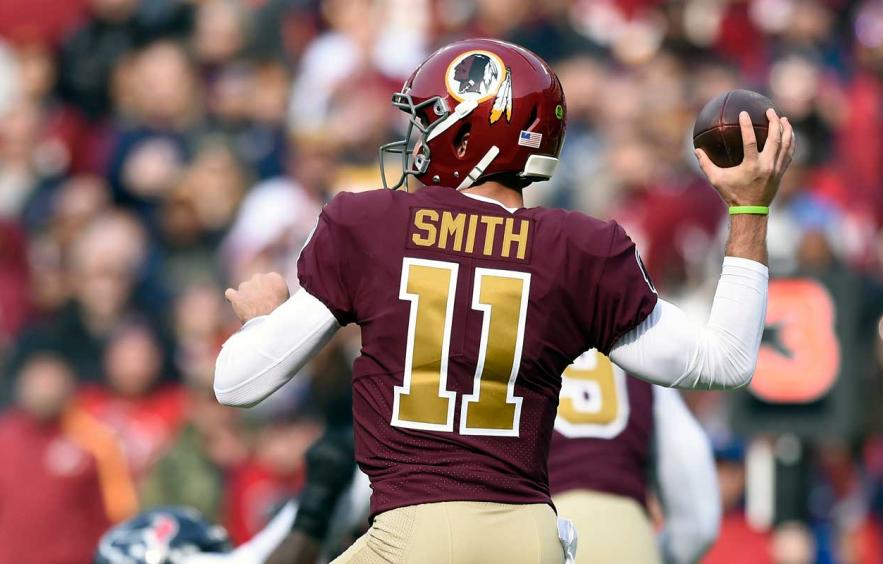 The 8,000-foot overview look at how Jay Gruden's quarterbacks have produced fantasy points presents something less than a hideous view: Signal-callers under Gruden have recorded three top-five finishes in the past five years, and four top-10 finishes in those five seasons.
The exceptions: Andy Dalton's rookie campaign, when he finished as the QB15 (he was a top-12 QB in the season's second half), and the utterly disastrous 2014 season in Washington, when Robert Griffin III and Kirk Cousins combined to post QB20 numbers.
Editor's Note: Find all our 2018 Player Profiles here.
What this means for Alex Smith's 2018 prospects likely depends on how you view Smith—as a consummate game manager who can't possibly match Cousins' fantasy production, or a low-key Konami code quarterback, who averaged 63.7 rushes per year in Kansas City and finished as 2017's second-highest scoring fantasy quarterback. That, of course, had a lot to do with Smith's touchdown pass rate spiking from 3.1 percent in 2016 to 5.1 percent in 2017, though that doesn't mean we should anticipate a return to that abysmal 2016 rate.
Gruden's quarterback opportunity in the red zone—and inside the 10-yard line—shows a coach who resorts to the pass when close to the paint. Despite rarely cracking the top half of the league in red zone offensive snaps, Gruden's signal-callers have had opportunity that borders on the ample inside the 20.
Red Zone Chances for Jay Gruden's QBs

| Year (Team) | Attempts inside the 20 (league rank) | Attempts inside the 10 (league rank) |
| --- | --- | --- |
| 2017 (Washington) | 68 (10th) | 25 (17th) |
| 2016 (Washington) | 87 (6th) | 40 (6th) |
| 2015 (Washington) | 84 (5th) | 41 (6th) |
| 2014 (Washington) | 66 (12th) | 20 (19th) |
| 2013 (Cincinnati) | 70 (13th) | 35 (8th) |
Only in Smith's career-year 2017 campaign was he near the top of the NFL in pass attempts in the red zone. Even seasons that saw his attempts jump rarely put him anywhere close to the league leaders in attempts inside the 20 and inside the 10. Smith's 2013 season, in which he finished as the QB11 and attempted a career-high 508 passes, saw him fall outside the top 10 in red zone passes. He spent most of his four years in KC outside the top 20 in red zone attempts.
I think there is a reasonable expectation that Smith's red zone chances will see at least a moderate uptick in Washington.
Then there's the more obvious shift from what was usually among the NFL's run-heaviest offenses to an offense that has consistently ranked as a pass-heavy unit.
Alex Smith

: From Run Heavy to Pass Heavy

| Year | KC Passing Play Percentage (league rank) | Washington Passing Play Percentage (league rank) |
| --- | --- | --- |
| 2017 | 59.4% (13th) | 59.2% (15th) |
| 2016 | 59% (19th) | 62.5% (8th) |
| 2015 | 54.1% (27th) | 58.7% (19th) |
| 2014 | 56.3% (25th) | 60.2% (15th) |
Last season being an outlier, Smith's pass volume will most likely change in 2018. An uptick in attempts is nothing close to a skeleton key unlocking all kinds of fake football goodness, but Smith has fared well (fantasy wise) in seasons that have seen his attempts increase.
Smith's two top-12 seasons (2013 and 2017) in Kansas City saw him eclipse 500 passes—a number he stayed well below in his more lackluster campaigns as the head of Andy Reid's offense. The best part: Neither of those very useful fantasy seasons included an unsustainable jump in rushing production from Smith; he notched a single rushing score in both the 2013 and 2017 seasons. While more attempts guarantees precisely nothing for fantasy purposes, Smith's track record tells us it very well could be a boost to his potential in Gruden's system.
For those who might fret about Smith's prospects if Washington stinks out loud in 2018, recall that Smith's win-loss splits are egregiously even—on par with the game's elite passers. He's averaged 18.9 fantasy points per game in losses over the past four seasons, a mere two points less than he's scored in wins. His touchdown production remains nearly unchanged in losses and his yardage spikes by almost 25 yards.
Smith is so far being drafted as something of an afterthought in redraft leagues, where 20 quarterbacks are going before the new Washington signal caller (including his replacement in KC, Pat Mahomes, who almost certainly won't match Smith's 2017 production). I think Smith is clearly—one again—a target for late-round quarterback truthers seeking production on the cheap.
Note: Sal Stefanile did not pay me for this Alex Smith propaganda.
Photo by Patrick McDermott/Getty Images.
---
Related Articles