Buy Low on Allen Robinson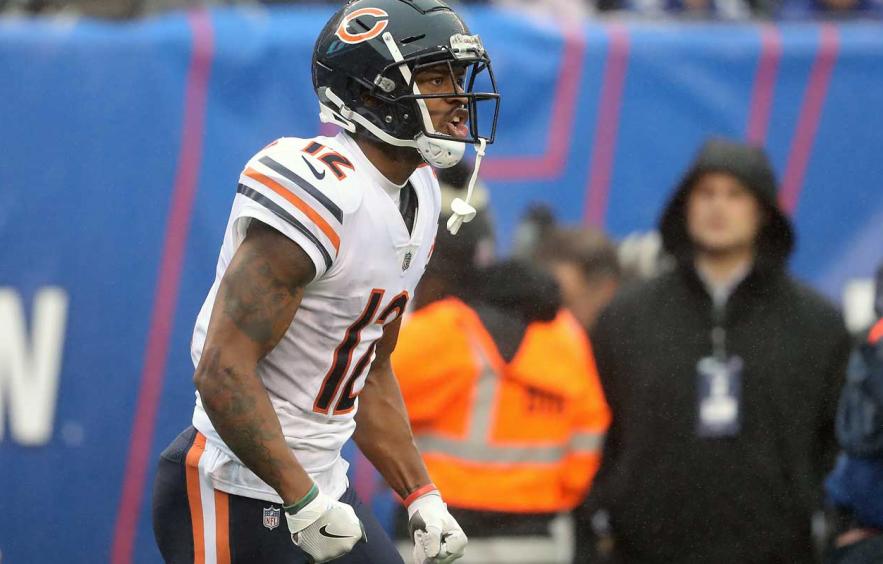 This offseason the Chicago Bears gave Allen Robinson a three-year, $42 million deal, making him the 10th-highest paid wide receiver in the NFL. This signing is ideal not only for the Bears offense and Robinson's wallet, but it may have been Robinson's best possible landing spot for his fantasy outlook.
Editor's Note: Find all our 2018 Player Profiles here.
Robinson steps into a situation in Chicago where the players responsible for 75.4 percent of wide receiver targets in 2017 are no longer with the team.
Robinson could conceivably take up most of those 172 available targets this year. In his two best seasons, 2015 and 2016 with the Jaguars, he had 150 and 151 total targets. Obviously, the Bears also brought in Taylor Gabriel, and Kevin White will be coming back (again) from injury this season, in addition to drafting Anthony Miller. However, it is also important to recognize that the number of available targets is based on when John Fox was the head coach. This offseason, the Bears hired Matt Nagy and brought in former Oregon head coach Mark Helfrich, who are likely to implement a fast-paced, pass-focused offense. It's true that in 2017 the Chiefs targeted their receivers two fewer times than the Bears did (242 vs. 240), but they also had Travis Kelce, who was the most-targeted tight end in the NFL (122 targets). Some of those play designs for Kelce will likely be added for receivers in Chicago.
Bears quarterback Mitch Trubisky has shown a willingness to pepper his top receiver with targets. Kendall Wright's total of 91 targets is misleading because Trubisky only had 48 total pass attempts in his first three starts. In Trubisky's 12 career starts, Kendall Wright had over a 20 percent target share in seven games. Trubisky's willingness to look for his top target should have Robinson getting as much work as he can handle.
Kendall Wright

Target Share

| | W5 | W6 | W7 | W8 | W10 | W11 | W12 | W13 | W14 | W15 | W16 | W17 |
| --- | --- | --- | --- | --- | --- | --- | --- | --- | --- | --- | --- | --- |
| Total Targets | 5 | 3 | 0 | 8 | 8 | 4 | 5 | 2 | 11 | 13 | 6 | 8 |
| Target Share | 20% | 18.75% | 0% | 25% | 22.86% | 13.33% | 15.15% | 13.33% | 34.38% | 28.26% | 26.09% | 22.22% |
Winning Contested Catches
Not only did Robinson go to a team with a major hole at wide receiver, but he moved to a situation where both quarterback play and the team philosophy should fit his skill set.
I wrote here why Mitch Trubisky is going to be a top-10 quarterback in 2018, and a big reason why is Allen Robinson. Robinson is a 6-foot-3 inch, 220-pound receiver with a 39-inch vertical and 91st percentile catch radius, who is adept at making plays down the field. Despite playing with Blake Bortles, one of the worst quarterbacks in the NFL, Allen Robinson has put up impressive numbers throughout his four-year NFL career. In his best season in 2015, Robinson caught 80 passes for 1,400 yards, 14 touchdowns, and averaged 17.5 yards per catch. In just 45 career starts (one game cut short due to injury), Robinson has posted eight games with 100 or more yards. Robinson uses his big frame, elite athleticism, 91st percentile catch radius, and ball skills to win on plays down the field.
Trubisky is a much better deep passer than Bortles. According to PlayerProfiler.com, the Bears second-year QB completed 36.7 percent of his deep passes last season, which was the 11th-best mark among signal-callers. Compare that to Bortles, who completed only 25.4 percent of his deep throws—the 33rd-best mark in the league. In 2016, Bortles' deep pass completion percentage was even worse (21.4%).
All signs point to Trubisky giving Robinson a chance to make plays down the field. Trubisky had far better numbers on deep passes than Bortles, despite having far worse receivers to target. His ability to get the ball down the field matches up perfectly with Robinson's game. Robinson has averaged 14.1 yards per catch in his career with a quarterback that has struggled to give him chances to make plays. Trubisky was a good deep ball passer during his college career as well. His top deep threat was Mack Hollins, now of the Philadelphia Eagles, who averaged 19.3 yards per catch with Trubisky as his quarterback.
Not only is Robinson's quarterback situation improved, but his coaching philosophy is improved as well. Under Matt Nagy, Tyreek Hill went from a gadget player to a big-play nightmare. Hill's yards per reception improved from 9.7 to 15.8, and his targets per game jumped from 5.2 to 7.0. Nagy also proved he is willing to design his offense to get his star players the ball. Travis Kelce had a career-high 122 targets in 2017, with his targets per game jumping from 7.3 in 2016 to 8.1 in 2017.
Much of Robinson's value for fantasy is a projection for how he will fare in 2018. He missed all games but one in 2017 after suffering a torn ACL. How will he recover from his ACL injury? Will he be the same talent? Does Trubisky take the expected next step? Does he mesh well with his new QB? As a believer in Trubisky, I believe in Robinson, too. His skill set as a receiver meshes perfectly with Trubisky's greatest strength in targeting players down the field. He steps into a situation with 172 targets available from 2017, and he is playing with a quarterback who loves to target his top receiver. At Robinson's ADP of WR20 (46th overall), his upside is simply too high to ignore. He is a fantastic buy for the 2018 season.
Photo by Elsa/Getty Images.
---
Related Articles