Make Sure You Draft Kirk Cousins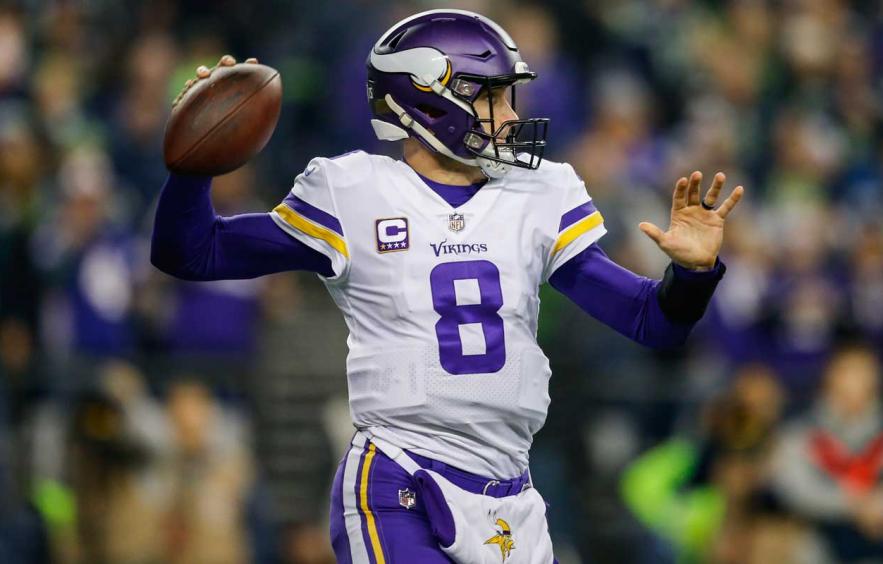 Kirk Cousins has been a top-10 QB since he took over the starting quarterback job in Washington. He's averaged 17.1 points per game in Jay Gruden's West Coast style offense, using multiple receivers and his legs to aid his fantasy output. But now, Cousins is a Minnesota Viking after signing the first fully guaranteed contract at the quarterback position. The Vikings' 2017 season appeared to be stuck in reverse after Sam Bradford's knee forced them into starting Case Keenum. Keenum, under offensive coordinator Pat Shurmur, supported the fantasy value of Stefon Diggs, Adam Thielen, and Kyle Rudolph. Stefon Diggs' final catch in the NFC Divisional Round cemented the Vikings' place as a top tier offense in the NFC.
Editor's Note: Find all our 2018 Player Profiles here.
Kirk Cousins
finds himself in the ideal landing spot: A stocked reserve of pass-catchers, a top-10 ranked offensive line per Football Outsiders, and
Dalvin Cook
's ACL rehab is progressing on schedule. However, Shurmur left, replaced with John DeFilippo, the former quarterbacks coach of the Philadelphia
Eagles
. It all bodes well for Cousins entering his first year in Minnesota, but it's important to understand how his game integrates into the new offense.
Let's look at what we can expect.
Cousins' Transition to the North
Kirk Cousins has per game averages of 35.2 attempts (top-20 numbers for his career) and 21.9 fantasy points. His fantasy upside rests in the fact his volume has been largely game script independent. His pass attempts against top-10 defenses only dip by 5.64 percent to 33.2 attempts per game. It's helped maintain his floor throughout each season along with some improvised rushing. However, his efficiency in these situations is an issue. Not only does his Adjusted Yards per Attempt (AY/A) drop by 12 percent, but his Interceptions increase by 75.1 percent to 1.1. His passer rating of 66.3 under pressure will be something Minnesota's coaching staff must address. But, the Vikings' offensive talent might help smooth the transition.
Washington's offense gave Cousins options at every level of the field. While it appears Cousins preferred the short-to-intermediate area of the field, outside receivers also had a significant share of his air yards.
* 2016 Data
The Vikings don't have the same depth of talent, but their current talent profiles similarly to Washington's. Both Diggs and Thielen were deployed from the slot and outside positions. Diggs' move to playing primarily on the outside diminished his slot duties to 24 percent of total routes run, but he accrued 209 of his 847 yards from there. The slot was Thielen's territory. He ran 51.1 percent of his routes out of the slot, accounting for 46.4 percent of his yards. It's safe to assume Thielen can be Jamison Crowder 2.0 with Diggs stretching the field as Josh Doctson was intended to do.
While both can perform in the short area of the field, Diggs has added value in the deep passing game. He converted 50.0 percent of his deep targets (third-best in the league) into 306 yards. That's 36.1 percent of his total yards in 2017, making this a significant contribution to his game. Cousins' deep targets seem to be tied to his surrounding talent. He posted top-10 numbers on deep balls in 2016, with over 1,300 yards on 13.5 percent of his passes. But he had the likes of DeSean Jackson and Pierre Garcon as receivers. While Diggs doesn't have the same top-end speed as Jackson, his separation skills should create passing windows for Cousins down the field.
Cousins Under a New Coach
John DeFilippo's success with quarterbacks cannot be overstated. He brought Carson Palmer back to relevance in 2012, helped mature Carson Wentz's game, and resurrected the career of Super Bowl MVP Nick Foles. DeFilippo wasn't responsible for play calling, but planning the concepts of the offensive strategy around two vital components: Upcoming matchup and what the quarterback did best. The Vikings' new OC constantly tested his quarterbacks to recognize the pre-snap patterns of their opponents and how to adjust the play before the snap. This applied not just to the quarterback, but by extension, to the receivers involved in the play. Kirk Cousins' play when granted a clean pocket versus under duress is like night and day. His completion percentage drops from 70.8 to 50.0 and his TD-to-interception ratio falls from 4.5:1 to 1:1. Cousins is known for staring down his primary read based on what the defense is telling him. Consistently knowing to adjust the protection and primary target location would progress Cousins' game, cementing his place in the top 10.
Cousins' value under Jay Gruden relied on volume. Offenses under John DeFilippo stress efficiency. Carson Wentz's TD rate jumped from 2.6 to 7.5 percent, along with a significant increase in his AY/A from 5.7 to 8.3 on 440 attempts. Cousins' best AY/A is 8.0 in 2016…on 606 attempts. DeFilippo's approach to the game will supplement Cousins' training at his craft. If he can adjust to the new style of play, he'll be primed to take the next step forward as the head of the Vikings' offense.
The Prodigal Cook Returns
Dalvin Cook quickly seized the starting the role by opening the 2017 season with a 22-127-0 stat line with some work in the passing game (3-10-0). The pre-draft injury concerns disappeared and the Vikings appeared to have found value in the second round. Cook is on track to return from his ACL tear suffered in Week 4, but it's important to understand how he might fit into a Kirk Cousins offense.
Team Passing Distribution

| Team | TE | RB | WR |
| --- | --- | --- | --- |
| Washington | 19.3% | 23.6% | 57.1% |
| Minnesota | 20.3% | 19.5% | 60.2% |
| Philadelphia | 14.1% | 21.5% | 59.4% |
We saw how much Cousins relied on Chris Thompson in 2017, but it was the most he'd used the position in three years. Washington also used their running backs based on game situation. Dalvin Cook usage was game flow independent. He averaged 4.0 targets per game and ran plays between the tackles and outside the offensive line. Behind Minnesota's 19th-ranked run blocking line, Cook recorded a successful run (positive yardage) on 86.5 percent of his attempts. His agility was always a concern (7.27 3-cone drill), but his speed and power are not, as he averaged 2.65 yards after contact.
Minnesota appears committed to the Florida State product as they didn't draft another running back and kept Latavius Murray by re-structuring his contract. Murray is familiar with DeFilippo during their time together with the Raiders—DeFilippo was the quarterbacks coach in Oakland during Murray's rookie year. Murray will be a strong bridge as Cook continues his rehab and he will aid Cousins in his understanding of the offense. It will take time for DeFilippo to integrate Cook into the offense, but when he does, it'll only increase the potency of the offense and Cousins' value when under center. Cousins has yet to work with a running back who can function on all three downs and in the passing game, but he may find himself with such a back in a fully-healthy Cook.
Bottom Line
Kirk Cousins' best year was when he had multiple receiving options, including a tight end, behind a functional offensive line. Minnesota currently has one of the best wide receiver duos in the league, a top-10 ranked tight end, and one of the better offensive lines in the league. The Vikings also have a functional running game with added firepower in Dalvin Cook, who is returning from injury. Finally, the team has brought in an offensive coordinator known for getting the most out of his quarterbacks.
Cousins' development will take time, but the Vikings have the infrastructure in place to reduce the valleys that typically came in between his peaks. Fantasy owners should be looking to acquire Kirk at his current ADP of the ninth quarterback off the board. If all of the receiving options from Minnesota are being drafted in the single-digit rounds, then the quarterback throwing them the ball is just as valuable.
Photo by Otto Greule Jr./Getty Images.
---
Related Articles